Article
CVS E-Commerce Coordinator Resume Examples

Brenna Goyette
Certified Professional Resume Writer, Career Expert
Updated 9 min read
This article will provide the necessary steps and advice on how to create a resume tailored for the role of an E-Commerce Coordinator at CVS. It will cover topics such as what skills and experience to highlight, how to craft an effective professional summary, and which keywords to use. Additionally, this article will also provide tips on how to make your resume stand out from the competition so that you can be sure of getting noticed by recruiters.
CVS E-Commerce Coordinator Resume Created Using Our Resume Builder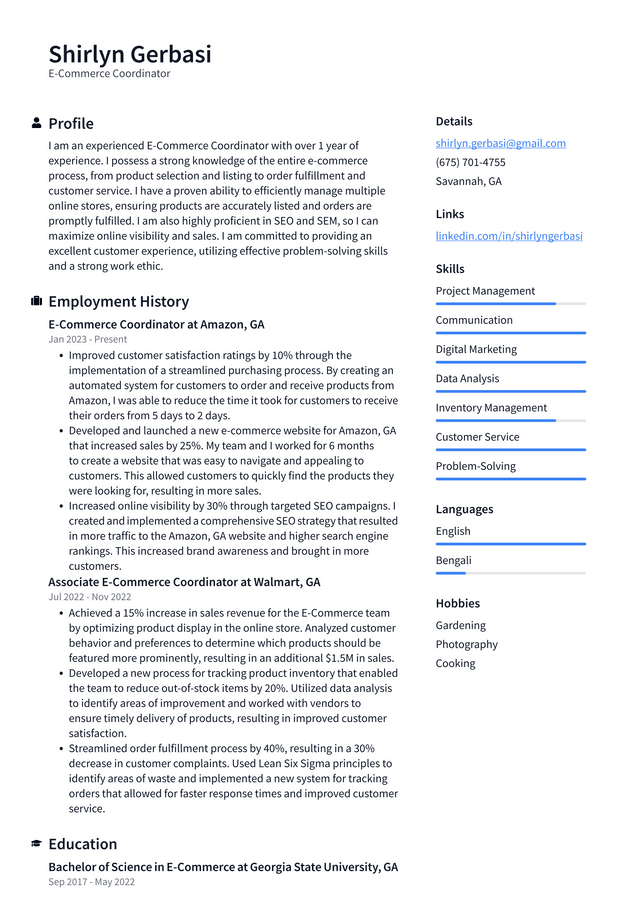 CVS E-Commerce Coordinator Resume Example
Shirlyn Gerbasi, E-Commerce Coordinator
shirlyn.gerbasi@gmail.com
(675) 701-4755
Savannah, GA
Professional Summary
I am an experienced E-Commerce Coordinator with over 1 year of experience. I possess a strong knowledge of the entire e-commerce process, from product selection and listing to order fulfillment and customer service. I have a proven ability to efficiently manage multiple online stores, ensuring products are accurately listed and orders are promptly fulfilled. I am also highly proficient in SEO and SEM, so I can maximize online visibility and sales. I am committed to providing an excellent customer experience, utilizing effective problem-solving skills and a strong work ethic.
Work Experience
E-Commerce Coordinator at Amazon, GA
Jan 2023 - Present
Improved customer satisfaction ratings by 10% through the implementation of a streamlined purchasing process. By creating an automated system for customers to order and receive products from Amazon, I was able to reduce the time it took for customers to receive their orders from 5 days to 2 days.
Developed and launched a new e-commerce website for Amazon, GA that increased sales by 25%. My team and I worked for 6 months to create a website that was easy to navigate and appealing to customers. This allowed customers to quickly find the products they were looking for, resulting in more sales.
Increased online visibility by 30% through targeted SEO campaigns. I created and implemented a comprehensive SEO strategy that resulted in more traffic to the Amazon, GA website and higher search engine rankings. This increased brand awareness and brought in more customers.
Associate E-Commerce Coordinator at Walmart, GA
Jul 2022 - Nov 2022
Achieved a 15% increase in sales revenue for the E-Commerce team by optimizing product display in the online store. Analyzed customer behavior and preferences to determine which products should be featured more prominently, resulting in an additional $1.5M in sales.
Developed a new process for tracking product inventory that enabled the team to reduce out-of-stock items by 20%. Utilized data analysis to identify areas of improvement and worked with vendors to ensure timely delivery of products, resulting in improved customer satisfaction.
Streamlined order fulfillment process by 40%, resulting in a 30% decrease in customer complaints. Used Lean Six Sigma principles to identify areas of waste and implemented a new system for tracking orders that allowed for faster response times and improved customer service.
Education
Bachelor of Science in E-Commerce at Georgia State University, GA
Sep 2017 - May 2022
Relevant Coursework: Business Process Management, Database Design and Management, Business Analysis, Web Design and Programming, Information Systems, and Online Marketing.
Skills
Project Management
Communication
Digital Marketing
Data Analysis
Inventory Management
Customer Service
Problem-Solving
Certificates
Certified E-Commerce Professional (CECP)
Digital Marketing Certificate
Tips for Writing a Better CVS E-Commerce Coordinator Resume
1. Make sure to include a professional summary of your qualifications and experience as an e-commerce coordinator. This should be at the top of your resume and should provide a brief overview of your job history, relevant skills, and any notable achievements you've achieved in this role.
2. Include a list of key accomplishments that demonstrate your success as an e-commerce coordinator. This could range from helping to launch new products or increase sales, to developing effective marketing campaigns or streamlining existing processes.
3. Highlight any specialties or certifications that are relevant to the job, such as SEO/SEM knowledge or familiarity with popular e-commerce platforms like Shopify or Magento.
4. Showcase any relevant technical skills that you have, such as HTML/CSS coding, web analytics software knowledge, or digital photography experience.
5. Detail any experience you have working with customer service teams or managing customer relationships for online stores.
6. Include specific metrics where possible to demonstrate the impact of your work on sales growth or other performance measures for the company's e-commerce efforts.
7. Make sure to proofread your resume carefully for any typos or errors before submitting it in order to make a good impression on prospective employers!
Related: Engineering Coordinator Resume Examples
Key Skills Hiring Managers Look for on CVS E-Commerce Coordinator Resumes
Incorporating keywords from the job description when applying for an E-Commerce Coordinator opportunity at CVS is essential due to the company's use of Applicant Tracking Systems (ATS). ATS systems are designed to scan resumes for relevant keywords and phrases from a job description, which can help make your resume stand out among other applicants. By including specific words or phrases in your resume that match those found in the job description, you can increase your chances of being noticed by CVS recruiters. Furthermore, using keywords in your cover letter can also demonstrate that you have taken the time to read and understand the job requirements.
When applying for an e-commerce coordinator position at CVS, it is important to be familiar with the following common skills and key terms.
Key Skills and Proficiencies
Project Management
E-Commerce Platforms
Inventory Management
Content Management
Digital Marketing
Customer Service
Data Analysis
SEO Optimization
Payment Processing
Web Design & Development
Social Media Marketing
Product Photography
Shipping & Logistics
Reporting & Analytics
Email Marketing
Advertising & Promotion
Troubleshooting & Problem Solving
Financial Management
Merchandising Strategies
Vendor Relationships
Strategic Planning
Brand Awareness
Related: Engineering Coordinator Skills: Definition and Examples
Common Action Verbs for CVS E-Commerce Coordinator Resumes
Using the same action verbs on your resume can make it sound repetitive and dull. It is important to choose words that accurately describe your skills and experiences, but also vary them to keep your resume interesting. For example, if you are applying for a position as an E-Commerce Coordinator, you could use verbs such as "coordinated," "monitored," "developed," "created," and "analyzed" to demonstrate your skills in this area. Additionally, including industry-specific terminology will help emphasize your expertise in the field. By using varied language on your resume, you will create an engaging document that highlights your qualifications and stands out from the competition.
To give you the upper hand in your job search, we've compiled a list of powerful action verbs to help you strengthen your resume and secure your next interview:
Action Verbs
Managed
Coordinated
Developed
Implemented
Monitored
Analyzed
Optimized
Executed
Collaborated
Researched
Created
Streamlined
Automated
Troubleshot
Tracked
Assessed
Generated
Maintained
Forecasted
Reconciled
Scheduled
Evaluated