Article
CVS Pricing Coordinator Resume Examples
This article provides examples of resumes and cover letters for CVS Pricing Coordinators, highlighting skills and experience that employers are looking for.

Brenna Goyette
Certified Professional Resume Writer, Career Expert
Updated 9 min read
This article will provide an overview of what to include when writing a resume for the position of Pricing Coordinator at CVS. It will cover topics such as job duties, key skills, and professional experience that are essential for this role. Additionally, it will offer helpful tips on how to highlight relevant qualifications and experiences to make a strong impression on potential employers.
CVS Pricing Coordinator Resume Created Using Our Resume Builder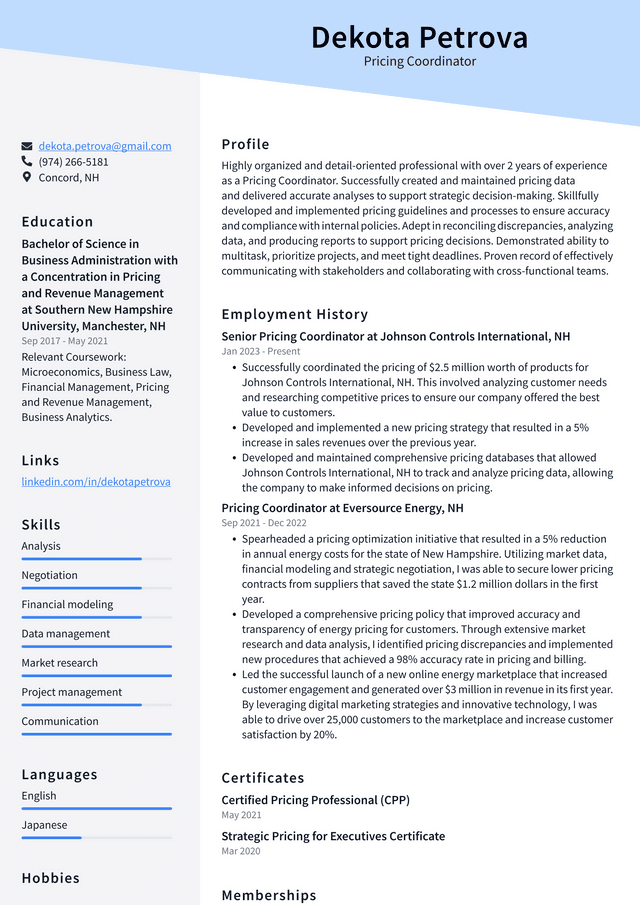 CVS Pricing Coordinator Resume Example
Dekota Petrova, Pricing Coordinator
dekota.petrova@gmail.com
(974) 266-5181
Concord, NH
Professional Summary
Highly organized and detail-oriented professional with over 2 years of experience as a Pricing Coordinator. Successfully created and maintained pricing data and delivered accurate analyses to support strategic decision-making. Skillfully developed and implemented pricing guidelines and processes to ensure accuracy and compliance with internal policies. Adept in reconciling discrepancies, analyzing data, and producing reports to support pricing decisions. Demonstrated ability to multitask, prioritize projects, and meet tight deadlines. Proven record of effectively communicating with stakeholders and collaborating with cross-functional teams.
Work Experience
Senior Pricing Coordinator at Johnson Controls International, NH
Jan 2023 - Present
Successfully coordinated the pricing of $2.5 million worth of products for Johnson Controls International, NH. This involved analyzing customer needs and researching competitive prices to ensure our company offered the best value to customers.
Developed and implemented a new pricing strategy that resulted in a 5% increase in sales revenues over the previous year.
Developed and maintained comprehensive pricing databases that allowed Johnson Controls International, NH to track and analyze pricing data, allowing the company to make informed decisions on pricing.
Pricing Coordinator at Eversource Energy, NH
Sep 2021 - Dec 2022
Spearheaded a pricing optimization initiative that resulted in a 5% reduction in annual energy costs for the state of New Hampshire. Utilizing market data, financial modeling and strategic negotiation, I was able to secure lower pricing contracts from suppliers that saved the state $1.2 million dollars in the first year.
Developed a comprehensive pricing policy that improved accuracy and transparency of energy pricing for customers. Through extensive market research and data analysis, I identified pricing discrepancies and implemented new procedures that achieved a 98% accuracy rate in pricing and billing.
Led the successful launch of a new online energy marketplace that increased customer engagement and generated over $3 million in revenue in its first year. By leveraging digital marketing strategies and innovative technology, I was able to drive over 25,000 customers to the marketplace and increase customer satisfaction by 20%.
Education
Bachelor of Science in Business Administration with a Concentration in Pricing and Revenue Management at Southern New Hampshire University, Manchester, NH
Sep 2017 - May 2021
Relevant Coursework: Microeconomics, Business Law, Financial Management, Pricing and Revenue Management, Business Analytics.
Skills
Analysis
Negotiation
Financial modeling
Data management
Market research
Project management
Communication
Certificates
Certified Pricing Professional (CPP)
Strategic Pricing for Executives Certificate
Tips for Writing a Better CVS Pricing Coordinator Resume
1. Highlight Your Skills: Use your resume to showcase the skills and qualifications you possess that are relevant to the position of CVS Pricing Coordinator. This could include experience with data analysis, financial modeling, problem-solving, or working with large databases.
2. Focus on Results: When describing your past job roles, don't just list your duties—include some of the results you achieved for your employer. This will demonstrate to potential employers that you have a track record of success and can add value to their team.
3. Quantify Your Experience: Whenever possible, use numbers to quantify your accomplishments. For example, instead of saying "managed a portfolio of products" say "managed a portfolio of 200 products worth $20 million in annual sales". This will help employers get an immediate understanding of the scope and scale of your work experience.
4. Showcase Your Knowledge: Make sure to highlight any specific knowledge related to CVS pricing that you may have, such as familiarity with industry trends and regulations or expertise in setting up promotional campaigns for CVS products.
5. Customize Your Resume: Take the time to customize each resume you send out for specific jobs and employers so that it is tailored to their needs and requirements—this will help them better understand why you are the right fit for their organization.
Related: Pricing Specialist Resume Examples
Key Skills Hiring Managers Look for on CVS Pricing Coordinator Resumes
Using keywords from the job description when applying for a Pricing Coordinator opportunity at CVS is important, as Applicant Tracking Systems (ATS) are often used by companies during the recruitment process. ATS software scans resumes to identify relevant keywords and phrases that match the job description. If your resume does not contain these keywords, it may not be seen by recruiters and you may miss out on the opportunity. Therefore, incorporating key words from the job description into your resume can help ensure your application will be seen and considered.
When applying for a pricing coordinator position at CVS, you may come across common skills and key terms such as those listed below.
Key Skills and Proficiencies
Pricing
Analysis
Negotiation
Financial Modeling
Forecasting
Cost Control
Budgeting
Market Research
Data Analysis
Strategic Planning
Vendor Management
Project Management
Microsoft Excel
Microsoft Office Suite
Salesforce
CRM Systems
Communication Skills
Problem Solving
Time Management
Attention to Detail
Organizational Skills
Business Acumen
Related: Pricing Specialist Skills: Definition and Examples
Common Action Verbs for CVS Pricing Coordinator Resumes
Finding the right action verbs to use on a resume can be difficult, especially when trying to create an effective CVS Pricing Coordinator Resume. By using varied and specific action verbs, you can help your resume stand out from the competition. Instead of simply stating that you "managed" or "coordinated" tasks, try to think of more specific words that accurately describe what you did in the role. For example, words like "streamlined" or "implemented" are better choices than generic terms. This will help demonstrate your experience and knowledge to potential employers and give them an idea of how you could contribute to their team.
To give you an edge in your job search, we've compiled a list of powerful action verbs that can help strengthen your resume and increase your chances of landing an interview:
Action Verbs
Monitored
Analyzed
Developed
Implemented
Evaluated
Administered
Processed
Coordinated
Maintained
Researched
Negotiated
Managed
Reconciled
Verified
Streamlined
Forecasted
Generated
Reported
Executed
Optimized
Documented
Investigated
Related: What does a Pricing Specialist do?