Article
Oracle HR Generalist Resume Examples
This article provides comprehensive examples and guidelines for crafting an effective resume for the position of HR Generalist at Oracle, highlighting key skills, experiences, and achievements to stand out.

Brenna Goyette
Certified Professional Resume Writer, Career Expert
Published 9 min read
This article will provide comprehensive guidelines on how to craft an impactful resume for the position of HR Generalist at Oracle. It will delve into the specific skills, experiences, and qualifications that Oracle looks for in this role, such as proficiency in HRMS systems, familiarity with labor laws, excellent communication skills, and a strong background in employee relations. The article will also emphasize the importance of highlighting measurable achievements and project outcomes in your resume. Additionally, it will offer tips on using powerful language and action verbs to convey your capabilities effectively. This guide aims to help you create a compelling resume that stands out to recruiters at Oracle and increases your chances of landing an interview.
Oracle HR Generalist Resume Created Using Our Resume Builder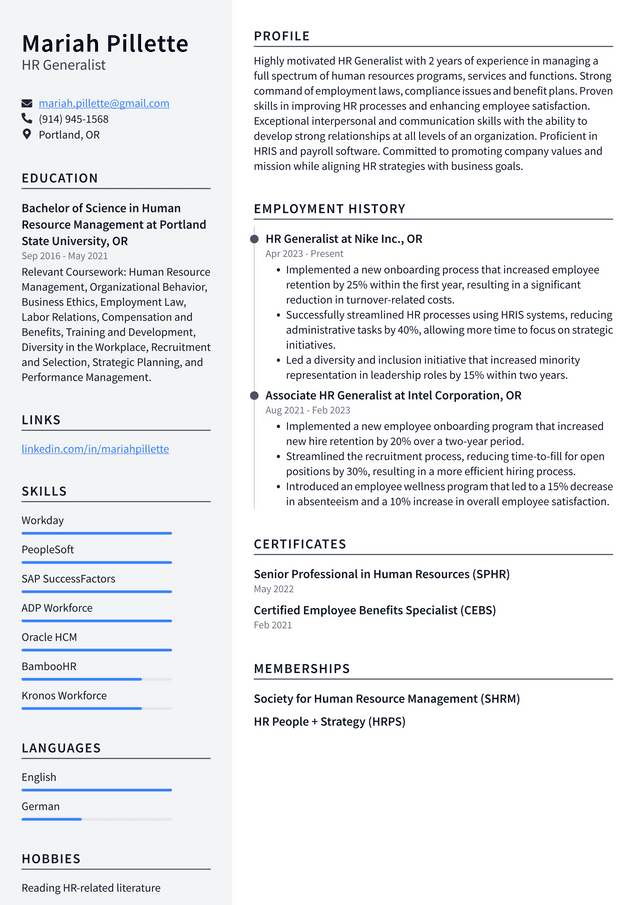 Oracle HR Generalist Resume Example
Mariah Pillette, HR Generalist
mariah.pillette@gmail.com
(914) 945-1568
Portland, OR
Professional Summary
Highly motivated HR Generalist with 2 years of experience in managing a full spectrum of human resources programs, services and functions. Strong command of employment laws, compliance issues and benefit plans. Proven skills in improving HR processes and enhancing employee satisfaction. Exceptional interpersonal and communication skills with the ability to develop strong relationships at all levels of an organization. Proficient in HRIS and payroll software. Committed to promoting company values and mission while aligning HR strategies with business goals.
Work Experience
HR Generalist at Nike Inc., OR
Apr 2023 - Present
Implemented a new onboarding process that increased employee retention by 25% within the first year, resulting in a significant reduction in turnover-related costs.
Successfully streamlined HR processes using HRIS systems, reducing administrative tasks by 40%, allowing more time to focus on strategic initiatives.
Led a diversity and inclusion initiative that increased minority representation in leadership roles by 15% within two years.
Associate HR Generalist at Intel Corporation, OR
Aug 2021 - Feb 2023
Implemented a new employee onboarding program that increased new hire retention by 20% over a two-year period.
Streamlined the recruitment process, reducing time-to-fill for open positions by 30%, resulting in a more efficient hiring process.
Introduced an employee wellness program that led to a 15% decrease in absenteeism and a 10% increase in overall employee satisfaction.
Education
Bachelor of Science in Human Resource Management at Portland State University, OR
Sep 2016 - May 2021
Relevant Coursework: Human Resource Management, Organizational Behavior, Business Ethics, Employment Law, Labor Relations, Compensation and Benefits, Training and Development, Diversity in the Workplace, Recruitment and Selection, Strategic Planning, and Performance Management.
Skills
Workday
PeopleSoft
SAP SuccessFactors
ADP Workforce
Oracle HCM
BambooHR
Kronos Workforce
Certificates
Senior Professional in Human Resources (SPHR)
Certified Employee Benefits Specialist (CEBS)
Tips for Writing a Better Oracle HR Generalist Resume
1. Start with a Strong Objective Statement: Your objective statement should be clear and concise, stating your career goals and what you can bring to the company as an HR Generalist.
2. Use Keywords from Job Description: Most companies use applicant tracking systems (ATS) that scan resumes for keywords related to the job description. Make sure you include these in your resume.
3. Highlight Relevant Skills: Showcase skills that are relevant to the HR field such as organizational skills, communication skills, ability to handle confidential information, knowledge of HR laws and regulations, etc.
4. Showcase Your Experience: List your past work experience in reverse chronological order, starting with your most recent job. Include specific duties and achievements for each role.
5. Include Certifications: If you have any certifications or training related to human resources management like PHR or SPHR, make sure to include them.
6. Quantify Achievements: Where possible, quantify your achievements using numbers or percentages to show how you made a positive impact in your previous roles.
7. Tailor Your Resume for Each Application: Customize your resume based on the specific requirements of each job you apply for.
8. Proofread Thoroughly: Make sure there are no grammatical errors or typos in your resume as they could give an impression of carelessness.
9. Keep it Concise and Professional: Avoid unnecessary jargon or overly complex language and keep the layout clean and easy-to-read.
10. Highlight Tech Skills: If you're proficient in Oracle HR software or other similar systems, highlight this on your resume as it's a valuable skill for an HR generalist.
11. Add a Section for References: If you have references from past employers who can vouch for your abilities as an HR generalist, consider adding a references section at the end of your resume.
12. Show How You Can Add Value: Ultimately, employers want to know how hiring you will benefit their company - make sure this comes across clearly in all sections of your resume.
Related: HR Generalist Resume Examples
Key Skills Hiring Managers Look for on Oracle HR Generalist Resumes
Applicant Tracking Systems (ATS) are software tools used by many companies, including Oracle, to sort through large numbers of resumes. These systems can filter applications based on specific keywords that match the job description. Therefore, when applying for an HR Generalist position at Oracle, it is crucial to incorporate relevant keywords from the job description into your resume and cover letter. For example, if the job description mentions "employee relations," "recruitment," or "HR policies," these terms should be reflected in your application materials. By doing so, you increase the likelihood that your application will pass through the ATS and reach a hiring manager's desk. This could potentially increase your chances of being considered for the role.
When applying for HR Generalist positions at Oracle, you may encounter a list of common skills and key terms.
Key Skills and Proficiencies
Recruitment and Hiring
Employee Relations
HR Policies & Procedures
Performance Management
Training & Development
HRIS Systems Proficiency
Labor Laws Knowledge
Conflict Resolution
Onboarding Process Management
Benefits Administration
Payroll Management
Organizational Skills
Communication Skills
Decision-Making Skills
Time Management Skills
Negotiation Skills
Problem-Solving Skills
Teamwork and Collaboration
Strategic Thinking
Change Management
Employee Engagement
Diversity and Inclusion Awareness
Related: HR Generalist Skills: Definition and Examples
Common Action Verbs for Oracle HR Generalist Resumes
Creating an Oracle HR Generalist Resume can be a challenging task, especially when it comes to incorporating a variety of action verbs. The importance of using different verbs cannot be overstated as they bring dynamism and specificity to the job description, making your resume stand out from the crowd. However, finding varied and appropriate action verbs can be difficult due to the technical nature of the role. It's crucial to strike a balance between demonstrating technical expertise in Oracle HR systems, and showcasing broader HR skills such as employee relations, recruitment, and performance management. Therefore, careful selection of diverse action verbs is critical in crafting an effective Oracle HR Generalist Resume.
To provide you with a competitive advantage, we have put together a list of potent action verbs that can be used to enhance your resume and secure your next interview:
Action Verbs
Managed
Coordinated
Implemented
Developed
Conducted
Facilitated
Administered
Resolved
Organized
Assessed
Oversaw
Recruited
Trained
Negotiated
Advised
Analyzed
Streamlined
Supervised
Evaluated
Updated
Maintained
Enhanced
Related: What does an HR Generalist do?