Article
Pinterest Talent Acquisition Coordinator Resume Examples

Brenna Goyette
Certified Professional Resume Writer, Career Expert
Published 10 min read
Discover the essential tips and tricks to craft a compelling resume for the role of Talent Acquisition Coordinator at Pinterest, one of the world's leading visual discovery platforms. In this insightful article, we delve into how you can effectively showcase your skills, experience, and passion for recruitment and talent management to catch the attention of hiring managers at Pinterest. Learn how to tailor your resume by highlighting relevant experiences in sourcing, interviewing, and onboarding candidates; demonstrating proficiency with applicant tracking systems; showcasing your ability to build strong relationships with internal teams and external partners; emphasizing your data-driven approach to recruitment metrics; and conveying your commitment to fostering a diverse and inclusive workplace. Don't miss out on this opportunity to create a standout resume that could land you an exciting career in talent acquisition at Pinterest!
Pinterest Talent Acquisition Coordinator Resume Created Using Our Resume Builder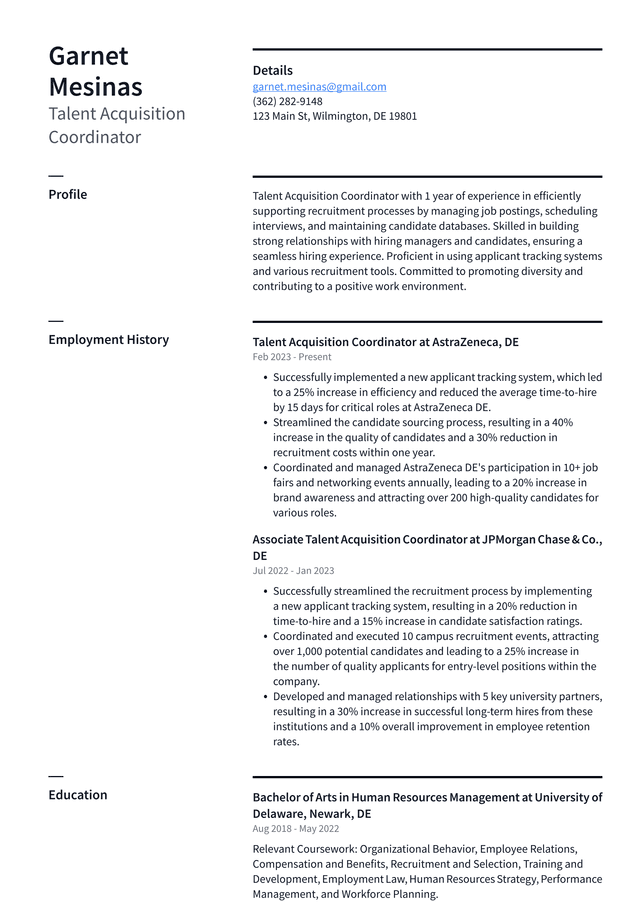 Pinterest Talent Acquisition Coordinator Resume Example
Garnet Mesinas, Talent Acquisition Coordinator
garnet.mesinas@gmail.com
(362) 282-9148
123 Main St, Wilmington, DE 19801
Professional Summary
Talent Acquisition Coordinator with 1 year of experience in efficiently supporting recruitment processes by managing job postings, scheduling interviews, and maintaining candidate databases. Skilled in building strong relationships with hiring managers and candidates, ensuring a seamless hiring experience. Proficient in using applicant tracking systems and various recruitment tools. Committed to promoting diversity and contributing to a positive work environment.
Work Experience
Talent Acquisition Coordinator at AstraZeneca, DE
Feb 2023 - Present
Successfully implemented a new applicant tracking system, which led to a 25% increase in efficiency and reduced the average time-to-hire by 15 days for critical roles at AstraZeneca DE.
Streamlined the candidate sourcing process, resulting in a 40% increase in the quality of candidates and a 30% reduction in recruitment costs within one year.
Coordinated and managed AstraZeneca DE's participation in 10+ job fairs and networking events annually, leading to a 20% increase in brand awareness and attracting over 200 high-quality candidates for various roles.
Associate Talent Acquisition Coordinator at JPMorgan Chase & Co., DE
Jul 2022 - Jan 2023
Successfully streamlined the recruitment process by implementing a new applicant tracking system, resulting in a 20% reduction in time-to-hire and a 15% increase in candidate satisfaction ratings.
Coordinated and executed 10 campus recruitment events, attracting over 1,000 potential candidates and leading to a 25% increase in the number of quality applicants for entry-level positions within the company.
Developed and managed relationships with 5 key university partners, resulting in a 30% increase in successful long-term hires from these institutions and a 10% overall improvement in employee retention rates.
Education
Bachelor of Arts in Human Resources Management at University of Delaware, Newark, DE
Aug 2018 - May 2022
Relevant Coursework: Organizational Behavior, Employee Relations, Compensation and Benefits, Recruitment and Selection, Training and Development, Employment Law, Human Resources Strategy, Performance Management, and Workforce Planning.
Skills
Interviewing
Onboarding
Sourcing
Networking
Applicant Tracking System (ATS)
Boolean Search
Social Media Recruiting
Certificates
Talent Acquisition Professional (TAP) Certification
Certified Diversity and Inclusion Recruiter (CDR)
Tips for Writing a Better Pinterest Talent Acquisition Coordinator Resume
1. Use a clear and concise format: Your resume should be easy to read and well-organized. Make sure to use a clean, professional font (such as Arial or Calibri) and divide your resume into clear sections, such as "Summary," "Experience," "Education," and "Skills."
2. Tailor your resume for the specific role: Before applying for a Talent Acquisition Coordinator position at Pinterest, research the company's values, culture, and mission. Then, tailor your resume to highlight skills and experiences that align with Pinterest's goals.
3. Include relevant keywords: Incorporate keywords from the job description in your resume, particularly within your summary statement and skills section. This will help demonstrate that you are a good match for the role and can also help get your resume past applicant tracking systems (ATS).
4. Quantify your accomplishments: Use numbers wherever possible to demonstrate the impact of your work in previous roles. For example, mention the number of candidates you managed or recruited during a certain period or highlight any improvements you made in key metrics.
5. Highlight soft skills: As a Talent Acquisition Coordinator, it's important to have strong communication and interpersonal skills, as well as being detail-oriented and organized. Make sure to emphasize these qualities throughout your resume.
6. Showcase relevant experience: If you have any prior experience in talent acquisition or human resources, make sure it is prominently featured on your resume – especially if it includes direct experience with sourcing candidates on Pinterest or similar platforms.
7. Include certifications or training: If you have any HR-related certifications (such as SHRM-CP) or completed relevant training courses (such as LinkedIn Learning courses), include them in a separate "Certifications" or "Professional Development" section of your resume.
8. Keep it concise: Aim for no more than one page if possible but definitely no more than two pages long – this ensures that recruiters can quickly skim through your resume and find the most important information.
9. Proofread: Double-check your resume for typos, grammatical errors, and formatting inconsistencies. These small mistakes can make a big difference in how professional your resume appears to recruiters.
10. Include a strong call-to-action: End your resume with a solid closing statement that encourages the recruiter to take action – such as inviting you for an interview or contacting you for more information. This will help make your resume stand out from the competition and increase your chances of landing the role.
Related: Talent Acquisition Manager Resume Examples
Key Skills Hiring Managers Look for on Pinterest Talent Acquisition Coordinator Resumes
When applying for a Talent Acquisition Coordinator position at Pinterest, it is crucial to incorporate keywords from the job description in your application materials. This is because many companies, including Pinterest, use Applicant Tracking Systems (ATS) to screen and filter candidates based on specific criteria. These systems rely heavily on matching keywords from the job description with those found in your resume and cover letter. By ensuring that you include relevant terms and phrases from the job posting, you increase your chances of passing through the ATS screening process and being considered for an interview. Additionally, using these keywords demonstrates your attention to detail and understanding of the role's requirements, making you a more attractive candidate overall.
When applying for talent acquisition coordinator positions at Pinterest, you may encounter common skills and key terms such as sourcing, applicant tracking systems, onboarding, recruitment marketing, diversity and inclusion, employer branding, and interview scheduling.
Key Skills and Proficiencies
Recruiting
Sourcing
Applicant Tracking Systems (ATS)
Job Posting
Interview Coordination
Candidate Screening
Onboarding
Talent Pipeline Development
Employer Branding
Networking
Communication Skills
Time Management
Relationship Building
Social Media Recruiting
Data Analysis and Reporting
Negotiation Skills
Team Collaboration
Human Resources Knowledge
Diversity and Inclusion
Compliance with Employment Laws
Organizational Skills
Workforce Planning
Related: Talent Acquisition Manager Skills: Definition and Examples
Common Action Verbs for Pinterest Talent Acquisition Coordinator Resumes
Crafting a compelling resume can be quite challenging, particularly when it comes to finding diverse action verbs to showcase your skills and experiences. Using the same verbs repeatedly can make your resume monotonous and unappealing. To create an impressive Pinterest Talent Acquisition Coordinator Resume, it is crucial to use varied action verbs that effectively convey your accomplishments, responsibilities, and contributions in previous roles. This not only helps you stand out from other candidates but also demonstrates your ability to communicate effectively and showcase your unique skillset.
To provide you with a competitive advantage, we have assembled a collection of impactful action verbs to enhance your resume and secure your next interview:
Action Verbs
Coordinated
Recruited
Sourced
Interviewed
Assessed
Selected
Negotiated
Hired
Onboarded
Managed
Trained
Developed
Implemented
Streamlined
Maintained
Monitored
Analyzed
Reported
Collaborated
Communicated
Facilitated
Scheduled