Article
Lyft Talent Acquisition Coordinator Resume Examples
Discover the top resume examples and tips for crafting a standout Talent Acquisition Coordinator application in the competitive world of Lyft.

Brenna Goyette
Certified Professional Resume Writer, Career Expert
Published 10 min read
In this comprehensive guide, we explore the essential elements and strategies for crafting a standout resume tailored specifically for the role of Talent Acquisition Coordinator at Lyft. From highlighting your experience in recruitment and talent management to demonstrating your ability to navigate a fast-paced, technology-driven work environment, we will delve into the key components that will set you apart from other candidates. Learn how to showcase your interpersonal skills, project management expertise, and passion for finding top-notch talent as you position yourself for success in securing an exciting opportunity with Lyft's dynamic team.
Lyft Talent Acquisition Coordinator Resume Created Using Our Resume Builder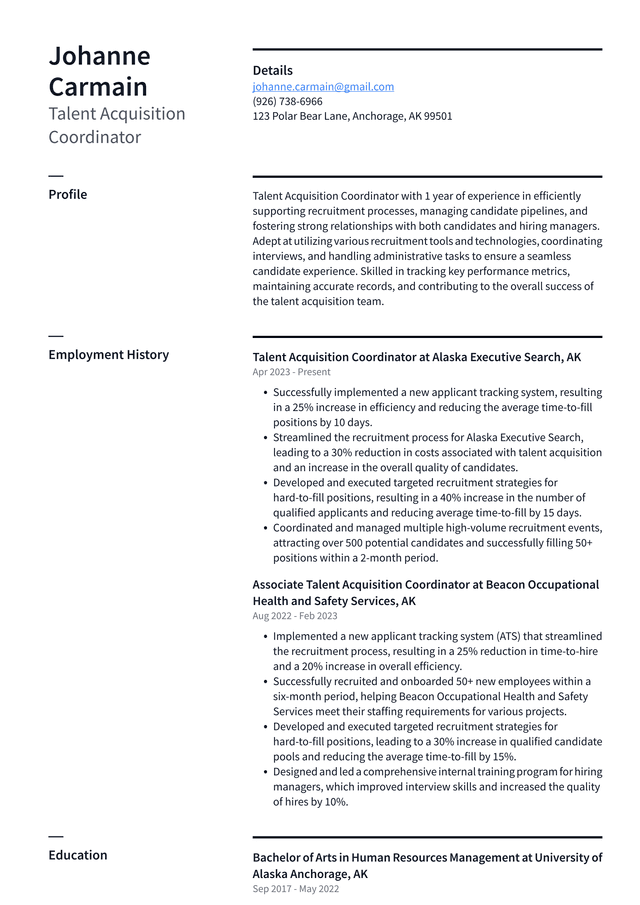 Lyft Talent Acquisition Coordinator Resume Example
Johanne Carmain, Talent Acquisition Coordinator
johanne.carmain@gmail.com
(926) 738-6966
123 Polar Bear Lane, Anchorage, AK 99501
Professional Summary
Talent Acquisition Coordinator with 1 year of experience in efficiently supporting recruitment processes, managing candidate pipelines, and fostering strong relationships with both candidates and hiring managers. Adept at utilizing various recruitment tools and technologies, coordinating interviews, and handling administrative tasks to ensure a seamless candidate experience. Skilled in tracking key performance metrics, maintaining accurate records, and contributing to the overall success of the talent acquisition team.
Work Experience
Talent Acquisition Coordinator at Alaska Executive Search, AK
Apr 2023 - Present
Successfully implemented a new applicant tracking system, resulting in a 25% increase in efficiency and reducing the average time-to-fill positions by 10 days.
Streamlined the recruitment process for Alaska Executive Search, leading to a 30% reduction in costs associated with talent acquisition and an increase in the overall quality of candidates.
Developed and executed targeted recruitment strategies for hard-to-fill positions, resulting in a 40% increase in the number of qualified applicants and reducing average time-to-fill by 15 days.
Coordinated and managed multiple high-volume recruitment events, attracting over 500 potential candidates and successfully filling 50+ positions within a 2-month period.
Associate Talent Acquisition Coordinator at Beacon Occupational Health and Safety Services, AK
Aug 2022 - Feb 2023
Implemented a new applicant tracking system (ATS) that streamlined the recruitment process, resulting in a 25% reduction in time-to-hire and a 20% increase in overall efficiency.
Successfully recruited and onboarded 50+ new employees within a six-month period, helping Beacon Occupational Health and Safety Services meet their staffing requirements for various projects.
Developed and executed targeted recruitment strategies for hard-to-fill positions, leading to a 30% increase in qualified candidate pools and reducing the average time-to-fill by 15%.
Designed and led a comprehensive internal training program for hiring managers, which improved interview skills and increased the quality of hires by 10%.
Education
Bachelor of Arts in Human Resources Management at University of Alaska Anchorage, AK
Sep 2017 - May 2022
Relevant Coursework: Organizational Behavior, Recruitment and Selection, Training and Development, Compensation and Benefits, HR Analytics, Employment Law, Performance Management, and Employee Relations.
Skills
Interviewing
Onboarding
Sourcing
Networking
Applicant Tracking System (ATS)
Boolean Search
Social Media Recruiting
Certificates
Talent Acquisition Professional (TAP) Certification
Advanced Certified Talent Acquisition Specialist (ACTAS)
Tips for Writing a Better Lyft Talent Acquisition Coordinator Resume
1. Start with a strong summary statement: A well-written summary statement can capture the attention of hiring managers and showcase your qualifications for the role. Highlight your relevant experience, skills, and achievements in talent acquisition or human resources.
2. Use keywords from the job description: Make sure to tailor your resume for each application by incorporating keywords and phrases from the job posting into your resume. This will help demonstrate that you are a good fit for the position and increase your chances of getting an interview.
3. Focus on accomplishments: Instead of simply listing responsibilities, focus on achievements and results in your work experience section. Provide quantifiable examples of how you have contributed to the success of previous employers, such as increased efficiency or reduced time-to-hire.
4. Highlight relevant skills: Emphasize skills that are relevant to the Talent Acquisition Coordinator role, such as communication, organization, time management, and data analysis. Don't forget to include any technical skills you possess related to applicant tracking systems (ATS) or other HR software.
5. Keep it concise and well-organized: Aim for a one-page resume that is easy to read and navigate. Use clear headings, bullet points, and consistent formatting throughout.
6. Proofread carefully: Errors in spelling, grammar, or punctuation can make a poor impression on potential employers. Take the time to proofread your resume multiple times before submitting it.
7. Include professional development activities: If you have attended workshops, conferences, or completed certifications related to talent acquisition or human resources, be sure to include these in a dedicated "Professional Development" section on your resume.
8. Showcase transferable skills: If you have limited direct experience as a Talent Acquisition Coordinator but possess transferable skills from other roles (such as customer service), highlight these skills in your work experience section by explaining how they apply to the Talent Acquisition Coordinator role.
9. Add volunteer work or internships: If you have relevant volunteer or internship experience, include this on your resume to demonstrate your commitment to the field and your ability to gain experience in different settings.
10. Use action verbs: Start each bullet point in your work experience section with a strong action verb, such as "coordinated," "managed," or "implemented." This helps emphasize your active role in achieving results and makes your resume more dynamic.
Related: Talent Acquisition Manager Resume Examples
Key Skills Hiring Managers Look for on Lyft Talent Acquisition Coordinator Resumes
When applying for a Talent Acquisition Coordinator position at Lyft, it is crucial to incorporate keywords from the job description in your application. This is because Lyft, like many other companies, utilizes Applicant Tracking Systems (ATS) to screen candidates and determine if they are a good fit for the role. These systems analyze resumes and cover letters based on specific keywords related to the job requirements and qualifications. By including these keywords in your application materials, you increase your chances of being identified as a strong candidate by the ATS, which can lead to further consideration and potentially an interview opportunity with Lyft's talent acquisition team.
When applying for talent acquisition coordinator positions at Lyft, you may encounter common skills and key terms such as sourcing, recruiting, applicant tracking systems, onboarding, and interview coordination.
Key Skills and Proficiencies
Recruitment
Sourcing
Interviewing
Onboarding
Applicant Tracking Systems (ATS)
Job Posting
Candidate Screening
Employer Branding
Talent Pipelining
Relationship Building
Networking
Social Media Recruiting
Time Management
Communication Skills
Negotiation Skills
Collaboration and Teamwork
Analytical Skills
Reporting and Metrics
Technical Proficiency (e.g., Microsoft Office, Google Suite)
Project Management
Compliance and Legal Knowledge (e.g., EEOC, OFCCP)
Multitasking
Related: Talent Acquisition Manager Skills: Definition and Examples
Common Action Verbs for Lyft Talent Acquisition Coordinator Resumes
Crafting a compelling resume can be challenging, particularly when it comes to finding different action verbs to effectively showcase your skills and experiences. Using varied and powerful verbs is crucial in order to create a strong Lyft Talent Acquisition Coordinator Resume that stands out from the competition. These action verbs not only help to convey your achievements and responsibilities but also demonstrate your ability to make an impact in the role you are applying for. Repeating the same verbs throughout your resume may weaken its impact and make it seem monotonous, which is why it's essential to invest time in selecting diverse and appropriate action words that truly reflect your capabilities as a potential Lyft Talent Acquisition Coordinator.
To provide you with a competitive advantage, we have compiled a list of impactful action verbs that will enhance your resume and help secure your next interview:
Action Verbs
Sourced
Recruited
Interviewed
Coordinated
Managed
Screened
Evaluated
Hired
Trained
Developed
Implemented
Collaborated
Communicated
Negotiated
Analyzed
Organized
Scheduled
Facilitated
Assessed
Streamlined
Maintained
Build Relationships