Article
Oracle Technical Recruiter Resume Examples
This article provides insightful examples and guidelines for crafting a compelling Oracle Technical Recruiter resume to stand out in the competitive job market.

Brenna Goyette
Certified Professional Resume Writer, Career Expert
Published 9 min read
This comprehensive article provides detailed guidance on crafting a compelling resume for the role of a Technical Recruiter at Oracle. It delves into the critical aspects such as highlighting relevant skills, showcasing pertinent experiences, and articulating achievements in recruitment within the tech industry. The piece also outlines how to effectively convey your understanding of Oracle's technology stack, business model, and corporate culture. Furthermore, it discusses the importance of emphasizing your ability to source and engage top tech talent, manage hiring processes efficiently, foster strong relationships with hiring managers, and stay updated on technological advancements relevant to Oracle's operations. The article does not focus on formatting but instead emphasizes content that can distinguish your application from others.
Oracle Technical Recruiter Resume Created Using Our Resume Builder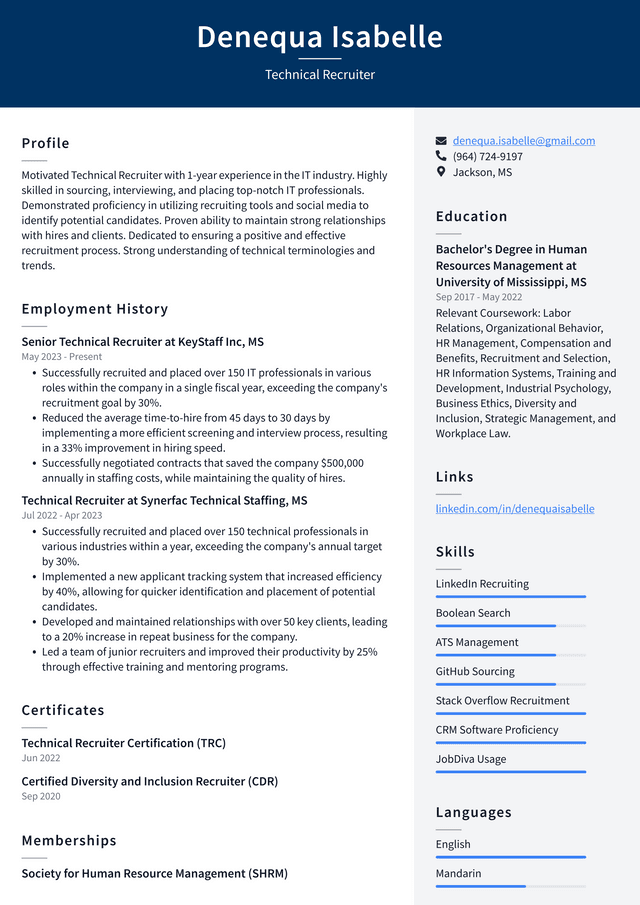 Oracle Technical Recruiter Resume Example
Denequa Isabelle, Technical Recruiter
denequa.isabelle@gmail.com
(964) 724-9197
Jackson, MS
Professional Summary
Motivated Technical Recruiter with 1-year experience in the IT industry. Highly skilled in sourcing, interviewing, and placing top-notch IT professionals. Demonstrated proficiency in utilizing recruiting tools and social media to identify potential candidates. Proven ability to maintain strong relationships with hires and clients. Dedicated to ensuring a positive and effective recruitment process. Strong understanding of technical terminologies and trends.
Work Experience
Senior Technical Recruiter at KeyStaff Inc, MS
May 2023 - Present
Successfully recruited and placed over 150 IT professionals in various roles within the company in a single fiscal year, exceeding the company's recruitment goal by 30%.
Reduced the average time-to-hire from 45 days to 30 days by implementing a more efficient screening and interview process, resulting in a 33% improvement in hiring speed.
Successfully negotiated contracts that saved the company $500,000 annually in staffing costs, while maintaining the quality of hires.
Technical Recruiter at Synerfac Technical Staffing, MS
Jul 2022 - Apr 2023
Successfully recruited and placed over 150 technical professionals in various industries within a year, exceeding the company's annual target by 30%.
Implemented a new applicant tracking system that increased efficiency by 40%, allowing for quicker identification and placement of potential candidates.
Developed and maintained relationships with over 50 key clients, leading to a 20% increase in repeat business for the company.
Led a team of junior recruiters and improved their productivity by 25% through effective training and mentoring programs.
Education
Bachelor's Degree in Human Resources Management at University of Mississippi, MS
Sep 2017 - May 2022
Relevant Coursework: Labor Relations, Organizational Behavior, HR Management, Compensation and Benefits, Recruitment and Selection, HR Information Systems, Training and Development, Industrial Psychology, Business Ethics, Diversity and Inclusion, Strategic Management, and Workplace Law.
Skills
LinkedIn Recruiting
Boolean Search
ATS Management
GitHub Sourcing
Stack Overflow Recruitment
CRM Software Proficiency
JobDiva Usage
Certificates
Technical Recruiter Certification (TRC)
Certified Diversity and Inclusion Recruiter (CDR)
Tips for Writing a Better Oracle Technical Recruiter Resume
1. Start with a Strong Summary: Begin your resume with a strong summary that highlights your key skills and experiences related to Oracle technologies. This will immediately grab the attention of the recruiter.
2. Highlight Relevant Skills: List down all your relevant skills like knowledge in Oracle Database, SQL, PL/SQL, Oracle EBS, Cloud Services etc. Also mention your expertise in recruitment processes and strategies.
3. Showcase Your Experience: Detail out your work experience focusing on achievements rather than responsibilities. Mention how you have recruited for similar positions before or how you have helped companies fill their vacancies quickly with qualified candidates.
4. Include Certifications: If you have any certifications related to Oracle or technical recruitment, be sure to include them in your resume. It shows that you are committed to staying updated with the latest trends and technologies.
5. Focus on Results: Quantify your achievements whenever possible. For example, instead of saying "Managed recruitment process for tech positions", say "Managed recruitment process for 50+ tech positions resulting in 90% successful hires within given deadlines".
6. Use Action Verbs: Use action verbs like 'led', 'managed', 'delivered', 'achieved' etc., to describe your experience and accomplishments.
7. Tailor Your Resume: Customize your resume for each job application according to the specific requirements mentioned in the job description.
8. Keep it Concise and Clear: Avoid jargon and keep language simple and straightforward. Ensure that there are no grammatical errors or typos as they can create a negative impression.
9. Include Key Soft Skills: Mention key soft skills such as communication, negotiation, problem-solving, organization etc., which are important for a recruiter's role.
10. Format Properly: Make sure your resume is well-structured and easy-to-read with proper headings, bullet points and white space.
Remember that a good resume should not just list what you've done but also show how well you've done it!
Related: Technical Recruiter Resume Examples
Key Skills Hiring Managers Look for on Oracle Technical Recruiter Resumes
Applying for a Technical Recruiter role at Oracle requires strategic use of keywords drawn from the job description. This is largely due to Oracle's use of Applicant Tracking Systems (ATS), which are designed to filter out resumes that do not match the specified criteria for a given role. ATS achieves this by scanning each resume for relevant keywords and phrases, such as "Technical Recruiter", "recruitment strategies", "candidate sourcing", or specific technologies mentioned in the job posting. If your resume lacks these keywords, it may be automatically discarded before it even reaches a human recruiter. Therefore, incorporating appropriate keywords from the job description into your application can significantly increase your chances of getting through this initial screening process.
When applying for technical recruiter positions at Oracle, you may encounter a list of common skills and key terms.
Key Skills and Proficiencies
Technical Knowledge
Recruitment Techniques
HR Software Proficiency
Interviewing Skills
Communication Skills
Negotiation Skills
Time Management
Decision-Making Abilities
Networking Skills
Marketing and Sales Skills
Relationship Building
Multitasking Abilities
Understanding of Job Requirements
Sourcing Strategies
Data Analysis
Problem-Solving Abilities
Social Media Recruiting
Attention to Detail
Understanding of Employment Laws
Confidentiality Maintenance
Cultural Awareness
Teamwork Skills
Related: Technical Recruiter Skills: Definition and Examples
Common Action Verbs for Oracle Technical Recruiter Resumes
Creating an Oracle Technical Recruiter Resume can be a challenging task, especially when it comes to finding unique and impactful action verbs. The use of repetitive or generic verbs can make the resume unimpressive and monotonous, leading to potential employers overlooking your application. It is crucial to utilize a variety of strong, descriptive action verbs that effectively highlight your skills, achievements, and responsibilities in the field of Oracle technical recruitment. This not only enhances the quality of your resume but also makes it stand out amongst others. Therefore, investing time in carefully selecting your action verbs can significantly improve the chances of securing an interview call.
To provide you with an advantage over your competition, we have put together a list of potent action verbs that can enhance your resume and help secure your next interview:
Action Verbs
Sourced
Recruited
Screened
Interviewed
Negotiated
Hired
Coordinated
Managed
Implemented
Developed
Assessed
Trained
Communicated
Analyzed
Identified
Reviewed
Documented
Facilitated
Maintained
Verified
Organized
Optimized
Related: What does a Technical Recruiter do?