Article
Lyft Fleet Coordinator Resume Examples

Brenna Goyette
Certified Professional Resume Writer, Career Expert
Published 10 min read
In this comprehensive guide, we delve into the essential steps and strategies to craft an outstanding resume tailored for the role of a Fleet Coordinator at Lyft. Discover how to effectively showcase your skills and experience in fleet management, maintenance, and coordination while highlighting your ability to navigate the fast-paced environment of a leading rideshare company. Learn how to emphasize key qualities such as strong communication, problem-solving abilities, and attention to detail that will set you apart from other candidates. With our expert tips and advice, you'll be well on your way to creating a winning resume that lands you an interview with Lyft.
Lyft Fleet Coordinator Resume Created Using Our Resume Builder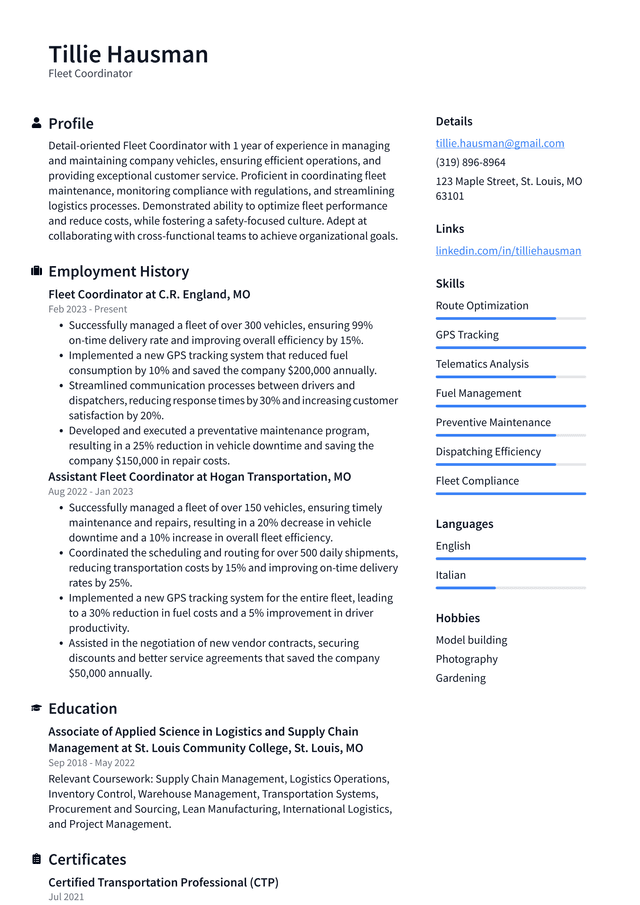 Lyft Fleet Coordinator Resume Example
Tillie Hausman, Fleet Coordinator
tillie.hausman@gmail.com
(319) 896-8964
123 Maple Street, St. Louis, MO 63101
Professional Summary
Detail-oriented Fleet Coordinator with 1 year of experience in managing and maintaining company vehicles, ensuring efficient operations, and providing exceptional customer service. Proficient in coordinating fleet maintenance, monitoring compliance with regulations, and streamlining logistics processes. Demonstrated ability to optimize fleet performance and reduce costs, while fostering a safety-focused culture. Adept at collaborating with cross-functional teams to achieve organizational goals.
Work Experience
Fleet Coordinator at C.R. England, MO
Feb 2023 - Present
Successfully managed a fleet of over 300 vehicles, ensuring 99% on-time delivery rate and improving overall efficiency by 15%.
Implemented a new GPS tracking system that reduced fuel consumption by 10% and saved the company $200,000 annually.
Streamlined communication processes between drivers and dispatchers, reducing response times by 30% and increasing customer satisfaction by 20%.
Developed and executed a preventative maintenance program, resulting in a 25% reduction in vehicle downtime and saving the company $150,000 in repair costs.
Assistant Fleet Coordinator at Hogan Transportation, MO
Aug 2022 - Jan 2023
Successfully managed a fleet of over 150 vehicles, ensuring timely maintenance and repairs, resulting in a 20% decrease in vehicle downtime and a 10% increase in overall fleet efficiency.
Coordinated the scheduling and routing for over 500 daily shipments, reducing transportation costs by 15% and improving on-time delivery rates by 25%.
Implemented a new GPS tracking system for the entire fleet, leading to a 30% reduction in fuel costs and a 5% improvement in driver productivity.
Assisted in the negotiation of new vendor contracts, securing discounts and better service agreements that saved the company $50,000 annually.
Education
Associate of Applied Science in Logistics and Supply Chain Management at St. Louis Community College, St. Louis, MO
Sep 2018 - May 2022
Relevant Coursework: Supply Chain Management, Logistics Operations, Inventory Control, Warehouse Management, Transportation Systems, Procurement and Sourcing, Lean Manufacturing, International Logistics, and Project Management.
Skills
Route Optimization
GPS Tracking
Telematics Analysis
Fuel Management
Preventive Maintenance
Dispatching Efficiency
Fleet Compliance
Certificates
Certified Transportation Professional (CTP)
NAFA Fleet Management Association's Certified Automotive Fleet Manager (CAFM)
Tips for Writing a Better Lyft Fleet Coordinator Resume
1. Use a clear and concise format: Your resume should be easy to read and well-organized. Use bullet points, headings, and subheadings to break up large blocks of text. Choose a simple font like Arial or Calibri in 11 or 12-point size for the body text, and use bold or italic formatting sparingly.
2. Tailor your resume to the job description: Read the job posting carefully and make sure your resume highlights your relevant skills and experiences that match the requirements of the role. Incorporate keywords from the job description into your resume to help it stand out.
3. Highlight your relevant experience: As a Lyft Fleet Coordinator, you'll need to have experience in fleet management, logistics, operations, or other related fields. Make sure to list any relevant work experience in these areas on your resume.
4. Showcase your problem-solving skills: As a fleet coordinator, you'll need to have strong problem-solving skills to address issues with vehicles, drivers, and customers effectively. Include examples of situations where you identified problems and implemented solutions on your resume.
5. Emphasize your communication skills: Strong communication skills are essential for coordinating activities within a fleet effectively. Make sure to mention any experience you have working in teams, collaborating with others, or leading meetings on your resume.
6. Include quantifiable achievements: Whenever possible, include specific numbers or metrics in your resume that demonstrate your impact on previous roles (e.g., increased vehicle utilization by 10%, reduced maintenance costs by 15%). This will help employers understand the value you can bring to their organization.
7. List relevant certifications or training: If you have any certifications or training related to fleet management (e.g., Certified Automotive Fleet Manager), be sure to include them on your resume as they can set you apart from other candidates.
8. Keep it concise: Your resume should ideally be no longer than one page for most positions, including a Lyft Fleet Coordinator role. Be selective about the information you include and focus on showcasing your most relevant skills, experiences, and achievements.
9. Proofread your resume: Before submitting your resume, thoroughly proofread it for any spelling or grammar errors. Consider asking a friend or family member to review it as well to ensure that it is error-free and easy to understand.
10. Include a strong summary statement: Start your resume with a brief summary statement that highlights your key qualifications for the role. This will help grab the attention of hiring managers and encourage them to read further into your resume.
Related: Fleet Coordinator Resume Examples
Key Skills Hiring Managers Look for on Lyft Fleet Coordinator Resumes
When applying for a Fleet Coordinator opportunity at Lyft, it is crucial to incorporate keywords from the job description in your application materials. This is because Lyft, like many other large companies, utilizes Applicant Tracking Systems (ATS) to screen and sort through the high volume of applications they receive. These systems work by scanning resumes and cover letters for specific keywords that are relevant to the role, ensuring that only the most qualified candidates are considered for further review. By including keywords from the job description in your application, you increase your chances of passing this initial screening process and making it to the next stage of Lyft's hiring process.
When applying for fleet coordinator positions at Lyft, you may encounter common skills and key terms such as vehicle maintenance, fleet management, inventory control, scheduling, dispatching, driver training, and compliance.
Key Skills and Proficiencies
Fleet management
Vehicle maintenance
Route planning
Fuel management
Driver supervision
Safety compliance
Cost control
GPS tracking systems
Scheduling and dispatching
Record keeping
Regulatory compliance
Asset management
Performance monitoring
Risk assessment and mitigation
Communication skills
Problem-solving abilities
Time management
Organizational skills
Attention to detail
Adaptability and flexibility
Decision-making capabilities
Team leadership
Related: Fleet Coordinator Skills: Definition and Examples
Common Action Verbs for Lyft Fleet Coordinator Resumes
Crafting a compelling and effective resume for a Lyft Fleet Coordinator position can be challenging, particularly when it comes to finding diverse action verbs to describe your skills and experiences. It is essential to use a variety of strong verbs in order to showcase your abilities and demonstrate how you have made an impact in previous roles. By incorporating different action verbs throughout your resume, you will not only create a more engaging document but also stand out as a candidate who is able to effectively communicate their strengths and achievements.
To provide you with a competitive advantage, we have curated a list of impactful action verbs that will enhance your resume and secure your next interview:
Action Verbs
Coordinated
Managed
Scheduled
Monitored
Maintained
Optimized
Streamlined
Implemented
Analyzed
Supervised
Tracked
Communicated
Delegated
Dispatched
Assessed
Reported
Documented
Ensured
Liaised
Negotiated
Collaborated
Resolved
Related: What does a Fleet Coordinator do?