Article
Lyft Training Coordinator Resume Examples
Discover proven strategies and expert tips to create an impressive Lyft Training Coordinator resume that will get you noticed by hiring managers.

Brenna Goyette
Certified Professional Resume Writer, Career Expert
Published 10 min read
Discover the essential tips and tricks in crafting an outstanding resume for the role of Training Coordinator at Lyft, a leading transportation company. This comprehensive guide will delve into the critical aspects of tailoring your resume to match Lyft's specific requirements and expectations, including how to effectively showcase your relevant skills, experience, and accomplishments in learning and development. Learn how to make your application stand out from the competition by highlighting your proficiency in training facilitation, program management, collaboration with cross-functional teams, and commitment to continuous improvement. Unlock the secrets to success in securing a rewarding career as a Training Coordinator at Lyft by following these expert recommendations.
Lyft Training Coordinator Resume Created Using Our Resume Builder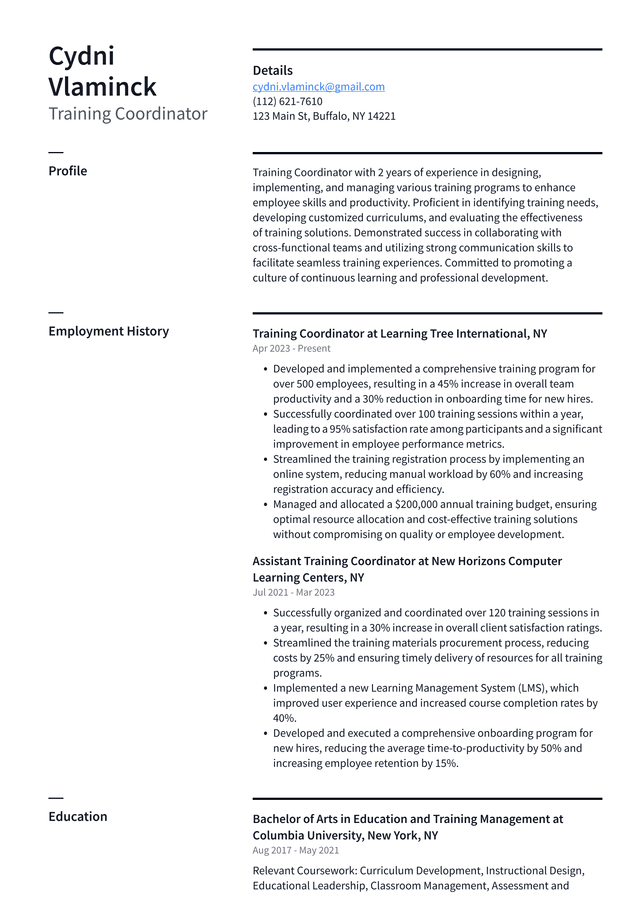 Lyft Training Coordinator Resume Example
Cydni Vlaminck, Training Coordinator
cydni.vlaminck@gmail.com
(112) 621-7610
123 Main St, Buffalo, NY 14221
Professional Summary
Training Coordinator with 2 years of experience in designing, implementing, and managing various training programs to enhance employee skills and productivity. Proficient in identifying training needs, developing customized curriculums, and evaluating the effectiveness of training solutions. Demonstrated success in collaborating with cross-functional teams and utilizing strong communication skills to facilitate seamless training experiences. Committed to promoting a culture of continuous learning and professional development.
Work Experience
Training Coordinator at Learning Tree International, NY
Apr 2023 - Present
Developed and implemented a comprehensive training program for over 500 employees, resulting in a 45% increase in overall team productivity and a 30% reduction in onboarding time for new hires.
Successfully coordinated over 100 training sessions within a year, leading to a 95% satisfaction rate among participants and a significant improvement in employee performance metrics.
Streamlined the training registration process by implementing an online system, reducing manual workload by 60% and increasing registration accuracy and efficiency.
Managed and allocated a $200,000 annual training budget, ensuring optimal resource allocation and cost-effective training solutions without compromising on quality or employee development.
Assistant Training Coordinator at New Horizons Computer Learning Centers, NY
Jul 2021 - Mar 2023
Successfully organized and coordinated over 120 training sessions in a year, resulting in a 30% increase in overall client satisfaction ratings.
Streamlined the training materials procurement process, reducing costs by 25% and ensuring timely delivery of resources for all training programs.
Implemented a new Learning Management System (LMS), which improved user experience and increased course completion rates by 40%.
Developed and executed a comprehensive onboarding program for new hires, reducing the average time-to-productivity by 50% and increasing employee retention by 15%.
Education
Bachelor of Arts in Education and Training Management at Columbia University, New York, NY
Aug 2017 - May 2021
Relevant Coursework: Curriculum Development, Instructional Design, Educational Leadership, Classroom Management, Assessment and Evaluation, Learning Theories, Educational Technology, Diversity and Inclusion, and Special Education.
Skills
Time-management
Communication
Organization
Adaptability
Problem-solving
Leadership
Microsoft Office
Certificates
Certified Professional in Training Management (CPTM)
Certified Technical Trainer (CTT+)
Tips for Writing a Better Lyft Training Coordinator Resume
1. Use a clear and concise format: Your resume should be easy to read and navigate. Use a simple, clean layout with consistent formatting, such as bullet points and headings, to break up text and highlight important information.
2. Tailor your resume for the specific role: Customize your resume by emphasizing relevant skills, experiences, and achievements that align with the Lyft Training Coordinator position. This will demonstrate your understanding of the role and show that you are a good fit for the company.
3. Start with a strong objective or summary statement: Begin your resume with an objective or summary statement that highlights your key qualifications for the role and showcases what makes you stand out as a candidate.
4. Focus on relevant experience: When listing your work experience, focus on positions that showcase your ability to coordinate training programs, develop training materials, manage budgets, and collaborate with cross-functional teams. Be sure to include quantifiable achievements whenever possible to demonstrate your impact in these roles.
5. Highlight transferable skills: Even if you don't have direct experience working as a Training Coordinator, emphasize transferable skills from other positions that would make you successful in this role. These may include project management, communication skills, organization, leadership abilities, and problem-solving capabilities.
6. Showcase your knowledge of Lyft's culture: In addition to emphasizing industry-specific skills and experiences, demonstrate an understanding of Lyft's mission, values, and culture by including any relevant volunteer work or mentioning how your personal beliefs align with those of the company.
7. Include relevant certifications and education: List any certifications or educational accomplishments related to training coordination or adult learning principles (e.g., Certified Professional in Training Management) to show that you have the necessary knowledge base for this position.
8. Proofread carefully: Ensure there are no spelling errors or grammatical mistakes in your resume before submitting it. A polished document demonstrates professionalism and attention to detail—qualities employers value in a Training Coordinator.
9. Keep it concise: Aim for a one-page resume that includes only the most important and relevant information. This will make it easier for hiring managers to quickly review your application and determine if you are a strong fit for the position.
10. Include a strong closing statement: End your resume with a brief statement summarizing why you would be an excellent fit for the Lyft Training Coordinator role, reiterating your passion for training and development and expressing your enthusiasm for joining the Lyft team.
Related: Training Coordinator Resume Examples
Key Skills Hiring Managers Look for on Lyft Training Coordinator Resumes
When applying for a Training Coordinator opportunity at Lyft, it is crucial to incorporate keywords from the job description in your application. This is because Lyft, like many other companies, uses Applicant Tracking Systems (ATS) to filter and rank applications based on their relevance to the job requirements. By including relevant keywords from the job description in your resume and cover letter, you increase your chances of passing through the initial screening phase of the hiring process and getting noticed by recruiters. These systems are designed to prioritize applications that closely match the skills, experience, and qualifications outlined in the job posting, making it essential for applicants to tailor their materials accordingly.
When applying for training coordinator positions at Lyft, you may encounter common skills and key terms such as instructional design, learning management systems, project management, adult learning theory, blended learning, and performance evaluation.
Key Skills and Proficiencies
Training development
Instructional design
Curriculum planning
Learning management systems (LMS)
Time management
Organizational skills
Communication skills
Presentation skills
Leadership skills
Project management
Team building
Conflict resolution
Coaching and mentoring
Needs assessment and analysis
Evaluation and feedback techniques
Budgeting and resource allocation
Training facilitation
Employee development
E-learning platforms
Adaptability and flexibility
Interpersonal skills
Problem-solving abilities
Related: Training Coordinator Skills: Definition and Examples
Common Action Verbs for Lyft Training Coordinator Resumes
Crafting a compelling resume can be quite challenging, especially when it comes to finding the right action verbs to describe your experiences and accomplishments. Using varied and powerful action verbs is crucial in creating a Lyft Training Coordinator Resume that stands out among other applicants. These verbs help paint a vivid picture of your skills and achievements, which can significantly improve your chances of landing the job. However, finding diverse verbs that accurately convey your expertise can be tricky and time-consuming. To overcome this challenge, it's essential to invest time in researching different action verbs and incorporating them into your resume to create a strong impression on potential employers.
To provide you with a competitive advantage, we have assembled a collection of impactful action verbs that can enhance your resume and secure your next interview:
Action Verbs
Coordinated
Developed
Implemented
Facilitated
Managed
Assessed
Evaluated
Designed
Delivered
Monitored
Maintained
Collaborated
Communicated
Organized
Scheduled
Prepared
Analyzed
Reported
Updated
Tracked
Supervised
Reviewed
Related: What does a Training Coordinator do?