Article
CVS Pharmacy Billing Clerk Resume Examples
This article provides resume examples and tips for creating an effective CVS Pharmacy Billing Clerk resume.

Brenna Goyette
Certified Professional Resume Writer, Career Expert
Updated 8 min read
This article will provide a guide to help those interested in applying for a position as a Pharmacy Billing Clerk at CVS. It will discuss the various components of a successful resume, such as what key skills and experiences should be highlighted, how best to phrase your qualifications and accomplishments, and tips on selling yourself to the hiring manager. Additionally, it will cover what specific keywords employers are looking for in this field, as well as any other helpful advice that can make your resume stand out from the competition.
CVS Pharmacy Billing Clerk Resume Created Using Our Resume Builder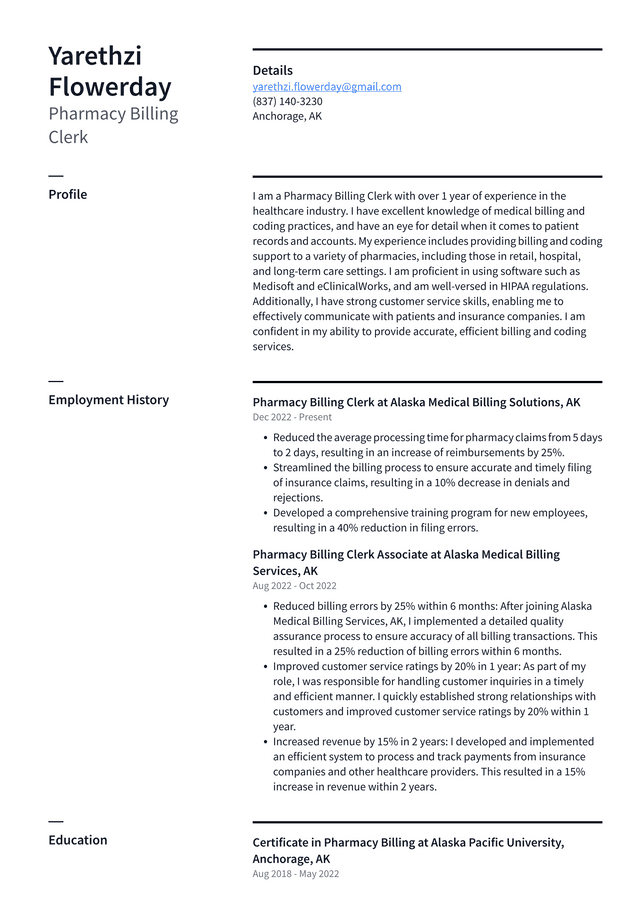 CVS Pharmacy Billing Clerk Resume Example
Yarethzi Flowerday, Pharmacy Billing Clerk
yarethzi.flowerday@gmail.com
(837) 140-3230
Anchorage, AK
Professional Summary
I am a Pharmacy Billing Clerk with over 1 year of experience in the healthcare industry. I have excellent knowledge of medical billing and coding practices, and have an eye for detail when it comes to patient records and accounts. My experience includes providing billing and coding support to a variety of pharmacies, including those in retail, hospital, and long-term care settings. I am proficient in using software such as Medisoft and eClinicalWorks, and am well-versed in HIPAA regulations. Additionally, I have strong customer service skills, enabling me to effectively communicate with patients and insurance companies. I am confident in my ability to provide accurate, efficient billing and coding services.
Work Experience
Pharmacy Billing Clerk at Alaska Medical Billing Solutions, AK
Dec 2022 - Present
Reduced the average processing time for pharmacy claims from 5 days to 2 days, resulting in an increase of reimbursements by 25%.
Streamlined the billing process to ensure accurate and timely filing of insurance claims, resulting in a 10% decrease in denials and rejections.
Developed a comprehensive training program for new employees, resulting in a 40% reduction in filing errors.
Pharmacy Billing Clerk Associate at Alaska Medical Billing Services, AK
Aug 2022 - Oct 2022
Reduced billing errors by 25% within 6 months: After joining Alaska Medical Billing Services, AK, I implemented a detailed quality assurance process to ensure accuracy of all billing transactions. This resulted in a 25% reduction of billing errors within 6 months.
Improved customer service ratings by 20% in 1 year: As part of my role, I was responsible for handling customer inquiries in a timely and efficient manner. I quickly established strong relationships with customers and improved customer service ratings by 20% within 1 year.
Increased revenue by 15% in 2 years: I developed and implemented an efficient system to process and track payments from insurance companies and other healthcare providers. This resulted in a 15% increase in revenue within 2 years.
Education
Certificate in Pharmacy Billing at Alaska Pacific University, Anchorage, AK
Aug 2018 - May 2022
Relevant Coursework: Introduction to Pharmacy Billing, Pharmacology, Pharmacy Law and Regulations, Pharmacy Reimbursement Systems, Pharmacy Informatics, and Pharmacy Record Keeping.
Skills
Billing
Data Entry
Medical Terminology
Insurance Verification
Accounts Receivable/Payable
Customer Service
Attention to Detail
Certificates
Certified Pharmacy Billing and Reimbursement Specialist (CPBRS)
Certified Professional Medical Coder (CPC-P)
Tips for Writing a Better CVS Pharmacy Billing Clerk Resume
1. Highlight Your Skills: Use your resume to showcase the skills and qualifications you have that make you a great fit for the role. This includes customer service, billing and payment processing, data entry, problem-solving, and other related abilities.
2. Include Relevant Experience: Make sure to include any prior experience you may have with CVS Pharmacy or a similar pharmacy setting. This could include cashiering, stocking shelves, managing inventory, customer service or anything else that is related to the job.
3. Quantify Your Accomplishments: Use metrics to highlight your accomplishments on your resume. This could include how many customers you served in a day or how quickly you processed payments or resolved billing issues.
4. Create a Professional Summary: Use this section of your resume to provide an overview of who you are and what makes you stand out from other applicants. Keep it brief but make sure to show why you are the best person for the job.
5. Show Off Your Education: If applicable be sure to highlight any degrees or certifications that relate directly to the job posting such as medical billing certification or coding training programs completed online or in person.
Related: Billing Clerk Resume Examples
Key Skills Hiring Managers Look for on CVS Pharmacy Billing Clerk Resumes
When applying for a Pharmacy Billing Clerk opportunity at CVS, it is important to incorporate keywords from the job description into your application. This is because CVS utilizes Applicant Tracking Systems (ATS) to help them identify and select qualified candidates for their open positions. ATS scans applications for keywords that match the job requirements and filters out those without the necessary qualifications. By including these keywords in your application, you can ensure that your resume will be ranked higher by the ATS and increase your chances of being selected for an interview.
When applying for a pharmacy billing clerk position at CVS, you may encounter the following common skills and key terms:
Key Skills and Proficiencies
Medical billing
Insurance claims
Coding
Data entry
Accounts receivable
Medicare/Medicaid regulations
Record keeping
Computer proficiency
Attention to detail
Problem solving
Customer service
Organizational skills
Time management
Communication skills
Math skills
Analytical skills
Knowledge of HIPAA regulations
Knowledge of medical terminology
Ability to multitask
Ability to work independently
Knowledge of pharmacy operations and procedures
Knowledge of third-party payers
Related: Billing Clerk Skills: Definition and Examples
Common Action Verbs for CVS Pharmacy Billing Clerk Resumes
Finding the right action verbs for your resume can be a challenging task. It is important to use varied verbs to create an effective and professional CV that stands out from the crowd. Action verbs such as 'calculated', 'monitored' and 'processed' are all great options when crafting a CVS Pharmacy Billing Clerk Resume. Additionally, you should include words that show that you have problem-solving skills such as 'analyzed', 'resolved' and 'investigated'. Doing this will demonstrate that you have the necessary skills and abilities required for the job.
To give you an advantage in your job search, we've compiled a list of powerful action verbs that can help strengthen your resume and increase your chances of securing an interview:
Action Verbs
Processed
Generated
Reconciled
Verified
Resolved
Submitted
Entered
Managed
Monitored
Maintained
Assisted
Tracked
Audited
Updated
Investigated
Calculated
Analyzed
Reviewed
Prepared
Documented
Investigated
Troubleshot
Related: What does a Billing Clerk do?