Ticket Taker Resume Examples
Writing a great ticket taker resume is important because it is one of the first things a potential employer will see when they are considering you for a position. It is your opportunity to make a good first impression and sell yourself as the best candidate for the job.
Create your resume
Select from 7 professional resume templates
If you're looking for inspiration when it comes to drafting your own ticket taker resume, look no further than the samples below. These resumes will help you highlight your experience and qualifications in the most effective way possible, giving you the best chance of landing the ticket taker job you're after.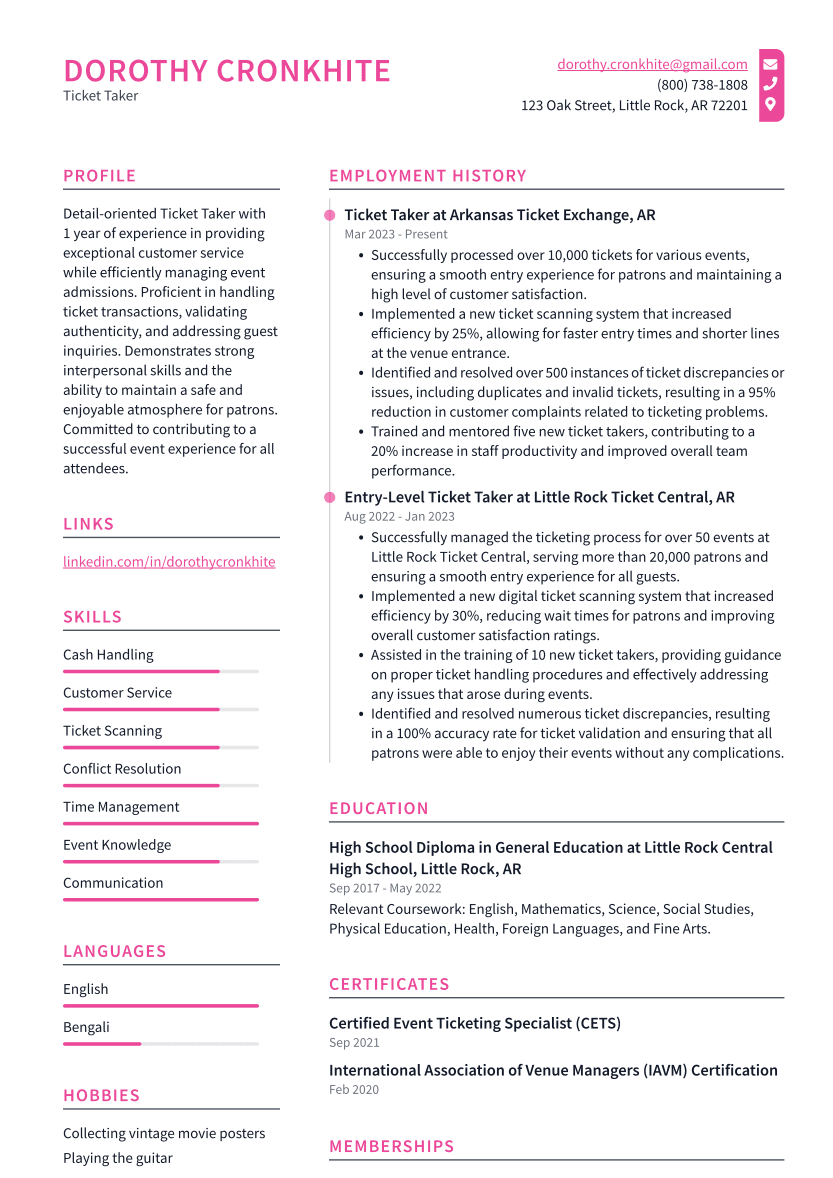 Resume samples
Romelia Gose
romelia.gose@gmail.com | (846) 872-2929 | Detroit, MI
Summary
---
I have over 1 year of experience as a ticket taker. I am efficient and organized, and I have a keen eye for detail. I am able to work independently or as part of a team. My interpersonal skills are excellent, and I am able to resolve conflict effectively.
Experience
---
Lead Ticket Taker at Little Caesars Arena, MIMay 2022 - Present
Led a team of ticket takers in successfully completing all assigned tasks for 3 consecutive days.
Trained 2 new ticket takers on company procedures and policies.
Answered customer inquiries regarding event tickets, seating, and venue information.
Demonstrated excellent conflict resolution skills by diffusing a situation between 2 arguing customers.
Provided direction to other staff members during high-volume times.
Consistently met or exceeded daily quotas for ticket sales.
Ticket Taker at Ford Field, MISep 2021 - Mar 2022
Answered an average of 500 customer inquiries per day.
Assisted with the implementation of a new ticketing system that increased efficiency by 15%.
Trained 3 new employees on proper ticket taking procedures.
Consistently arrived to work on time and took minimal sick days.
Helped resolve conflicts between customers and staff members.
Maintained a professional demeanor at all times while working long hours in high-pressure situations.
Education
---
High School Diploma at Detroit Public Schools, Detroit, MIAug 2016 - May 2021
I've learned time management, organization, and study skills.
Skills
---
Punctuality
Time Management
Communication Skills
Customer Service Skills
Interpersonal skills
Organizational skills
Sharie Ficenec
sharie.ficenec@gmail.com | (584) 156-0661 | Miami, FL
Summary
---
I am a highly motivated individual with over 1 year of experience as a Ticket Taker. I have excellent customer service skills and thrive in fast-paced environments. I am able to stay calm under pressure and handle difficult situations with ease. I am looking for an opportunity to use my skills and abilities in a challenging new role where I can continue to grow and develop professionally.
Experience
---
Lead Ticket Taker at Ticket Taker, Inc., FLJun 2022 - Present
Successfully sold an average of 300 tickets per day over the course of a year.
Maintained a 97% satisfaction rating from customers surveyed.
Worked with team to resolve customer complaints in a timely and efficient manner.
Kept up-to-date on all upcoming events and promotions taking place at the venue.
Helped train new ticket takers on proper procedures and protocols.
Assisted with various office tasks as needed, such as data entry or filing.
Ticket Taker at Ticket Taker Corporation, FLJul 2021 - Apr 2022
Greeted and assisted an average of 500 customers per shift.
Collected tickets and directed guests to their seats.
Answered questions and provided directions as needed.
Monitored the auditorium for disruptive behavior and reported any incidents to management.
Assisted with crowd control during emergencies or evacuations.
Helped maintain a clean and safe work environment by sweeping floors, removing trash, etc.
Education
---
High School Diploma at Miami Senior High School, Miami, FLAug 2017 - May 2021
I have learned time management, organization, and study skills.
Skills
---
Punctuality
Being able to handle difficult customer service inquiries and complaints in a calm and professional manner.
Good communication skills
Basic math skills for calculating change, etc.
The ability to work well under pressure in a fast-paced environment.
Physical stamina for standing long periods of time.
Essential Components of a Ticket Taker Resume
A well-crafted resume is crucial for a ticket taker, as it highlights your abilities, experience, and customer service expertise. This is particularly important in the entertainment and transportation sectors, where hiring managers rely on your resume to determine if you're a suitable candidate for the role.
Your resume should demonstrate your proficiency in customer service, financial transactions, and event or operational organization.
Let's delve into the essential sections of a ticket taker resume, discussing the importance of each and what to include, along with tips to make your resume stand out to employers.
1. Contact Information
As a ticket taker, your resume must include your contact information, enabling employers to reach you for interviews or further discussion about your application.
Place your contact details prominently at the top of your Ticket Taker resume. Include your full name, address, phone number, and a professional email address, ideally comprising your first and last name.
If relevant, consider adding links to your LinkedIn profile or online portfolio. Ensure any linked social media profiles are professional in appearance.
Verify that all contact information is up-to-date and accurate to avoid missed opportunities due to incorrect details.
In certain cases, you may also want to include alternative contact methods, such as Skype or other video call IDs, for potential remote interviews.
Remember to exclude sensitive personal information like Social Security numbers or bank details from your resume to protect against identity theft.
2. Objective Statement
The Objective Statement is a pivotal element of a Ticket Taker resume, offering a chance to make a strong first impression. It should be concise, clear, and tailored to the job.
This section should articulate your career goals and how your skills, experiences, and abilities align with the employer's needs. For a Ticket Taker role, highlight your:
Exceptional customer service skills
Attention to detail
Accurate cash handling abilities
Experience in crowd management
For instance: "Dedicated professional seeking a Ticket Taker position at XYZ Company, aiming to leverage my outstanding customer service skills and extensive experience in financial transactions. I have a solid history of effectively managing large crowds and maintaining order during peak times."
An effective objective statement not only outlines your aspirations but also what you can offer to the organization, showing enthusiasm for the role and an understanding of the job's requirements.
Related: Top Ticket Taker Resume Objective Examples
3. Skills and Competencies
The "Skills and Competencies" section is crucial for a Ticket Taker resume, highlighting the unique abilities that qualify you for the position. Beyond ticket collection, this role encompasses customer service, problem-solving, and maintaining order at the venue.
Customer Service Skills: Direct interaction with customers necessitates excellent customer service skills, including friendliness, patience, and responsiveness to inquiries or concerns.
Attention to Detail: Ticket takers must meticulously check tickets to prevent unauthorized access and quickly identify counterfeit or invalid tickets.
Communication Skills: Effective communication is essential for providing information about seating, facilities, and venue regulations.
Problem-Solving Skills: The ability to swiftly and effectively resolve issues such as seating disputes or difficult customer interactions is vital.
Physical Stamina: The job often requires prolonged periods of standing, making physical fitness a necessity.
Basic Math Skills: Handling cash transactions requires basic math skills for accurate cash management and change distribution.
Multitasking Abilities: During busy events, ticket takers may need to perform multiple tasks simultaneously, such as ticket checking and guest direction.
Knowledge of Safety Procedures: Familiarity with safety protocols is important for maintaining order and ensuring guest safety during emergencies or unexpected situations.
Technological Proficiency: Proficiency with digital ticketing systems and electronic scanning devices is increasingly important as venues adopt modern technologies.
When listing skills, provide examples of how you've applied them in previous roles whenever possible.
Related: Ticket Taker Skills: Definition and Examples
4. Work Experience
The "Work Experience" section is a critical component of a Ticket Taker's resume, allowing prospective employers to evaluate your past roles and suitability for the position.
Detail any previous employment relevant to ticket taking, including roles in customer service, event management, or hospitality. For each position, list your job title, employer, location, and dates of employment.
Highlight tasks and responsibilities that align with those of a ticket taker, such as:
Ticket sales at a box office
Scanning tickets at entry points
Assisting guests with seating
Addressing customer inquiries and issues
Maintaining order during events
Managing financial transactions
Mention proficiency with specific ticketing systems or software, as this can be highly attractive to employers.
Use strong action verbs and quantify achievements when possible, such as "Managed ticket sales for over 50 major concerts annually," "Resolved approximately 30 customer inquiries per shift," or "Maintained accurate cash handling for two consecutive years."
Even if your previous jobs don't directly correlate with ticket taking, highlight transferable skills such as communication, attention to detail, problem-solving, and customer service.
Emphasize any career progression or increased responsibilities to demonstrate professional growth and adaptability.
5. Education and Certifications
The "Education and Certifications" section is an integral part of a Ticket Taker resume. While the role may not require advanced degrees, a high school diploma or equivalent is beneficial, indicating foundational skills in literacy and numeracy.
Employers may favor candidates with additional training or coursework in customer service, communications, public relations, or hospitality management. Such education equips ticket takers with the skills necessary for professional and effective customer interactions.
Certifications can also enhance a resume. For instance, first aid or CPR certifications are advantageous, as they prepare ticket takers to respond to emergencies.
First Aid Training
CPR Certification
Some employers may require ticket takers to complete specific training prior to employment, such as safety protocols, emergency evacuation procedures, or the use of particular ticketing software.
Safety Rules Training
Emergency Evacuation Procedures
Specific Computer Program Usage
Including relevant education and certifications on your resume demonstrates your commitment to the role and your efforts to acquire necessary job skills.
Related: Ticket Taker Certifications
6. Relevant Training or Courses
The "Relevant Training or Courses" section is a vital aspect of a Ticket Taker's resume, showcasing the applicant's commitment to professional development and highlighting specialized skills not evident from work history alone.
While a high school diploma is typically the minimum educational requirement, additional courses or training can distinguish an applicant. Courses in customer service, communication, conflict resolution, or hospitality are particularly beneficial for ticket takers, providing essential skills for the role.
Knowledge of ticketing systems and software is increasingly important, so include any relevant training or certifications on your resume.
Workshops or seminars focused on crowd management and safety protocols are also valuable and should be listed.
Include any first aid or emergency response training, as these skills are highly relevant in environments with large crowds.
Note: Ensure that all listed training and courses are pertinent to the ticket taker position and align with the job description's specific requirements.
7. References
The "References" section can enhance your resume by providing potential employers with insights into your work ethic, skills, and performance from those who have previously worked with you.
While not always mandatory, including references can be advantageous. Choose individuals who can vouch for your punctuality, customer service expertise, attention to detail, and other relevant skills.
Obtain consent from your references before listing them on your resume. Provide their full names, current positions and employers (or their relationship to you if not work-related), and contact information.
Full Names
Current Positions and Employers
Contact Information (Phone Numbers & Email Addresses)
Limit your references to two or three individuals. If more are needed, employers will request them.
The "References" section typically appears at the end of the resume, following the skills, experience, and education sections.
Related Resume Samples