Ticket Taker Cover Letter Examples
A great ticket taker cover letter can help you stand out from the competition when applying for a job. Be sure to tailor your letter to the specific requirements listed in the job description, and highlight your most relevant or exceptional qualifications. The following ticket taker cover letter example can give you some ideas on how to write your own letter.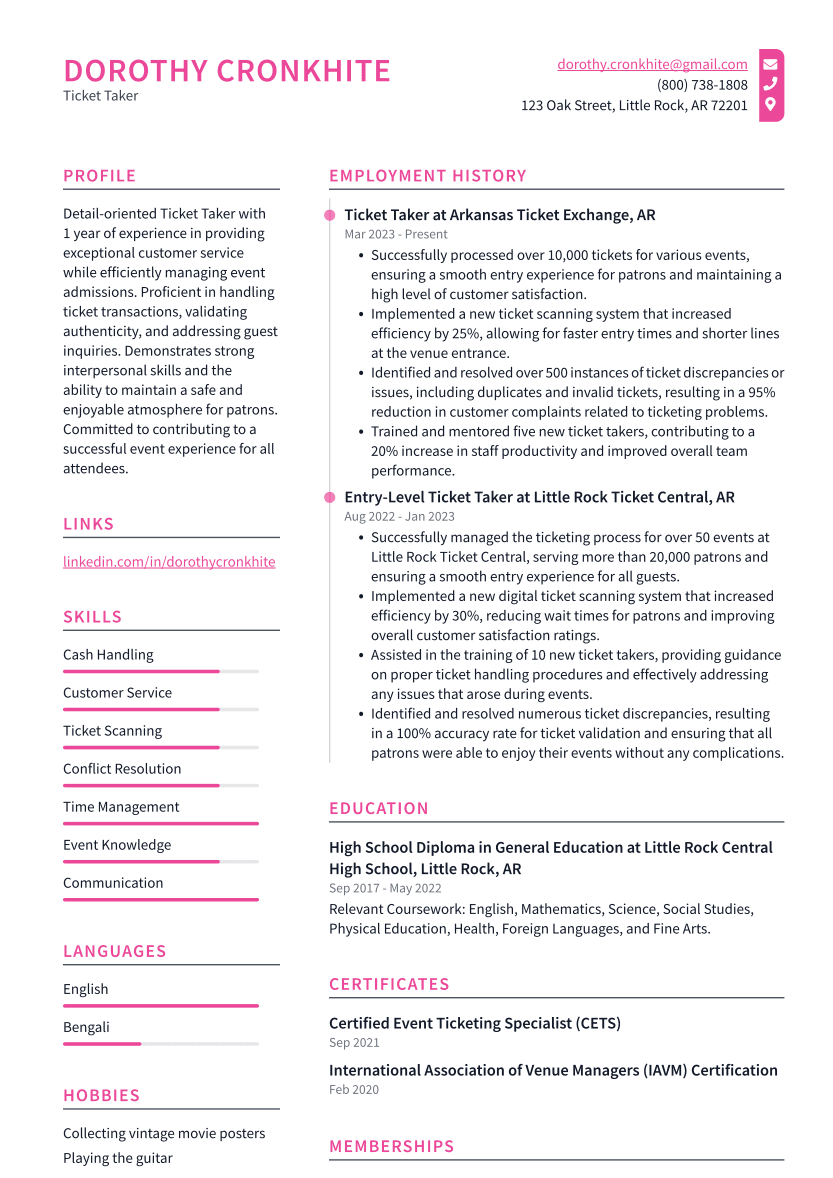 Cover Letter Sample
Sury Nelles
(643) 036-9805
sury.nelles@gmail.com
August 15, 2022
Dear Hiring Manager,
Hello, I am writing in regards to the ticket taker 1 position that I saw advertised. I have experience as a ticket taker and I believe that I would be a great fit for this position. I am a quick learner and I work well under pressure. I am also a people person and I enjoy working with the public.
I have been working as a Ticket Taker for 2 years. In that time, I have helped to sell tickets and take care of customers at the front desk. My experience has taught me how to handle customer service issues calmly and efficiently. Being able to work in a fast-paced environment is one of my professional accomplishments that I am most proud of.
I am a highly organized and efficient ticket taker. I have excellent customer service skills, and a strong attention to detail. I am able to stay calm under pressure, and handle difficult situations with ease. I have a strong working knowledge of all box office software, and can troubleshoot any problems that may arise. I am always willing to go the extra mile to ensure that our customers have a positive experience.
Thank you for considering me for the Ticket Taker 1 position at your company. I am excited about the opportunity to work with such a reputable organization and contribute to its success. I have experience working in customer service, so I know how important it is to provide excellent service to every customer. My goal is always to exceed expectations and deliver top-notch service. I believe that my skills and background make me an ideal candidate for this role, and I look forward to putting my knowledge and experience to work for you. Thank you again for giving me the opportunity to apply for this position, and I eagerly await your response
Sincerely,
Sury Nelles
Related Resume Samples