Apartment Manager Resume Examples
Writing a great apartment manager resume is important because it is one of the first things a potential employer will see when they are considering you for a position. It is your opportunity to make a good first impression and sell yourself as the best candidate for the job.
Create your resume
Select from 7 professional resume templates
If you're looking for inspiration when it comes to drafting your own apartment manager resume, look no further than the samples below. These resumes will help you highlight your experience and qualifications in the most effective way possible, giving you the best chance of landing the apartment manager job you're after.
Essential Components of an Apartment Manager Resume
An effective Apartment Manager resume is a critical document that showcases your skills, work history, and expertise in property management. A well-crafted resume should be comprehensive and highlight your proficiency in property oversight, customer service, financial management, and problem resolution. In the following sections, we will delve into the essential elements of an Apartment Manager Resume, discussing the significance of each and providing guidance on how to optimize them to capture the interest of prospective employers.
1. Contact Information
Your contact information is the first thing employers will see, so it's imperative to place it prominently at the top of your resume. Include your full name, prominently displayed, and your address (city and state suffice for privacy concerns). List your phone number with a professional voicemail, and ensure your email address is also professional in tone. Consider adding links to your LinkedIn profile or other relevant professional social media to enhance your digital presence.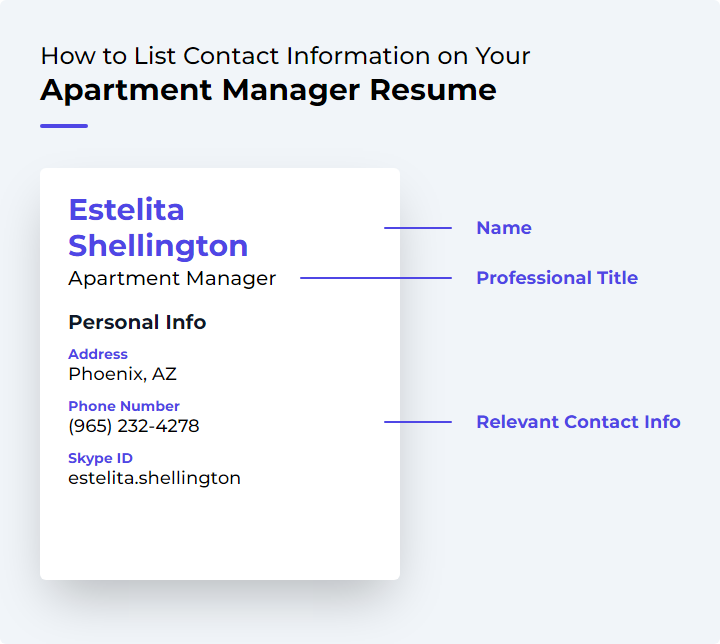 Full Name
Address (City and State)
Phone Number(s)
Email Address
Social Media Profiles (LinkedIn etc.)
Remember, your contact information is not just a means for employers to reach you, but also a reflection of your professionalism.
2. Objective Statement
The Objective Statement, positioned at the beginning of your resume, is a concise declaration of your career aspirations and relevant competencies. Tailor this statement to each job application, highlighting your property management knowledge, customer service expertise, and problem-solving prowess. For example, "Detail-oriented professional with over 5 years of experience in property management seeking an Apartment Manager position to leverage high occupancy rates and efficient maintenance management."
Career Goals: State your professional objectives.
Related Skills: Emphasize skills pertinent to the job.
The Best Person For The Job: Articulate your unique qualifications.
Ensure your objective statement is succinct, clear, and aligned with the employer's needs.
Related: Top Apartment Manager Resume Objective Examples
3. Work Experience
The Work Experience section is a cornerstone of your resume, providing a snapshot of your professional history. List your roles in reverse chronological order, detailing responsibilities and accomplishments that demonstrate your property management acumen. Quantify your achievements where possible to provide concrete evidence of your capabilities.
ABC Property Management Co., New York City — Apartment Manager (2017-Present)

Managed daily operations for a 200-unit apartment complex.
Improved tenant satisfaction by 30% through proactive communication and efficient problem resolution.
Reduced maintenance costs by 20% via preventative maintenance strategies.
Include any relevant experience in real estate or customer service roles that enhance your candidacy for the position.
4. Skills and Competencies
The Skills and Competencies section should reflect your suitability for the role, showcasing your property management expertise, communication abilities, organizational talents, and problem-solving skills. Highlight your customer service excellence, financial savvy, technical proficiency, negotiation skills, attention to detail, and leadership qualities. Tailor this section to each job application, ensuring it aligns with the specific requirements of the position.
Property Management Skills: Deep understanding of leasing, marketing, maintenance, and financial aspects of property management.
Communication Skills: Effective verbal and written communication for daily interactions with tenants, staff, and vendors.
Organizational Skills: Aptitude for managing multiple tasks and properties efficiently.
Problem-Solving Skills: Ability to address unexpected issues promptly and effectively.
Customer Service Skills: Commitment to providing exceptional service to tenants, contributing to tenant retention.
Financial Acumen: Proficiency in budgeting, financial planning, and record-keeping.
Technical Proficiency: Familiarity with property management software and other relevant technologies.
Negotiation Skills: Skilled in negotiating favorable lease terms and vendor contracts.
Attention to Detail: Vigilance in overseeing property operations to prevent and address issues.
Leadership Abilities: Capacity to lead and manage teams effectively.
Related: Apartment Manager Skills: Definition and Examples
5. Education and Certifications
Education and Certifications are critical in establishing your qualifications. List your highest level of education and any relevant property management certifications, such as CAM or RMP, which can distinguish you from other candidates. Include coursework in real estate law, accounting, leasing, tenant relations, and maintenance. Participation in workshops, seminars, and membership in professional organizations like NAA or IREM demonstrates your commitment to the industry.
Related: Apartment Manager Certifications
6. References
References can validate your skills and experience through credible sources. Choose individuals who can attest to your managerial competencies, such as former supervisors, colleagues, or tenants. Always obtain permission before listing someone as a reference and verify their contact information. You may opt to include references directly on your resume or state that they are available upon request, depending on the strength of your references and their potential impact on your application.
Conflict resolution
Property maintenance
Financial management
7. Achievements and Awards
The Achievements and Awards section highlights your professional successes and recognition, demonstrating your dedication and excellence in property management. Include awards, commendations for tenant satisfaction, and any significant cost-saving initiatives. Also, consider adding relevant achievements from other areas of your career, such as additional training or certifications related to property management or real estate. Ensure all information is accurate and verifiable, as honesty is paramount in presenting your accomplishments.
Incorporating an Achievements and Awards section on your Apartment Manager resume can portray a track record of success and expertise, qualities highly sought after by employers.