Article
Walgreens Optical Sales Associate Resume Examples
Explore our compilation of standout Walgreens Optical Sales Associate resume examples to help you craft a winning application that showcases your skills, experience, and passion for customer service in the eyewear industry.

Brenna Goyette
Certified Professional Resume Writer, Career Expert
Published 10 min read
Discover the key components to crafting a winning resume for the Optical Sales Associate position at Walgreens by delving into this comprehensive guide. Learn how to effectively showcase your customer service prowess, sales acumen, and optical knowledge while emphasizing your ability to meet and exceed performance metrics. Additionally, uncover tips on highlighting relevant work experience, certifications, and education that demonstrate your expertise in the optical field. With the right balance of skills and experience detailed in your resume, you'll be well on your way to securing that coveted Optical Sales Associate role at Walgreens.
Walgreens Optical Sales Associate Resume Created Using Our Resume Builder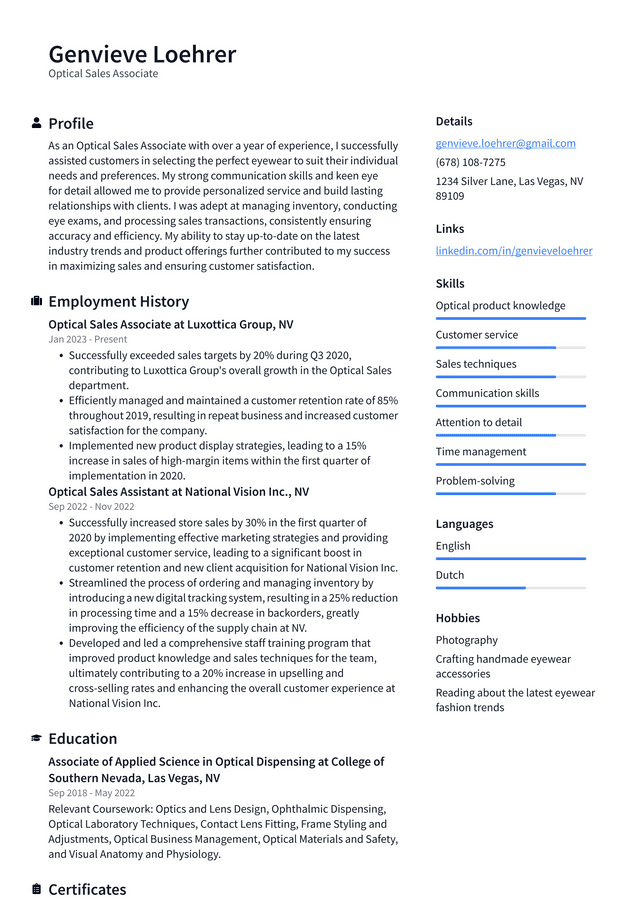 Walgreens Optical Sales Associate Resume Example
Genvieve Loehrer, Optical Sales Associate
genvieve.loehrer@gmail.com
(678) 108-7275
1234 Silver Lane, Las Vegas, NV 89109
Professional Summary
As an Optical Sales Associate with over a year of experience, I successfully assisted customers in selecting the perfect eyewear to suit their individual needs and preferences. My strong communication skills and keen eye for detail allowed me to provide personalized service and build lasting relationships with clients. I was adept at managing inventory, conducting eye exams, and processing sales transactions, consistently ensuring accuracy and efficiency. My ability to stay up-to-date on the latest industry trends and product offerings further contributed to my success in maximizing sales and ensuring customer satisfaction.
Work Experience
Optical Sales Associate at Luxottica Group, NV
Jan 2023 - Present
Successfully exceeded sales targets by 20% during Q3 2020, contributing to Luxottica Group's overall growth in the Optical Sales department.
Efficiently managed and maintained a customer retention rate of 85% throughout 2019, resulting in repeat business and increased customer satisfaction for the company.
Implemented new product display strategies, leading to a 15% increase in sales of high-margin items within the first quarter of implementation in 2020.
Optical Sales Assistant at National Vision Inc., NV
Sep 2022 - Nov 2022
Successfully increased store sales by 30% in the first quarter of 2020 by implementing effective marketing strategies and providing exceptional customer service, leading to a significant boost in customer retention and new client acquisition for National Vision Inc.
Streamlined the process of ordering and managing inventory by introducing a new digital tracking system, resulting in a 25% reduction in processing time and a 15% decrease in backorders, greatly improving the efficiency of the supply chain at NV.
Developed and led a comprehensive staff training program that improved product knowledge and sales techniques for the team, ultimately contributing to a 20% increase in upselling and cross-selling rates and enhancing the overall customer experience at National Vision Inc.
Education
Associate of Applied Science in Optical Dispensing at College of Southern Nevada, Las Vegas, NV
Sep 2018 - May 2022
Relevant Coursework: Optics and Lens Design, Ophthalmic Dispensing, Optical Laboratory Techniques, Contact Lens Fitting, Frame Styling and Adjustments, Optical Business Management, Optical Materials and Safety, and Visual Anatomy and Physiology.
Skills
Optical product knowledge
Customer service
Sales techniques
Communication skills
Attention to detail
Time management
Problem-solving
Certificates
1. American Board of Opticianry (ABO) Certification
2. National Contact Lens Examiners (NCLE) Certification
Tips for Writing a Better Walgreens Optical Sales Associate Resume
1. Use a clear and professional format: Your resume should be easy to read and follow a consistent formatting style. Use standard fonts like Arial, Calibri or Times New Roman, at size 10-12 points. Make sure to use bold headings for each section and bullet points for lists.
2. Start with a strong objective statement: Begin your resume with an objective statement that highlights your goals, skills, and passion for the optical industry. This will grab the attention of hiring managers and show them that you are a good fit for the role.
3. Focus on relevant experience: When listing your work experience, focus on positions that are relevant to the optical sales associate role at Walgreens. If you don't have any direct experience in this field, consider highlighting transferable skills from other customer service or sales roles.
4. Highlight key achievements: Instead of simply listing job duties under each position, focus on specific accomplishments that demonstrate your ability to excel in an optical sales associate role. For example, mention any awards you've won or quotas you've exceeded.
5. Include relevant education and certifications: In addition to your high school diploma or GED, include any relevant training or certifications related to the optical industry, such as optician certification or completion of an accredited optician program.
6. Showcase your customer service skills: As an optical sales associate at Walgreens, you'll be interacting with customers regularly – so it's essential to highlight your excellent customer service skills throughout your resume.
7. Emphasize attention to detail: Optical sales associates need to be detail-oriented when fitting customers for eyewear and ensuring accurate prescriptions are used. Mention examples of how you've demonstrated strong attention to detail in past roles.
8. Include keywords from the job description: Customize your resume by including specific keywords from the Walgreens optical sales associate job description – this can help get your resume past applicant tracking systems (ATS) and into the hands of hiring managers.
9. Proofread thoroughly: Errors in your resume can make you appear unprofessional and careless – so take the time to carefully proofread your resume for spelling, grammar, and formatting mistakes.
10. Keep it concise: Aim to keep your resume to one page or two pages at most. Hiring managers often have limited time to review resumes, so keeping yours concise and focused will increase the chances of it being read in its entirety.
Related: Inside Sales Associate Resume Examples
Key Skills Hiring Managers Look for on Walgreens Optical Sales Associate Resumes
When applying for an Optical Sales Associate position at Walgreens, it is crucial to incorporate keywords from the job description in your application. This is because Walgreens, like many other companies, utilizes Applicant Tracking Systems (ATS) to filter and rank applicants based on their relevance to the job requirements. By including specific keywords that are mentioned in the job description, such as "optical sales," "customer service," and "product knowledge," you increase your chances of passing through the ATS and being considered for an interview. In addition to showcasing your skills and experience, using these keywords demonstrates that you have thoroughly read and understood the job description, making you a more attractive candidate for the role.
Here is a list of common skills and key terms you might come across when applying for an optical sales associate position at Walgreens:
Key Skills and Proficiencies
Optical product knowledge
Customer service
Sales techniques
Communication skills
Time management
Attention to detail
Frame selection assistance
Lens recommendation
Adjusting eyewear
Measuring pupillary distance (PD)
Insurance verification
Inventory management
Merchandising and displays
Basic computer skills
Problem-solving abilities
Multitasking capabilities
Teamwork and collaboration
Building rapport with clients
Understanding prescriptions
Order processing and tracking
Repairing eyeglasses
Maintaining a clean and organized workspace
Related: Inside Sales Associate Skills: Definition and Examples
Common Action Verbs for Walgreens Optical Sales Associate Resumes
Crafting a Walgreens Optical Sales Associate Resume can be a challenging task, especially when it comes to finding different action verbs that accurately represent your skills and experiences. Using the same verbs repeatedly can make your resume monotonous and less interesting to potential employers. It's essential to use varied, dynamic action verbs that effectively convey your abilities and accomplishments as an optical sales associate. By incorporating a diverse range of strong action verbs, you can create a compelling and engaging resume that stands out to hiring managers, increasing your chances of landing the job.
To provide you with a competitive advantage, we have curated a list of impactful action verbs to enhance your resume and secure your next interview:
Action Verbs
Assisted
Sold
Demonstrated
Adjusted
Repaired
Educated
Measured
Greeted
Managed
Processed
Organized
Maintained
Recommended
Communicated
Analyzed
Coordinated
Trained
Updated
Resolved
Monitored
Prepared
Ordered