Article
Twitter Visual Designer Resume Examples
Explore various resume examples and tips to craft an impressive resume that showcases your skills and experience as a Twitter Visual Designer.

Brenna Goyette
Certified Professional Resume Writer, Career Expert
Published 9 min read
This article offers a comprehensive guide on how to craft a compelling resume for the position of Visual Designer at Twitter. It covers key elements such as highlighting relevant skills, showcasing your portfolio, detailing past experiences and roles, and emphasizing your knowledge in various design software. The article also delves into tailoring your resume specifically for Twitter by demonstrating familiarity with the platform's visual language, understanding its user interface, and showing an ability to create engaging content that aligns with Twitter's brand identity. Lastly, it imparts tips on writing a persuasive cover letter that complements the resume and effectively communicates your passion for design and enthusiasm for joining the tech giant's creative team.
Twitter Visual Designer Resume Created Using Our Resume Builder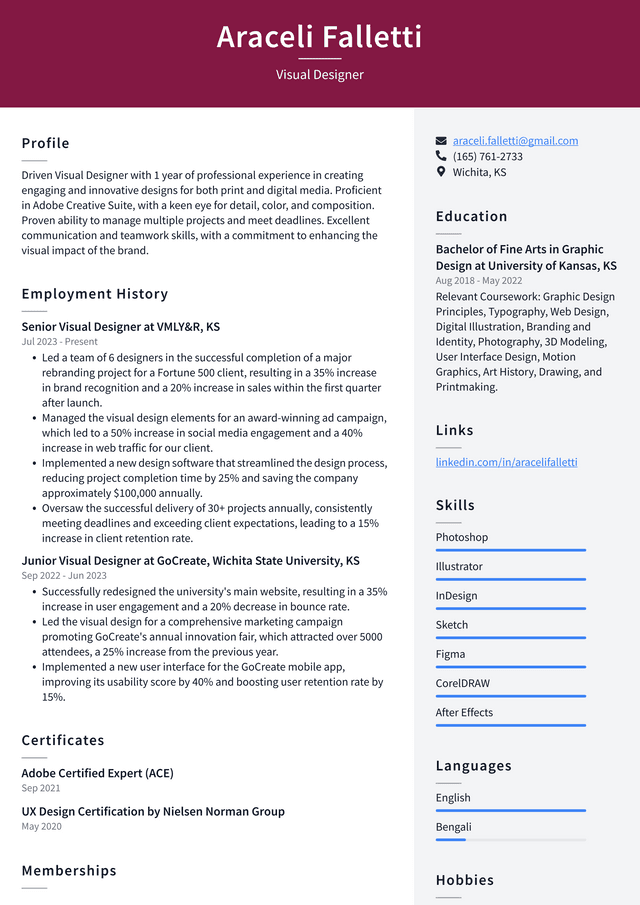 Twitter Visual Designer Resume Example
Araceli Falletti, Visual Designer
araceli.falletti@gmail.com
(165) 761-2733
Wichita, KS
Professional Summary
Driven Visual Designer with 1 year of professional experience in creating engaging and innovative designs for both print and digital media. Proficient in Adobe Creative Suite, with a keen eye for detail, color, and composition. Proven ability to manage multiple projects and meet deadlines. Excellent communication and teamwork skills, with a commitment to enhancing the visual impact of the brand.
Work Experience
Senior Visual Designer at VMLY&R, KS
Jul 2023 - Present
Led a team of 6 designers in the successful completion of a major rebranding project for a Fortune 500 client, resulting in a 35% increase in brand recognition and a 20% increase in sales within the first quarter after launch.
Managed the visual design elements for an award-winning ad campaign, which led to a 50% increase in social media engagement and a 40% increase in web traffic for our client.
Implemented a new design software that streamlined the design process, reducing project completion time by 25% and saving the company approximately $100,000 annually.
Oversaw the successful delivery of 30+ projects annually, consistently meeting deadlines and exceeding client expectations, leading to a 15% increase in client retention rate.
Junior Visual Designer at GoCreate, Wichita State University, KS
Sep 2022 - Jun 2023
Successfully redesigned the university's main website, resulting in a 35% increase in user engagement and a 20% decrease in bounce rate.
Led the visual design for a comprehensive marketing campaign promoting GoCreate's annual innovation fair, which attracted over 5000 attendees, a 25% increase from the previous year.
Implemented a new user interface for the GoCreate mobile app, improving its usability score by 40% and boosting user retention rate by 15%.
Education
Bachelor of Fine Arts in Graphic Design at University of Kansas, KS
Aug 2018 - May 2022
Relevant Coursework: Graphic Design Principles, Typography, Web Design, Digital Illustration, Branding and Identity, Photography, 3D Modeling, User Interface Design, Motion Graphics, Art History, Drawing, and Printmaking.
Skills
Photoshop
Illustrator
InDesign
Sketch
Figma
CorelDRAW
After Effects
Certificates
Adobe Certified Expert (ACE)
UX Design Certification by Nielsen Norman Group
Tips for Writing a Better Twitter Visual Designer Resume
1. Highlight Relevant Skills: Mention your skills that are directly related to visual design like knowledge of Adobe Creative Suite, UX/UI design, HTML/CSS, or any other relevant graphic design software.
2. Show Your Experience: List your previous work experiences in visual design. Include the name of the company, your position, and the duration of your employment. Include a brief summary of your responsibilities and achievements in each role.
3. Use Action Verbs: Start bullet points with action verbs like "designed", "created", "improved", etc., to make your contributions sound more impactful.
4. Include a Portfolio Link: If possible, include a link to your online portfolio showcasing some of your best works. This will provide potential employers with tangible proof of what you can do.
5. Mention Relevant Certifications: If you have any certifications relevant to visual design or Twitter (like Twitter Flight School certification), make sure to include them in your resume.
6. Keep it Concise: A resume should ideally be one page long, two pages at most. Ensure all information is concise and relevant to the job you're applying for.
7. Tailor Your Resume: Customize your resume for each job application, ensuring that you highlight the most relevant skills and experiences based on the job description.
8. Proofread: Make sure there are no grammatical errors or typos as they can create an impression of carelessness.
9. Use Keywords from Job Description: Incorporate keywords from the job description into your resume so it matches what employers are looking for.
10. Show Results: Wherever possible, quantify results - e.g., "increased engagement by 20%," "grew followers by 5000," etc., which demonstrates that you not only do work but achieve results too.
11. Professional Summary: Write a compelling professional summary at the beginning of your resume that highlights who you are as a professional and what unique qualities you bring to the table.
12. Format Properly: Make sure that the formatting is consistent throughout and easy-to-read fonts are used. The layout should be clean and simple which makes it easier for recruiters to skim through it quickly.
Related: Visual Designer Resume Examples
Key Skills Hiring Managers Look for on Twitter Visual Designer Resumes
Applicant Tracking Systems (ATS) are software tools used by many companies, including Twitter, to streamline their recruitment process. This system scans resumes for specific keywords relevant to the job role before a human eye even gets to see it. Therefore, when applying for a Visual Designer position at Twitter, it is crucial to incorporate keywords from the job description in your application. These could be skills or experiences specified in the posting like 'UX Design', 'Graphic Design', 'Adobe Suite expertise', etc. By doing this, you increase the chances of your resume passing through the ATS and reaching the hiring manager's desk. It also demonstrates that you have read and understood what is required for the role, further improving your chances of being considered.
Here are some common skills and key terms you might encounter when applying for visual designer positions at Twitter:
Key Skills and Proficiencies
Graphic Design
Adobe Creative Suite proficiency
Web Design
Typography
Layout and Grid Systems
Color Theory
Brand Development
User Interface (UI) Design
User Experience (UX) Design
Digital Illustration
Photography Skills
Motion Graphics
D Modeling and Rendering
Print Production Skills
HTML/CSS Knowledge
Prototyping Tools (e.g., Sketch, Figma)
Wireframing
Visual Communication Skills
Attention to Detail
Time Management Skills
Problem-Solving Abilities
Collaboration and Teamwork
Related: Visual Designer Skills: Definition and Examples
Common Action Verbs for Twitter Visual Designer Resumes
Creating a Twitter Visual Designer resume can be a challenging task, particularly when trying to find a variety of action verbs to describe your skills and experiences. The use of repetitive or common verbs can make your resume seem uninteresting or generic. To stand out, it's crucial to incorporate diverse and powerful action verbs that accurately depict your abilities and achievements. These verbs not only grab the attention of the hiring manager but also provide a clearer picture of your potential as a candidate. They demonstrate your active role in previous positions, showing that you were not just present, but actively contributing to the team or project. Therefore, finding and using varied action verbs is a critical step in crafting an effective Twitter Visual Designer Resume.
To provide you with an advantage over other candidates, we have curated a list of impactful action verbs that can enhance your resume and secure your next interview:
Action Verbs
Designed
Illustrated
Conceptualized
Executed
Developed
Produced
Created
Drafted
Implemented
Rendered
Coordinated
Collaborated
Innovated
Visualized
Enhanced
Integrated
Optimized
Established
Transformed
Revamped
Streamlined
Customized
Related: What does a Visual Designer do?