Article
Starbucks Photographer Resume Examples

Brenna Goyette
Certified Professional Resume Writer, Career Expert
Published 10 min read
This article provides comprehensive guidance on crafting an effective resume for the role of a Photographer at Starbucks. It discusses the importance of highlighting relevant skills, such as your ability to capture high-quality images, proficiency in using editing software and your understanding of branding principles. The article also emphasizes tailoring your past experience and achievements to demonstrate how you can contribute to Starbucks' visual storytelling and marketing strategies. Furthermore, it suggests ways to showcase your knowledge about Starbucks' brand image and aesthetics, as well as including any experience working in a fast-paced retail environment or collaborating with marketing teams. Finally, it advises on communicating your passion for both photography and the Starbucks brand in a compelling personal statement.
Starbucks Photographer Resume Created Using Our Resume Builder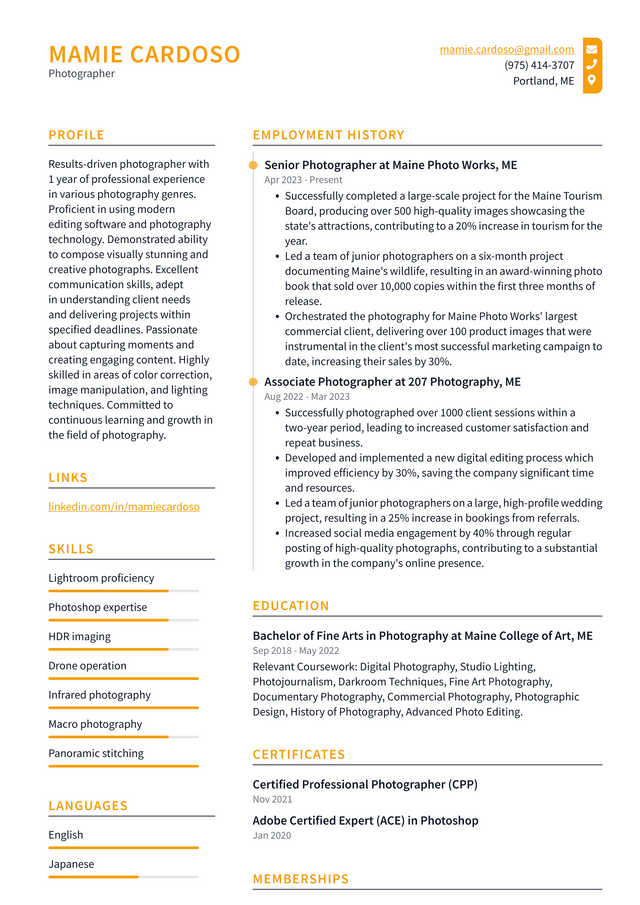 Starbucks Photographer Resume Example
Mamie Cardoso, Photographer
mamie.cardoso@gmail.com
(975) 414-3707
Portland, ME
Professional Summary
Results-driven photographer with 1 year of professional experience in various photography genres. Proficient in using modern editing software and photography technology. Demonstrated ability to compose visually stunning and creative photographs. Excellent communication skills, adept in understanding client needs and delivering projects within specified deadlines. Passionate about capturing moments and creating engaging content. Highly skilled in areas of color correction, image manipulation, and lighting techniques. Committed to continuous learning and growth in the field of photography.
Work Experience
Senior Photographer at Maine Photo Works, ME
Apr 2023 - Present
Successfully completed a large-scale project for the Maine Tourism Board, producing over 500 high-quality images showcasing the state's attractions, contributing to a 20% increase in tourism for the year.
Led a team of junior photographers on a six-month project documenting Maine's wildlife, resulting in an award-winning photo book that sold over 10,000 copies within the first three months of release.
Orchestrated the photography for Maine Photo Works' largest commercial client, delivering over 100 product images that were instrumental in the client's most successful marketing campaign to date, increasing their sales by 30%.
Associate Photographer at 207 Photography, ME
Aug 2022 - Mar 2023
Successfully photographed over 1000 client sessions within a two-year period, leading to increased customer satisfaction and repeat business.
Developed and implemented a new digital editing process which improved efficiency by 30%, saving the company significant time and resources.
Led a team of junior photographers on a large, high-profile wedding project, resulting in a 25% increase in bookings from referrals.
Increased social media engagement by 40% through regular posting of high-quality photographs, contributing to a substantial growth in the company's online presence.
Education
Bachelor of Fine Arts in Photography at Maine College of Art, ME
Sep 2018 - May 2022
Relevant Coursework: Digital Photography, Studio Lighting, Photojournalism, Darkroom Techniques, Fine Art Photography, Documentary Photography, Commercial Photography, Photographic Design, History of Photography, Advanced Photo Editing.
Skills
Lightroom proficiency
Photoshop expertise
HDR imaging
Drone operation
Infrared photography
Macro photography
Panoramic stitching
Certificates
Certified Professional Photographer (CPP)
Adobe Certified Expert (ACE) in Photoshop
Tips for Writing a Better Starbucks Photographer Resume
1. Highlight Relevant Skills: Mention your photographic skills such as understanding of composition, lighting, and angles. Also include any experience you have with photo editing software like Adobe Photoshop and Lightroom.
2. Showcase Your Experience: Describe any previous work experience in photography, especially if it's related to food or product photography. Include details about the types of projects you've worked on, your responsibilities, and the results achieved.
3. Include Education & Certifications: If you have a degree in photography or a relevant field, make sure to include that information in your resume. Any certifications or courses completed in photography should also be mentioned.
4. Add Portfolio Link: A portfolio is an essential part of any photographer's resume. Make sure to include a link to your online portfolio where potential employers can view examples of your work.
5. Use Action Verbs: Begin each bullet point under your experience section with action verbs like 'captured', 'edited', 'coordinated', etc., to make your contributions sound more impactful.
6. Tailor for the Job: Read the job description carefully and tailor your resume accordingly. Highlight the skills and experiences that are most relevant to the Starbucks photographer role.
7. Quantify Achievements: Wherever possible, quantify your achievements using numbers or percentages – for example, "Increased social media engagement by 30% through improved product photography."
8. Include Soft Skills: In addition to technical skills, soft skills like communication, teamwork, and attention to detail are also important for photographers working in a corporate environment like Starbucks.
9. Keep it Concise: Keep your resume clear and concise - ideally no longer than one page. Use bullet points and short sentences to ensure readability.
10.Proofread: Ensure there are no spelling or grammar errors in your resume - these mistakes can give an impression of carelessness or lack of attention to detail.
11.Add References: If possible, add references from previous employers who can vouch for your skills as a professional photographer.
12.Use Professional Language : Avoid using jargon or colloquial language; keep the tone professional throughout.
Related: Photographer Resume Examples
Key Skills Hiring Managers Look for on Starbucks Photographer Resumes
When applying for a Photographer role at Starbucks, it's essential to incorporate relevant keywords from the job description in your application. This is because Starbucks, like many corporate companies, uses an Applicant Tracking System (ATS) to screen initial applications. These systems are designed to identify and filter applications based on specific criteria such as keywords related to the skills, experience, and qualifications that are most relevant to the job. By incorporating these keywords into your resume and cover letter, you will significantly increase the chances of your application being shortlisted by the ATS and being seen by a hiring manager. This strategy can make a difference between your application being overlooked or considered for further review.
When applying for photographer positions at Starbucks, you may encounter a list of common skills and key terms.
Key Skills and Proficiencies
Technical Photography Skills
Photo Editing
Creativity
Attention to Detail
Composition Skills
Patience and Concentration
Strong Visual Communication
Knowledge of Photography Equipment
Lighting Techniques
Digital Marketing
Customer Service
Time Management
Color Theory Knowledge
Image Manipulation Skills
Understanding of Copyright Laws
Business Management Skills
Networking Abilities
Ability to Work in Various Environments
Knowledge of Different Photographic Styles
Problem Solving Abilities
Flexibility and Adaptability
Negotiation Skills
Related: Photographer Skills: Definition and Examples
Common Action Verbs for Starbucks Photographer Resumes
Crafting a Starbucks Photographer Resume can be a challenging task, primarily due to the struggle of finding diverse action verbs that accurately depict your skills and experiences. Using the same verbs repeatedly can make your resume monotonous and fail to capture the attention of hiring managers. Therefore, it's essential to incorporate varied action verbs such as 'orchestrated', 'executed', 'spearheaded' etc., which not only add dynamism but also provide a clear picture of your capabilities. These verbs can effectively illustrate how you have applied your photography skills in the context of Starbucks, allowing your resume to stand out amidst the competition.
To provide you with a competitive advantage, we've assembled a list of potent action verbs that can be used to enhance your resume and secure your next interview:
Action Verbs
Captured
Edited
Composed
Processed
Directed
Organized
Collaborated
Coordinated
Documented
Enhanced
Framed
Illuminated
Manipulated
Operated
Optimized
Positioned
Presented
Retouched
Selected
Set-up
Adjusted
Balanced
Related: What does a Photographer do?