Article
Starbucks Drive Thru Operator Resume Examples
This article provides examples and guidance on crafting an effective resume for the position of a Starbucks Drive Thru Operator.

Brenna Goyette
Certified Professional Resume Writer, Career Expert
Published 9 min read
This article provides a comprehensive guide on how to craft an effective resume for the position of Drive Thru Operator at Starbucks. It outlines key elements that potential employers look for, such as previous customer service experience, ability to work in a fast-paced environment, and familiarity with handling cash transactions. The article also emphasizes the importance of highlighting soft skills like communication, multitasking and problem-solving abilities. Furthermore, it suggests including any relevant certifications or training programs attended. The article aims to help job seekers present themselves as the best fit for the role by showcasing their skills and experiences effectively on their resume.
Starbucks Drive Thru Operator Resume Created Using Our Resume Builder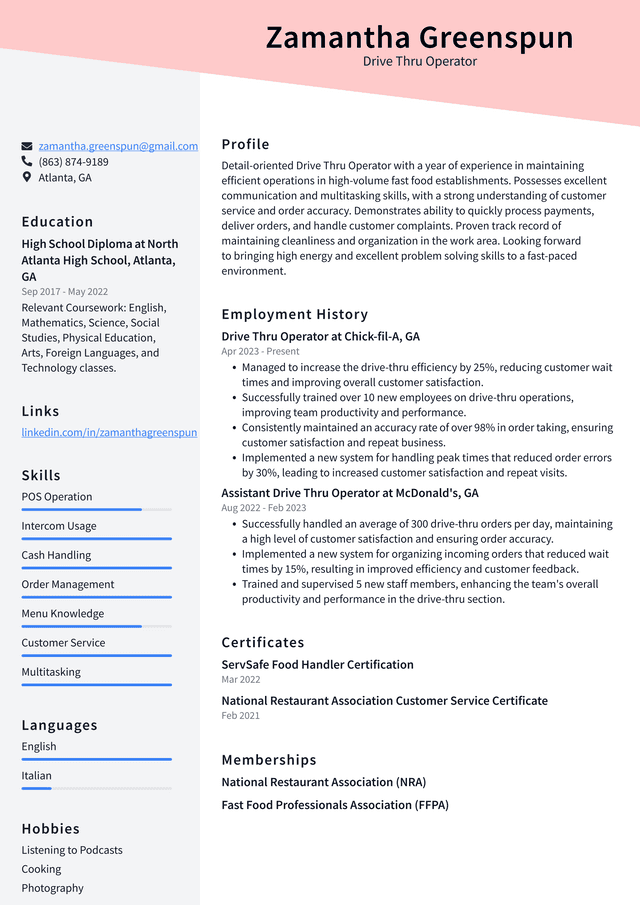 Starbucks Drive Thru Operator Resume Example
Zamantha Greenspun, Drive Thru Operator
zamantha.greenspun@gmail.com
(863) 874-9189
Atlanta, GA
Professional Summary
Detail-oriented Drive Thru Operator with a year of experience in maintaining efficient operations in high-volume fast food establishments. Possesses excellent communication and multitasking skills, with a strong understanding of customer service and order accuracy. Demonstrates ability to quickly process payments, deliver orders, and handle customer complaints. Proven track record of maintaining cleanliness and organization in the work area. Looking forward to bringing high energy and excellent problem solving skills to a fast-paced environment.
Work Experience
Drive Thru Operator at Chick-fil-A, GA
Apr 2023 - Present
Managed to increase the drive-thru efficiency by 25%, reducing customer wait times and improving overall customer satisfaction.
Successfully trained over 10 new employees on drive-thru operations, improving team productivity and performance.
Consistently maintained an accuracy rate of over 98% in order taking, ensuring customer satisfaction and repeat business.
Implemented a new system for handling peak times that reduced order errors by 30%, leading to increased customer satisfaction and repeat visits.
Assistant Drive Thru Operator at McDonald's, GA
Aug 2022 - Feb 2023
Successfully handled an average of 300 drive-thru orders per day, maintaining a high level of customer satisfaction and ensuring order accuracy.
Implemented a new system for organizing incoming orders that reduced wait times by 15%, resulting in improved efficiency and customer feedback.
Trained and supervised 5 new staff members, enhancing the team's overall productivity and performance in the drive-thru section.
Education
High School Diploma at North Atlanta High School, Atlanta, GA
Sep 2017 - May 2022
Relevant Coursework: English, Mathematics, Science, Social Studies, Physical Education, Arts, Foreign Languages, and Technology classes.
Skills
POS Operation
Intercom Usage
Cash Handling
Order Management
Menu Knowledge
Customer Service
Multitasking
Certificates
ServSafe Food Handler Certification
National Restaurant Association Customer Service Certificate
Tips for Writing a Better Starbucks Drive Thru Operator Resume
1. Tailor your resume: Always tailor your resume to the position you're applying for. Highlight skills and experiences that are directly relevant to being a Starbucks Drive Thru Operator, such as customer service, cash handling, and multitasking.
2. Use action verbs: Use action verbs to make your responsibilities and achievements sound more impressive. For example, instead of saying "I served customers," say "Efficiently processed customer orders."
3. Highlight relevant skills: Make sure to highlight any skills that would make you a good fit for the job. These could include communication skills, attention to detail, ability to work in a fast-paced environment, familiarity with point-of-sale systems, etc.
4. Include any relevant certifications: If you have any certifications that are relevant to the job (such as food safety certification), be sure to include them on your resume.
5. Show career progression: If you've worked in similar roles before, show how you've progressed in your career. This could mean showing how you took on more responsibilities over time or how you improved in certain areas.
6. Keep it concise and clear: Your resume should be easy to read and understand. Avoid jargon and keep sentences short and clear.
7. Quantify achievements where possible: Instead of just listing duties or responsibilities, try to quantify your achievements where possible. For example, "Increased drive-thru efficiency by 15% through implementing new order-taking procedures."
8. Proofread thoroughly: Make sure there are no spelling or grammar errors on your resume - these can give a bad impression.
9. Add references if possible: If you have previous employers who can vouch for your abilities and work ethic, include them as references.
10. Keep it professional: Remember that this is a professional document - avoid using slang or overly casual language.
11. Mention any additional languages spoken: Being bilingual or multilingual can be an asset in customer service roles like this one.
12. Include personal traits related to the job role: Traits like punctuality, reliability and friendliness are all valued in roles like this one.
Related: Driver Helper Resume Examples
Key Skills Hiring Managers Look for on Starbucks Drive Thru Operator Resumes
Applicant Tracking Systems (ATS) are used by many corporations, including Starbucks, to streamline their recruitment process. This software scans resumes and cover letters for specific keywords related to the job description. If your application doesn't include these keywords, it may be automatically rejected before a human ever sees it. Therefore, when applying for a Drive Thru Operator opportunity at Starbucks, it's crucial to incorporate keywords from the job description into your resume and cover letter. These may include words like "customer service," "cash handling," or "barista training." By using these keywords, you increase the chances of your application passing through the ATS and being reviewed by an actual person.
When applying for drive-thru operator positions at Starbucks, you may encounter a list of common skills and key terms.
Key Skills and Proficiencies
Customer Service Skills
Cash Handling
Communication Skills
Time Management
Attention to Detail
Multitasking Abilities
Ability to Work in Fast-Paced Environment
Problem-Solving Skills
Order Processing
Basic Math Skills
Listening Skills
Patience and Composure
Food Safety Knowledge
Product Knowledge
Ability to Stand for Long Periods
Interpersonal Skills
Computer Literacy or POS System Knowledge
Teamwork and Collaboration
Flexibility and Adaptability
Cleanliness and Organization
Memory Recall
Physical Stamina
Related: Driver Helper Skills: Definition and Examples
Common Action Verbs for Starbucks Drive Thru Operator Resumes
Crafting a compelling resume, specifically for the position of Starbucks Drive Thru Operator, can be quite challenging. It becomes even more difficult when trying to find diverse action verbs to describe your skills and experiences. Using repetitive verbs can make your resume monotonous and fail to grab the attention of hiring managers. Hence, it's crucial to incorporate varied action verbs that not only highlight your abilities but also differentiate you from other candidates. These powerful words can help portray you as a dynamic and versatile individual, thereby increasing your chances of securing an interview.
In order to enhance your competitive advantage, we have curated a list of impactful action verbs that can be utilized to fortify your resume and secure your subsequent interview:
Action Verbs
Operated
Processed
Communicated
Delivered
Managed
Coordinated
Assisted
Handled
Served
Maintained
Expedited
Resolved
Followed
Monitored
Prepared
Ensured
Provided
Received
Cleaned
Organized
Verified
Implemented
Related: What does a Driver Helper do?