Article
Starbucks Cashier Resume Examples
Explore various examples and tips for crafting an effective resume that highlights the skills, experiences, and qualifications needed for a cashier position at Starbucks.

Brenna Goyette
Certified Professional Resume Writer, Career Expert
Published 9 min read
This article offers valuable insights into crafting an impressive resume for a cashier position at Starbucks. It delves into the key skills, qualifications, and experiences that make a candidate stand out, such as customer service expertise, cash handling experience, and knowledge of Starbucks' products. The article emphasizes the importance of showcasing one's ability to work in a fast-paced environment, attention to detail, and strong communication skills. Additionally, it guides on how to articulate these qualities effectively on your resume by providing real-life examples and proven strategies. This comprehensive guide serves as an indispensable tool for those seeking to secure a cashier role at Starbucks.
Starbucks Cashier Resume Created Using Our Resume Builder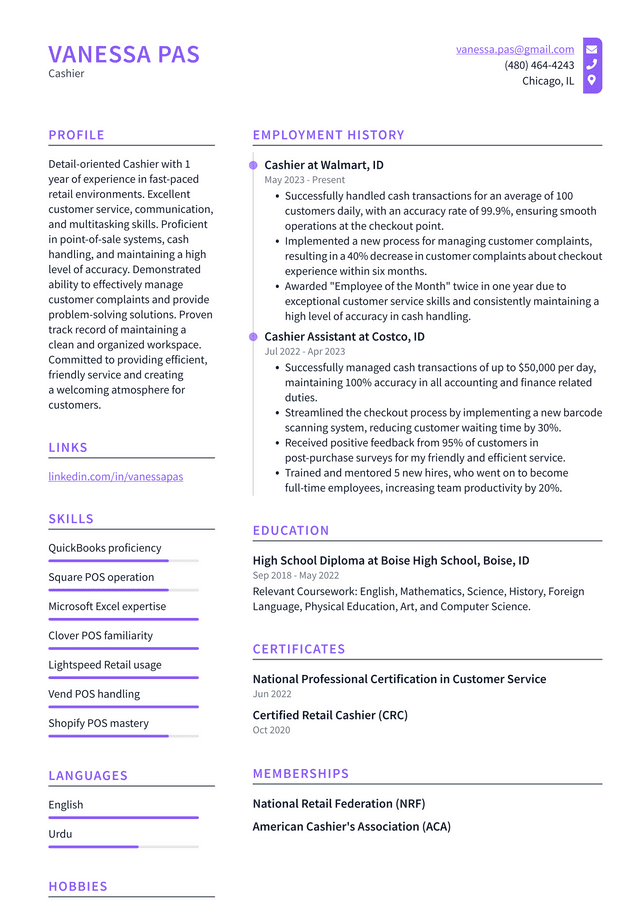 Starbucks Cashier Resume Example
Vanessa Pas, Cashier
vanessa.pas@gmail.com
(480) 464-4243
Chicago, IL
Professional Summary
Detail-oriented Cashier with 1 year of experience in fast-paced retail environments. Excellent customer service, communication, and multitasking skills. Proficient in point-of-sale systems, cash handling, and maintaining a high level of accuracy. Demonstrated ability to effectively manage customer complaints and provide problem-solving solutions. Proven track record of maintaining a clean and organized workspace. Committed to providing efficient, friendly service and creating a welcoming atmosphere for customers.
Work Experience
Cashier at Walmart, ID
May 2023 - Present
Successfully handled cash transactions for an average of 100 customers daily, with an accuracy rate of 99.9%, ensuring smooth operations at the checkout point.
Implemented a new process for managing customer complaints, resulting in a 40% decrease in customer complaints about checkout experience within six months.
Awarded "Employee of the Month" twice in one year due to exceptional customer service skills and consistently maintaining a high level of accuracy in cash handling.
Cashier Assistant at Costco, ID
Jul 2022 - Apr 2023
Successfully managed cash transactions of up to $50,000 per day, maintaining 100% accuracy in all accounting and finance related duties.
Streamlined the checkout process by implementing a new barcode scanning system, reducing customer waiting time by 30%.
Received positive feedback from 95% of customers in post-purchase surveys for my friendly and efficient service.
Trained and mentored 5 new hires, who went on to become full-time employees, increasing team productivity by 20%.
Education
High School Diploma at Boise High School, Boise, ID
Sep 2018 - May 2022
Relevant Coursework: English, Mathematics, Science, History, Foreign Language, Physical Education, Art, and Computer Science.
Skills
QuickBooks proficiency
Square POS operation
Microsoft Excel expertise
Clover POS familiarity
Lightspeed Retail usage
Vend POS handling
Shopify POS mastery
Certificates
National Professional Certification in Customer Service
Certified Retail Cashier (CRC)
Tips for Writing a Better Starbucks Cashier Resume
1. Be Specific: Don't just say you have experience in customer service, specify where and how long. Mention any specific skills or accomplishments related to the job, such as upselling bakery items or receiving positive feedback from customers.
2. Tailor Your Resume: Customize your resume to fit the job description of a Starbucks cashier. Highlight relevant experiences and skills that demonstrate your ability to perform cashier duties effectively.
3. Highlight Customer Service Skills: As a Starbucks cashier, you will be interacting with customers on a daily basis. Therefore, it is essential to highlight your customer service skills, interpersonal communication, and problem-solving abilities.
4. Mention Relevant Certifications: If you have any certifications related to food handling or barista training, be sure to include them. This can make you more appealing as a candidate.
5. Use Action Verbs: Start each bullet point in your work experience section with action verbs such as "managed", "assisted", "processed", etc., to clearly communicate your responsibilities and achievements.
6. Include Numbers: Whenever possible, quantify your achievements by including numbers – for example, 'served over 100 customers per shift' or 'increased sales by 10% through effective upselling'.
7. Emphasize Teamwork Skills: Often Starbucks cashiers work as part of a team, so it's important to highlight any experiences that demonstrate your teamwork skills.
8. Show Your Knowledge About The Company: Show that you know about Starbucks' mission and values by tying them into your career objective or skills section.
9. Keep It Concise: A resume should not exceed two pages; keep it concise and relevant.
10. Proofread Carefully: Make sure there are no spelling or grammatical errors in your resume - these could give the impression of carelessness or lack of attention to detail.
11. Use Professional Language and Formatting: Ensure the format is clean and easy-to-read with consistent fonts and bullet points.
12. Showcase Your Flexibility: Being able to work different shifts is often an asset in this type of job; if applicable, mention this on your resume.
13. Include References if Possible: If former employers are willing to vouch for you - especially those from similar roles - include their contact information at the end of your resume under 'References'.
Related: Cashier Clerk Resume Examples
Key Skills Hiring Managers Look for on Starbucks Cashier Resumes
Incorporating keywords from the job description when applying for a Cashier role at Starbucks is crucial because of the company's use of Applicant Tracking Systems (ATS). An ATS is a software application that enables the electronic handling of recruitment needs, including sorting through resumes. It streamlines the recruiting process by scanning resumes for specific keywords related to the job description. If your resume lacks these keywords, it may never reach human eyes, regardless of how qualified you are. Therefore, it's essential to tailor your resume and cover letter using relevant keywords from the job posting like "cash handling," "customer service," or "POS systems." This strategy increases your chances of passing through this initial electronic screening and securing an interview with Starbucks.
When applying for cashier positions at Starbucks, you may encounter a list of common skills and key terms.
Key Skills and Proficiencies
Customer Service
Cash Handling
POS Systems Operation
Communication Skills
Time Management
Attention to Detail
Product Knowledge
Basic Math Skills
Problem-Solving Abilities
Multitasking Capabilities
Patience and Tolerance
Sales Techniques
Inventory Management
Teamwork Skills
Interpersonal Skills
Ability to Work Under Pressure
Dependability and Reliability
Conflict Resolution Skills
Honesty and Integrity
Organizational Skills
Professionalism and Courtesy
Adaptability/Flexibility
Related: Cashier Clerk Skills: Definition and Examples
Common Action Verbs for Starbucks Cashier Resumes
Creating a Starbucks Cashier Resume can be challenging, especially when it comes to using different action verbs. The use of the same words repeatedly can make your resume monotonous and uninteresting. It may also give a potential employer the impression that your skills and experiences are limited. However, finding varied and powerful action verbs to describe your abilities and accomplishments is not always easy. But it's crucial as it helps you stand out, demonstrates your initiative, and communicates to potential employers that you're capable of taking on diverse tasks with efficiency and competence. For example, instead of constantly using the word 'handled,' you could use terms like 'managed,' 'processed,' 'coordinated,' etc., to add variety and depth to your descriptions. Therefore, investing time in enhancing your vocabulary will significantly improve the quality of your Starbucks Cashier Resume.
To provide you with a competitive advantage, we've assembled a list of potent action verbs that can enhance your resume and secure your next interview:
Action Verbs
Processed
Handled
Managed
Balanced
Calculated
Operated
Assisted
Maintained
Provided
Organized
Verified
Recorded
Resolved
Received
Counted
Delivered
Monitored
Ensured
Issued
Coordinated
Communicated
Completed
Related: What does a Cashier Clerk do?