Article
Snapchat Sales Development Representative Resume Examples
Discover the secrets to creating a standout Snapchat Sales Development Representative resume with these top-notch examples and expert tips.

Brenna Goyette
Certified Professional Resume Writer, Career Expert
Published 10 min read
This article will explore the essential steps and strategies for crafting a winning resume tailored specifically for a Sales Development Representative role at Snapchat. From understanding the company's culture and values to showcasing your relevant experience, we'll delve into how to effectively highlight your sales acumen, familiarity with social media platforms, and strong communication skills. Additionally, we'll discuss the importance of quantifying your achievements, emphasizing your ability to work in a fast-paced environment, and demonstrating how you can contribute to the growth of this popular social media giant. With practical tips and real-life examples, this guide will help you create an impressive resume that sets you apart from other candidates vying for a coveted position at Snapchat.
Snapchat Sales Development Representative Resume Created Using Our Resume Builder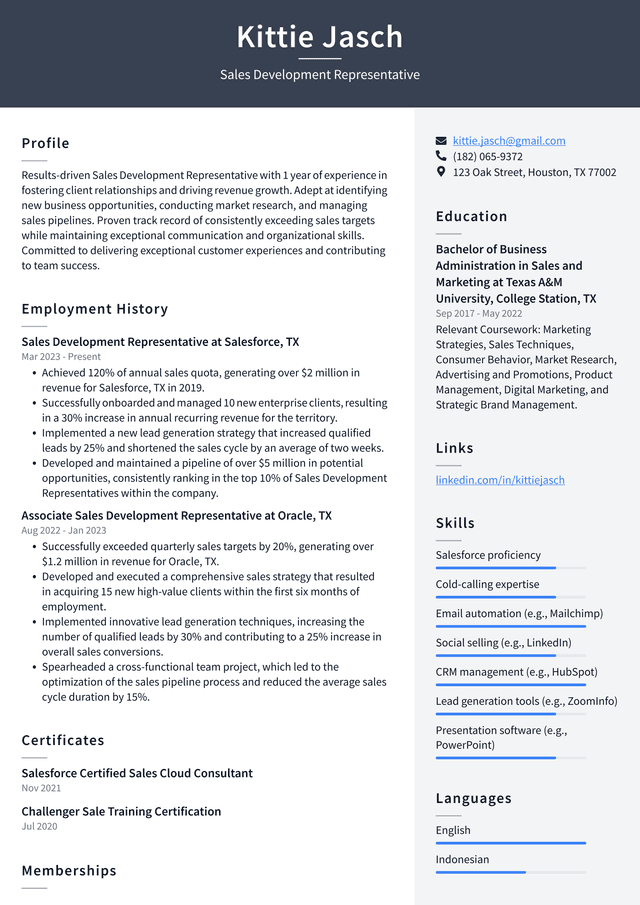 Snapchat Sales Development Representative Resume Example
Kittie Jasch, Sales Development Representative
kittie.jasch@gmail.com
(182) 065-9372
123 Oak Street, Houston, TX 77002
Professional Summary
Results-driven Sales Development Representative with 1 year of experience in fostering client relationships and driving revenue growth. Adept at identifying new business opportunities, conducting market research, and managing sales pipelines. Proven track record of consistently exceeding sales targets while maintaining exceptional communication and organizational skills. Committed to delivering exceptional customer experiences and contributing to team success.
Work Experience
Sales Development Representative at Salesforce, TX
Mar 2023 - Present
Achieved 120% of annual sales quota, generating over $2 million in revenue for Salesforce, TX in 2019.
Successfully onboarded and managed 10 new enterprise clients, resulting in a 30% increase in annual recurring revenue for the territory.
Implemented a new lead generation strategy that increased qualified leads by 25% and shortened the sales cycle by an average of two weeks.
Developed and maintained a pipeline of over $5 million in potential opportunities, consistently ranking in the top 10% of Sales Development Representatives within the company.
Associate Sales Development Representative at Oracle, TX
Aug 2022 - Jan 2023
Successfully exceeded quarterly sales targets by 20%, generating over $1.2 million in revenue for Oracle, TX.
Developed and executed a comprehensive sales strategy that resulted in acquiring 15 new high-value clients within the first six months of employment.
Implemented innovative lead generation techniques, increasing the number of qualified leads by 30% and contributing to a 25% increase in overall sales conversions.
Spearheaded a cross-functional team project, which led to the optimization of the sales pipeline process and reduced the average sales cycle duration by 15%.
Education
Bachelor of Business Administration in Sales and Marketing at Texas A&M University, College Station, TX
Sep 2017 - May 2022
Relevant Coursework: Marketing Strategies, Sales Techniques, Consumer Behavior, Market Research, Advertising and Promotions, Product Management, Digital Marketing, and Strategic Brand Management.
Skills
Salesforce proficiency
Cold-calling expertise
Email automation (e.g., Mailchimp)
Social selling (e.g., LinkedIn)
CRM management (e.g., HubSpot)
Lead generation tools (e.g., ZoomInfo)
Presentation software (e.g., PowerPoint)
Certificates
Salesforce Certified Sales Cloud Consultant
Challenger Sale Training Certification
Tips for Writing a Better Snapchat Sales Development Representative Resume
1. Start with a strong objective statement: Your objective statement should clearly highlight your career goals and passion for the role of a Sales Development Representative. Make sure to mention relevant skills and experiences that make you an ideal candidate for the position.
2. Use keywords from the job description: When customizing your resume for a specific job, ensure that you include keywords from the job description in your resume. This will help your resume pass through Applicant Tracking Systems (ATS) and catch the attention of hiring managers.
3. Quantify your achievements: Whenever possible, use numbers to demonstrate your accomplishments in previous roles. For example, mention how many deals you closed or how much revenue you generated for your company.
4. Highlight relevant skills: Focus on showcasing skills that are directly related to the role of a Sales Development Representative, such as communication, negotiation, time management, and problem-solving skills.
5. Showcase your knowledge of Snapchat: Since this is a Snapchat-specific role, make sure to mention any experience or familiarity you have with the platform in both personal and professional capacities.
6. Provide examples of success in previous roles: Provide concrete examples of how you have successfully contributed to sales growth or customer acquisition in previous positions.
7. Keep it concise and well-formatted: A well-organized resume is crucial for making a strong impression on hiring managers. Keep your resume concise by focusing on relevant information and using bullet points to break up large blocks of text.
8. Highlight any industry-specific experience or qualifications: If you have experience working in industries related to Snapchat's target market (e.g., advertising, social media marketing), be sure to mention this on your resume.
9. Include any relevant education or certifications: List any degrees or certifications that may be applicable to the role, such as a Bachelor's degree in Marketing or Business Administration or a certification in sales training programs like Sandler Sales Training.
10. Proofread thoroughly before submitting: Make sure to double-check your resume for any typos or grammatical errors before submitting it. A polished and error-free resume will demonstrate your attention to detail and professionalism.
Related: Sales Development Representative Resume Examples
Key Skills Hiring Managers Look for on Snapchat Sales Development Representative Resumes
When applying for a Sales Development Representative position at Snapchat, it is crucial to incorporate keywords from the job description in your application. This is because Snapchat, like many other companies, utilizes Applicant Tracking Systems (ATS) to scan and filter applications based on relevant keywords. By including these specific terms and phrases, you increase the likelihood of your application being reviewed by a human recruiter and advancing through the hiring process. By tailoring your resume and cover letter to highlight your skills and experiences that directly align with the job requirements, you demonstrate your attention to detail and understanding of the role while also increasing your chances of landing an interview with Snapchat.
Here is a list of common skills and key terms you might come across when applying for sales development representative positions at Snapchat:
Key Skills and Proficiencies
Prospecting
Lead generation
Cold calling
Email outreach
Social selling
CRM management
Time management
Active listening
Relationship building
Product knowledge
Objection handling
Sales presentations
Communication skills
Negotiation skills
Networking skills
Adaptability
Goal setting
Sales pipeline management
Customer service skills
Analytical thinking
Team collaboration
Self-motivation
Related: Sales Development Representative Skills: Definition and Examples
Common Action Verbs for Snapchat Sales Development Representative Resumes
Crafting a resume for a Snapchat Sales Development Representative position can be quite challenging, especially when it comes to finding different action verbs to effectively showcase your skills and experiences. It is crucial to use varied verbs in order to create a dynamic and engaging resume that will catch the attention of hiring managers. Overusing generic verbs like "managed" or "handled" can make your resume blend in with others, diminishing your chances of standing out from the competition. Instead, focus on incorporating strong action verbs such as "orchestrated," "spearheaded," or "optimized" to demonstrate your abilities and achievements more effectively. By diversifying your verb usage, you can create a more compelling Snapchat Sales Development Representative Resume that highlights your unique qualifications and sets you apart from other candidates.
To provide you with a competitive advantage, we have curated a list of impactful action verbs that can enhance your resume and secure your next interview:
Action Verbs
Prospected
Generated
Qualified
Nurtured
Closed
Achieved
Targeted
Presented
Negotiated
Collaborated
Expanded
Analyzed
Developed
Implemented
Managed
Established
Maintained
Demonstrated
Trained
Assisted
Researched
Monitored