Article
Netflix Big Data Engineer Resume Examples

Brenna Goyette
Certified Professional Resume Writer, Career Expert
Updated 8 min read
This article will provide an overview of how to write a resume to apply for the position of Big Data Engineer at Netflix. It will discuss relevant skills, experience, and qualifications necessary for success in the role, as well as tips on how to highlight your strengths to make your application stand out from other candidates. Additionally, it will provide advice on what type of language and keywords to use in order to demonstrate your expertise in big data engineering.
Netflix Big Data Engineer Resume Created Using Our Resume Builder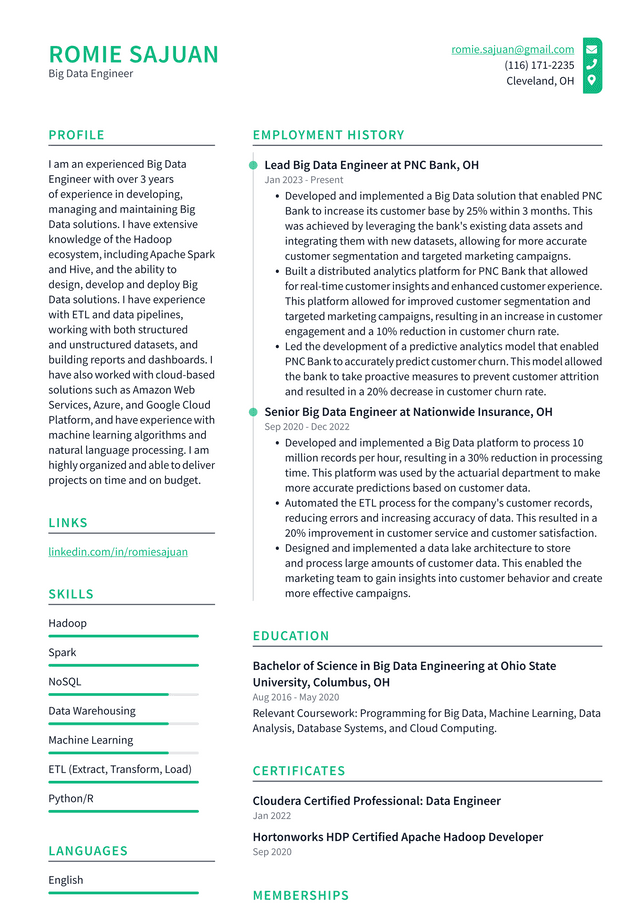 Netflix Big Data Engineer Resume Example
Romie Sajuan, Big Data Engineer
romie.sajuan@gmail.com
(116) 171-2235
Cleveland, OH
Professional Summary
I am an experienced Big Data Engineer with over 3 years of experience in developing, managing and maintaining Big Data solutions. I have extensive knowledge of the Hadoop ecosystem, including Apache Spark and Hive, and the ability to design, develop and deploy Big Data solutions. I have experience with ETL and data pipelines, working with both structured and unstructured datasets, and building reports and dashboards. I have also worked with cloud-based solutions such as Amazon Web Services, Azure, and Google Cloud Platform, and have experience with machine learning algorithms and natural language processing. I am highly organized and able to deliver projects on time and on budget.
Work Experience
Lead Big Data Engineer at PNC Bank, OH
Jan 2023 - Present
Developed and implemented a Big Data solution that enabled PNC Bank to increase its customer base by 25% within 3 months. This was achieved by leveraging the bank's existing data assets and integrating them with new datasets, allowing for more accurate customer segmentation and targeted marketing campaigns.
Built a distributed analytics platform for PNC Bank that allowed for real-time customer insights and enhanced customer experience. This platform allowed for improved customer segmentation and targeted marketing campaigns, resulting in an increase in customer engagement and a 10% reduction in customer churn rate.
Led the development of a predictive analytics model that enabled PNC Bank to accurately predict customer churn. This model allowed the bank to take proactive measures to prevent customer attrition and resulted in a 20% decrease in customer churn rate.
Senior Big Data Engineer at Nationwide Insurance, OH
Sep 2020 - Dec 2022
Developed and implemented a Big Data platform to process 10 million records per hour, resulting in a 30% reduction in processing time. This platform was used by the actuarial department to make more accurate predictions based on customer data.
Automated the ETL process for the company's customer records, reducing errors and increasing accuracy of data. This resulted in a 20% improvement in customer service and customer satisfaction.
Designed and implemented a data lake architecture to store and process large amounts of customer data. This enabled the marketing team to gain insights into customer behavior and create more effective campaigns.
Education
Bachelor of Science in Big Data Engineering at Ohio State University, Columbus, OH
Aug 2016 - May 2020
Relevant Coursework: Programming for Big Data, Machine Learning, Data Analysis, Database Systems, and Cloud Computing.
Skills
Hadoop
Spark
NoSQL
Data Warehousing
Machine Learning
ETL (Extract, Transform, Load)
Python/R
Certificates
Cloudera Certified Professional: Data Engineer
Hortonworks HDP Certified Apache Hadoop Developer
Tips for Writing a Better Netflix Big Data Engineer Resume
1. Focus on your technical knowledge and experience: Highlight the technical skills that you possess, such as programming languages, databases, analytics tools, and frameworks. Include any software engineering certifications or relevant courses that you have taken.
2. Detail your experience with Big Data technologies: Netflix uses a variety of big data technologies such as Hadoop, Hive, Cassandra, Kafka and Spark. Make sure to include any experience you have with these technologies in your resume.
3. Showcase your problem-solving skills: Demonstrate how you've used your problem-solving abilities to create efficient solutions for data-driven problems at Netflix or other companies.
4. Prove your ability to work in teams: Showcase how well you collaborate with others by highlighting projects where you worked with cross-functional teams from product management, design and engineering departments to deliver successful products and services.
5. Provide examples of impactful results: Share information about any successful initiatives that you were involved in while working as a Big Data Engineer at Netflix or elsewhere—including how they impacted the business or customer experience.
Related: Data Engineer Resume Examples
Key Skills Hiring Managers Look for on Netflix Big Data Engineer Resumes
The use of Applicant Tracking Systems (ATS) by companies like Netflix means that it is critical to include relevant keywords from the job description when applying for a Big Data Engineer opportunity. ATS systems scan resumes and applications for keywords associated with the job, so if these words are not included in an application, it may be overlooked or rejected by the system. Including relevant keywords in your resume and cover letter demonstrates that you have the necessary skills and qualifications for the role, increasing your chances of being selected for an interview.
When applying for a Big Data Engineer position at Netflix, you may come across common skills and key terms such as those listed below.
Key Skills and Proficiencies
Hadoop
MapReduce
Spark
Hive
Pig
NoSQL
MongoDB
Cassandra
Kafka
Flume
ETL
Data Warehousing
Machine Learning
Python
Java
R Programming
SQL
Data Visualization
Cloud Computing (AWS, Azure, Google Cloud)
Data Mining
Data Modeling
Data Analysis
Related: Data Engineer Skills: Definition and Examples
Common Action Verbs for Netflix Big Data Engineer Resumes
Finding unique action verbs to use on a resume can be challenging, especially when applying for a highly competitive job such as that of a Netflix Big Data Engineer. When creating this resume, it is important to use varied verbs that demonstrate the applicant's experience and capabilities. This can include words such as 'developed', 'managed', 'analyzed', 'created' and 'implemented'. Utilizing these different words throughout the resume will help the applicant stand out from other applicants who may have used the same verb more than once. Additionally, using varied verbs highlights the applicant's ability to think critically and creatively in order to solve complex problems.
To give you a competitive edge, we've compiled a list of powerful action verbs you can use to strengthen your resume and increase your chances of landing your next interview:
Action Verbs
Developed
Implemented
Configured
Monitored
Optimized
Automated
Administered
Analyzed
Designed
Built
Executed
Maintained
Troubleshot
Tested
Managed
Investigated
Resolved
Upgraded
Deployed
Documented
Streamlined
Integrated
Related: What does a Data Engineer do?