Article
Google Big Data Engineer Resume Examples
This article provides examples of resumes for Google Big Data Engineers, highlighting the skills and experience needed to be successful in this role.

Brenna Goyette
Certified Professional Resume Writer, Career Expert
Updated 9 min read
This article will provide an in-depth guide to writing a resume for the role of Big Data Engineer at Google. It will cover what skills and qualifications are most important to highlight, what experience is necessary, and how to present yourself as the ideal candidate for the job. It will also discuss how to demonstrate your technical expertise in Big Data and data engineering, as well as how to showcase any relevant accomplishments or awards. Lastly, it will offer tips on how to make your resume stand out from other applicants.
Google Big Data Engineer Resume Created Using Our Resume Builder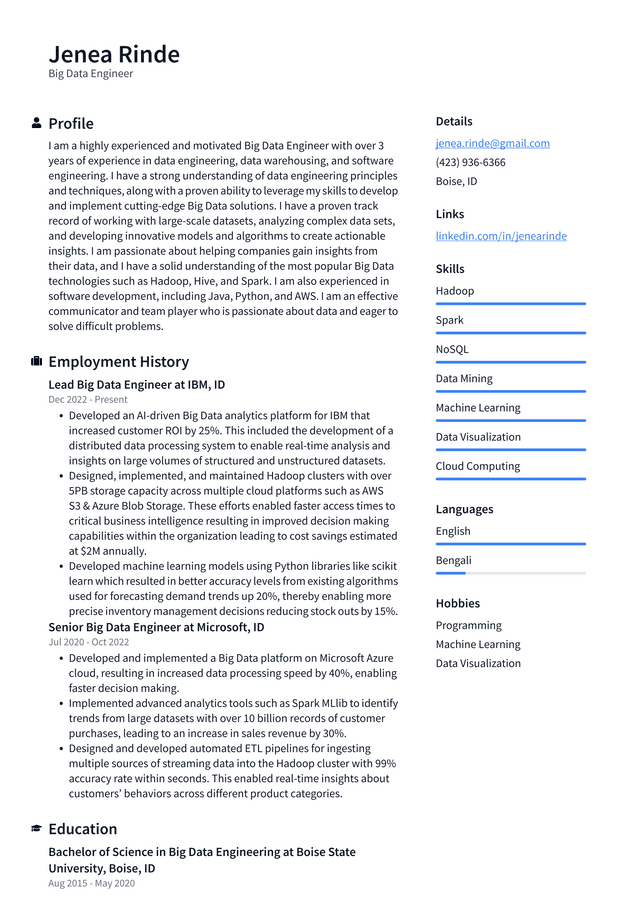 Google Big Data Engineer Resume Example
Jenea Rinde, Big Data Engineer
jenea.rinde@gmail.com
(423) 936-6366
Boise, ID
Professional Summary
I am a highly experienced and motivated Big Data Engineer with over 3 years of experience in data engineering, data warehousing, and software engineering. I have a strong understanding of data engineering principles and techniques, along with a proven ability to leverage my skills to develop and implement cutting-edge Big Data solutions. I have a proven track record of working with large-scale datasets, analyzing complex data sets, and developing innovative models and algorithms to create actionable insights. I am passionate about helping companies gain insights from their data, and I have a solid understanding of the most popular Big Data technologies such as Hadoop, Hive, and Spark. I am also experienced in software development, including Java, Python, and AWS. I am an effective communicator and team player who is passionate about data and eager to solve difficult problems.
Work Experience
Lead Big Data Engineer at IBM, ID
Dec 2022 - Present
Developed an AI-driven Big Data analytics platform for IBM that increased customer ROI by 25%. This included the development of a distributed data processing system to enable real-time analysis and insights on large volumes of structured and unstructured datasets.
Designed, implemented, and maintained Hadoop clusters with over 5PB storage capacity across multiple cloud platforms such as AWS S3 & Azure Blob Storage. These efforts enabled faster access times to critical business intelligence resulting in improved decision making capabilities within the organization leading to cost savings estimated at $2M annually.
Developed machine learning models using Python libraries like scikit learn which resulted in better accuracy levels from existing algorithms used for forecasting demand trends up 20%, thereby enabling more precise inventory management decisions reducing stock outs by 15%.
Senior Big Data Engineer at Microsoft, ID
Jul 2020 - Oct 2022
Developed and implemented a Big Data platform on Microsoft Azure cloud, resulting in increased data processing speed by 40%, enabling faster decision making.
Implemented advanced analytics tools such as Spark MLlib to identify trends from large datasets with over 10 billion records of customer purchases, leading to an increase in sales revenue by 30%.
Designed and developed automated ETL pipelines for ingesting multiple sources of streaming data into the Hadoop cluster with 99% accuracy rate within seconds. This enabled real-time insights about customers' behaviors across different product categories.
Education
Bachelor of Science in Big Data Engineering at Boise State University, Boise, ID
Aug 2015 - May 2020
Relevant Coursework: Algorithm Design, Data Mining, Machine Learning, Database Systems, Network Security, and Cloud Computing.
Skills
Hadoop
Spark
NoSQL
Data Mining
Machine Learning
Data Visualization
Cloud Computing
Certificates
Cloudera Certified Professional: Data Engineer
Hortonworks HDP Certified Apache Hadoop Developer
Tips for Writing a Better Google Big Data Engineer Resume
1. Clearly outline your experience and skills: Make sure to highlight the specific Big Data engineering skills you possess, such as working with Hadoop, Apache Spark, MapReduce, and other related technologies. Also be sure to include any relevant certifications or trainings that are related to Big Data engineering.
2. Showcase projects: Include examples of projects you have worked on in the past that demonstrate your technical knowledge and expertise when it comes to Big Data engineering. Be sure to provide details about the project goals, challenges faced, and results achieved.
3. Highlight accomplishments: Don't forget to include any awards or recognitions you have received for your work in Big Data engineering. This will help recruiters see how successful you have been in this field and make them more likely to consider your application.
4. Use keywords: Ensure that your resume is keyword optimized by using industry-specific terms related to Big Data engineering throughout your resume so that it can be easily found by recruiters searching for candidates with these skills sets in job databases or search engines like Google.
Related: Data Engineer Resume Examples
Key Skills Hiring Managers Look for on Google Big Data Engineer Resumes
Incorporating keywords from the job description when applying for a Big Data Engineer opportunity at Google is essential to ensure your application is noticed. Google uses Applicant Tracking Systems (ATS) to automatically filter out applications that don't match their requirements. By including relevant keywords in your resume and cover letter, you are more likely to pass through the initial screening process and be considered for an interview. Additionally, using job-specific keywords can help you stand out from other applicants as it shows that you have taken the time to research the role and understand what skills are required.
When applying for Big Data Engineer positions at Google, you may encounter common skills and key terms such as data engineering, database architecture, software development, analytics, machine learning, distributed systems, and cloud computing.
Key Skills and Proficiencies
Hadoop
Apache Spark
Scala
Python
SQL
NoSQL
AWS/Azure/GCP
Data Warehousing
ETL/ELT Pipelines
Data Lakes
Machine Learning
Data Visualization
Distributed Computing
Stream Processing
MapReduce
Hive/Pig/Impala
Kafka
Cassandra
MongoDB
HBase
Security & Privacy Compliance
Cloud Infrastructure Management
Related: Data Engineer Skills: Definition and Examples
Common Action Verbs for Google Big Data Engineer Resumes
Writing a resume can be a challenging task, especially when it comes to choosing action verbs to describe your professional accomplishments. It is important to use varied and specific verbs when creating a Google Big Data Engineer Resume in order to stand out from other applicants. Action verbs such as "developed," "analyzed," "constructed," and "implemented" are all great choices for describing your skills and experience in the field of big data engineering. Additionally, words like "monitored," "programmed," and "executed" can help show potential employers the breadth of your knowledge and abilities. By using different action verbs on your resume, you can create an effective document that will highlight your qualifications for the position.
To help you stand out from the competition, we've created a list of powerful action verbs that can be used to enhance your resume and increase your chances of landing your next interview:
Action Verbs
Developed
Implemented
Configured
Monitored
Optimized
Automated
Administered
Analyzed
Designed
Maintained
Upgraded
Troubleshot
Diagnosed
Resolved
Deployed
Tested
Managed
Processed
Extracted
Integrated
Visualized
Secured
Related: What does a Data Engineer do?