Article
Microsoft Business Intelligence Analyst Resume Examples
This article provides resume examples and tips to help Microsoft Business Intelligence Analysts create an effective, eye-catching resume.

Brenna Goyette
Certified Professional Resume Writer, Career Expert
Published 9 min read
This article will provide an in-depth guide to writing a resume for a Business Intelligence Analyst at Microsoft. It will cover topics such as how to highlight relevant experience, describe key skills, and showcase unique accomplishments that make you stand out from the competition. Additionally, it will include tips on how to tailor your resume specifically for the job you are applying for, ensuring that your resume is targeted and effective.
Microsoft Business Intelligence Analyst Resume Created Using Our Resume Builder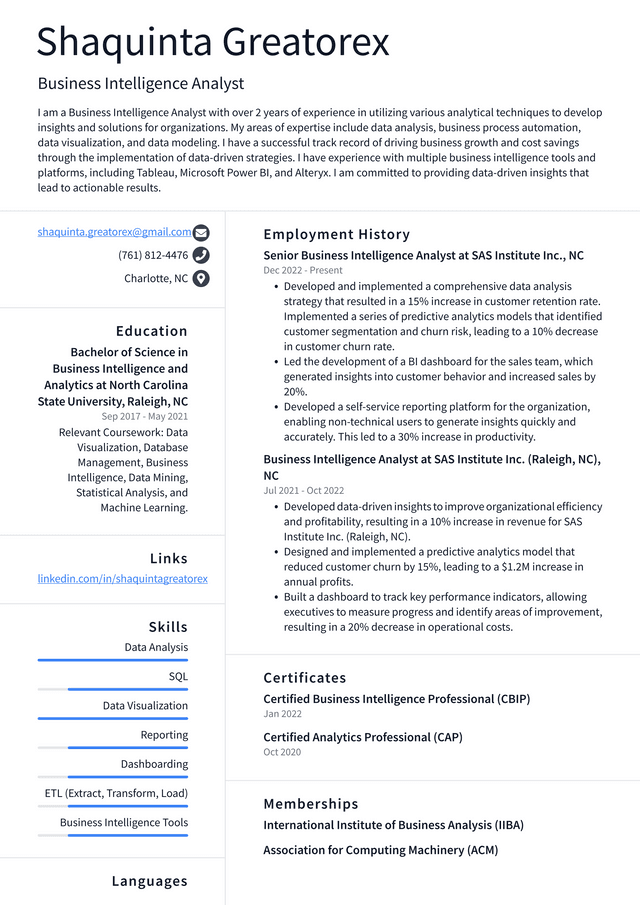 Microsoft Business Intelligence Analyst Resume Example
Shaquinta Greatorex, Business Intelligence Analyst
shaquinta.greatorex@gmail.com
(761) 812-4476
Charlotte, NC
Professional Summary
I am a Business Intelligence Analyst with over 2 years of experience in utilizing various analytical techniques to develop insights and solutions for organizations. My areas of expertise include data analysis, business process automation, data visualization, and data modeling. I have a successful track record of driving business growth and cost savings through the implementation of data-driven strategies. I have experience with multiple business intelligence tools and platforms, including Tableau, Microsoft Power BI, and Alteryx. I am committed to providing data-driven insights that lead to actionable results.
Work Experience
Senior Business Intelligence Analyst at SAS Institute Inc., NC
Dec 2022 - Present
Developed and implemented a comprehensive data analysis strategy that resulted in a 15% increase in customer retention rate. Implemented a series of predictive analytics models that identified customer segmentation and churn risk, leading to a 10% decrease in customer churn rate.
Led the development of a BI dashboard for the sales team, which generated insights into customer behavior and increased sales by 20%.
Developed a self-service reporting platform for the organization, enabling non-technical users to generate insights quickly and accurately. This led to a 30% increase in productivity.
Business Intelligence Analyst at SAS Institute Inc. (Raleigh, NC), NC
Jul 2021 - Oct 2022
Developed data-driven insights to improve organizational efficiency and profitability, resulting in a 10% increase in revenue for SAS Institute Inc. (Raleigh, NC).
Designed and implemented a predictive analytics model that reduced customer churn by 15%, leading to a $1.2M increase in annual profits.
Built a dashboard to track key performance indicators, allowing executives to measure progress and identify areas of improvement, resulting in a 20% decrease in operational costs.
Education
Bachelor of Science in Business Intelligence and Analytics at North Carolina State University, Raleigh, NC
Sep 2017 - May 2021
Relevant Coursework: Data Visualization, Database Management, Business Intelligence, Data Mining, Statistical Analysis, and Machine Learning.
Skills
Data Analysis
SQL
Data Visualization
Reporting
Dashboarding
ETL (Extract, Transform, Load)
Business Intelligence Tools
Certificates
Certified Business Intelligence Professional (CBIP)
Certified Analytics Professional (CAP)
Tips for Writing a Better Microsoft Business Intelligence Analyst Resume
1. Focus on the Job Description: When you're writing a Microsoft Business Intelligence Analyst resume, make sure that you focus on the specific job requirements and skills that are listed in the job description. This will help ensure that your resume is tailored to the position and highlights your qualifications for the role.
2. Highlight Your Technical Skills: As a Microsoft Business Intelligence Analyst, it's important to highlight your technical skills and experience with various tools and technologies used in this field. Make sure to include any software programs or databases you've worked with, as well as any certifications or training courses related to the position.
3. Showcase Your Analytical Abilities: Employers want to know that you have strong analytical abilities when considering candidates for a Microsoft Business Intelligence Analyst role. Be sure to list examples of how you solved complex problems or discovered insights from data sets in previous roles.
4. Include Relevant Projects: If you have any relevant projects that showcase your skills as a Microsoft Business Intelligence Analyst, include them on your resume. This could be anything from a project where you created an analysis system or report from scratch, to one where you worked with a team to develop an innovative solution for a client's needs.
5. Use Keywords: When employers are scanning resumes, they often use keyword searches to narrow down their list of applicants. Make sure that your resume is targeted towards the specific job by including relevant keywords throughout its content – this could be anything from "data analysis" or "SQL query writing" to "Microsoft Power BI" or "Tableau visualization" depending on the job requirements listed in the description
Related: Business Intelligence Analyst Resume Examples
Key Skills Hiring Managers Look for on Microsoft Business Intelligence Analyst Resumes
Including keywords from the job description when applying for a Business Intelligence Analyst opportunity at Microsoft is an important step in the application process. This is because Microsoft utilizes Applicant Tracking Systems (ATS) to filter through applications and select qualified candidates for interviews. By incorporating relevant keywords into your resume and cover letter, you can increase your chances of being selected by the ATS and advancing to the next stage of the hiring process. Additionally, using appropriate keywords will also help demonstrate that you have a thorough understanding of the role and its requirements.
Applying for a business intelligence analyst position at Microsoft may require knowledge of common skills and key terms such as data analysis, reporting, problem-solving and communication.
Key Skills and Proficiencies
SQL
Data Analysis
Data Mining
Business Intelligence
Reporting
Dashboarding
ETL (Extract, Transform, Load)
Data Visualization
Predictive Analytics
Microsoft Excel
Tableau
R Programming
Power BI
SAS
Database Management Systems (DBMS)
Statistical Analysis
Machine Learning Algorithms
Big Data Technologies
Cloud Computing
Programming Languages (Python, Java, etc.)
Project Management
Problem Solving
Related: Business Intelligence Analyst Skills: Definition and Examples
Common Action Verbs for Microsoft Business Intelligence Analyst Resumes
Finding different and effective action verbs for a Microsoft Business Intelligence Analyst resume can be difficult. However, it is important to use varied verbs in order to create a powerful and impactful resume. Resume action words help to showcase your achievements, as well as demonstrate the value you bring to potential employers. Action words allow you to succinctly describe your skills, experience, and accomplishments in a way that highlights your strengths and makes you stand out from other applicants. By using strong and varied action verbs, you are able to create an engaging resume that effectively communicates your qualifications for the position of Microsoft Business Intelligence Analyst.
To give you a competitive edge and help you land your next interview, we've compiled a list of powerful action verbs you can use to strengthen your resume:
Action Verbs
Developed
Implemented
Analyzed
Designed
Generated
Monitored
Investigated
Forecasted
Optimized
Automated
Maintained
Assessed
Identified
Researched
Interpreted
Reported
Visualized
Collaborated
Streamlined
Documented
Evaluated
Troubleshot