Article
Meta Business Intelligence Analyst Resume Examples
This article provides examples of resumes for Meta Business Intelligence Analysts, highlighting the skills and experience needed to succeed in this role.

Brenna Goyette
Certified Professional Resume Writer, Career Expert
Published 8 min read
This article will provide guidance on how to create an effective resume for a Business Intelligence Analyst at Meta. It will cover topics such as the best way to highlight your skills, which experiences to include, and how to tailor your resume to the position you are applying for. Additionally, it will provide tips on what not to include in your resume and strategies for making sure your document stands out from other applicants.
Meta Business Intelligence Analyst Resume Created Using Our Resume Builder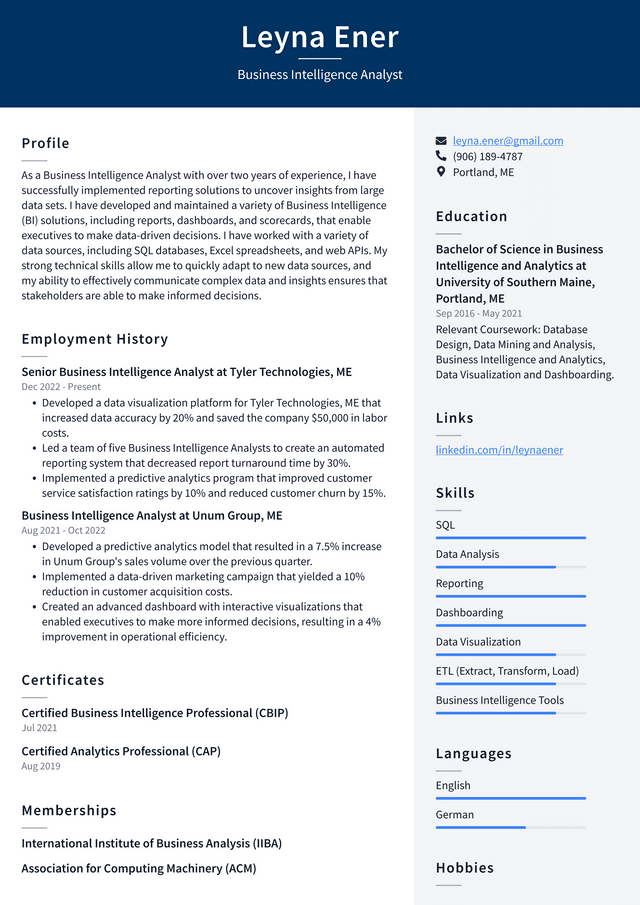 Meta Business Intelligence Analyst Resume Example
Leyna Ener, Business Intelligence Analyst
leyna.ener@gmail.com
(906) 189-4787
Portland, ME
Professional Summary
As a Business Intelligence Analyst with over two years of experience, I have successfully implemented reporting solutions to uncover insights from large data sets. I have developed and maintained a variety of Business Intelligence (BI) solutions, including reports, dashboards, and scorecards, that enable executives to make data-driven decisions. I have worked with a variety of data sources, including SQL databases, Excel spreadsheets, and web APIs. My strong technical skills allow me to quickly adapt to new data sources, and my ability to effectively communicate complex data and insights ensures that stakeholders are able to make informed decisions.
Work Experience
Senior Business Intelligence Analyst at Tyler Technologies, ME
Dec 2022 - Present
Developed a data visualization platform for Tyler Technologies, ME that increased data accuracy by 20% and saved the company $50,000 in labor costs.
Led a team of five Business Intelligence Analysts to create an automated reporting system that decreased report turnaround time by 30%.
Implemented a predictive analytics program that improved customer service satisfaction ratings by 10% and reduced customer churn by 15%.
Business Intelligence Analyst at Unum Group, ME
Aug 2021 - Oct 2022
Developed a predictive analytics model that resulted in a 7.5% increase in Unum Group's sales volume over the previous quarter.
Implemented a data-driven marketing campaign that yielded a 10% reduction in customer acquisition costs.
Created an advanced dashboard with interactive visualizations that enabled executives to make more informed decisions, resulting in a 4% improvement in operational efficiency.
Education
Bachelor of Science in Business Intelligence and Analytics at University of Southern Maine, Portland, ME
Sep 2016 - May 2021
Relevant Coursework: Database Design, Data Mining and Analysis, Business Intelligence and Analytics, Data Visualization and Dashboarding.
Skills
SQL
Data Analysis
Reporting
Dashboarding
Data Visualization
ETL (Extract, Transform, Load)
Business Intelligence Tools
Certificates
Certified Business Intelligence Professional (CBIP)
Certified Analytics Professional (CAP)
Tips for Writing a Better Meta Business Intelligence Analyst Resume
1. Focus on Your Skills and Experience: Highlight the skills and experience that are most relevant to the position of Business Intelligence Analyst. Include your technical proficiency with programming languages, databases, analytics tools, and data visualization software.
2. Tailor Your Resume to the Job Description: Read through the job description carefully and customize your resume accordingly. Make sure you emphasize the skills and experience that make you a good fit for the position.
3. Use Keywords Strategically: Take advantage of keyword scanning technology by using keywords related to BI analysis in your resume. This will help ensure that your resume is noticed by recruiters who are searching for candidates with these skills and experience.
4. Showcase Your Achievements: Include a section in your resume showcasing any awards or accomplishments you've achieved while working as a business intelligence analyst. This will help demonstrate your expertise in the field to potential employers.
5. Keep it Concise: Business intelligence analyst positions often require specialized knowledge, so make sure you don't include too much information in your resume that isn't immediately relevant to the job description. Try to keep it concise but still highlight important qualifications or achievements as needed.
Related: Business Intelligence Analyst Resume Examples
Key Skills Hiring Managers Look for on Meta Business Intelligence Analyst Resumes
Incorporating keywords from the job description when applying for a Business Intelligence Analyst opportunity at Meta is essential due to the company's use of Applicant Tracking Systems. These systems scan resumes for specific keywords that are related to the job posting, so including important terms and phrases will ensure your resume stands out from other applicants and is seen by recruiters. Furthermore, using relevant keywords in your cover letter demonstrates to recruiters that you have read the job posting carefully and understand what Meta is looking for in a candidate.
When applying for business intelligence analyst positions at Meta, you may encounter the following common skills and key terms:
Key Skills and Proficiencies
SQL
Data Analysis
Data Mining
Business Intelligence
Data Visualization
Reporting
Dashboards
ETL (Extract, Transform, Load)
OLAP (Online Analytical Processing)
Predictive Analytics
Statistical Analysis
Big Data
Microsoft Excel
Tableau
Power BI
R Programming Language
Python Programming Language
SAS Programming Language
Database Administration
Problem Solving Skills
Communication Skills
Project Management
Related: Business Intelligence Analyst Skills: Definition and Examples
Common Action Verbs for Meta Business Intelligence Analyst Resumes
Finding the right action verbs to use on a resume can be difficult, especially when applying for a position as a Business Intelligence Analyst. It is important to use varied and powerful verbs in order to create an effective resume that will stand out from other applicants. Using the same words over and over again can become monotonous, so it is important to use different words when describing your experience and accomplishments. Additionally, using strong action verbs can help you highlight your achievements and show potential employers how you have contributed to past projects. Examples of powerful action verbs include "analyzed", "collaborated", "developed", "executed", "implemented", and "managed". By utilizing these powerful words on your resume, you can demonstrate your proficiency in the field of business intelligence and make yourself look like an attractive candidate for the job.
Boost your resume and give yourself a competitive edge with our powerful list of action verbs. Use these words to make an impact on your resume and secure that next interview!
Action Verbs
Developed
Implemented
Analyzed
Optimized
Automated
Monitored
Investigated
Generated
Coordinated
Forecasted
Researched
Reported
Interpreted
Designed
Assessed
Reconciled
Documented
Executed
Maintained
Validated
Troubleshot
Visualized