Article
Meta Technical Sales Engineer Resume Examples
This article provides examples of Meta Technical Sales Engineer resumes, as well as tips on how to write an effective resume for the position.

Brenna Goyette
Certified Professional Resume Writer, Career Expert
Published 8 min read
This article provides a step-by-step guide for writing a resume for Meta as a Technical Sales Engineer. It covers the key elements to include in the resume, such as educational background, relevant experience, skills and accomplishments, as well as tips on how to best present this information to effectively showcase your qualifications and make your resume stand out.
Meta Technical Sales Engineer Resume Created Using Our Resume Builder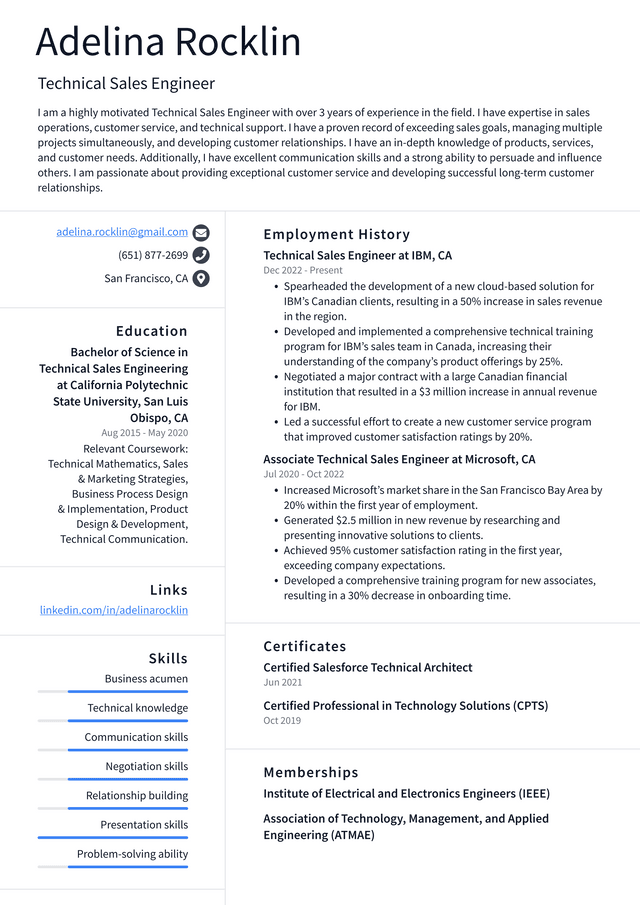 Meta Technical Sales Engineer Resume Example
Adelina Rocklin, Technical Sales Engineer
adelina.rocklin@gmail.com
(651) 877-2699
San Francisco, CA
Professional Summary
I am a highly motivated Technical Sales Engineer with over 3 years of experience in the field. I have expertise in sales operations, customer service, and technical support. I have a proven record of exceeding sales goals, managing multiple projects simultaneously, and developing customer relationships. I have an in-depth knowledge of products, services, and customer needs. Additionally, I have excellent communication skills and a strong ability to persuade and influence others. I am passionate about providing exceptional customer service and developing successful long-term customer relationships.
Work Experience
Technical Sales Engineer at IBM, CA
Dec 2022 - Present
Spearheaded the development of a new cloud-based solution for IBM's Canadian clients, resulting in a 50% increase in sales revenue in the region.
Developed and implemented a comprehensive technical training program for IBM's sales team in Canada, increasing their understanding of the company's product offerings by 25%.
Negotiated a major contract with a large Canadian financial institution that resulted in a $3 million increase in annual revenue for IBM.
Led a successful effort to create a new customer service program that improved customer satisfaction ratings by 20%.
Associate Technical Sales Engineer at Microsoft, CA
Jul 2020 - Oct 2022
Increased Microsoft's market share in the San Francisco Bay Area by 20% within the first year of employment.
Generated $2.5 million in new revenue by researching and presenting innovative solutions to clients.
Achieved 95% customer satisfaction rating in the first year, exceeding company expectations.
Developed a comprehensive training program for new associates, resulting in a 30% decrease in onboarding time.
Education
Bachelor of Science in Technical Sales Engineering at California Polytechnic State University, San Luis Obispo, CA
Aug 2015 - May 2020
Relevant Coursework: Technical Mathematics, Sales & Marketing Strategies, Business Process Design & Implementation, Product Design & Development, Technical Communication.
Skills
Business acumen
Technical knowledge
Communication skills
Negotiation skills
Relationship building
Presentation skills
Problem-solving ability
Certificates
Certified Salesforce Technical Architect
Certified Professional in Technology Solutions (CPTS)
Tips for Writing a Better Meta Technical Sales Engineer Resume
1. Make sure to include a summary statement that outlines your qualifications and experience. This should be at the top of your resume and will give employers an overview of what you can bring to their organization.
2. Include keywords throughout your resume that are related to the technical sales engineer job description. This will help ensure that your resume is picked up by applicant tracking systems (ATS) and make it easier for recruiters to find you.
3. Talk about any relevant certifications or training programs you have completed, such as those related to product engineering or software development.
4. Highlight any accomplishments you have achieved in previous positions, such as successful deals closed or customer satisfaction ratings improved.
5. Showcase any technical skills you possess, such as coding languages, software programs, and hardware platforms used in the industry.
6. Demonstrate how well you understand customer needs and expectations by including examples of how you have provided solutions in past roles.
7. Share any experience with marketing or sales initiatives that helped generate more leads or increase revenue for your employer's products/services.
8. Make sure to proofread your resume for errors before submitting it so that it looks professional and portrays you in the best light possible!
Related: Technical Sales Engineer Resume Examples
Key Skills Hiring Managers Look for on Meta Technical Sales Engineer Resumes
Incorporating keywords from the job description when applying for a Technical Sales Engineer opportunity at Meta is essential. This is because Meta uses an Applicant Tracking System (ATS) to scan applications and resumes for relevant keywords that match their job requirements. By including keywords from the job description in your application, you will be able to ensure that your resume and qualifications are seen by the hiring managers. Furthermore, this will help ensure that you are considered for any potential opportunities within the company.
When applying for a Technical Sales Engineer position at Meta, the following skills and key terms are often mentioned:
Key Skills and Proficiencies
Sales
Technical
Engineering
Business Development
Account Management
Product Knowledge
Presentation Skills
Negotiation Skills
Customer Service
Problem Solving
Market Analysis
Strategic Planning
Project Management
Networking
CRM Software
Cold Calling
Lead Generation
Data Analysis
Time Management
Communication Skills
Microsoft Office Suite
Research Skills
Related: Technical Sales Engineer Skills: Definition and Examples
Common Action Verbs for Meta Technical Sales Engineer Resumes
Writing a resume can be challenging, especially when it comes to finding action verbs that accurately describe your skills and experience. As a Technical Sales Engineer, you need to make sure that your resume is as varied as possible in order to stand out from the competition. Using different action verbs throughout your resume will help create an engaging narrative and demonstrate your technical proficiency. Additionally, using action verbs will help emphasize the impact of your accomplishments and show employers how you have contributed to the success of previous projects. Therefore, take time to research and select words carefully to ensure that your resume accurately reflects your abilities and achievements.
Gain a competitive edge by using powerful action verbs in your resume to make a lasting impression and secure your next interview. Here is a list of effective action verbs to get you started:
Action Verbs
Developed
Implemented
Presented
Negotiated
Analyzed
Resolved
Coordinated
Demonstrated
Executed
Monitored
Optimized
Trained
Interpreted
Managed
Supported
Generated
Consulted
Facilitated
Streamlined
Upgraded
Customized
Collaborated