Article
CVS Data Analyst Resume Examples
This article provides sample resumes and tips for crafting a successful resume for CVS Data Analyst positions.

Brenna Goyette
Certified Professional Resume Writer, Career Expert
Published 8 min read
This article will provide step-by-step instructions on how to craft a resume for CVS as a Data Analyst. It will cover the key skills and qualifications that CVS looks for in a Data Analyst, as well as tips on how to highlight your experience and achievements to stand out from the competition. It will also cover best practices for tailoring your resume to match the job description, so you can make sure your application is successful.
CVS Data Analyst Resume Created Using Our Resume Builder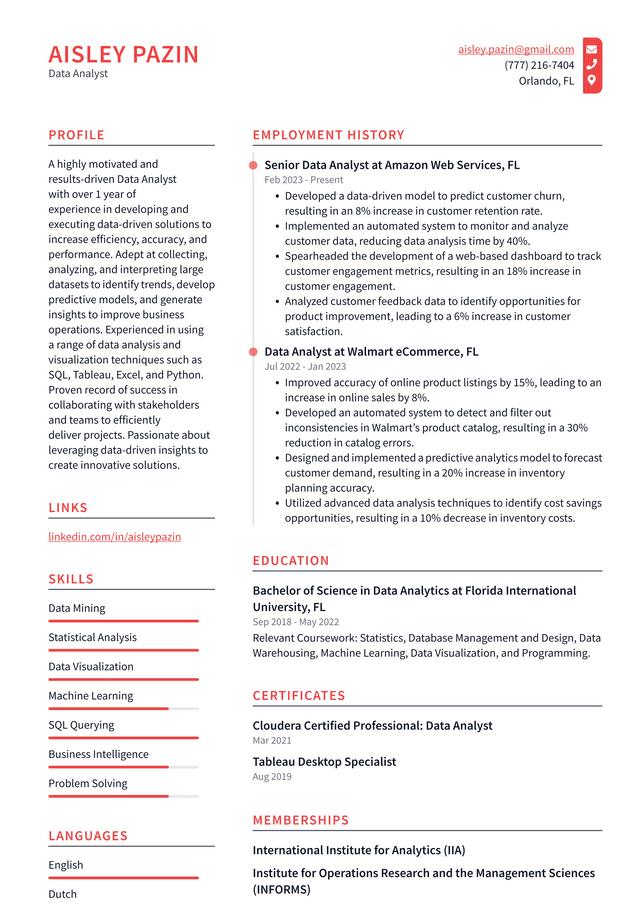 CVS Data Analyst Resume Example
Aisley Pazin, Data Analyst
aisley.pazin@gmail.com
(777) 216-7404
Orlando, FL
Professional Summary
A highly motivated and results-driven Data Analyst with over 1 year of experience in developing and executing data-driven solutions to increase efficiency, accuracy, and performance. Adept at collecting, analyzing, and interpreting large datasets to identify trends, develop predictive models, and generate insights to improve business operations. Experienced in using a range of data analysis and visualization techniques such as SQL, Tableau, Excel, and Python. Proven record of success in collaborating with stakeholders and teams to efficiently deliver projects. Passionate about leveraging data-driven insights to create innovative solutions.
Work Experience
Senior Data Analyst at Amazon Web Services, FL
Feb 2023 - Present
Developed a data-driven model to predict customer churn, resulting in an 8% increase in customer retention rate.
Implemented an automated system to monitor and analyze customer data, reducing data analysis time by 40%.
Spearheaded the development of a web-based dashboard to track customer engagement metrics, resulting in an 18% increase in customer engagement.
Analyzed customer feedback data to identify opportunities for product improvement, leading to a 6% increase in customer satisfaction.
Data Analyst at Walmart eCommerce, FL
Jul 2022 - Jan 2023
Improved accuracy of online product listings by 15%, leading to an increase in online sales by 8%.
Developed an automated system to detect and filter out inconsistencies in Walmart's product catalog, resulting in a 30% reduction in catalog errors.
Designed and implemented a predictive analytics model to forecast customer demand, resulting in a 20% increase in inventory planning accuracy.
Utilized advanced data analysis techniques to identify cost savings opportunities, resulting in a 10% decrease in inventory costs.
Education
Bachelor of Science in Data Analytics at Florida International University, FL
Sep 2018 - May 2022
Relevant Coursework: Statistics, Database Management and Design, Data Warehousing, Machine Learning, Data Visualization, and Programming.
Skills
Data Mining
Statistical Analysis
Data Visualization
Machine Learning
SQL Querying
Business Intelligence
Problem Solving
Certificates
Cloudera Certified Professional: Data Analyst
Tableau Desktop Specialist
Tips for Writing a Better CVS Data Analyst Resume
1. Prioritize relevant experience: Make sure to highlight the data analysis experience that is most relevant to the job you're applying for. Include a summary section at the top of your resume that briefly outlines your experience and qualifications.
2. Demonstrate technical skills: Showcase your hard skills, such as programming languages, database management systems and statistical analysis software, by including them in a separate "Skills" section.
3. Highlight achievements: Include metrics related to accomplishments on past projects or employment experiences to demonstrate how you have contributed value in the past.
4. Tailor your resume: Adapt your resume for each position you apply for by emphasizing experiences and qualifications that are most relevant to the role.
5. Use keywords: Incorporate industry-specific terms into your resume so it can come up when recruiters search potential candidates online.
Related: Data Analyst Resume Examples
Key Skills Hiring Managers Look for on CVS Data Analyst Resumes
Using keywords from the job description when applying for a Data Analyst opportunity at CVS is essential. This is because CVS utilizes Applicant Tracking Systems (ATS) to quickly and efficiently review incoming applications. These systems scan applications for specific words, phrases, and skills related to the job description. Therefore, making sure that your application contains keywords from the job description will help you stand out from the competition and increase your chances of getting an interview.
When applying for a Data Analyst position at CVS, you may encounter common skills and key terms such as those listed below.
Key Skills and Proficiencies
SQL
Excel
Data Visualization
Data Mining
Statistical Analysis
Machine Learning
Predictive Modeling
Data Wrangling
Big Data Technologies
Programming Languages (Python, R, etc.)
Business Intelligence (BI) Tools
Database Management Systems (DBMS)
Data Warehousing
ETL Processes
Reporting & Dashboards
Text Mining & Natural Language Processing (NLP)
Time Series Analysis
Optimization Techniques
Cloud Computing Platforms (AWS, Azure, etc.)
A/B Testing & Experimentation Design
Forecasting & Trend Analysis
Data Cleaning & Quality Assurance
Related: Data Analyst Skills: Definition and Examples
Common Action Verbs for CVS Data Analyst Resumes
Finding the right action verbs to use on a resume can be difficult, especially when trying to create an effective CV for a Data Analyst role. It is important to use varied verbs in order to showcase your skills and experience in the best way possible. Using the same words or phrases throughout your resume can make it sound repetitive and dull, so it is important to think outside the box and come up with a range of different verbs that accurately describe the tasks you have performed. Examples of action verbs which could be used on a Data Analyst resume include 'analyzed', 'developed', 'reviewed', 'implemented', 'monitored' and 'managed.'
To help you stand out from the competition, we've compiled a list of powerful action verbs that can be used to strengthen your resume and increase your chances of landing an interview:
Action Verbs
Analyzed
Developed
Investigated
Presented
Interpreted
Optimized
Generated
Visualized
Monitored
Assessed
Identified
Forecasted
Modeled
Implemented
Automated
Collected
Processed
Reconciled
Documented
Evaluated
Verified
Synthesized
Related: What does a Data Analyst do?