12 Helpdesk Skills: Definition and Examples
By ResumeCat Editorial Team
Updated June 7, 2023
The helpdesk is the first line of support for many businesses and organizations. Providing excellent customer service is essential for a successful helpdesk. There are a variety of skills that helpdesk agents need to provide excellent customer service. This article will provide definitions for twelve of those skills.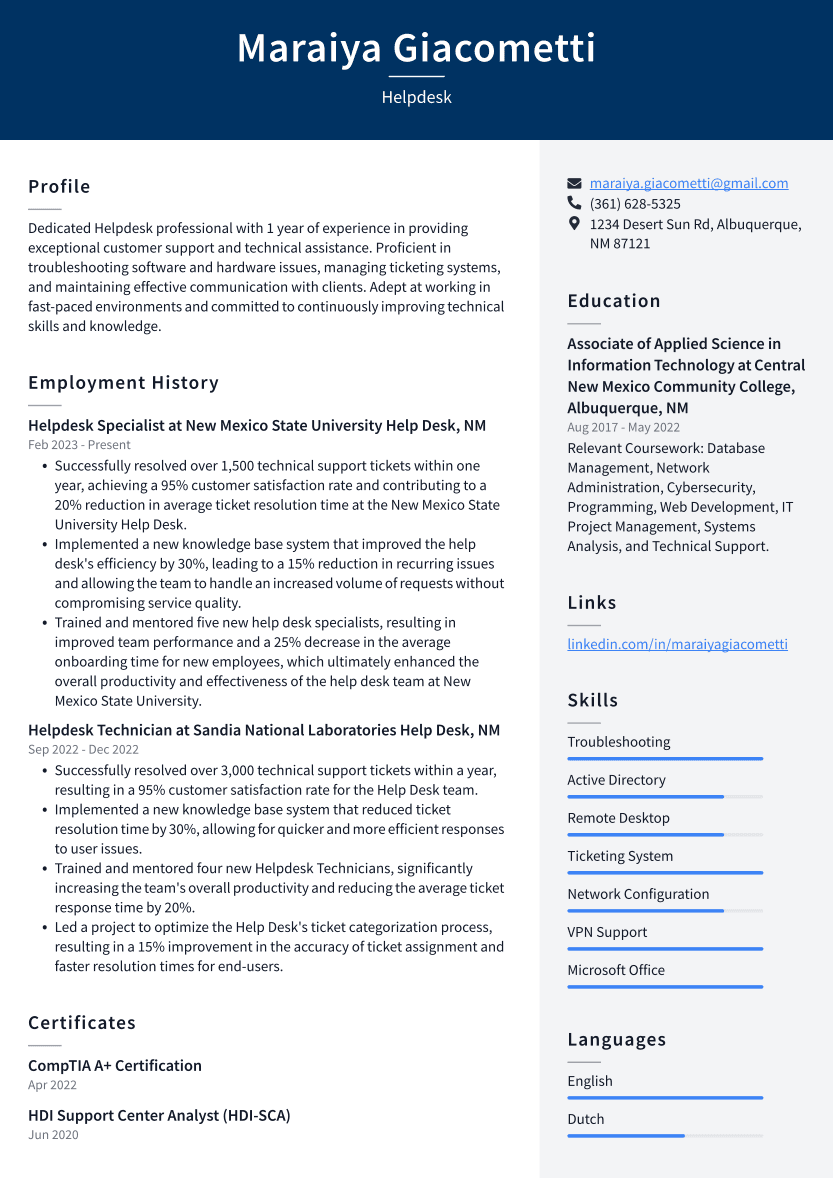 Helpdesk Skills
Communication
The ability to communicate effectively is essential for anyone working in customer service or support. Helpdesk agents need to be able to explain complex technical problems in simple terms, and they also need to be able to listen carefully to customers in order to understand their needs. Good communication skills are also important for building relationships with customers and establishing trust.
Technical
The technical helpdesk skill is the ability to provide technical support and assistance to customers or users. This can include troubleshooting hardware and software problems, answering questions about using computer applications, and providing training or guidance on how to use specific computer systems. Technical helpdesk skills are important because they allow you to effectively communicate with customers or users who may be experiencing technical difficulties. By being able to understand and solve their problems, you can help them to be more productive and efficient in their work.
Customer service
Customer service is the process of providing assistance to customers who are experiencing problems with a product or service. This can include anything from answering customer questions to resolving customer complaints.
Customer service skills are important because they can help you build strong relationships with your customers and improve customer satisfaction. Good customer service can help you retain customers and grow your business.
Interpersonal
Interpersonal skills are the skills that you use to interact with other people. This can include communication, teamwork, and problem-solving. You need these skills in order to be successful in any job that involves working with others.
Organizational
Organizational skills are important for Helpdesk technicians because they need to be able to keep track of multiple tasks and priorities. They also need to be able to communicate effectively with customers and other members of the Helpdesk team.
Time management
Time management is a skill that helps you to use your time effectively. It can help you to plan your time, set priorities, and avoid procrastination.
Computer
A helpdesk is a support service that helps users with computer-related problems. Helpdesks are usually staffed by IT professionals who can provide assistance with software, hardware, and other computer-related issues.
Typing
The skill of typing is important for a helpdesk technician because it allows them to quickly and accurately enter information into the computer system. This can be helpful when troubleshooting problems or providing customer support.
Key
A helpdesk is a support service that helps users with computer-related problems. Helpdesk technicians use a variety of tools to troubleshoot and resolve issues. They must be able to quickly identify and solve problems, as well as have excellent customer service skills.
Microsoft Office
Microsoft Office is a suite of software programs that helps users create and manage documents, spreadsheets, presentations, and more. Many businesses use Microsoft Office, so having skills in this software can be helpful for those seeking jobs in helpdesk or customer support positions.
Google Docs
Google Docs is a word processing program that allows you to create and edit documents online. You need it because it is a convenient way to edit documents without having to download and install a separate word processing program.
Helpdesk software
Helpdesk software is a tool that helps businesses manage customer support requests. It can help you keep track of customer issues, prioritize and route requests, and resolve problems faster. Having a good helpdesk system in place can save your company time and money by helping you resolve customer issues more efficiently.
How to improve helpdesk skills
The helpdesk is the first line of support for many organizations and as such, it is important that the staff providing this support are skilled and knowledgeable. There are a number of ways to improve helpdesk skills, including:
1. Providing adequate training: This is perhaps the most important way to ensure that helpdesk staff are able to provide effective support. Training should cover all aspects of the helpdesk role, from technical knowledge to customer service skills.
2. Encouraging continuous learning: Once staff have completed initial training, it is important to encourage them to continue learning. This can be done through providing access to online resources, attending conferences or webinars, or taking part in regular internal training sessions.
3. Hiring experienced staff: When recruiting for helpdesk roles, it is important to look for candidates with relevant experience. This could include previous experience working in a customer service or technical support role.
4. Encouraging teamwork: The helpdesk team should work together closely in order to provide effective support. Teamwork can be promoted through regular team meetings, sharing best practices, and working collaboratively on problem-solving.
5. Implementing quality assurance processes: Quality assurance processes can help to identify areas where helpdesk staff need additional training or support. These processes can also help to identify any systemic issues that need to be addressed.
6. Encouraging feedback: Feedback from customers and other stakeholders can be extremely valuable in improving helpdesk services. Helpdesk staff should be encouraged to solicit feedback and act on it in a timely manner.
7. Conducting regular reviews: Regular reviews of helpdesk performance can identify areas of improvement and ensure that standards are being met. Reviews should involve all members of the helpdesk team and should be conducted on a regular basis.
How to highlight helpdesk skills
If you're looking to highlight your skills as a helpdesk, there are a few things you can do. First, be sure to emphasize your customer service skills. This means being patient, friendly, and helpful at all times. Second, be sure to show that you're able to troubleshoot problems quickly and efficiently. This means having a good understanding of common computer issues and knowing how to fix them. Finally, be sure to demonstrate that you're organized and capable of managing multiple tasks at once. This means being able to prioritize tasks, keep track of deadlines, and stay calm under pressure.
On a resume
In order to highlight your skills as a Helpdesk on a resume, you should list your experience in customer service and technical support. You should also list any relevant certifications or training courses that you have completed. Furthermore, you should describe your ability to troubleshoot technical issues and provide excellent customer service.
In a cover letter
In your cover letter, be sure to highlight your skills as a Helpdesk. Include your experience working with customers and resolving their issues. Mention your ability to troubleshoot problems and your knowledge of various software programs. Describe how you are able to stay calm under pressure and handle difficult situations. Be sure to mention your excellent communication skills and your commitment to providing outstanding customer service.
During an interview
In order to highlight your skills as a helpdesk during an interview, you should first assess what the company is looking for. Once you have determined what they are looking for, you can then tailor your responses to match their needs. For example, if the company is looking for someone who is patient and efficient, you can highlight times when you have helped customers solve complex issues in a timely manner. Additionally, it is important to be prepared to answer questions about your technical skills and knowledge base, as well as questions about customer service.