Helpdesk Resume Examples
Writing a great helpdesk resume is important because it is one of the first things a potential employer will see when they are considering you for a position. It is your opportunity to make a good first impression and sell yourself as the best candidate for the job.
Create your resume
Select from 7 professional resume templates
If you're looking for inspiration when it comes to drafting your own helpdesk resume, look no further than the samples below. These resumes will help you highlight your experience and qualifications in the most effective way possible, giving you the best chance of landing the helpdesk job you're after.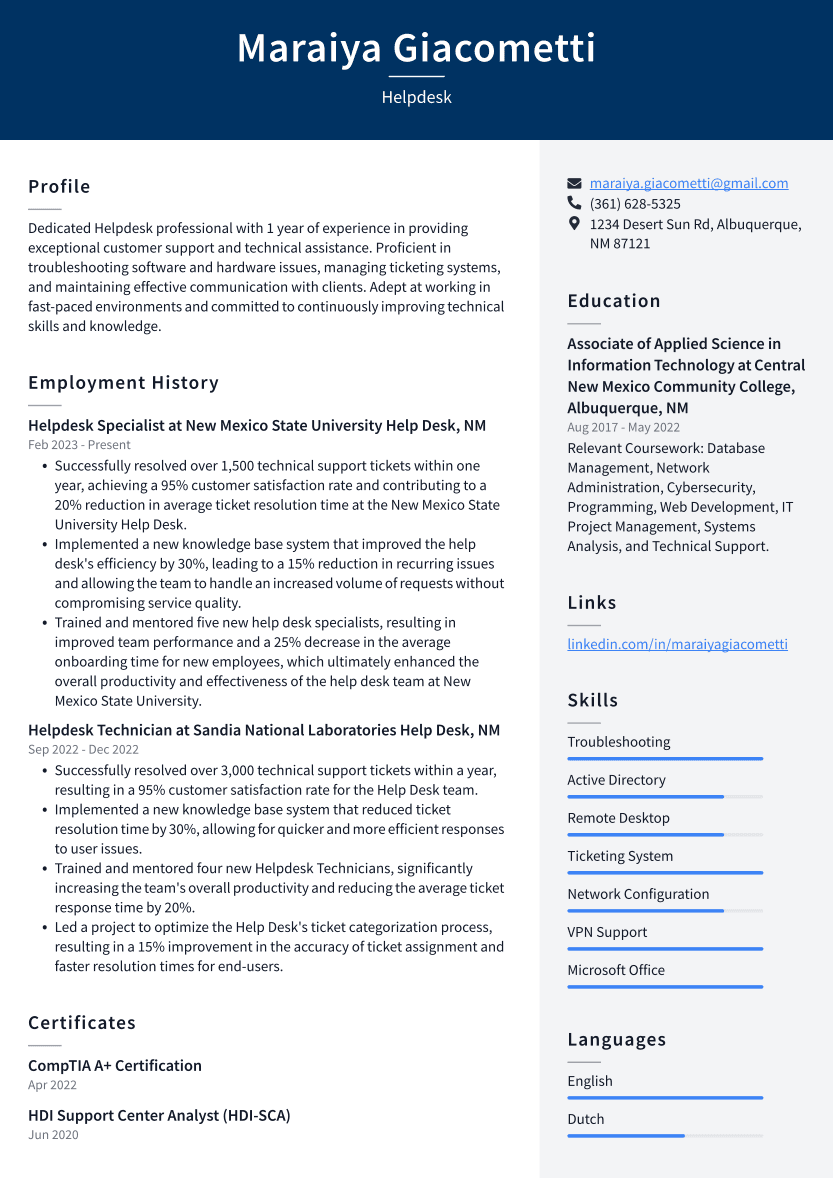 Resume samples
Ermine Shorthair
ermine.shorthair@gmail.com | (522) 555-9237 | Columbus, OH
Summary
---
I am a Helpdesk professional with over 1 year of experience. I have excellent customer service skills and thrive in fast-paced environments. I am able to quickly resolve technical issues and provide troubleshooting steps to customers. I also have experience managing ticketing systems and providing training to new employees on using various software programs.
Experience
---
Help Desk Technician at Help Desk Company, OHMar 2022 - Present
Provided Tier I and II support to over 500 users across 10 locations.
Resolved an average of 75 tickets per day.
Created and maintained documentation for all supported systems and applications.
Trained new technicians on company procedures and best practices.
Assisted in the roll-out of several major system upgrades.
Help Desk Analyst at , OHAug 2021 - Jan 2022
Assisted over 500 customers with technical issues via phone and email.
Resolved 80% of customer issues without escalation.
Created 10 documentation articles to help reduce support volume.
Trained 2 new Help Desk Analysts.
Achieved 97% satisfaction rating in customer surveys.
Education
---
High School Diploma at The Ohio State University, OHSep 2017 - May 2021
Some skills I've learned are time management, organization, and how to study for exams.
Skills
---
Help Desk
Technical Support
Customer Service
Microsoft Office
Windows
Active Directory
Exchange
Yasha Beyerlein
yasha.beyerlein@gmail.com | (646) 877-1463 | Salt Lake City, UT
Summary
---
I am a Helpdesk professional with over 1 year of experience resolving technical issues for businesses and individual users. I have an in-depth knowledge of Windows and Mac operating systems, as well as common software programs used by businesses. I am quick to identify and resolve problems, often before they become major disruptions. My excellent communication skills allow me to explain complex technical concepts to non-technical staff and customers alike. I take pride in providing exceptional customer service, always striving to exceed expectations.
Experience
---
Help Desk Technician at Bluehost, UTJun 2022 - Present
Assisted over 100 customers with technical issues via phone and email.
Resolved an average of 30 tickets per day.
Created step-by-step guides for common technical issues.
Trained new Help Desk Technicians on company procedures.
Successfully completed Tier 1 Certification.
Help Desk Analyst at SiteGround, UTAug 2021 - May 2022
Responded to 100 help desk tickets within the first month of employment.
Assisted in training 2 new Help Desk Analysts.
Created a knowledge base article that was used to resolve 50% of all incoming tickets.
Resolved complex technical issues for VIP customers.
Achieved customer satisfaction rating of 4.8/5.
Education
---
High School Diploma at Skyline High School, UTSep 2017 - May 2021
I have learned how to read, write, and do math while studying for my High School Diploma.
Skills
---
Help Desk
Technical Support
Customer Service
Microsoft Office
Windows 7/8/10
Active Directory
Exchange
Essential Components of a Helpdesk Resume
A Helpdesk resume is a critical tool for showcasing your technical expertise, customer service acumen, and problem-solving abilities to prospective employers. It reflects your professional identity within the IT support realm. Crafting an impactful Helpdesk resume involves emphasizing key sections such as employment history, technical skills, educational background, certifications, and interpersonal skills. In the following sections, we'll delve into each component of a Helpdesk resume, discussing their significance and what to include, along with tips to make your resume stand out to employers.
1. Contact Information
At the forefront of your Helpdesk resume should be your contact information, a fundamental element of any resume. Positioned prominently at the top, this section ensures employers can easily reach out to you for interviews or further discussion.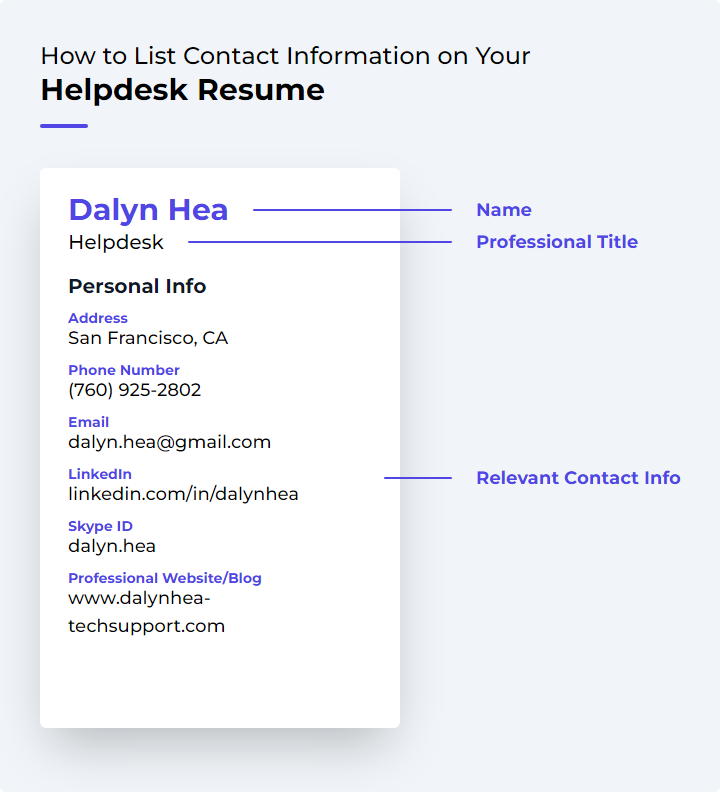 Include your full name, phone number, and a professional email address. Avoid casual or unprofessional email addresses to maintain a positive impression. If relevant, add your LinkedIn profile or other professional social media links.
Ensure all provided information is up-to-date and accurate to prevent missed opportunities due to incorrect contact details. While full home addresses are no longer necessary, including your city and state is sufficient, unless applying for out-of-state positions where it may be best to omit this information to prevent potential bias.
The goal of providing contact information on your Helpdesk resume is to facilitate easy communication with hiring managers regarding job opportunities.
Name: Your full name
Phone Number: Your contact number
Email Address: Professional email address
Social Media Profiles: LinkedIn or other professional accounts (if applicable)
Note: Verify that all information is current and precise to avoid missing out on potential opportunities due to incorrect contact details.
2. Professional Summary or Objective
The "Professional Summary or Objective" section is a pivotal part of a Helpdesk resume, positioned to immediately capture the attention of hiring managers. It allows you to create a strong first impression by succinctly summarizing your core competencies, experience, and career goals in a compelling manner.
For those with extensive helpdesk experience, a professional summary is appropriate, offering a brief paragraph that encapsulates your professional identity and highlights significant achievements. Conversely, career newcomers or those transitioning into the field may opt for an objective statement, clearly articulating career aspirations and relevant transferable skills.
Customize this section for each job application to align with the specific requirements outlined in the job posting. Incorporating pertinent keywords can also help your resume navigate applicant tracking systems (ATS).
Whether you choose a professional summary or an objective statement, this segment serves as an elevator pitch, quickly conveying to employers why you are an indispensable addition to their team.
Related: Top Helpdesk Manager Resume Objective Examples
3. Technical Skills and Certifications
Technical Skills: These are the practical skills and knowledge essential for performing specific IT-related tasks. A helpdesk professional should be proficient in operating systems, software applications, hardware components, network configuration, database management, and cybersecurity.
Problem-solving skills are also vital, as is familiarity with remote desktop applications and helpdesk software such as Zendesk or Jira.
Certifications: IT certifications demonstrate a candidate's technical proficiency and commitment to professional development. They can distinguish a candidate in a field of similarly experienced peers.
Valuable certifications for helpdesk roles include CompTIA A+, Microsoft Certified Professional (MCP), Cisco Certified Network Associate (CCNA), and ITIL Foundation, among others.
Listing your technical skills and certifications provides tangible evidence of your ability to fulfill the responsibilities of a helpdesk role, assuring employers of your competence in managing their IT infrastructure.
Related: Helpdesk Manager Skills: Definition and Examples
Related: Helpdesk Manager Certifications
4. Work Experience in IT Support/Helpdesk Roles
Prior experience in IT support or helpdesk roles is essential for a helpdesk resume, providing a glimpse into your practical experience within the industry and your ability to apply theoretical knowledge in real-world scenarios.
Detail past job responsibilities, especially those relevant to the position you're applying for, and highlight proficiency with specific tools and technologies used in the field. Include measurable achievements to enhance the impact of your work experience.
Present your work history in reverse chronological order, including job titles, company names and locations, employment dates, and a bulleted list of duties and accomplishments.
Emphasizing your work experience in IT support or helpdesk roles not only showcases your technical prowess but also underscores your problem-solving skills and commitment to delivering exceptional customer service.
5. Education and Training
The "Education and Training" section of your helpdesk resume is vital, showcasing your academic achievements and any specialized training you've completed. It provides insight into your foundational knowledge, technical skills, and dedication to ongoing professional development.
List your educational credentials in reverse chronological order, including the institution's name, degree earned, and dates of attendance. Highlight any IT support or customer service certifications and specialized training programs relevant to helpdesk roles.
Also, mention ongoing education efforts, such as online courses related to IT support/helpdesk roles. While this section is important for displaying your qualifications, it should complement rather than overshadow other critical resume components like work experience and skills.
6. Problem-Solving Abilities
Problem-solving is an indispensable skill for any Helpdesk resume. Provide concrete examples from your professional history where you effectively utilized these skills to resolve technical issues.
Emphasize your ability to prioritize tasks and demonstrate critical thinking, creativity, resilience, and attention to detail. Highlighting your problem-solving skills on your resume assures potential employers of your capability to manage challenging helpdesk responsibilities.
7. Communication Skills
Excellent communication skills are crucial for a Helpdesk resume. As the first point of contact for technical issues, it is imperative that you can communicate effectively, both verbally and in writing, with clients and team members.
On your resume, showcase instances where your communication skills led to positive outcomes, such as simplifying complex technical information for non-technical users or de-escalating tense situations with clients.
Additionally, demonstrate your ability to collaborate within a team and your empathetic approach to customer service. Including these aspects on your resume will illustrate that you possess not only technical expertise but also the communication skills necessary to excel in a helpdesk role.
Related Resume Samples