Web Content Coordinator Cover Letter Examples
A great web content coordinator cover letter can help you stand out from the competition when applying for a job. Be sure to tailor your letter to the specific requirements listed in the job description, and highlight your most relevant or exceptional qualifications. The following web content coordinator cover letter example can give you some ideas on how to write your own letter.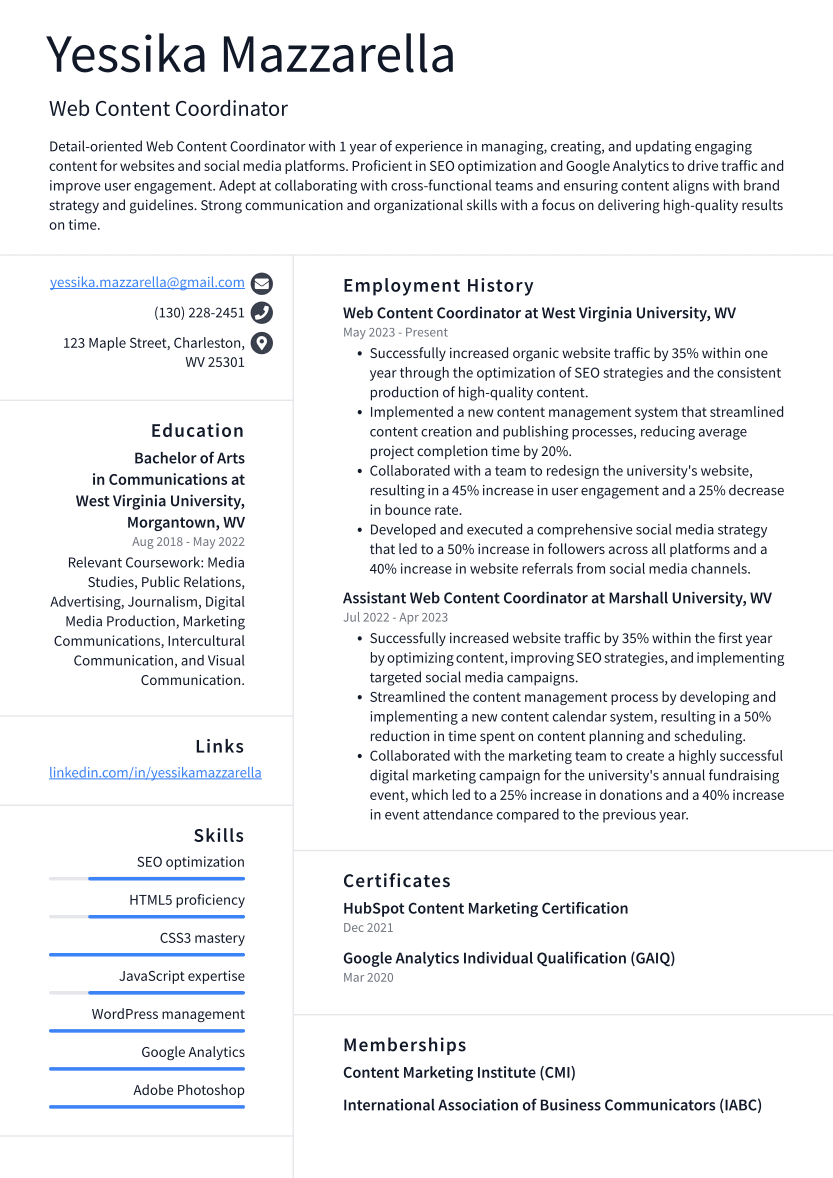 Cover Letter Sample
Tameia Rexer
(225) 279-0661
tameia.rexer@gmail.com
August 7, 2022
Dear Hiring Manager,
I am writing to apply for the Web Content Coordinator position at Brightcove. I have experience developing and managing web content, and I believe I would be a valuable asset to your team. I am passionate about creating compelling content that engages users and drives conversions, and I have a track record of success in this area. I am confident that I can help Brightcove achieve its goals and objectives, and I look forward to contributing to your team's success.
I have been working as a Web Content Coordinator at Ooyala for the past two years. In this role, I am responsible for managing and coordinating all web content across various platforms. This includes creating, editing and publishing content; ensuring accuracy and consistency of information; overseeing website maintenance; and liaising with internal teams to ensure timely delivery of content. In addition to my day-to-day responsibilities, I have also led several successful projects that have improved our web presence significantly. One such project was the development and launch of our new company website, which received positive feedback from both customers and industry experts alike. Another notable accomplishment was increasing online traffic to our site by implementing an effective SEO strategy that resulted in higher search engine rankings
As a web content coordinator, I have extensive experience developing and managing website content. I am skilled at writing compelling copy that engages audiences and drives conversions. I also have experience coordinating teams of writers, editors, and designers to produce high-quality web content. My attention to detail ensures that all website content is accurate and error-free. In addition, I regularly review analytics data to identify areas for improvement and optimize web content accordingly.
Thank you for considering me for the role of Web Content Coordinator at Brightcove. I am excited about the opportunity to work with such a forward-thinking company and contribute to its success. I believe that my skills and experience make me an ideal candidate for this position, and I am eager to put them to use in a challenging new environment. I am confident that I can be an asset to Brightcove and look forward to becoming part of the team.
Sincerely,
Tameia Rexer