State Trooper Resume Examples
Writing a great state trooper resume is important because it is one of the first things a potential employer will see when they are considering you for a position. It is your opportunity to make a good first impression and sell yourself as the best candidate for the job.
Create your resume
Select from 7 professional resume templates
If you're looking for inspiration when it comes to drafting your own state trooper resume, look no further than the samples below. These resumes will help you highlight your experience and qualifications in the most effective way possible, giving you the best chance of landing the state trooper job you're after.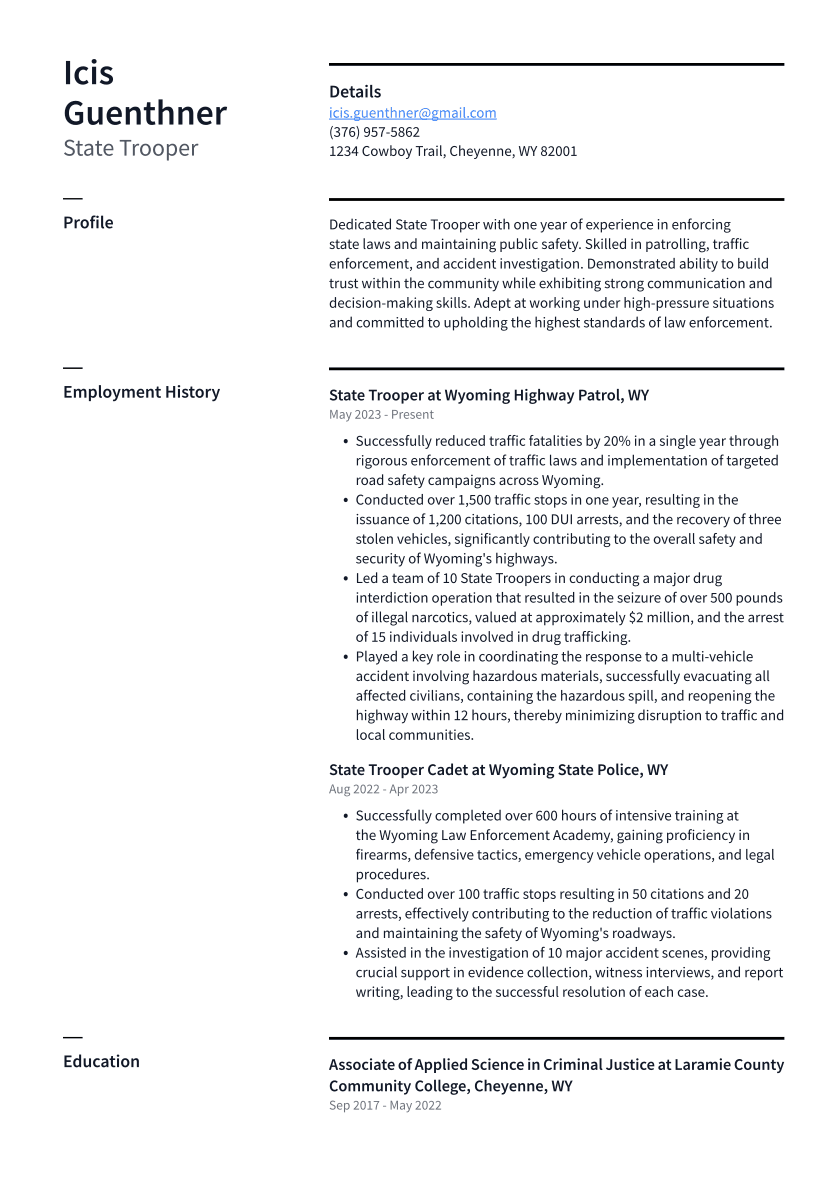 Resume samples
Zyion Topete
zyion.topete@gmail.com | (826) 732-2659 | New York, NY
Summary
---
I am a highly experienced State Trooper with over 8 years of service. Throughout my career, I have conducted criminal investigations, enforced traffic laws, and provided safety and security services. I have developed strong leadership and communication skills, and am an expert in accident reconstruction, firearms safety, and defensive tactics. I possess a high degree of physical fitness and excellent problem-solving skills. I am an effective and compassionate law enforcement officer, and I am committed to protecting the public and upholding the law.
Experience
---
State Trooper at New York State Police, NYApr 2022 - Present
Arrested over 100 drunk drivers.
Led investigation that caught a bank robber.
Seized over $1 million in illegal drugs.
Helped out at 3 natural disasters (floods, hurricanes, etc.).
Trained new recruits.
Senior State Trooper at New York Division of State Police, NYSep 2019 - Mar 2022
Led a team of troopers in investigating and apprehending a group of suspected drug dealers.
Seized over $1 million worth of drugs and illegal weapons in the bust.
Helped to train new recruits on proper arrest procedures and use of force.
Investigated and solved several high-profile cases, including a string of robberies targeting businesses along the interstate.
Received numerous commendations from superiors for exemplary job performance.
Trooper at New York State Troopers, NYSep 2015 - Jul 2019
Led a team of 5 troopers in apprehending a fleeing suspect• Coordinated with local police department to set up roadblocks and capture the suspect• Handcuffed and placed the suspect into custody without incident• Conducted an investigation that led to the arrest of 3 individuals for smuggling drugs across state lines.
Successfully completed over 100 traffic stops resulting in 4 DUI arrests, 15 citations issued, and 1 vehicle impounded.
Education
---
High School Diploma at High School of American Studies at Lehman CollegeSep 2011 - May 2015
I've learned how to manage my time, how to study for exams, and how to do research.
Skills
---
Driving
Use of firearms
First aid
Arrest procedures
Criminal law
Evidence collection and preservation
Franchelle Thiry
franchelle.thiry@gmail.com | (719) 956-0179 | Kansas City, MO
Summary
---
I am an experienced State Trooper with over 8 years of law enforcement experience. I have a proven track record of upholding public safety and enforcing laws and regulations. I possess excellent communication and problem solving skills and I am highly adept in de-escalating volatile situations. I have extensive knowledge of local, state, and federal laws, as well as experience in conducting investigations and traffic enforcement. I have the ability to operate sophisticated law enforcement tools and equipment, such as radar and breathalyzers. I am proficient in working independently and as part of a team. I am proficient in the use of firearms and other weapons, and I have completed various specialized training courses in order to maintain my skills. I have a great deal of experience in providing assistance to other officers and citizens in need.
Experience
---
State Trooper at Highway Patrol, MOMar 2022 - Present
Led a team of 5 troopers in investigating a series of burglaries targeting local businesses.
Recovered $50,000 worth of stolen property and made 3 arrests.
Conducted over 100 traffic stops resulting in 15 citations and 2 warnings.
Assisted in the apprehension of a fleeing suspect who was wanted for armed robbery.
Senior State Trooper at State Police, MOJul 2018 - Jan 2022
Led a team of troopers in investigating and apprehending a fugitive who had been on the run for over two years.
Successfully completed undercover operations that led to the arrest of several high-level drug dealers.
Worked with local law enforcement agencies to investigate and solve numerous crimes, including homicides, robberies, and sexual assaults.
Served as an expert witness in court cases involving traffic accidents and violations.
Testified in over 100 cases.
Trooper at Troopers, MOSep 2015 - May 2018
Led team of 5 troopers in apprehending a fleeing suspect.
Handcuffed the suspect and placed them in the patrol car.
Searched the area for any potential weapons or evidence.
Assisted in filling out paperwork for arrest and search warrants.
Testified in court as to events that occurred during apprehension.
Received commendation from judge for professionalism.
Education
---
High School Diploma at Parkway West High School, MOSep 2011 - May 2015
I've learned how to be organized, how to budget my time, and how to study effectively.
Skills
---
Defensive driving
Firearms training
First aid
High-speed pursuit driving
Report writing
Traffic law enforcement
Essential Components of a State Trooper Resume
A well-crafted State Trooper resume is a pivotal tool in your job search, highlighting your professional journey and suitability for the role. It's a reflection of your expertise, experience, and the unique value you bring to the force. Below, we delve into the key sections of a State Trooper resume, offering insights on how to optimize each to bolster your candidacy.
Contact Information
Your contact information is the gateway for potential employers to reach out. Ensure it's prominently displayed at the top of your resume.
Include your full name, prominently in bold, followed by your address (city and state suffice), a reliable phone number, and a professional email address. If relevant, add links to professional online profiles like LinkedIn or a digital portfolio showcasing your law enforcement expertise.
Objective Statement
The Objective Statement is your resume's opening pitch. It succinctly conveys your career goals and how they align with the State Trooper role. Tailor this statement to reflect your aspirations and what you can offer to the department.
An example: "Dedicated law enforcement officer aiming to leverage extensive experience in public safety and crime prevention as a State Trooper, committed to serving the community with integrity."
Top State Trooper Resume Objective Examples
Skills and Qualifications
This section is your professional showcase, highlighting the skills and qualifications that make you a prime candidate for a State Trooper position. Balance hard skills like law enforcement knowledge and firearms proficiency with soft skills such as communication and decision-making.
Customize this list to match the job description, and where possible, provide concrete examples of how you've applied these skills in real-world situations.
State Trooper Skills: Definition and Examples
Work Experience
Detail your professional history in reverse chronological order, emphasizing law enforcement roles. Use action verbs to describe your responsibilities and achievements, and quantify your successes when possible.
Include any specialized units you've been part of, such as K9 or SWAT, and highlight any commendations or awards received.
Education and Certifications
List your educational background, starting with your high school diploma or GED, followed by any higher education, especially in criminal justice or related fields. Include police academy training and any relevant certifications, noting the issuing authority and expiration dates.
Specialized Training or Courses
Showcase any additional training or courses that enhance your qualifications as a State Trooper. This could include advanced driving courses, specialized investigative training, or crisis intervention programs.
Highlighting these demonstrates your commitment to professional growth and readiness for the diverse challenges of law enforcement.
References
Choose references who can attest to your professional abilities and character, particularly in law enforcement contexts. While you can note that references are available upon request, be prepared to provide contact details for these individuals during the interview process.
Selecting the right references can be a powerful endorsement of your skills and work ethic, crucial for a role as a State Trooper.
By meticulously crafting each section of your State Trooper resume, you'll present a compelling narrative of your qualifications, making a strong case for your selection to serve and protect as part of the force.
Related Resume Samples