Reservations Manager Resume Examples
Writing a great reservations manager resume is important because it is one of the first things a potential employer will see when they are considering you for a position. It is your opportunity to make a good first impression and sell yourself as the best candidate for the job.
Create your resume
Select from 7 professional resume templates
If you're looking for inspiration when it comes to drafting your own reservations manager resume, look no further than the samples below. These resumes will help you highlight your experience and qualifications in the most effective way possible, giving you the best chance of landing the reservations manager job you're after.
Essential Components of a Reservations Manager Resume
A well-crafted resume for a Reservations Manager is a critical document that outlines your professional journey, showcases your skills, and demonstrates your proficiency in managing reservations within hospitality settings. It's imperative to meticulously construct your resume to highlight your expertise in reservation systems, collaboration with teams, and commitment to customer satisfaction.
Your resume should encompass several key sections: personal information, an objective statement, employment history, educational background, a list of relevant skills, and references. Each section plays a significant role in presenting you as the ideal candidate for the role.
Let's delve into each section, discussing its significance, content, and tips to ensure it stands out.
1. Contact Information
Accurate contact information is crucial for a Reservations Manager's resume. This is the primary means for potential employers to reach out for interviews or further discussion.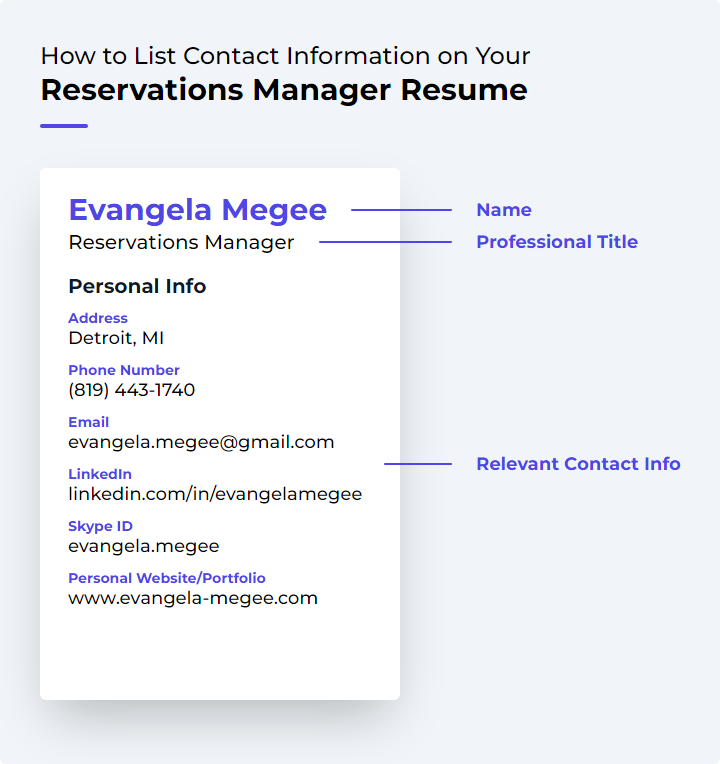 Include your full name, phone number, and a professional email address in the contact section. Ensure your email is professional, ideally incorporating your name. Refrain from using unprofessional nicknames or email addresses.
Consider adding links to your LinkedIn profile or other professional online platforms to provide employers with additional insights into your qualifications and experience.
While including your full home address is optional due to privacy concerns, mentioning your city and state can be beneficial, particularly if the position has geographic requirements.
Remember to regularly verify the accuracy of your contact details to prevent missed opportunities due to outdated or incorrect information.
2. Objective Statement
The "Objective Statement" is a brief yet impactful summary of your career aspirations and how you intend to apply your skills to the desired role. It should be concise, compelling, and tailored to the job listing.
For a Reservations Manager position, your objective might highlight your proficiency with reservation systems, your track record in enhancing customer satisfaction, or your experience leading high-performing teams. Mention any relevant certifications or specialized training you've completed.
The objective statement serves as an introduction to potential employers and sets the tone for your entire resume. It's essential to convey your enthusiasm, commitment, and suitability for the role of Reservations Manager.
Given that hiring managers often skim resumes due to time constraints, a well-crafted objective statement can capture their attention and encourage a thorough review of your resume.
Invest time in refining this section to accurately reflect your professional aspirations and qualifications for the position you're targeting.
Related: Top Reservations Manager Resume Objective Examples
3. Work Experience
The "Work Experience" section is a cornerstone of a Reservations Manager resume. Here, you highlight previous positions and responsibilities that align with the role you're seeking. Detail your contributions in each job, focusing on achievements and skills pertinent to a Reservations Manager.
Job Title: Start with your most recent job title and work backward. If you've previously held a Reservations Manager position, emphasize it.
Company and Dates: List the names of your past employers along with the dates of employment to provide a clear timeline of your work history.
Responsibilities: Describe your tasks and responsibilities, such as managing booking systems, coordinating with departments, addressing customer complaints, training staff, etc.
Achievements: Go beyond listing duties by showcasing your accomplishments. Highlight any initiatives that improved efficiency or customer satisfaction. Quantifiable successes can distinguish your resume.
Skills Applied: Emphasize key skills utilized in these roles, such as communication, leadership, problem-solving, or proficiency in reservation software like Opera or Amadeus.
Industry-Specific Experience: If you have experience in industries akin to the one you're applying to, such as hospitality or travel, mention it as it adds significant value.
Use action verbs to describe your work experience and maintain clarity and brevity. Tailor this section to the job description's specific requirements for maximum impact.
4. Skills and Competencies
In the "Skills and Competencies" section of a Reservations Manager's resume, it's important to list both soft and hard skills that qualify you as an adept leader in this role. Here are some essential skills:
Communication Skills: Effective verbal and written communication is essential for liaising with guests, team members, and other departments.
Customer Service Skills: Providing exceptional service is crucial, as you'll frequently interact with clients, manage complaints, and ensure guest satisfaction.
Organizational Skills: Managing reservations efficiently, coordinating with various departments, and maintaining accurate records require strong organizational abilities.
Leadership Qualities: Demonstrating your capacity to lead a team, including training on reservation systems, setting performance goals, offering feedback, and resolving conflicts, is vital.
Technical Proficiency: Familiarity with reservation software or property management systems is essential for this role.
Problem-Solving Skills: The ability to identify issues and implement effective solutions is key to smooth operations.
Attention to Detail: Ensuring all reservations are accurately recorded in the system is critical to avoid errors or inconsistencies.
Negotiation Skills: Negotiating rates with clients and resolving disputes are common tasks for a Reservations Manager.
Multitasking: The ability to juggle multiple tasks simultaneously is necessary due to the fast-paced nature of the job.
Salesmanship: Understanding sales principles can aid in increasing revenue by upselling services or rooms when appropriate.
Stress Management: Maintaining composure under pressure ensures a positive guest experience during peak times or challenging situations.
Ensure that the 'Skills and Competencies' section accurately reflects your personal experiences and abilities.
Related: Reservations Manager Skills: Definition and Examples
5. Education and Certifications
The "Education and Certifications" section is a testament to your formal training and qualifications in the hospitality industry. This information can significantly influence an employer's decision, especially if the role requires specific educational credentials or certifications.
Educational Achievements: While some employers may accept a high school diploma, many prefer candidates with a bachelor's degree in Hospitality Management, Business Administration, or Tourism. These programs cover essential topics relevant to a Reservations Manager.
Certifications: Professional certifications can provide a competitive edge by demonstrating your commitment to the industry and mastery of specific skills. Credentials such as the Certified Hospitality Supervisor (CHS®) or Certified Rooms Division Executive (CRDE®) can be advantageous.
Specialized Training: Highlight any training related to reservation systems or customer relationship management software. Proficiency in platforms like Amadeus, Sabre, or Opera PMS can be beneficial.
Continuing Education: The dynamic nature of the hospitality industry necessitates ongoing education. Mention any recent courses or workshops you've attended that relate to emerging trends in hotel reservations management.
When listing your educational and certification details, include the institution's name, the degree or credential obtained, and the year of completion. Discuss any significant achievements during your education or certification process that could distinguish you from other candidates.
Related: Reservations Manager Certifications
6. Achievements and Awards
The "Achievements and Awards" section allows you to showcase notable accomplishments from your career. It's an opportunity to highlight your unique contributions, dedication, and recognition from previous employers or industry organizations.
List any significant awards or recognitions, such as "Employee of the Month," "Top Customer Service," or accolades for improving efficiency, increasing revenue, or enhancing customer satisfaction.
For instance, if you were commended for managing a high volume of reservations flawlessly during peak periods, or for implementing a new reservation system that improved productivity and reduced costs, these achievements should be emphasized.
Ensure that all achievements are measurable and specific, e.g., 'Increased online bookings by 30% through strategic management' or 'Reduced no-show rates by 20% with effective communication techniques'.
This section is not just about listing awards; it's about demonstrating your value as a potential employee. The more you can illustrate how your efforts positively impacted your previous employers, the more appealing you will be to prospective employers.
7. References
A complete professional resume for a Reservations Manager includes references. These individuals can attest to your work ethic, achievements, and reliability, providing potential employers with insights from those who have directly worked with you.
In the "References" section, list individuals who can speak to your reservation management skills, such as former supervisors, colleagues, or employers. Always obtain their consent before including them as references and confirm their preferred contact details.
Provide comprehensive contact information for each reference, including their full name, job title, company name, phone number, and email address.
Full Name: Jane Doe
Current Job Position: General Manager
Company Name: XYZ Hotel
Phone Number: (555) 123-4567
Email Address: jane.doe@xyzhotel.com
If you prefer not to list references directly on your resume, it's acceptable to state "References available upon request." However, be prepared to provide them promptly when asked.
Arrange the references section neatly at the end of your resume. Keep it concise and straightforward to facilitate easy contact by potential employers.
In conclusion, robust references can significantly enhance the impact of a Reservations Manager's resume by providing third-party validation of your expertise in managing reservations effectively.