QA Manager Resume Examples
Writing a great qa manager resume is important because it is one of the first things a potential employer will see when they are considering you for a position. It is your opportunity to make a good first impression and sell yourself as the best candidate for the job.
Create your resume
Select from 7 professional resume templates
If you're looking for inspiration when it comes to drafting your own qa manager resume, look no further than the samples below. These resumes will help you highlight your experience and qualifications in the most effective way possible, giving you the best chance of landing the qa manager job you're after.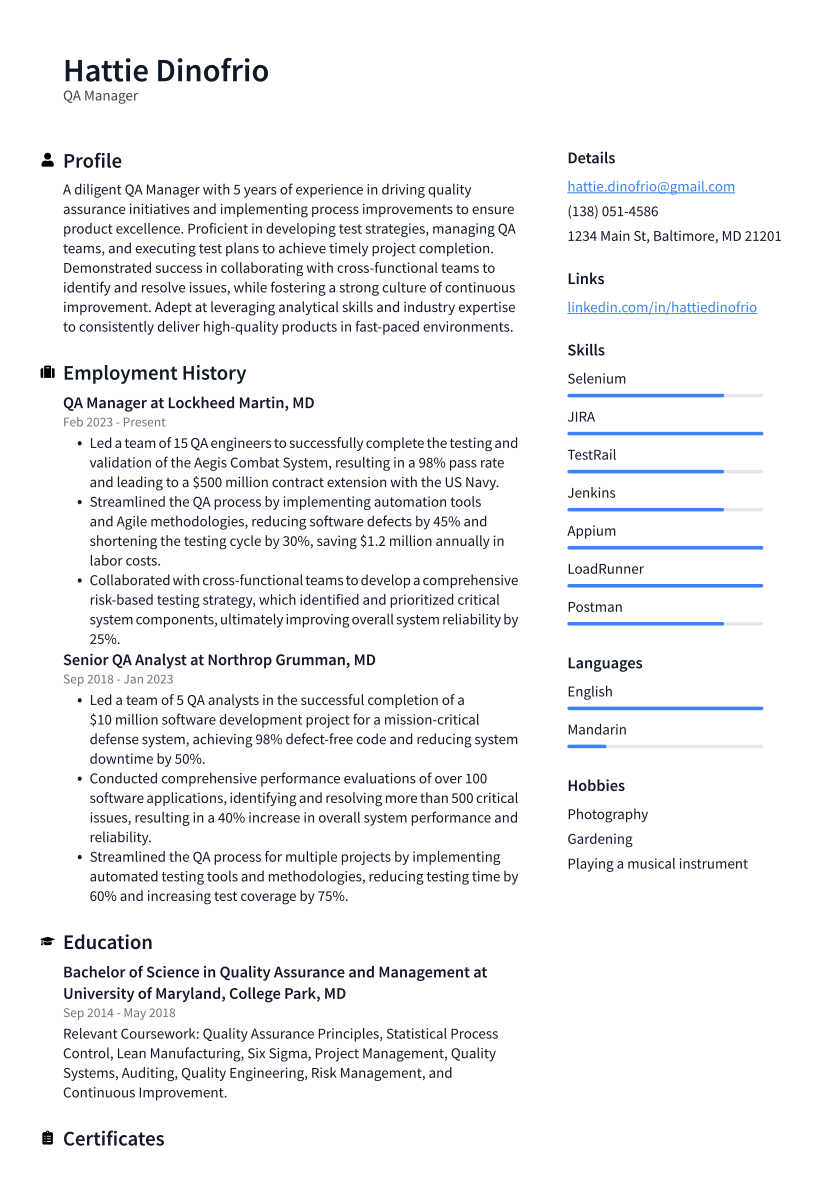 Resume samples
Guinevere Valles
guinevere.valles@gmail.com | (154) 812-0944 | Baltimore, MD
Summary
---
I am a QA Manager with over 5 years of experience in the industry. I have worked on various projects and have gained a lot of knowledge about different testing methodologies. I am an expert in manual testing, as well as automated testing tools like Selenium WebDriver. I also have experience working with databases like Oracle and MySQL. In addition to this, I am also familiar with bug tracking tools like Jira and Bugzilla.
Experience
---
QA Manager at Adventist HealthCare, MDMar 2022 - Present
Led a team of 5 QA analysts and testers in developing and executing test plans to ensure the quality of 2 mobile applications before release. As a result, both apps were released with 0 critical bugs.
Wrote and presented 3 proposals to management on how to improve the company's testing process for future projects which were then implemented.
Created a bug tracking system that helped reduce the number of repeat bugs by 30%.
Trained new employees on proper Quality Assurance procedures.
Conducted regular reviews of department processes and made recommendations for improvements which increased efficiency by 15%.
QA Lead at Johns Hopkins Medicine, MDSep 2017 - Mar 2022
Led a team of 8 quality assurance analysts in testing software for compliance with company and industry standards.
Authored or co-authored over 50 test plans and cases.
Developed, implemented, and monitored metrics to track project progress and identify areas needing improvement.
Defect prevention - identified potential issues early in the development process that were corrected before they became actual defects.
Improved customer satisfaction scores from 85% to 92%.
Education
---
Bachelor of Science in Computer Science at University of Maryland, College ParkSep 2013 - May 2017
I have learned programming, critical thinking, and problem solving skills while studying Bachelor of Science in Computer Science.
Skills
---
Quality Assurance
Quality Control
Testing
Test Automation
Project Management
Process Improvement
Documentation
Britnee Frend
britnee.frend@gmail.com | (469) 014-0750 | Oklahoma City, OK
Summary
---
I am a QA Manager with over 5 years of experience in the industry. I have worked on both small and large projects, and have been able to successfully manage a team of testers. I am extremely detail-oriented, and have a keen eye for spotting defects. I also possess excellent communication skills, which has helped me in liaising with different teams throughout the software development process.
Experience
---
QA Manager at Acme Corporation, OKMar 2022 - Present
Improved test coverage from 85% to 95%, resulting in a 25% reduction in production defects.
Developed and implemented a new regression testing methodology that reduced re-testing time by 50%.
Implemented an automated testing framework that increased test efficiency by 30%.
Led the development of 15+ new features with zero production defects.
Trained and mentored 5 junior testers, increasing team productivity by 20%.
QA Lead at Wile E. Coyote, Inc., OKAug 2017 - Jan 2022
Led a team of 5 QA Analysts in testing web-based applications.
Authored and executed test cases based on requirements documents.
Created detailed bug reports and tracked bugs through to resolution.
Developed regression tests for new features/fixes.
Education
---
Bachelor of Science in Computer Science at Oklahoma State University, OKSep 2013 - May 2017
I've learned how to code in various languages, design and implement algorithms, and use data structures.
Skills
---
Quality Assurance
Quality Control
Testing
Test Automation
Project Management
Process Improvement
Documentation
Key Elements of a QA Manager Resume
A Quality Assurance (QA) Manager's resume is an important tool. It shows their know-how, abilities, and past work in quality control and assurance. This paper must clearly show the person's skill to create, use, and oversee quality control systems in many industries. It should also show their leadership skills, focus on detail, analytical abilities, and understanding of QA rules and methods.
Next, we'll explore the different parts of a QA Manager's resume. We'll talk about why each part matters and what it should include. We'll also give advice on how to make each section stand out to possible employers.
1. Contact Information
The "Contact Information" part of your QA Manager resume is super important. It's the first thing recruiters see when they look at your resume. They use this info to reach out for interviews or more talks.
Here, you should put your full name, phone number, and a professional email address. Your email should sound serious - it's usually best if it includes your name. If you have a LinkedIn page or a website about your QA work, add those links too.
You don't always need to put down your whole home address. Depending on what's normal in your country or job field, you might only need to list the city and state/country. But if the job means moving or is tied to a specific place, giving your full address could help.
Make sure all this info is current and correct. You don't want to lose chances because of old contact details.
Remember that while this section matters, it shouldn't take up too much room on your resume. Keep it short and easy to spot so recruiters can quickly start looking at your skills and background.
2. Professional Summary
The Professional Summary on a QA Manager's resume is super important. It gives a quick look at your career, showing off your best skills, experiences, and wins. It needs to be short, engaging, and fit the job you want.
Usually, this part is right at the top of your resume. It's the first thing potential bosses see. It should neatly sum up what makes you perfect for the QA Manager job.
When you write this part, focus on your know-how in quality assurance management. This could be:
Leading teams,
Setting up quality control steps,
Making sure everything follows industry rules and standards,
Boosting efficiency and output,
Cutting down on mistakes or flaws in products or services, and so on.
Don't forget to mention big wins like projects you've led successfully or improvements you've made in past jobs. If possible use numbers to show these wins.
Use strong action words like 'led', 'managed', 'improved', 'implemented' to make your professional summary stand out more. Stay away from overused phrases or vague statements; aim for clear and relevant details about the QA Manager role instead.
Here's an example: "I'm a goal-focused QA Manager with more than 10 years of experience in software testing and team leadership. I have a proven history of setting up effective quality control processes that boosted product quality by 20%, cut defects by 30% and made customers happier. I'm good with Agile methods, ISO standards and automation tools."
This professional summary not only shows off relevant skills but also how these have been used to get results – making it a powerful start to your resume.
3. Work Experience
The "Work Experience" part is a key component in a QA Manager's resume. It gives potential bosses an in-depth look at your career path and highlights your talents, capabilities, and successes in Quality Assurance leadership.
You should include a rundown of past positions you've held, beginning with the most recent one. For each position, give the job title, company name, location, and employment dates. Then outline your duties and accomplishments using bullet points.
When outlining your work history as a QA Manager or similar roles, put emphasis on tasks that show your capacity to organize, guide or oversee quality assurance programs and create quality control policies. Highlight how you've strived to boost efficiency and profitability by minimizing waste.
For instance:
"Introduced new testing systems that boosted error detection by 20%"
"Oversaw a team of 10 QA analysts to maintain product quality"
"Decreased production errors by 15% through the launch of new QA software"
Try to quantify your achievements whenever feasible as this gives recruiters an understanding of the extent of your work and its influence.
Additionally, it's crucial to mention any experience with specific tools or methodologies typically used in Quality Assurance like Six Sigma or Lean methodologies.
If you have experience in various industries, make sure to specify them as it demonstrates adaptability - a vital characteristic for a successful QA manager.
Keep in mind that while technical skills are essential for this role; leadership skills are just as important since a QA Manager often leads teams. So don't overlook highlighting relevant experiences where you showed leadership abilities.
Finally but significantly, customize this section (and indeed the entire resume) to align with the requirements stated in the job description – this boosts chances that your resume will get through Applicant Tracking Systems (ATS).
4. Skills and Competencies
The "Skills and Competencies" part of a QA Manager resume is super important. It shows off the person's skills in quality assurance management. This part should be made to show the exact skills that match the job.
Technical Skills: A QA Manager needs to be good at using different software testing tools, methods, and tech stuff. They need to know SQL, Python or Java, automated testing tools like Selenium or QTP, and be familiar with Agile or Scrum methods.
Quality Assurance Knowledge: Knowing a lot about quality control procedures and standards is really important. This means knowing about ISO 9001, Six Sigma principles, regulatory compliance, risk management, and auditing processes.
Leadership Skills: Being a manager means you need leadership skills. These are things like managing a team, planning strategically, making decisions, solving conflicts and motivating your team members.
Analytical Skills: A QA Manager needs to be good at analyzing data. They have to find trends and patterns in complex data sets to make smart decisions about product quality.
Communication Skills: Great speaking and writing skills are needed for talking with different departments within a company as well as communicating with clients or stakeholders.
Problem-Solving Skills: Being able to quickly find problems and come up with good solutions is really important for keeping product quality high.
Attention to Detail: Paying close attention helps in finding even small mistakes during the testing process which can greatly affect the final product's quality.
Project Management Skills: Being good at project management tools like Jira or Trello can help since QA Managers often have to manage many projects at once.
Time Management & Organizational Skills: Because this job is so fast-paced, being able to organize tasks effectively while managing deadlines is super important.
Adaptability/Flexibility: With technology trends and market demands changing all the time, being adaptable becomes an important trait for a QA Manager who needs to stay on top of these changes.
Remember that this part shouldn't just be a list; instead use it as a chance to give examples from your work experience where you've shown these skills successfully.
Related: QA Manager Skills: Definition and Examples
5. Education and Certifications
The "Education and Certifications" part of a QA Manager's resume is key. It shows the person's school background and certificates, which are vital for doing well in this job.
When it comes to schooling, many bosses like people with a bachelor's degree in things like Computer Science, Engineering, or Information Systems. But, degrees in Business Administration or similar areas can also work if the person has related job experience. It's key to write any degrees you have, where you got them from, and when you graduated.
Certificates are very important for a QA Manager's job chances. They not only make you look more trustworthy but also show that you're dedicated to keeping up with industry changes and top methods. Some main certificates for a QA Manager include:
Certified Software Quality Analyst (CSQA)
Certified Associate in Project Management (CAPM)
Certified Software Test Engineer (CSTE)
International Software Testing Qualifications Board certification (ISTQB)
If you have any special certificates like Six Sigma Green Belt or Black Belt, these should be added too. These show skill in quality management ideas and methods that can help improve processes within a company.
Make sure to write all your relevant certificates along with who gave them to you and when you got them. If you're working on getting any certificate right now, it can be written as "in progress".
This part proves your official training and skill in quality assurance management, making it one of the most important parts on your resume. So, make sure all information is correct, current, and easy for possible bosses to look over easily.
Related: QA Manager Certifications
6. Achievements and Awards
The "Achievements and Awards" part is super important in a QA Manager's resume. It's your chance to show off what you've done in the Quality Assurance world, proving your skills and commitment to future bosses. It's not just about naming awards or honors you've got; it's about showing the difference you've made before.
When you're writing this part, think about achievements that can be counted or measured. Like, if you started a new testing method that made things 20% more efficient, put that down. If you were the leader of a team that finished a big project under budget and early, say so. These real results show future bosses what you can do.
If you started a new testing method that made things 20% more efficient
If you were the leader of a team that finished a big project under budget and early
For awards, put down any special recognitions or honors from your industry. Like, if an important industry group named you "QA Manager of the Year", make sure to point out this honor.
Remember, every achievement or award should show how good you are as a QA Manager. Whether it's making processes better, leading teams well, or making sure projects have high-quality results, each success should show off your skills and abilities.
Making processes better
Leading teams well
Making sure projects have high-quality results
And don't forget to give some background for each achievement or award. Quickly explain why you got the recognition and what it meant for the company or project involved. This extra detail can help hiring managers get a full picture of what you can do as a QA Manager.
To wrap up, the "Achievements and Awards" part is more than just a list; it's your chance to tell your work story and prove why you're perfect for the job at hand.
7. References
The "References" part of a QA Manager's resume is a key component that can bolster your job application. It gives possible employers the chance to confirm the details in your resume and evaluate your professional standing.
Usually, references are former bosses, coworkers or juniors who can endorse your qualifications, abilities, work ethic, and personality. For a QA Manager role, it's helpful to have references who can vouch for your knowledge in quality assurance management, leadership skills, problem-solving prowess, and other pertinent traits.
When picking references, choose people who understand you well in a professional context and can give specific instances of your successes. Always ask their consent before naming them as references and ensure they're okay with speaking favorably about your job history.
As a rule of thumb, three to five references are enough. You should include their complete names, current positions, company names, phone numbers and email addresses. Some folks prefer to write "References available upon request" on their resumes if they wish to manage when this data is disclosed.
Keep in mind that the "References" section isn't merely procedural; potential employers might actually reach out to these people. Therefore it's vital to keep this information current and make sure those named as references are ready for potential questions.
In conclusion, an expertly compiled list of professional references can greatly boost the effectiveness of a QA Manager's resume by offering third-party confirmation of your skills and accomplishments.
Related Resume Samples