Public Relations Specialist Resume Examples
Writing a great public relations specialist resume is important because it is one of the first things a potential employer will see when they are considering you for a position. It is your opportunity to make a good first impression and sell yourself as the best candidate for the job.
Create your resume
Select from 7 professional resume templates
If you're looking for inspiration when it comes to drafting your own public relations specialist resume, look no further than the samples below. These resumes will help you highlight your experience and qualifications in the most effective way possible, giving you the best chance of landing the public relations specialist job you're after.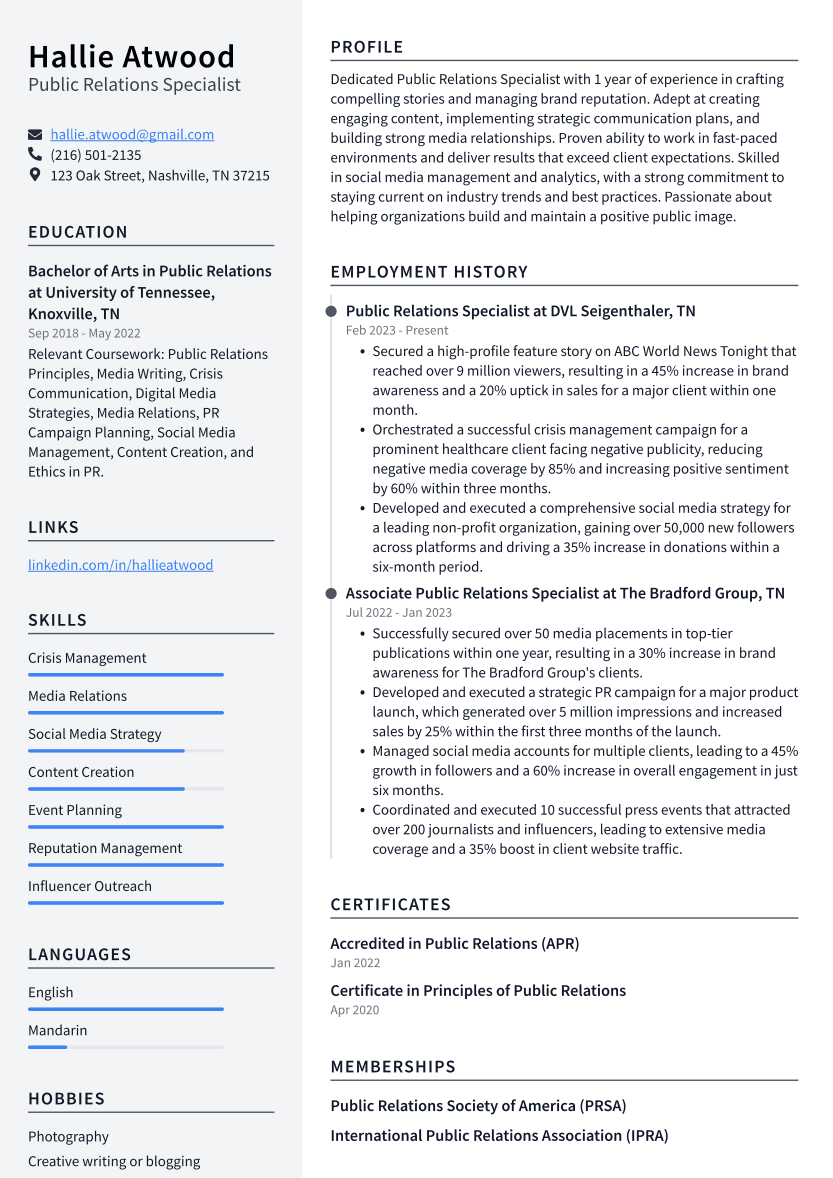 Resume samples
Cici Buemi
cici.buemi@gmail.com | (356) 340-9525 | Miami, FL
Summary
---
I have over three years of experience as a public relations specialist. I have worked with clients in various industries, including technology, retail, and non-profit organizations. My skills include media relations, event planning, and social media management. In my previous role as a public relations specialist at XYZ Company, I increased brand awareness for our clients by securing press coverage in top-tier publications such as The New York Times and Wall Street Journal. I also planned and executed successful events that generated positive media attention.
Experience
---
Public Relations Specialist at Edelman, FLMay 2022 - Present
Wrote and distributed press release that resulted in 15 media placements.
Led social media campaign with reach of 2.5 million people and engagement rate of 3%.
Wrote an op-ed piece published in the New York Times.
Managed a team of 5 interns during busy summer season.
Negotiated partnership with celebrity spokesperson which led to 20% increase in brand awareness.
Public Relations Associate at MWWPR, FLAug 2019 - Apr 2022
Wrote and distributed press releases that resulted in an average of 15 media placements per month.
Created and implemented social media campaigns that increased followers by 20%.
Developed relationships with key members of the media, resulting in positive coverage for the company.
Planned and executed events that generated positive publicity for the organization.
Wrote articles/blog posts that were featured on high-traffic websites, reaching over 500,000 people.
Education
---
Bachelor of Science in Public Relations at University of Florida, FLAug 2014 - May 2019
Within the public relations field, I have learned how to effectively communicate with various audiences, write persuasive content, and utilize different tools to create an effective public relations campaign.
Skills
---
Writing
Editing
Proofreading
Researching
Media Relations
Event Planning
Social Media
Georgene Rodriguezcruz
georgene.rodriguezcruz@gmail.com | (930) 970-8919 | Bismarck, ND
Summary
---
I am a Public Relations Specialist with over 3 years of experience. I have worked in various industries, including the technology, fashion, and beauty sectors. I have excellent written and verbal communication skills. I am able to develop relationships with media professionals and influencers. I also have experience managing social media accounts for brands.
Experience
---
Public Relations Specialist at North Dakota Department of Commerce, NDApr 2022 - Present
Wrote and distributed press releases that resulted in an average of 15 positive media placements per month.
Monitored news stories, identified opportunities for proactive pitching, and generated positive media coverage on a daily basis.
Crafted social media content across all platforms that increased engagement by 20%.
Managed relationships with key members of the local & national press corps, resulting in consistent, positive coverage.
Planned and executed successful publicity campaigns for high-profile events that garnered significant attention from target audiences.
Wrote compelling copy for various marketing collateral including website content, brochures, email newsletters, etc.
Public Relations Associate at North Dakota Department of Tourism, NDJul 2019 - Mar 2022
Wrote and distributed press releases to local, state, and national media outlets on behalf of clients - led to an average increase in coverage by 15%.
Developed relationships with key members of the media which resulted in more opportunities for client exposure.
Planned and executed successful publicity campaigns that generated positive buzz and increased brand awareness.
Crafted messaging strategies for clients that aligned with their overall marketing goals.
Wrote compelling copy for a variety of communications collateral including website content, brochures, fact sheets, pitch letters, etc.
Managed social media accounts for clients; grew follower base by 20% on average per month.
Education
---
Bachelor of Arts in Public Relations at University of North DakotaSep 2015 - May 2019
I have learned how to communicate with different types of people, how to manage different types of projects, and how to write different types of materials.
Skills
---
Writing
Editing
Research
Media Relations
Social Media Management
Event Planning
Public Speaking
Key Elements of a Public Relations Specialist Resume
A resume for a Public Relations Specialist is like a detailed map of your skills, background, and qualifications in the PR world. It's like your personal billboard, telling potential bosses why you're perfect for a certain PR job. This resume must be carefully put together, spotlighting things like your professional summary, main skills, work history, education, and extra abilities. Each part adds to the overall image of what you can bring to future employers. In this guide, we'll dig deeper into what these different parts of a resume mean, talk about why they matter and what they should include. We'll also give advice on how to make each part shine for a Public Relations Specialist.
1. Contact Information
The most crucial part of any resume, including a Public Relations Specialist's resume, is your contact information. This section tells potential employers who you are and how to get in touch with you. It needs to be correct, current, and clearly visible at the top of your resume.
Your full name should be the first item in this section. Use your legal name or the name you usually use in professional situations. Then, give your present address. However, if you're looking for jobs outside your state or country, it might be best not to include this due to possible location bias.
A valid phone number is also important - make sure it's a number where you can be reached during work hours reliably. If you can, use a personal cell phone number instead of a home landline for privacy and control over communication.
Your professional email address is another key piece of contact information. Don't use quirky or casual email addresses; choose an address that includes your name instead. This keeps things professional and makes it easier for employers to recognize your emails.
If relevant, add links to your LinkedIn profile or other related professional social media profiles or portfolios. These sites can give more details about your skills and experiences than what's on your resume.
Make sure to check all the information regularly so that no critical messages from potential employers are missed.
Always make sure that your voicemail message sounds professional as it could be the first impression you give to potential employers.
2. Objective or Summary Statement
The "Objective or Summary Statement" is a key part of a Public Relations Specialist's resume. It usually sits at the top of your resume, just under your contact details. It's like an introduction to the rest of your document, giving employers a quick look at who you are and what you can offer.
In an objective statement, you briefly outline your career goals and how they match up with the company's goals. For example, if you're applying for a PR specialist role in a non-profit group, your objective could be to use your skills to boost awareness and support for their mission.
A summary statement, on the other hand, highlights your main qualifications and achievements. This is better suited for experienced PR pros with significant achievements to their name. A well-written summary can effectively show why you'd be valuable to the company.
Choosing between an objective or summary statement depends on your experience level and what you prefer. Either way, both should be custom-made for each job application instead of being generic statements. They need to show that you understand what the job involves and that you have relevant skills or experiences that make you the perfect candidate.
Keep in mind, hiring managers often quickly scan resumes because they're short on time. So, ensure this section is clear, brief, engaging and filled with relevant keywords that will grab their attention.
Related: Top Public Relations Specialist Resume Objective Examples
3. Work Experience in Public Relations
The "Work Experience in Public Relations" portion of a Public Relations Specialist resume is vital. It displays your hands-on experience and proves your capability to excel in the job. This is where you spotlight past duties, accomplishments, and skills from earlier roles.
When outlining your work history, concentrate on jobs that relate to public relations. If you've been a PR Specialist before, note down specific tasks you handled and their influence on the company. Tasks might involve:
Creating PR campaigns
Drafting press releases
Arranging events
Handling crises
Maintaining good ties with media personnel
Remember to emphasize notable achievements in these roles. Did you oversee an exceptionally successful PR campaign? Perhaps you effectively managed a crisis or secured high-profile media attention for an event? Measurable outcomes like enhanced brand recognition, better public sentiment scores or increased social media followers can be strong evidence of your abilities.
If you're a newcomer to public relations but have background in related areas like journalism, marketing or communications, concentrate on transferable skills such as writing press releases, pitching stories to media channels or coordinating promotional events.
Use action verbs when describing your responsibilities and successes (e.g., coordinated, developed, managed) and tailor your resume to fit the job description's requirements.
Don't overlook internships or volunteer work related to public relations along with full-time jobs - these experiences can also offer valuable material for this section of your resume.
In conclusion, this section should prove that you possess both the practical experience and skills needed for a career in public relations.
4. Skills Relevant to Public Relations
Sure, I'm glad to assist.
For a Public Relations Specialist's resume, the skills section is vital. It displays the candidate's talents and knowledge in this area. Here are some key skills for public relations that should be emphasized on a resume:
Communication Skills: This is possibly the most crucial skill for a PR specialist. They need top-notch written and verbal communication abilities. They write press releases, speeches, and presentations, and they must communicate well with clients, media staff, and other stakeholders.
Interpersonal Skills: A PR specialist has to form and keep relationships with journalists, influencers, and other important people in their field. So, strong interpersonal skills are necessary.
Crisis Management: When a company or client faces a crisis or controversy, a PR specialist must handle the situation well to limit harm to the client's reputation.
Strategic Thinking: PR specialists must create strategic plans to uphold their clients' image and reputation. This needs an understanding of both traditional and digital media trends.
Creativity: Whether it's crafting engaging stories about a client or product or finding new ways to reach target audiences, creativity is vital in public relations work.
Research Skills: To understand market trends, know what competitors are doing, and stay updated about industry news requires strong research skills.
Social Media Savvy: In our digital age today, being skilled at using social media platforms like Twitter, Facebook, Instagram etc., for brand promotion is very important for a PR specialist.
Attention to Detail: Whether proofreading press releases or ensuring events run smoothly without any problems, attention to detail is critical in this role.
Problem-Solving Skills: When unexpected problems come up (as they often do), having strong problem-solving skills can make all the difference.
Flexibility/Adaptability: The world of public relations changes fast and things can shift quickly so being flexible and adaptable is essential.
These are just some examples; specific roles may need extra skills like proficiency in certain software programs or languages.
Remember when listing these skills on your resume you should try where possible to provide evidence from your past experience that shows you possess them.
Related: Public Relations Specialist Skills: Definition and Examples
5. Education and Certifications
The "Education and Certifications" part of a Public Relations Specialist's resume is vital. It's what potential bosses look at closely. This section shows your skills and your dedication to growing professionally in the public relations field.
Usually, most PR specialist jobs need a bachelor's degree in public relations, journalism, communications, or a similar area. So, it's important to list any related degrees you've earned. Don't forget to add the school name, the kind of degree (Bachelor's or Master's), major, and when you graduated.
But remember, learning isn't just about formal degrees. If you've done any relevant courses or workshops outside of regular degree programs like crisis management or media relations, include them too.
Certifications are also important in this section. They can give you an advantage over other job seekers by showing specialized knowledge and abilities. For example, getting certifications like Accredited in Public Relations (APR) from the Public Relations Society of America (PRSA) or Certified Public Relations Counselor (CPRC) from Florida Public Relations Association can boost your reputation as a PR specialist.
In addition to these specific certifications, others that could be helpful include Google Analytics certification for understanding web traffic data
HubSpot's Content Marketing Certification for creating effective communication strategies.
Keep in mind that continuing education and certification show motivation and commitment to keeping up with industry changes and best practices - traits highly appreciated in public relations specialists.
Related: Public Relations Specialist Certifications
6. Achievements and Awards in Public Relations Field
The 'Triumphs and Honors' part is a key piece of a public relations expert's resume. It's a place where job seekers can show off their PR wins, proving their skill, commitment, and talent.
Honors might be anything from awards recognized by the industry to accolades given by a specific company. They could be titles like "PR Campaign of the Year", "Top Crisis Handler", or "Communicator Supreme". These honors not only underline an applicant's knack for handling tough situations but also show praise from colleagues or bosses for excellent work.
Besides official awards, triumphs can be any big goals reached or successful campaigns that a PR pro has led or greatly helped with. This might mean they handled a crisis well, launched a product with success, boosted brand awareness by lots, or even got high rates of customer satisfaction.
When you list your triumphs, it's key to be detailed and use numbers when you can. For instance, instead of just saying "Handled a great product launch," it would hit harder to say "Led a product launch that made sales go up 50% in the first quarter."
This part should also spotlight any creative tactics used that led to good results. It could be an out-of-the-box social media campaign that went viral or a unique outreach program that made the company look better.
Awards recognized by the industry
Accolades given by specific companies
Big goals reached
Successful campaigns led or greatly helped with
Creative tactics used leading to good results
Adding your triumphs and honors on your resume can make you stand out from other applicants by giving solid proof of your abilities and skills. It gives possible employers an idea of what you could add to their team and how you might help reach their aims.
7. References from Previous Employers or Clients
References are vital in a Public Relations Specialist's resume. They confirm your skills, accomplishments, and past experiences. They also give future employers a glimpse into your work habits, personality, and professional connections.
In public relations, reputation and relationships are key. Having solid references can set you apart from other applicants. These people can back up your ability to manage crises, shape public perception, create effective communication plans, and keep good relationships with media staff and clients.
Adding references from various roles like previous bosses, coworkers or even clients can display different sides of your professional skills. A reference from a boss can speak to your timeliness, commitment to the job, leadership traits or team spirit. Meanwhile, a client's reference might emphasize your customer service abilities or how well you ran their PR campaigns.
You don't have to put these references directly on your resume unless asked to do so. However, it's smart to have them ready just in case. You could write "references available upon request" at the end of your resume. Make sure you get permission from people before using them as references and let them know about the job you're applying for so they can adjust their recommendations as needed.
Keep in mind that potential employers may look at public testimonials on LinkedIn or other professional networking sites too. So having an updated profile with endorsements from past employers or clients is helpful.
To sum up, while highlighting your skills and experiences is crucial in a resume; including trustworthy references who can support those skills adds more weight to your application as a Public Relations Specialist.
Related Resume Samples