Operational Risk Analyst Resume Examples
Writing a great operational risk analyst resume is important because it is one of the first things a potential employer will see when they are considering you for a position. It is your opportunity to make a good first impression and sell yourself as the best candidate for the job.
Create your resume
Select from 7 professional resume templates
If you're looking for inspiration when it comes to drafting your own operational risk analyst resume, look no further than the samples below. These resumes will help you highlight your experience and qualifications in the most effective way possible, giving you the best chance of landing the operational risk analyst job you're after.
Resume samples
Lailah Hyma
lailah.hyma@gmail.com | (495) 175-0953 | Billings, MT
Summary
---
I am an experienced operational risk analyst with over 5 years of experience in the financial services industry. I have a strong understanding of risk management principles and practices, and have proven ability to identify, assess, and mitigate risks within complex organizations. I possess excellent analytical skills and use both qualitative and quantitative methods to evaluate risks. I am proactive in my approach to risk management, always looking for ways to improve processes and procedures. I am a team player who is able to work effectively with others to achieve common goals, but can also take initiative when necessary.
Experience
---
Operational Risk Analyst at Zions Bancorporation, MTApr 2022 - Present
Reduced operational risk exposure by 35% through implementation of new controls.
Developed and implemented a new Operational Risk Management Framework across the organization.
Led cross-functional teams in identifying, assessing, and mitigating risks associated with key business processes.
Conducted annual review of Business Continuity Plans for all critical functions.
Implemented a new vendor management program that reduced third party risk by 25%.
Authored department policies and procedures related to Operational Risk Management.
Operational Risk Analyst II at Wells Fargo, MTSep 2017 - Mar 2022
Led the development of a new risk management program that reduced operational risks by 33%.
Implemented a new data analysis process that identified previously unidentified risks and mitigated them before they caused any damage.
Spear-headed the company's first ever stress testing exercise which uncovered several areas of vulnerabilities within the organization. As a result, appropriate steps were taken to mitigate those risks.
Top 6 work accomplishments for an Operational Risk Analyst II */.
1. Led the development of a successful new risk management program reducing operational risks by 33%.
2.Successfully implemented innovative data analysis processes unearthing hidden/unknown risks and mitigating them before they could cause harm . /* or...*/ 3..By conducting regular stress tests on organizational procedures, discovered potential areas of vulnerability which were then addressed and remedied accordingly. 4. Demonstrated expertise in developing creative solutions to unique and complex problems 5..Showed initiative in taking charge when needed most; often going above expectations 8....Proven ability to think "outside the box" leading to efficient resolutions.
Education
---
Bachelor of Science in Risk Management and Insurance at Montana State University, Bozeman, MTAug 2013 - May 2017
How to identify and manage risk within an organization.
Skills
---
Risk management
Operational risk
Financial analysis
Business process improvement
Data analysis and interpretation
Project management
Stakeholder engagement
Kensy Dayoub
kensy.dayoub@gmail.com | (536) 733-3599 | Salt Lake City, UT
Summary
---
Over five years of experience as an operational risk analyst in the financial industry. Skilled in identifying, assessing, and mitigating risks across all areas of operations. Proven ability to develop and implement effective risk management strategies that align with business goals while protecting against losses. Strong analytical skills used to identify trends and root causes of issues/losses, evaluate control effectiveness, and recommend improvements. Excellent communication skills used to effectively collaborate with cross-functional teams at all levels within the organization
Experience
---
Operational Risk Analyst at Zions Bancorporation, UTApr 2022 - Present
Devised a new method for measuring operational risk that improved accuracy by 25%.
Implemented a software solution that reduced the time needed to complete monthly reports by 50%.
Led a team of analysts in developing and implementing best practices for data collection, analysis, and reporting.
Conducted an analysis of customer complaints that identified root causes and resulted in process improvements that reduced complaints by 30%.
Reviewed loan portfolios on a quarterly basis and recommended changes to mitigate risk exposure.
Operational Risk Analyst II at SunTrust Banks, Inc., UTAug 2017 - Mar 2022
Led the development of a new risk management framework that was successfully implemented across the organization, resulting in a 25% reduction in operational risks.
Conducted comprehensive reviews of current processes and procedures to identify potential risks and recommend solutions for mitigating those risks.
Developed and delivered training on operational risk management principles and practices to employees at all levels within the organization.
Created detailed reports summarizing findings from risk assessments as well as recommendations for improving processess/procedures to reduce future risks.
Worked closely with various departments within the company (e.g., IT, Finance, HR) to ensure that their policies and procedures were aligned with best practices for managing operational risks.
Education
---
Bachelor of Science in Risk Management and Insurance at Brigham Young UniversityAug 2013 - May 2017
Some skills I've learned are insurance underwriting,loss prevention, and risk management.
Skills
---
Operational Risk Management
Business Continuity Planning
Crisis Management
Incident Response
Risk Assessment
Audit and Compliance
Key Elements of an Operational Risk Analyst Resume
A resume for an Operational Risk Analyst is a vital tool. It shows their know-how, abilities, and experience in spotting and lessening possible operational risks. The resume should clearly underline the person's knack for examining data, applying risk management tactics, and sticking to regulatory standards. This paper needs to be well-organized and detailed, grabbing potential employers' attention and making the candidate stand out from others. An Operational Risk Analyst's resume has key parts like personal details, goal statement, job history, abilities, education, and certifications. In the following parts of this article, we'll look closely at each part of the resume. We'll understand why it's important and give advice on how to make each part shine.
1. Contact Information
Your resume's Contact Information is key, especially for an Operational Risk Analyst. It needs to be easy to find, correct, and straightforward because it's how possible employers will reach out about job openings.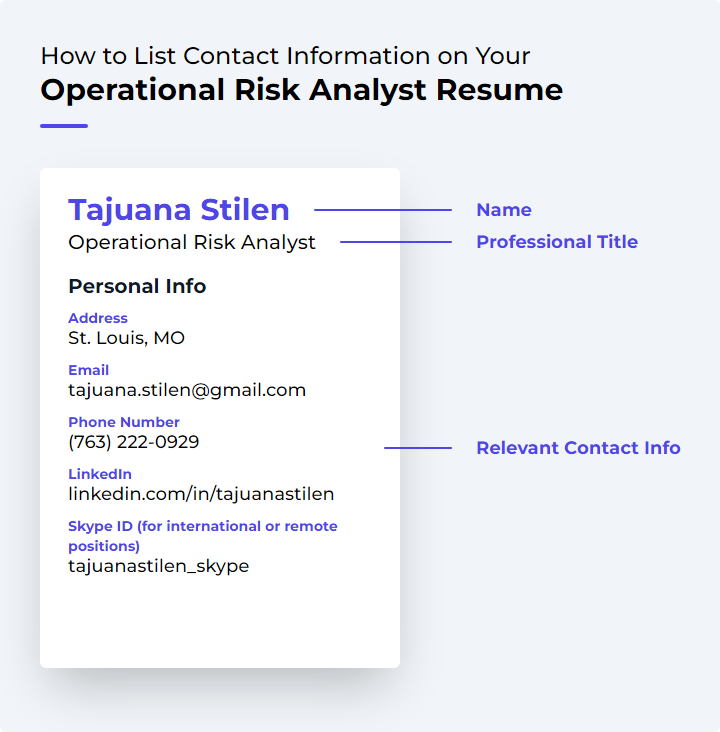 The contact information usually has your full name, phone number, and a professional email address. Make sure your email address sounds professional - the best ones use your name. Don't use casual or odd email addresses because they might not make a good impression on the people hiring.
In our digital world today, adding your LinkedIn profile link could help if it's current and shows off your skills and experiences well. But any social media profiles you add should look neat and professional.
If there's room and it makes sense, you can also put in your current home address. Some employers like local candidates or those who are open to moving, so this detail could be helpful.
Don't forget that all the details in this section need to be kept up-to-date so you don't miss any job opportunities because of wrong or old contact information.
Full Name
Phone Number
Email Address (Professional)
LinkedIn Profile Link (If applicable)
Current Home Address (If applicable)
To sum up, giving clear and exact contact information is very important so potential employers can easily get in touch with you for interviews or more talks about job openings.
2. Objective Statement
The goal statement is a vital component of an operational risk analyst's resume. It's usually found at the top, right after your personal details. This section serves as a quick introduction to you and your career aspirations. It should be brief but impactful, grabbing the attention of recruiters and sparking their interest to learn more about you.
For this role, your goal statement should spotlight your passion for risk management, analytical abilities, and knowledge of business procedures. You can also include any notable accomplishments that show your effective risk management skills.
It's crucial to customize this statement for each job you apply for. Ensure it matches the specific criteria mentioned in the job posting. For example, if the job ad stresses experience with certain risk evaluation tools or methods, you could highlight your proficiency in these areas.
Keep in mind that this section isn't just about what you hope to gain from the employer; it's also about what you bring to the table.
So instead of saying something like "Hoping to grow my skills in operational risk analysis," try something more like "Aiming to utilize my robust analytical abilities and experience in reducing operational risks to boost company profits."
In short, a well-written goal statement can set the stage for your entire resume and leave a powerful first impression on potential employers.
Related: Top Operational Risk Analyst Resume Objective Examples
3. Skills and Competencies
The "Skills and Competencies" part of an Operational Risk Analyst resume is super important. Bosses really look at this part. It should show what the person can do, what they know, and how good they are for the job. Here are some main skills an Operational Risk Analyst needs:
Analytical Skills: They need to be great at looking at hard data sets, finding patterns, and understanding numbers to see risks.
Knowledge about Risk Management: They need to really understand risk management rules and ways of doing things, including knowing about operational risk systems and methods.
Being Detailed: They have to be very careful when looking at reports, data, and trends so they can spot any risks that might happen or are already there.
Solving Problems: When they find risks, they need to come up with good plans or ways to lessen them.
Talking and Writing Well: They need to be great at sharing their findings and suggestions in a clear way to people who know a lot about tech stuff and those who don't.
Knowing Rules: They should know industry rules because they have to make sure everything is done right while checking on operational risks.
Tech Skills: Being good at using risk analysis software tools, databases, spreadsheets, programs for statistical analysis etc., can help them do their job better.
Managing Projects: They often have many projects going on at once so they need to be organized and manage their time well.
Working Well with Others: Even though a lot of their work is done alone, operational risk analysts also need to work well with others - like working together with other departments or teams on projects about risk.
Making Decisions: They should be able to make smart decisions fast based on what they find out about operational risk.
Remember that each job might need different skills depending on what it needs so always make your resume fit the job you're applying for.
Related: Operational Risk Analyst Skills: Definition and Examples
4. Work Experience
The "Work Experience" segment is a vital component of an operational risk analyst's resume. It provides potential bosses with a glimpse into your hands-on experience and abilities in handling, recognizing, and lessening risks. This part should be thorough, showcasing your duties and accomplishments in past positions related to operational risk analysis.
Start detailing your work history with the latest job you held. Include the company's name, your role there, and how long you worked for them. Next, outline your main duties using bullet points. As an Operational Risk Analyst, these might encompass:
Setting up risk management methods and controls to lessen possible risks.
Regularly carrying out risk evaluations to spot potential operational dangers.
Teaming up with other departments to ensure adherence to regulatory standards.
Crafting detailed reports on detected risks and suggested mitigation plans.
Playing a part in creating business continuity strategies.
Don't forget to spotlight specific successes or projects where you played a major role or significantly contributed to their triumph while at each job.
For instance: "I designed a new risk evaluation model that cut down operational losses by 20% within one year."
Besides listing your tasks and duties, it's also crucial to mention any pertinent tools or software you utilized during your time as an Operational Risk Analyst like GRC tools (Governance, Risk Management & Compliance), MS Excel for data scrutiny or SQL for database administration.
This section's aim isn't just about proving that you've had jobs in this field but also about showing how you've made an impact through strategic risk management efforts.
5. Education and Certifications
Education and Certifications are key elements in an Operational Risk Analyst's resume. They highlight your educational achievements and dedication to ongoing professional growth and learning.
Schooling: A bachelor's degree is usually needed for an Operational Risk Analyst job. The degree should be in Finance, Economics, Business Administration, or a similar field. Some companies might prefer applicants with a master's degree or an MBA that focuses on risk management.
Professional Badges: Having relevant certifications can boost your standing as an Operational Risk Analyst. These could be Certified in Risk and Information Systems Control (CRISC), Financial Risk Manager (FRM), Professional Risk Manager (PRM), Certified Financial Analyst (CFA), among others. These badges show your specific skills and knowledge in risk analysis and management.
Classes & Training: Note any classes or training you've taken that relate to operational risk analysis. This might include classes on data analysis, financial modeling, regulatory compliance, internal controls, etc.
Skills Gained: Spotlight the skills you've picked up during your education. For example, being skilled at statistical analysis tools like SPSS or SAS, knowing financial regulations like Basel III or Dodd-Frank Act, understanding different risk models etc.
Remember to write these points down in order from most recent to oldest. Also, make sure to include the name of the school and how long each degree/certification/course took to complete.
The Education and Certifications section is a chance for you to show how prepared you are for the role of an Operational Risk Analyst. It should display your expertise and readiness to handle the challenges of managing and reducing risks.
Related: Operational Risk Analyst Certifications
6. Relevant Projects or Case Studies
Adding pertinent projects or case studies to your Operational Risk Analyst resume is vital. It can set you apart from other applicants. This part lets you display your hands-on experience and skill in handling operational risks.
Usually, relevant projects or case studies mean real-life situations. Here, you've used your abilities and knowledge to spot, assess, and lessen possible risks. These could be risk evaluations, creating risk management plans, applying risk control actions, or analyzing risk incidents after they occur.
When talking about these projects or case studies, clarity is key. Clearly state the goals, your part in the process, the methods used for risk evaluation and reduction, and the results gained. For example, if you worked on a project that cut operational risks for a bank by 20%, explain how you found potential dangers and applied effective strategies to reach this outcome.
Also, these projects can show your skill with tools and techniques specific to the industry. These might include statistical analysis software (SAS), Enterprise Risk Management (ERM) systems or ISO 31000 risk management standards.
Keep your focus on those projects most related to the job you want. If a future employer focuses on a specific sector like banking or manufacturing, emphasize any case studies linked to that field.
In short, featuring relevant projects or case studies on your Operational Risk Analyst resume confirms not just your theoretical understanding but also proves your ability to use this knowledge in practical scenarios. It gives employers an idea of what they can expect from you in terms of problem-solving skills and performance under real-life conditions.
7. References or Professional Affiliations
"References and Professional Affiliations" is a key part of an Operational Risk Analyst resume. This section can boost your application's trustworthiness and help you shine among other applicants.
References are people who can back up your skills, talents, and work habits. They might be past bosses, teachers, or coworkers who know you well. It's crucial to list references who can confirm your knack for analyzing operational risks and setting up safety steps. Always get their okay before naming them as a reference, and let them know they may get a call from a possible employer.
Meanwhile, professional affiliations mean being part of professional groups in the risk analysis or management field. These might be groups like the Risk Management Association (RMA), Professional Risk Managers' International Association (PRMIA), or Global Association of Risk Professionals (GARP). Membership in these groups shows that you're dedicated to keeping up with industry news and top methods.
Risk Management Association (RMA)
Professional Risk Managers' International Association (PRMIA)
Global Association of Risk Professionals (GARP)
Adding this section to your resume not only proves your professional skill but also shows that others in your field acknowledge you. It offers more evidence of your commitment to ongoing learning and making connections in the operational risk analysis area.
Note: Keep in mind, when picking between references or professional affiliations, think about what will best highlight your qualifications and fit for the Operational Risk Analyst role.
Related Resume Samples