Model Maker Cover Letter Examples
A great model maker cover letter can help you stand out from the competition when applying for a job. Be sure to tailor your letter to the specific requirements listed in the job description, and highlight your most relevant or exceptional qualifications. The following model maker cover letter example can give you some ideas on how to write your own letter.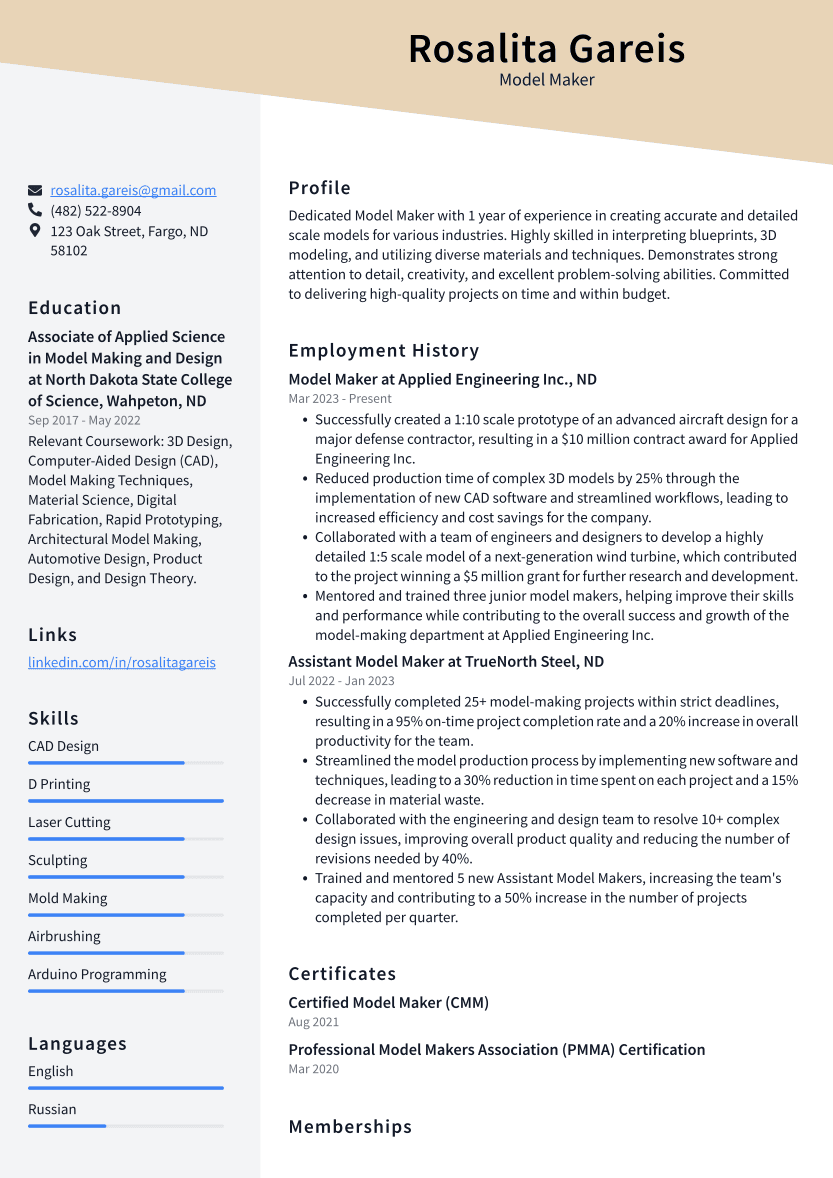 Cover Letter Sample
Cindy Ciocci
(240) 148-5130
cindy.ciocci@gmail.com
August 8, 2022
Dear Hiring Manager,
To Whom It May Concern, I am writing to apply for the position of Model Maker at LEGO. I have always been a huge fan of LEGO, and I would love to have the opportunity to work with such an iconic company. I have experience as a Model Maker, and I am confident that I can be a valuable asset to your team. I am creative and detail-oriented, and I have a passion for making things. I would love to put my skills to work making LEGO models. Thank you for your time, and I look forward to hearing from you.
I have worked as a model maker at Mattel for over 10 years. During that time, I have been responsible for the creation of many different types of models, from simple prototypes to highly detailed ones used in television commercials. I take great pride in my work and am always looking for ways to improve my skills. In addition to making models, I also help out with other aspects of production when needed. For example, I often lend a hand with painting or sculpting when our team is short-staffed. My goal is to be a valuable member of the team and contribute whatever skills I can to help create successful products
I am a highly skilled and experienced model maker. I have worked on a variety of projects, both small and large scale. My attention to detail ensures that each project is completed to the highest standards. I have a keen eye for aesthetics, which allows me to create models that are not only functional but also visually appealing. My passion for this work means that I am always striving to improve my skills and techniques.
Thank you for considering me for the position of Model Maker at LEGO. I am excited about the opportunity to use my creativity and passion for art to design models that will be enjoyed by children all over the world. I believe that my skills and experience make me uniquely qualified for this position, and I am eager to put them to work in designing LEGO models. Thank you again for your time and consideration, and I look forward to hearing from you soon.
Sincerely,
Cindy Ciocci
Related Resume Samples