Medical Editor Cover Letter Examples
A great medical editor cover letter can help you stand out from the competition when applying for a job. Be sure to tailor your letter to the specific requirements listed in the job description, and highlight your most relevant or exceptional qualifications. The following medical editor cover letter example can give you some ideas on how to write your own letter.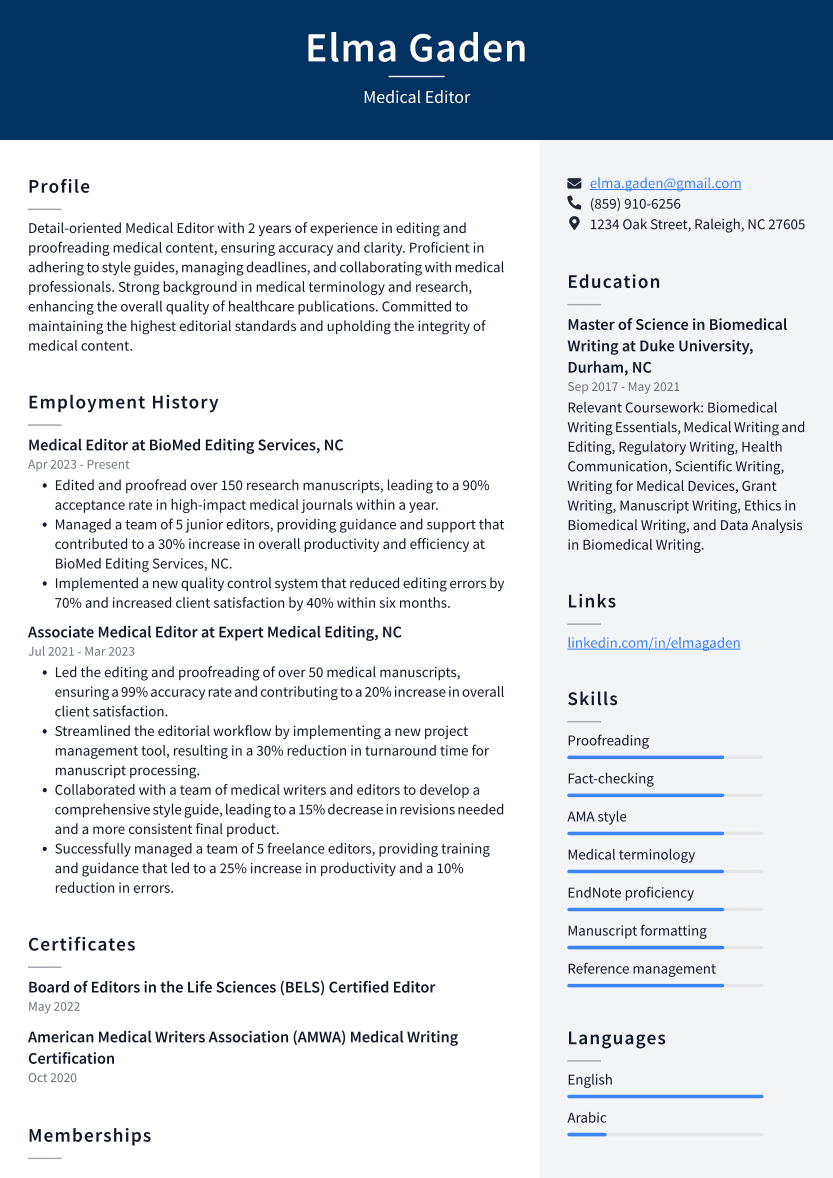 Cover Letter Sample
Lessie Jannise
(173) 264-5128
lessie.jannise@gmail.com
August 6, 2022
Dear Hiring Manager,
I am a medical editor with five years of experience in the publishing industry. I have a keen eye for detail and a passion for accuracy, which makes me an excellent copy editor and proofreader. I am also experienced in project management and have a proven track record of delivering high-quality work on time and within budget.
In my role as Medical Editor at Wolters Kluwer, I am responsible for ensuring the accuracy and clarity of our medical content. This includes working with authors to revise and edit manuscripts, coordinating peer review process, and maintaining editorial standards. In addition, I collaborate with other departments within Wolters Kluwer to ensure timely delivery of quality content to our customers.
I am a medical editor with many years of experience. I have edited countless medical papers, articles, and books. My work is always accurate and error-free. I have an excellent eye for detail and a keen understanding of the English language. I am also very familiar with the style guides used by most publications in the field of medicine.
Thank you for considering me as a Medical Editor at Elsevier. I am excited about the opportunity to join such a respected company and contribute my skills to your team. With my experience in editing medical texts, I am confident that I can be a valuable asset to Elsevier. Thank you again for your time and consideration, and I look forward to hearing from you soon.
Sincerely,
Lessie Jannise
Related Resume Samples