LPN Resume Examples
Writing a great lpn resume is important because it is one of the first things a potential employer will see when they are considering you for a position. It is your opportunity to make a good first impression and sell yourself as the best candidate for the job.
Create your resume
Select from 7 professional resume templates
If you're looking for inspiration when it comes to drafting your own lpn resume, look no further than the samples below. These resumes will help you highlight your experience and qualifications in the most effective way possible, giving you the best chance of landing the lpn job you're after.
Resume samples
Dene Easterbrook
dene.easterbrook@gmail.com | (614) 333-3941 |
Summary
---
I am an experienced Licensed Practical Nurse with over three years of experience in a hospital setting. I have a strong passion for patient care and always work to ensure that my patients receive the best possible care. I am a team player and enjoy working collaboratively with other members of the healthcare team, but can also work independently when needed. I have excellent communication skills and am able to effectively communicate with both patients and their families. In addition, I have experience managing medication schedules and providing wound care.
Experience
---
Licensed Practical Nurse at St. Luke's Health System, IDMay 2022 - Present
Successfully completed training program and examinations to become a Licensed Practical Nurse.
Assisted in the care of patients under the supervision of a Registered Nurse.
Performed nursing duties such as taking vital signs, administering medication, and providing wound care.
Maintained accurate patient records and documentation.
Provided support and guidance to patients and their families.
Licensed Vocational Nurse at Idaho State University, IDSep 2019 - Apr 2022
Assisted in the care of 30 patients on a busy medical-surgical floor.
Monitored and reported changes in patient vital signs and symptoms to charge nurse.
Administered medications, treatments, and injections per physician orders.
Provided emotional support to patients and families coping with illness or injury.
Documented patient progress notes throughout shift.
Education
---
Licensed Practical Nurse (LPN) diploma at North Seattle College, WAAug 2015 - May 2019
How to assess and treat patients, as well as how to administer medication and injections.
Skills
---
Nursing
Patient care
Medication administration
IV therapy
Wound care
Documentation and charting
Infection control
Amando Camiolo
amando.camiolo@gmail.com | (779) 812-2717 | Norwich, CT
Summary
---
I am a licensed practical nurse with over three years of experience in the field. I have worked in both hospital and clinic settings, providing care to patients of all ages. I am experienced in taking vital signs, administering medications, performing wound care, and providing patient education. I am a compassionate caregiver who enjoys working with patients and their families to provide quality care.
Experience
---
Licensed Practical Nurse at American Traveler, CTMar 2022 - Present
Successfully completed 12 credit hours towards an Associate's Degree in Nursing.
Maintained a 4.0 GPA while working full time as a Licensed Practical Nurse.
Worked as a charge nurse on the night shift for 6 months, responsible for staffing and patient care.
Successfully passed the National Council Licensure Examination (NCLEX) to become licensed as a Registered Nurse.
Hired by XYZ Hospital as a staff RN in their medical-surgical unit.
Received "Employee of the Month" recognition from hospital administrator.
Licensed Vocational Nurse at Nurses PRN, CTJul 2019 - Jan 2022
Provided care for 30 patients per shift on average.
Assisted in the delivery of 3 babies.
Performed 10-15 physical assessments per day.
Monitored and recorded patient vital signs every 4 hours.
Administered medications to patients as prescribed by physicians.
Provided education and support to patients and their families.
Education
---
Licensed Practical Nurse (LPN) diploma at Goodwin College, East Hartford, CTAug 2015 - May 2019
Some skills I've learned include taking and recording vital signs, collecting specimen samples, administering injections, and providing wound care.
Skills
---
Nursing
Patient care
Medication administration
IV therapy
Wound care
Documentation
Essential Components of an LPN Resume
A well-crafted resume is crucial for a Licensed Practical Nurse (LPN), serving as a professional highlight reel. It showcases your qualifications, experience, and education, making a strong first impression on potential employers and paving the way for interview opportunities and job offers.
In this guide, we'll dissect the critical elements of an LPN resume, offering insights and tips to ensure each section promotes your professional strengths effectively.
1. Contact Information
At the top of your resume, prominently display your contact information. This should include:
Your full name, with 'Licensed Practical Nurse' as a subtitle
Your current address (and a note if you're willing to relocate)
A professional-sounding email address
A contact number with a professional voicemail greeting
Optionally, you can add your LinkedIn profile or a personal website showcasing your nursing achievements.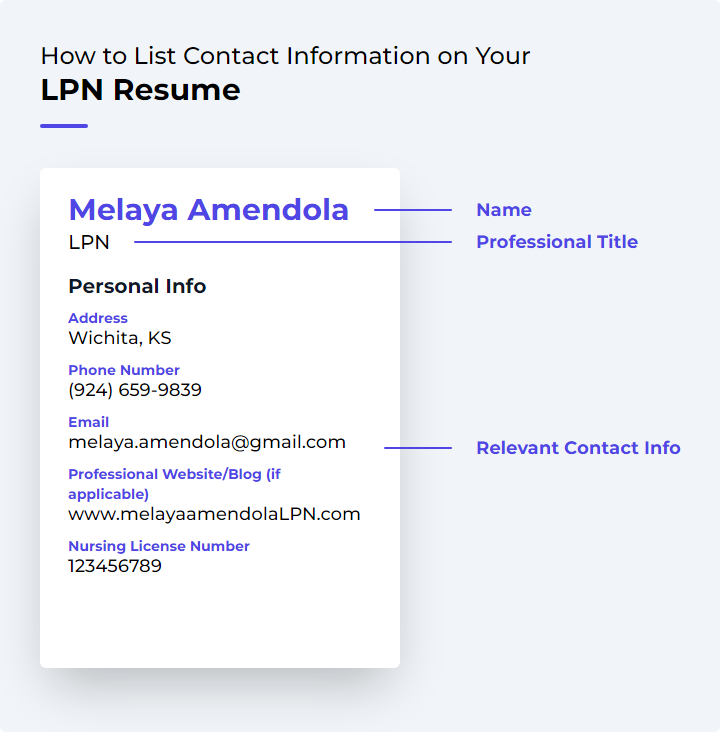 Ensure all contact details are accurate to avoid missed opportunities.
2. Professional Summary or Objective Statement
This section is a concise pitch that summarizes your skills and goals. Experienced LPNs might opt for a Professional Summary, highlighting their expertise and notable achievements. New graduates or career changers can benefit from an Objective Statement, clearly stating their career goals and eagerness to contribute to a healthcare setting.
Customize this part for each job application, aligning it with the job description and emphasizing how your skills make you an ideal candidate.
3. Licenses and Certifications
Essential for LPNs, this section should list:
Your LPN License, including issuance and expiration dates
Any state-specific certifications
Additional certifications, such as those in gerontology or IV therapy
CPR and First Aid Certification
Ongoing education or advanced training
These credentials validate your qualifications and commitment to professional development.
4. Relevant Skills
Highlight your nursing skills that align with the job requirements, such as:
Clinical competencies
Communication abilities
Compassion and empathy
Attention to detail
Adaptability
Physical stamina
Problem-solving aptitude
Technical proficiency with medical equipment and software
Customize this list based on the job you're applying for, ensuring relevance and impact.
5. Work Experience
Detail your nursing experience, starting with the most recent position. Include the employer's name, location, your job title, employment dates, and a brief description of your responsibilities and achievements, using action verbs to convey your contributions effectively.
For those with limited work experience, include internships, clinical rotations, or volunteer work that demonstrate practical nursing skills.
Focus on roles where you've made significant impacts or experienced professional growth, and always be truthful about your work history.
6. Education and Training
List your educational background, starting with the highest degree obtained. Include any relevant training programs, workshops, and certifications that enhance your qualifications as an LPN, such as BLS, ACLS, or PALS.
Highlight completion of a state-approved practical nursing program and passing the NCLEX-PN exam. Ongoing education should also be mentioned to show your commitment to staying current in the field.
7. References
References can be a powerful endorsement of your skills and character. List at least three professional references, or indicate availability upon request. Ensure you have their consent and provide their full name, job title, relationship to you, and contact information.
While not always checked initially, having references ready demonstrates thoroughness and professionalism.
In summary, a well-structured LPN resume that effectively presents your contact information, professional summary or objective, licenses, skills, work experience, education, and references can significantly enhance your job prospects.
Related Resume Samples