Landscape Foreman Resume Examples
Writing a great landscape foreman resume is important because it is one of the first things a potential employer will see when they are considering you for a position. It is your opportunity to make a good first impression and sell yourself as the best candidate for the job.
Create your resume
Select from 7 professional resume templates
If you're looking for inspiration when it comes to drafting your own landscape foreman resume, look no further than the samples below. These resumes will help you highlight your experience and qualifications in the most effective way possible, giving you the best chance of landing the landscape foreman job you're after.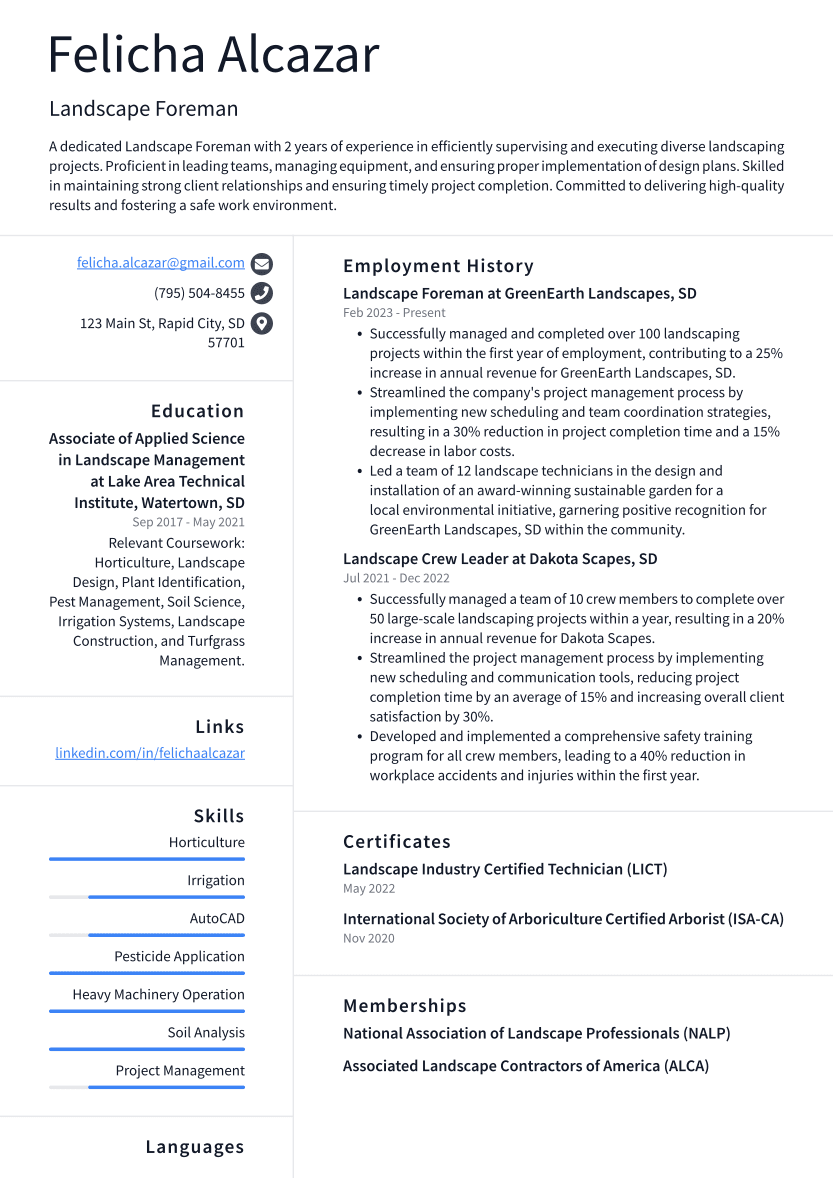 Essential Components of a Landscape Foreman Resume
A Landscape Foreman's resume is a critical tool for showcasing their expertise, abilities, and professional background in the field of landscaping. It should highlight essential attributes such as leadership, project management, horticultural knowledge, and physical endurance, all of which are crucial for potential employers to assess.
The resume must be organized into distinct sections, each one emphasizing the candidate's suitability for the role. This article will delve into each segment of a Landscape Foreman's resume, discussing its significance, contents, and tips for optimization.
1. Contact Information
At the top of your resume, ensure your contact information is prominent and accessible. This includes your full name, home address, active phone number(s), and a professional email address.
Consider adding your LinkedIn profile or professional portfolio link if relevant to the position. Ensure these profiles present you professionally, as employers may review them.
Regularly check your contact methods for responses and maintain a professional voicemail message.
Include additional information like a driver's license if relevant to the job requirements.
Avoid including sensitive personal data such as social security numbers for security reasons.
The goal is to facilitate easy communication between hiring managers or recruiters and yourself.
2. Objective Statement
The objective statement is a concise introduction that conveys your career aspirations and how they align with the job. Tailor this section to the specific role, emphasizing your relevant skills, experiences, and how you can contribute to the employer's success.
An effective objective statement for a Landscape Foreman might highlight your leadership skills, technical knowledge, and project management capabilities, along with a passion for landscaping.
For example: "Seeking a challenging Landscape Foreman role to leverage my extensive experience in landscape design, plant care, and team leadership to create exceptional outdoor spaces within budget and time constraints."
Focus on the mutual benefits of your employment, demonstrating your interest in contributing to the employer's goals.
Concise: Be brief and to the point.
Career Goals: Clearly articulate your career ambitions.
Relevant Skills & Experiences: Showcase your qualifications pertinent to the role.
Alignment with Employer's Needs: Illustrate how your hiring will benefit the employer.
Related: Top Landscape Foreman Resume Objective Examples
3. Skills and Competencies
The "Skills and Competencies" section is where you list your technical and soft skills relevant to the role of a Landscape Foreman.
Technical Skills: Include your knowledge of landscaping techniques, equipment operation, plant care, and safety regulations.
Leadership Skills: Detail your experience in team management, communication, decision-making, and conflict resolution.
Project Management Skills: Highlight your abilities in budgeting, scheduling, resource management, and client relations.
Physical Stamina and Dexterity: Mention your capacity for physically demanding tasks and machinery operation.
Environmental Knowledge: Demonstrate your understanding of horticulture, soil science, and sustainable practices.
Problem-Solving Skills: Show your aptitude for addressing unexpected challenges and adapting to changes.
Customer Service Skills: Emphasize your proficiency in client communication and satisfaction.
Provide concrete examples of how you've applied these skills in previous roles.
Related: Landscape Foreman Skills: Definition and Examples
4. Work Experience
The "Work Experience" section is a showcase of your professional history in landscaping. List your roles in reverse chronological order, including the company name, your title, dates of employment, and a description of your responsibilities and achievements.
Use action verbs to describe your duties and highlight leadership and project management experiences. Mention any significant accomplishments, such as cost-saving initiatives or improvements you've implemented.
Detail your experience with various landscape settings, such as residential, commercial, or public spaces, to demonstrate your versatility.
5. Education and Certifications
In the "Education and Certifications" section, list your relevant academic qualifications and professional certifications that underscore your expertise as a Landscape Foreman.
Include degrees or diplomas in fields related to landscaping, horticulture, or environmental science. Also, list industry-specific certifications such as:
Certified Landscape Technician (CLT)
Certified Professional Horticulturist (CPH)
Certified Arborist (CA)
Pesticide Applicator License
Add any safety training or ongoing professional development activities to demonstrate your commitment to excellence and safety in the workplace.
Provide details for each credential, including the issuing organization, date obtained, and renewal requirements.
Related: Landscape Foreman Certifications
6. Licenses and Special Training
Highlight any additional licenses or special training that enhance your qualifications for the Landscape Foreman position, such as:
Commercial driver's license
Pesticide application certification
Landscape contractor's license
OSHA safety standards training
Leadership and team management courses
This section allows you to distinguish yourself by showcasing specialized skills and qualifications.
7. References
The "References" section provides potential employers with the opportunity to verify your professional attributes through third-party insights. Select individuals who can speak to your Landscape Foreman competencies, such as former supervisors or satisfied clients.
Obtain permission from your references before including them, and provide their full names, job titles, relationship to you, and contact information.
Limit this section to three references and consider placing it on a separate page. If the job listing requests references upon request, have your list prepared to provide when prompted.
Well-chosen references can significantly enhance the credibility of your resume by offering external validation of your skills and experiences.