Inside Sales Executive Cover Letter Examples
A great inside sales executive cover letter can help you stand out from the competition when applying for a job. Be sure to tailor your letter to the specific requirements listed in the job description, and highlight your most relevant or exceptional qualifications. The following inside sales executive cover letter example can give you some ideas on how to write your own letter.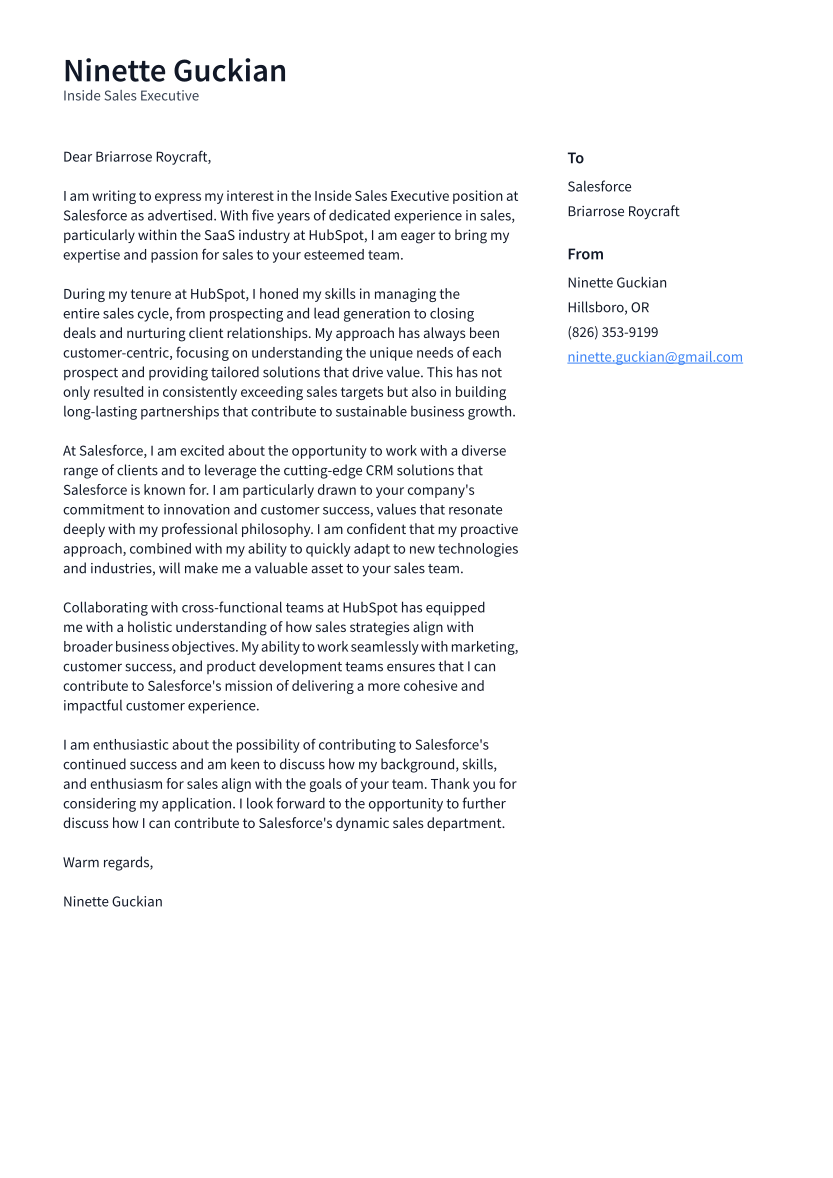 Cover Letter Example (Text)
Ernest Broadbridge
(149) 005-9601
ernest.broadbridge@gmail.com
August 3, 2022
Dear Hiring Manager,
I am writing in regards to the open position for an Inside Sales Executive at HubSpot. I am confident that I have the skills and experience needed for this role and would be a valuable asset to your team.
I have been working as an inside sales executive at Google for the past two years. In this role, I have been responsible for generating new business opportunities and managing relationships with existing clients. I have also played a key role in developing and executing sales strategies that have resulted in increased revenue growth for the company.
I am an accomplished Inside Sales Executive with a proven track record in achieving sales targets and building strong relationships with clients. I have excellent communication, negotiation and presentation skills, which I use to successfully close deals. I am highly motivated and thrive in fast-paced environments. I have a deep understanding of the sales process and take a consultative approach to selling, which has resulted in repeat business from satisfied customers.
Thank you for considering me as the inside sales executive at HubSpot. I am confident that I have the skills and experience needed to excel in this role. I appreciate your time and consideration, and I look forward to speaking with you soon about this opportunity.
Sincerely,
Ernest Broadbridge