HVAC Sales Resume Examples
Writing a great hvac sales resume is important because it is one of the first things a potential employer will see when they are considering you for a position. It is your opportunity to make a good first impression and sell yourself as the best candidate for the job.
Create your resume
Select from 7 professional resume templates
If you're looking for inspiration when it comes to drafting your own hvac sales resume, look no further than the samples below. These resumes will help you highlight your experience and qualifications in the most effective way possible, giving you the best chance of landing the hvac sales job you're after.
Essential Components for Crafting an Effective HVAC Sales Resume
An HVAC Sales Resume is a specialized tool designed to showcase your expertise in the HVAC industry and your prowess in sales. It's essential to highlight your knowledge of HVAC systems, sales acumen, customer service skills, and ability to meet sales targets. Below, we'll explore the critical elements that make up a standout HVAC Sales Resume, offering tips to ensure each section shines.
Contact Information
At the top of your resume, ensure your contact information is clear and professional. Include your full name, phone number, and a professional email address. If applicable, add links to your LinkedIn profile or professional website, making sure they are current and professional.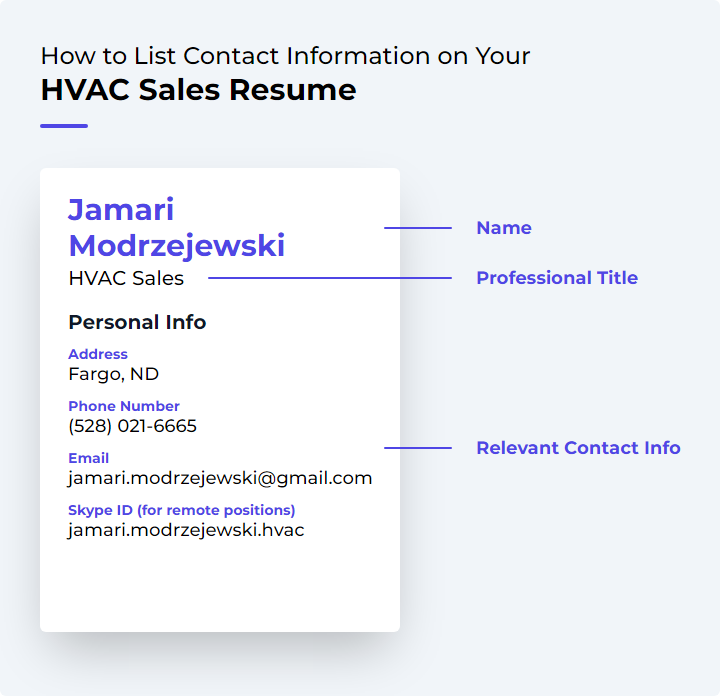 Exclude personal details like age or marital status to avoid potential bias. Your contact information is not just a means for employers to reach you, but also a chance to present yourself as a polished professional.
Objective or Summary Statement
This section should be concise and tailored to the position you're seeking. An objective statement outlines your career goals, while a summary statement highlights your achievements and skills. Choose the one that best represents your experience and aligns with the job description.
For example: "Seasoned HVAC sales professional with a track record of surpassing sales targets, seeking to contribute to XYZ Company's growth with my technical knowledge and customer-focused approach."
Focus on what you can offer the employer, not just what you hope to gain.
Skills and Competencies
Detail your technical understanding of HVAC systems, sales prowess, communication skills, and customer service excellence. Include any proficiency in relevant software, such as CRM systems or CAD software, and soft skills like problem-solving and teamwork.
Highlighting these skills will demonstrate your suitability for the role and can make your resume more compelling.
Work Experience
Emphasize roles relevant to HVAC sales, detailing your responsibilities and quantifying achievements where possible. Use action verbs to start each bullet point, such as "led" or "increased". Tailor this section to reflect the job you're applying for, showcasing experiences that match the employer's needs.
Certifications and Licenses
Include any mandatory or beneficial certifications and licenses, such as HVAC certification, NATE certification, or EPA Section 608 Certification. A sales license can also be advantageous. List these under a dedicated section with the issuing organization and identification numbers.
Education and Training
Outline your formal education, HVAC-specific training, sales training, and any continuing education efforts. This section should convey your commitment to staying current in the industry and your foundational knowledge that supports your sales capabilities.
References
Choose references who can vouch for your professional skills and character. Always ask for permission before including someone and provide their full name, job title or relationship to you, phone number, and email address. You can also opt to state "References available upon request" at the end of your resume.
Well-chosen references can bolster your credibility and increase your chances of securing the job.
By carefully crafting each section of your HVAC Sales Resume, you'll present a compelling narrative of your professional journey, making a strong case for why you're the ideal candidate for the role.