Caterer Resume Examples
Writing a great caterer resume is important because it is one of the first things a potential employer will see when they are considering you for a position. It is your opportunity to make a good first impression and sell yourself as the best candidate for the job.
Create your resume
Select from 7 professional resume templates
If you're looking for inspiration when it comes to drafting your own caterer resume, look no further than the samples below. These resumes will help you highlight your experience and qualifications in the most effective way possible, giving you the best chance of landing the caterer job you're after.
Resume samples
Devika Vandegriff
devika.vandegriff@gmail.com | (329) 779-6768 | Salt Lake City, UT
Summary
---
I am a caterer with over 3 years of experience. I have provided catering services for weddings, corporate events, and private parties. I am skilled in menu planning, food preparation, and event coordination. I am passionate about providing exceptional customer service and creating memorable event experiences.
Experience
---
Lead Caterer at Bella Catering, UTMay 2022 - Present
Led a team of caterers in preparing and serving food for up to 500 people at events.
Negotiated with vendors to get the best prices on ingredients and supplies.
Trained new employees in proper food handling and safety procedures.
Created menus that were both creative and cost-effective.
Implemented systems that streamlined catering operations and reduced waste.
Caterer at Simply Elegant Catering, UTJul 2019 - Apr 2022
Successfully catered 300 person event with zero complaints.
Created new catering menu that was well received by customers and increased sales by 15%.
Won "Best Caterer" in the city for 3 years in a row.
Managed a team of 10 employees and successfully trained 2 new hires.
Successfully completed 200 events without any issues.
Education
---
High School Diploma at Skyline High School, UTAug 2015 - May 2019
I've learned how to study for tests, how to write essays, and how to do research.
Skills
---
Food Preparation
Food Safety
Knife Skills
Cooking Techniques
Menu Planning
Cost Control
Leela Hance
leela.hance@gmail.com | (124) 063-3373 | Eugene, OR
Summary
---
I have over three years of catering experience, managing both small and large-scale events. I am experienced in all aspects of catering, from menu planning to food preparation to event coordination. My strong organizational skills allow me to manage multiple moving parts simultaneously, ensuring that every detail is taken care of. I thrive in fast-paced environments and enjoy the challenges that come with coordinating complex events. Above all, I take pride in my ability to provide a high level of customer service and create an enjoyable dining experience for guests.
Experience
---
Lead Caterer at JusT Poutine, ORMay 2022 - Present
Led a team of 15 caterers in preparing and serving food for 500 people at an annual gala event.
Arranged catering services for a corporate retreat of 200 employees, which included breakfast, lunch and dinner service over the course of three days.
Successfully implemented new cost-saving measures that reduced overall catering expenses by 10%.
Negotiated discounts with vendors that saved the company $500 on supplies for upcoming events.
Created customized menu options for clients that generated repeat business from 5% to 20% of customers..
Led teams in providing full-service catering (planning, set up, break down)for weddings averaging 150 guests.
Caterer at Acme Fresh Market, ORJul 2019 - Apr 2022
Successfully catered for 100 guests at a corporate event, ensuring that all dietary requirements were met.
Set up and managed buffet stations with hot and cold food options while providing excellent customer service.
Prepared plated meals for VIP guests according to their preferences.
Worked closely with the client to create a customized menu within their budget.
Demonstrated strong time management skills by staying on schedule throughout the event.
Maintained a clean and organized work area throughout the duration of the event.
Education
---
High School Diploma at Grant High School, Portland, ORAug 2015 - May 2019
I have learned how to study for and take tests, how to do research, and how to write papers.
Skills
---
Food Preparation
Food Safety
Knife Skills
Cooking Techniques
Menu Planning
Cost Control
Essential Components of a Caterer Resume
A Caterer Resume is a professional document that showcases an individual's qualifications, work experience, and skills relevant to the catering industry. It's tailored to highlight the attributes that make a candidate suitable for a catering position. The essential elements of a caterer's resume include contact information, an objective or summary statement, work experience, skills and competencies, education and certifications, references, and achievements and awards.
Let's delve into each section of a caterer's resume, discussing their importance and what to include, along with tips to make your resume stand out.
1. Contact Information
At the top of your resume, provide your contact details so potential employers can easily reach you. This section should be clear, accurate, and up-to-date.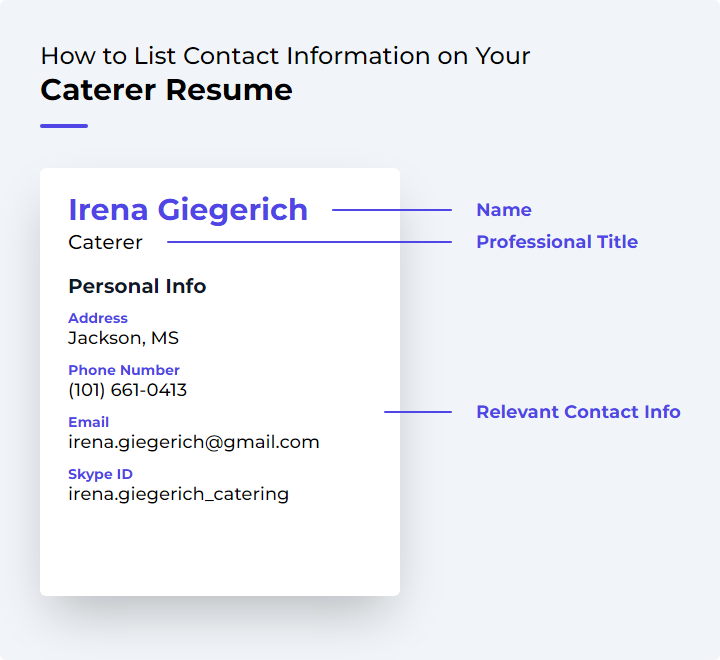 Include your full name, phone number, and a professional email address. If applicable, add links to your LinkedIn profile or online portfolio. While a home address isn't always necessary, mentioning your city and state can be beneficial.
Remember to share your contact information through secure channels to protect your privacy.
2. Objective or Summary Statement
This section is your resume's hook, summarizing your skills, experience, and career goals. Tailor it to the job by including keywords from the job posting to pass through Applicant Tracking Systems (ATS).
For entry-level candidates, an objective statement can outline career aspirations, while experienced professionals might opt for a summary statement highlighting their expertise.
Related: Top Caterer Resume Objective Examples
3. Work Experience
List your past catering roles in reverse chronological order, detailing your responsibilities and achievements. Use action verbs to describe your duties and highlight any experience with menu planning, budgeting, and customer service.
Include any awards or recognitions, and don't overlook non-catering roles that have provided transferable skills.
4. Skills and Competencies
Showcase both hard and soft skills relevant to catering, such as food preparation, health and safety knowledge, customer service, and leadership abilities. Provide examples from past work to demonstrate these skills.
Related: Caterer Skills: Definition and Examples
5. Education and Certifications
Detail your highest level of education, especially if it's related to hospitality or culinary arts. Include any relevant certifications, such as ServSafe or CPCE, and any additional training that enhances your qualifications.
Related: Caterer Certifications
6. References
Choose professional references who can vouch for your skills and work ethic. Obtain their consent before listing them and provide their full name, job title, company, contact number, and email address.
7. Achievements and Awards
Highlight any industry accolades, client praise, or personal successes that demonstrate your capabilities. Be specific about the nature of the awards and the reasons behind them.
Including an "Accomplishments and Awards" section showcases your dedication and success in the catering industry, making you a compelling candidate.
By focusing on these key elements and tailoring your resume to the catering role you're applying for, you'll present a strong case for why you're the ideal candidate for the job.
Related Resume Samples