Camp Director Resume Examples
Writing a great camp director resume is important because it is one of the first things a potential employer will see when they are considering you for a position. It is your opportunity to make a good first impression and sell yourself as the best candidate for the job.
Create your resume
Select from 7 professional resume templates
If you're looking for inspiration when it comes to drafting your own camp director resume, look no further than the samples below. These resumes will help you highlight your experience and qualifications in the most effective way possible, giving you the best chance of landing the camp director job you're after.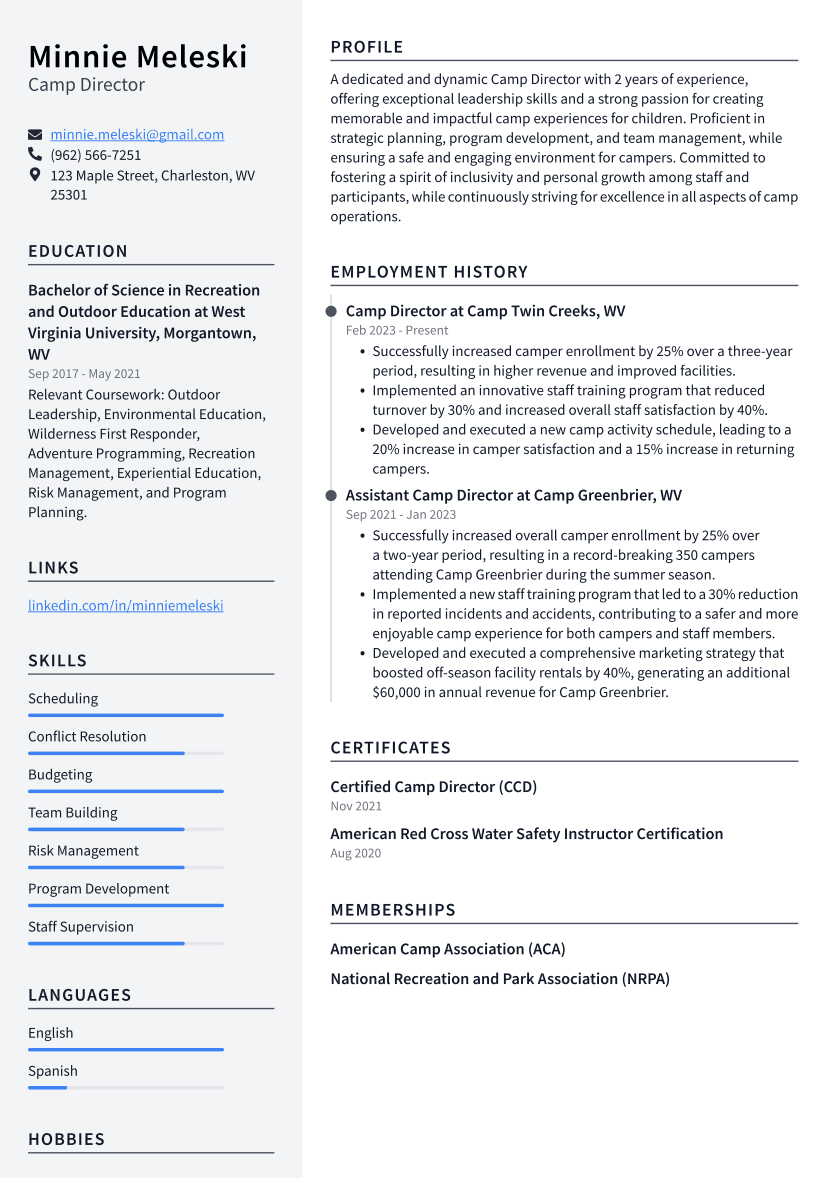 Resume samples
Cythia Turkovic
cythia.turkovic@gmail.com | (248) 325-6356 | Salt Lake City, UT
Summary
---
I am a Camp Director with over 8 years of experience in program management, team leadership, and outdoor education. I have a proven track record of creating and executing successful programs, building and maintaining relationships, and making an impact in the lives of campers. With expertise in camp administration, supervision, and safety, I have been able to create and develop a culture of learning, exploration and fun. My passion for the outdoors, commitment to connecting with and inspiring young people, and strong organizational skills have enabled me to develop, manage, and lead successful camp programs.
Experience
---
Camp Director at Camp Chief Ouray, UTApr 2022 - Present
Led a team of 20 counselors to successfully run a camp with 200 kids.
Planned and executed 10 successful camp events.
Trained new employees in counseling techniques and program planning.
Counseled 30 individual children during the summer months.
Wrote 5 grants totaling $10,000 to fund special needs programs at the camp.
Assistant Camp Director at Camp Redwood, UTSep 2020 - Mar 2022
Trained and supervised a team of 15 counselors.
Led weekly staff meetings and provided feedback/direction to counselors.
Monitors the daily operation of the camp program ensuring that all activities are conducted in a safe manner.
Implemented new programming ideas based on input from campers, parents, and staff which resulted in increased satisfaction ratings.
Wrote grants which secured $5,000 in funding for new arts & crafts supplies.
Camp Counselor at Camp Willow Springs, UTSep 2015 - Aug 2020
Led a group of 10 campers on weekly nature hikes, teaching them about local flora and fauna.
Planned and organized daily activities for a group of 20 campers ages 6-8.
Trained new counselors in wilderness first aid and CPR.
Supervised a team of 5 counselors during an overnight camping trip with 30 campers.
Education
---
High School Diploma at Skyline High School, UTAug 2011 - May 2015
I've learned how to effectively communicate with others, how to manage my time wisely, and how to think critically.
Skills
---
Camping
Hiking
Canoeing
Kayaking
Rafting
Rock Climbing
First Aid
Steffany Apol
steffany.apol@gmail.com | (255) 895-7690 | Nashville, TN
Summary
---
As a Camp Director with over 8 years of experience, I have developed strong leadership and management skills. I have a proven track record of success in developing and executing innovative programming, building positive relationships with campers, parents, and staff, and managing budgets and resources efficiently. I have a comprehensive understanding of camp operations, and I am highly skilled in developing and implementing policies and procedures, creating and managing budgets, and providing a safe and positive camp experience. My passion for creating an exciting and memorable camp experience for campers, staff, and families is unmatched. I am a highly motivated and organized individual who will bring a wealth of knowledge and experience to your camp.
Experience
---
Camp Director at Camp Leo, TNJun 2022 - Present
Successfully directed a camp with 500+ campers and staff.
Managed a budget of $1 million+.
Created and implemented innovative programming that increased camper retention by 10%.
Led a team of 50+ counselors and support staff.
Trained new directors on best practices in camping.
Assistant Camp Director at Camp Lakeshore, TNJul 2019 - May 2022
Hired, trained and supervised a staff of 30 counselors.
Led weekly staff meetings and provided feedback/coaching to individual counselors.
Implemented new programming ideas that resulted in a 10% increase in camp attendance.
Created positive relationships with parents and guardians that led to increased satisfaction ratings by 5%.
Managed the day-to-day operations of the camp, including scheduling, budgeting, facility maintenance, etc.
Camp Counselor at Camp Sunshine, TNJul 2015 - May 2019
Led a group of 20 campers in daily activities such as hiking, swimming, and arts & crafts.
Supervised campers ages 6-12 during meal times, free time, and bed time.
Monitored camper safety at all times and responded quickly to any incidents.
Organized and led special events such as talent shows and scavenger hunts.
Built relationships with campers and provided support during homesickness or difficult days.
Education
---
High School Diploma at Nashville School of the Arts, Nashville, TNSep 2010 - May 2015
I've learned how to study for and take exams, how to read and analyze texts, and how to write papers.
Skills
---
Camping
Hiking
Canoeing
Kayaking
Rafting
Rock Climbing
Essential Components of a Camp Director's Resume
Creating a standout resume as a Camp Director is crucial to showcase your expertise in leadership, program development, safety protocols, and communication. A well-structured resume facilitates a potential employer's review of your professional journey. This article will delve into the critical sections of a Camp Director's resume, their significance, and how to optimize them for impact.
1. Contact Information
At the top of your resume, ensure your contact information is easily accessible for employers. This includes your full name, address (if required), phone number, and a professional email address.
Consider adding your LinkedIn profile or other professional social media links, ensuring they reflect a professional image. Keep your contact details up-to-date to avoid missed opportunities.
Tip: Verify the inclusion of personal details like your address according to local privacy laws and employer guidelines.
2. Objective Statement
The objective statement is your resume's hook, succinctly conveying your career goals and enthusiasm for the Camp Director role. Highlight your relevant experience and how it aligns with the job's requirements.
An effective objective statement might be: "Experienced youth program leader eager to contribute to ABC Camp's success as a Camp Director, bringing a track record of enhancing outdoor activities and camper satisfaction."
Further Reading: Top Camp Director Resume Objective Examples
3. Relevant Skills and Abilities
Illustrate a blend of hard and soft skills pertinent to camp management, such as:
Leadership Abilities: Showcase your capacity to inspire and manage teams.
Communication Skills: Emphasize your proficiency in clear and effective communication.
Organizational Abilities: Detail your experience in planning and executing camp programs.
Customize this section to reflect the specific needs of the camp you're applying to.
Related: Camp Director Skills: Definition and Examples
4. Work Experience
Detail your relevant work history, starting with the most recent position. Include job titles, employers, dates, and key responsibilities and achievements, quantifying them with metrics when possible.
Example: "As Camp Director at ABC Summer Camp, I developed programs that increased camper retention by 25%."
Highlight leadership roles, problem-solving, and successful project management.
5. Educational Background
List your educational qualifications, especially those related to recreation management or outdoor education. Include any additional training or certifications that enhance your qualifications as a Camp Director.
Example: "Bachelor of Science in Recreation Management, XYZ University, 2015. Certified in First Aid and CPR."
6. Certifications and Training
Emphasize certifications like First Aid and CPR, which are crucial for a Camp Director. List any specialized training that adds value to your role.
Example: "Certified Wilderness First Responder, valid through 2025."
Related: Camp Director Certifications
7. References
Choose references who can attest to your skills and experience in camp management and youth leadership. Obtain their consent before listing them and provide their contact details.
Example: "Jane Doe, Former Supervisor at XYZ Summer Camp, [Contact Information], can speak to my program development and staff training abilities."
Remember, references should complement a well-crafted resume and cover letter, not replace them.
By focusing on these key elements and tailoring each section to the specific Camp Director position, your resume will effectively communicate your qualifications and readiness for the role.
Related Resume Samples