Assembly Technician Cover Letter Examples
A great assembly technician cover letter can help you stand out from the competition when applying for a job. Be sure to tailor your letter to the specific requirements listed in the job description, and highlight your most relevant or exceptional qualifications. The following assembly technician cover letter example can give you some ideas on how to write your own letter.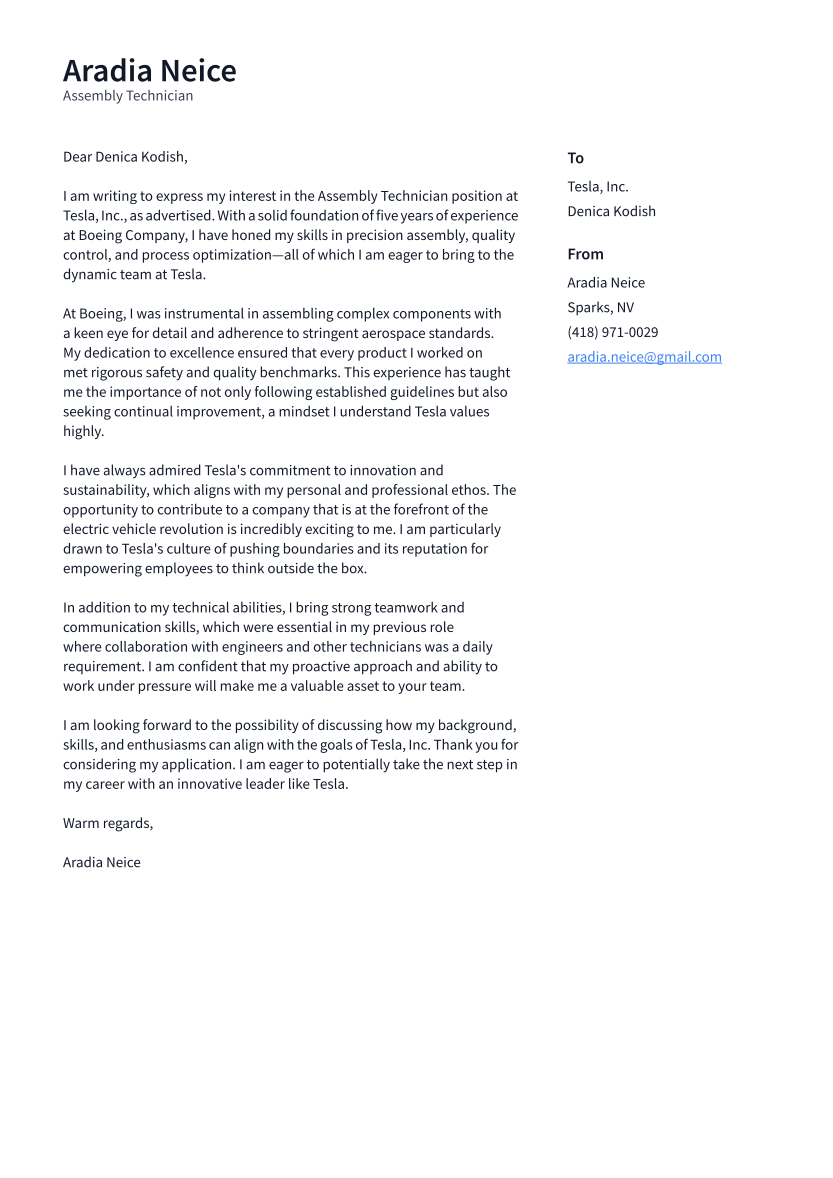 Cover Letter Example (Text)
Mallery Saurini
(470) 705-9769
mallery.saurini@gmail.com
August 8, 2022
Dear Hiring Manager,
I am an experienced assembly technician and I am interested in applying for the Assembly Technician position at John Deere. I have experience working in a fast-paced environment and I am able to work independently or as part of a team. I am also familiar with a variety of assembly techniques and I have a strong attention to detail.
I have worked as an assembly technician at Ford Motor Company for four years. I have gained a great deal of experience and knowledge about the inner workings of cars, and I take pride in my work. My goal is to always produce high-quality products that meet or exceed customer expectations. In addition, I am constantly striving to improve my skills and learn new techniques so that I can be even more efficient and effective in my job.
I have worked as an assembly technician for over 5 years. I am responsible for the final assembly of products, which includes installing components, testing functionality, and troubleshooting any issues that may arise. I pride myself on being able to work quickly and efficiently while still ensuring a high level of quality in my work. In addition to my experience with product assembly, I also have extensive knowledge of electronics and wiring, which allows me to be a valuable asset during the production process.
Thank you for your interest in the Assembly Technician position at John Deere. I am excited to have the opportunity to apply my skills and experience to this role. I am confident that I can be a valuable asset to John Deere, and I look forward to contributing to the company's success. Thank you again for considering me for this position.
Sincerely,
Mallery Saurini