Article
Zoom Inventory Control Specialist Resume Examples
This article provides various examples and tips on how to create an effective resume for the position of a Zoom Inventory Control Specialist.

Brenna Goyette
Certified Professional Resume Writer, Career Expert
Published 9 min read
This article offers a comprehensive guide on crafting an effective resume for the position of Inventory Control Specialist at Zoom. It provides invaluable insights on tailoring your resume to highlight relevant skills, experiences, and accomplishments that align with the responsibilities of this role. The piece underscores the significance of emphasizing your proficiency in inventory management systems, data analysis, problem-solving abilities and attention to detail. Additionally, it elucidates how to present your educational background and any relevant certifications effectively. This article serves as an essential resource for anyone aspiring to secure an Inventory Control Specialist position at Zoom or similar tech companies.
Zoom Inventory Control Specialist Resume Created Using Our Resume Builder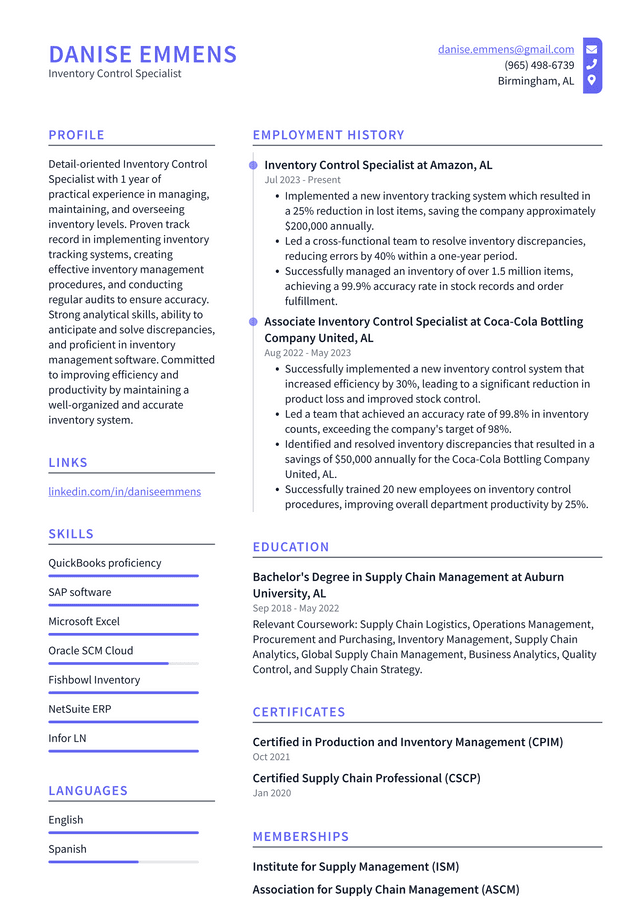 Zoom Inventory Control Specialist Resume Example
Danise Emmens, Inventory Control Specialist
danise.emmens@gmail.com
(965) 498-6739
Birmingham, AL
Professional Summary
Detail-oriented Inventory Control Specialist with 1 year of practical experience in managing, maintaining, and overseeing inventory levels. Proven track record in implementing inventory tracking systems, creating effective inventory management procedures, and conducting regular audits to ensure accuracy. Strong analytical skills, ability to anticipate and solve discrepancies, and proficient in inventory management software. Committed to improving efficiency and productivity by maintaining a well-organized and accurate inventory system.
Work Experience
Inventory Control Specialist at Amazon, AL
Jul 2023 - Present
Implemented a new inventory tracking system which resulted in a 25% reduction in lost items, saving the company approximately $200,000 annually.
Led a cross-functional team to resolve inventory discrepancies, reducing errors by 40% within a one-year period.
Successfully managed an inventory of over 1.5 million items, achieving a 99.9% accuracy rate in stock records and order fulfillment.
Associate Inventory Control Specialist at Coca-Cola Bottling Company United, AL
Aug 2022 - May 2023
Successfully implemented a new inventory control system that increased efficiency by 30%, leading to a significant reduction in product loss and improved stock control.
Led a team that achieved an accuracy rate of 99.8% in inventory counts, exceeding the company's target of 98%.
Identified and resolved inventory discrepancies that resulted in a savings of $50,000 annually for the Coca-Cola Bottling Company United, AL.
Successfully trained 20 new employees on inventory control procedures, improving overall department productivity by 25%.
Education
Bachelor's Degree in Supply Chain Management at Auburn University, AL
Sep 2018 - May 2022
Relevant Coursework: Supply Chain Logistics, Operations Management, Procurement and Purchasing, Inventory Management, Supply Chain Analytics, Global Supply Chain Management, Business Analytics, Quality Control, and Supply Chain Strategy.
Skills
QuickBooks proficiency
SAP software
Microsoft Excel
Oracle SCM Cloud
Fishbowl Inventory
NetSuite ERP
Infor LN
Certificates
Certified in Production and Inventory Management (CPIM)
Certified Supply Chain Professional (CSCP)
Tips for Writing a Better Zoom Inventory Control Specialist Resume
1. Use a professional format: Your resume should be clean, organized, and easy to read. Use bullet points to list your skills and experience.
2. Highlight relevant skills: As an inventory control specialist, you should highlight skills such as attention to detail, organizational abilities, problem-solving skills, and proficiency in inventory management software.
3. Include relevant work experience: Detail your previous roles that involved inventory management or similar responsibilities. Be sure to include specific tasks you were responsible for and any achievements or improvements you made.
4. Include certifications and training: If you have any certifications or training related to inventory control or supply chain management, be sure to include them. This could include certifications from organizations like APICS (Association for Supply Chain Management).
5. Use action verbs: Start each bullet point with an action verb to make your resume more engaging and effective. For example, instead of saying "Responsible for managing inventory", say "Managed inventory".
6. Quantify your achievements: Where possible, use numbers to demonstrate your achievements in previous roles – for example, "Reduced inventory discrepancies by 25%".
7. Tailor your resume for the role: Make sure your resume is tailored specifically for the role of a Zoom Inventory Control Specialist. This means emphasizing any experience you have with Zoom's specific systems or procedures.
8. Include keywords from the job description: Many companies use automated systems to screen resumes before they reach a human recruiter. Including keywords from the job description can help ensure your resume passes this initial screening.
9. Proofread carefully: Make sure there are no spelling or grammatical errors in your resume – these can create an impression of carelessness.
10. Keep it concise: Try not to exceed two pages in length – recruiters often have many resumes to read through and appreciate brevity.
Remember that a resume is often the first impression a potential employer will have of you, so take the time to make it as strong as possible.
Related: Inventory Control Specialist Resume Examples
Key Skills Hiring Managers Look for on Zoom Inventory Control Specialist Resumes
Applicant Tracking Systems (ATS) are software tools used by many companies, including Zoom, to streamline their hiring process. These systems are designed to scan resumes for specific keywords that match the job description. As an applicant for an Inventory Control Specialist position at Zoom, incorporating these keywords into your resume can greatly increase your chances of making it past the initial screening stage. The ATS will identify these keywords and recognize your resume as a strong match for the job requirements. This could potentially move you forward in the hiring process, increasing your chances of securing an interview with the company. Therefore, it's crucial to carefully read through the job description and incorporate relevant keywords in your application materials when applying for this role at Zoom.
When applying for inventory control specialist positions at Zoom, you may encounter common skills and key terms listed below.
Key Skills and Proficiencies
Inventory Management
Supply Chain Management
Data Analysis
Forecasting
Attention to Detail
Problem Solving
Time Management
Organizational Skills
Product Knowledge
Record Keeping
ERP Systems Proficiency (like SAP, Oracle)
Microsoft Office Suite Proficiency
Communication Skills
Numerical Accuracy
Teamwork and Collaboration
Process Improvement Strategies
Quality Control Procedures
Reporting Skills
Vendor Relationship Management
Multitasking Abilities
Negotiation Skills
Decision-making Abilities
Related: Inventory Control Specialist Skills: Definition and Examples
Common Action Verbs for Zoom Inventory Control Specialist Resumes
Creating a Zoom Inventory Control Specialist Resume poses a unique challenge in finding diverse action verbs to illustrate your skills and experiences. Using the same repetitive verbs can make your resume monotonous and fail to capture the attention of potential employers. Different action verbs not only add variety but also provide a vivid description of your roles, responsibilities, and achievements. They help to showcase your abilities in planning, organizing, managing, and controlling inventory in a more engaging way. Therefore, utilizing varied action verbs is crucial in crafting an effective Zoom Inventory Control Specialist Resume that stands out from the crowd.
To enhance your competitive advantage, we have assembled a list of impactful action verbs to fortify your resume and secure your next interview:
Action Verbs
Managed
Controlled
Coordinated
Monitored
Audited
Organized
Updated
Tracked
Analyzed
Verified
Documented
Implemented
Assessed
Maintained
Streamlined
Optimized
Reported
Oversaw
Identified
Improved
Allocated
Forecasted