Article
Walmart Financial Analyst Resume Examples
This article provides examples of resumes for Walmart Financial Analysts, including key skills and experience to highlight, as well as tips for writing an effective resume.

Brenna Goyette
Certified Professional Resume Writer, Career Expert
Published 8 min read
This article provides a step-by-step guide to writing a resume for Walmart as a Financial Analyst. It covers how to highlight relevant skills and experience, how to tailor your resume to the job description, and tips on how to make your resume stand out from other applicants. In addition, it outlines the key qualifications that Walmart looks for in Financial Analysts and provides advice on how to showcase your knowledge and expertise.
Walmart Financial Analyst Resume Created Using Our Resume Builder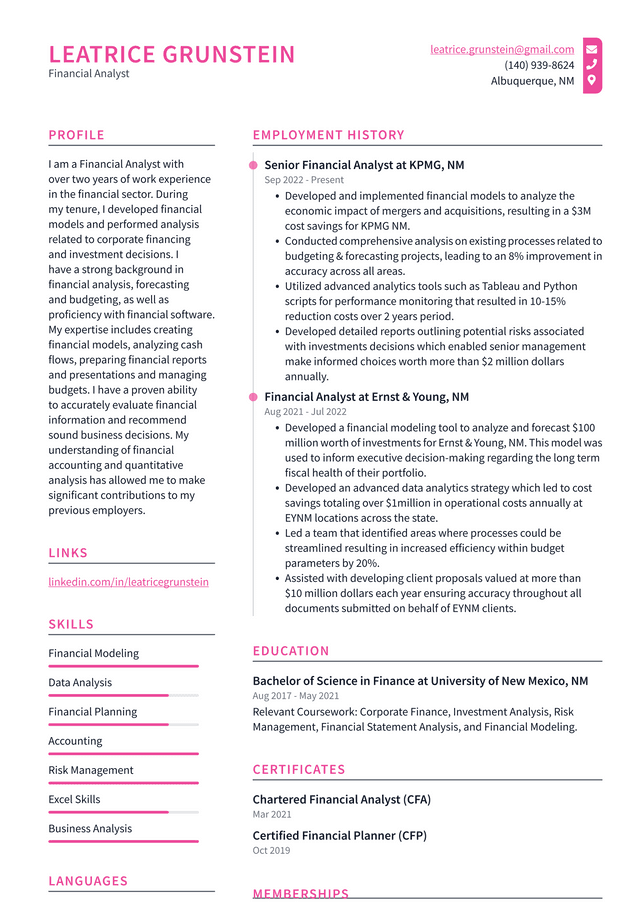 Walmart Financial Analyst Resume Example
Leatrice Grunstein, Financial Analyst
leatrice.grunstein@gmail.com
(140) 939-8624
Albuquerque, NM
Professional Summary
I am a Financial Analyst with over two years of work experience in the financial sector. During my tenure, I developed financial models and performed analysis related to corporate financing and investment decisions. I have a strong background in financial analysis, forecasting and budgeting, as well as proficiency with financial software. My expertise includes creating financial models, analyzing cash flows, preparing financial reports and presentations and managing budgets. I have a proven ability to accurately evaluate financial information and recommend sound business decisions. My understanding of financial accounting and quantitative analysis has allowed me to make significant contributions to my previous employers.
Work Experience
Senior Financial Analyst at KPMG, NM
Sep 2022 - Present
Developed and implemented financial models to analyze the economic impact of mergers and acquisitions, resulting in a $3M cost savings for KPMG NM.
Conducted comprehensive analysis on existing processes related to budgeting & forecasting projects, leading to an 8% improvement in accuracy across all areas.
Utilized advanced analytics tools such as Tableau and Python scripts for performance monitoring that resulted in 10-15% reduction costs over 2 years period.
Developed detailed reports outlining potential risks associated with investments decisions which enabled senior management make informed choices worth more than $2 million dollars annually.
Financial Analyst at Ernst & Young, NM
Aug 2021 - Jul 2022
Developed a financial modeling tool to analyze and forecast $100 million worth of investments for Ernst & Young, NM. This model was used to inform executive decision-making regarding the long term fiscal health of their portfolio.
Developed an advanced data analytics strategy which led to cost savings totaling over $1million in operational costs annually at EYNM locations across the state.
Led a team that identified areas where processes could be streamlined resulting in increased efficiency within budget parameters by 20%.
Assisted with developing client proposals valued at more than $10 million dollars each year ensuring accuracy throughout all documents submitted on behalf of EYNM clients.
Education
Bachelor of Science in Finance at University of New Mexico, NM
Aug 2017 - May 2021
Relevant Coursework: Corporate Finance, Investment Analysis, Risk Management, Financial Statement Analysis, and Financial Modeling.
Skills
Financial Modeling
Data Analysis
Financial Planning
Accounting
Risk Management
Excel Skills
Business Analysis
Certificates
Chartered Financial Analyst (CFA)
Certified Financial Planner (CFP)
Tips for Writing a Better Walmart Financial Analyst Resume
1. Highlight Your Quantitative Skills: As a Walmart Financial Analyst, you need to be able to analyze and interpret data quickly and accurately. Make sure to emphasize your quantitative skills such as financial modeling, forecasting, budgeting, etc.
2. Showcase Your Problem-Solving Abilities: Walmart Financial Analysts are expected to identify problems and develop solutions in order to improve the company's performance. Demonstrate your problem-solving abilities by highlighting projects that you have worked on or initiatives that you have created which have had a positive impact on the business.
3. Demonstrate Your Knowledge of Accounting Principles: Walmart Financial Analysts must be well-versed in accounting principles such as generally accepted accounting principles (GAAP) and International Financial Reporting Standards (IFRS). Make sure to include any relevant certifications or education related to accounting on your resume.
4. List Any Relevant Software Knowledge: Walmart Financial Analysts must be comfortable with various software programs such as Microsoft Excel, SAP, Oracle, and Hyperion Planning. Be sure to list any software knowledge that you possess in order to demonstrate your technical proficiency in this area.
5. Use Industry Keywords: Many employers use applicant tracking systems (ATS) when reviewing resumes for job openings. ATS scan resumes for specific keywords related to the job description so make sure you include these words throughout your resume in order to ensure it is seen by the hiring manager!
Related: Financial Analyst Resume Examples
Key Skills Hiring Managers Look for on Walmart Financial Analyst Resumes
Incorporating keywords from the job description into your resume and cover letter when applying for a Financial Analyst opportunity at Walmart is critical, as the company utilizes Applicant Tracking Systems (ATS) in its recruitment process. ATS systems scan candidates' resumes and cover letters for specific keywords related to the job description, which helps employers quickly identify qualified applicants. As such, it is important to include the relevant keywords that appear in the job description in order to maximize your chances of being selected for an interview.
Below is a list of essential skills and key terms you may come across when applying for a financial analyst role at Walmart:
Key Skills and Proficiencies
Financial Modeling
Financial Analysis
Budgeting
Forecasting
Variance Analysis
Financial Reporting
Microsoft Excel
Accounting
Data Analysis
Business Analysis
Risk Management
Project Management
Investment Banking
Valuation
Mergers & Acquisitions
Equity Research
Capital Markets
Cash Flow Analysis
Credit Analysis
Business Planning
Strategic Planning
Cost Control
Related: Financial Analyst Skills: Definition and Examples
Common Action Verbs for Walmart Financial Analyst Resumes
When creating a resume for a Walmart Financial Analyst position, it is important to use varied, powerful action verbs in order to make your qualifications stand out. It can be difficult to find the right action verbs to use on a resume, as many resumes tend to use the same verbs such as "managed," "developed," and "analyzed." However, by doing some research and looking for more specific words that accurately describe the tasks you have accomplished, you will be able to create an effective resume that stands out from the competition.
To give you a competitive edge, we've compiled a list of powerful action verbs that can help strengthen your resume and increase your chances of landing your next interview:
Action Verbs
Analyzed
Reported
Forecasted
Budgeted
Monitored
Developed
Optimized
Reconciled
Investigated
Assessed
Implemented
Evaluated
Researched
Streamlined
Calculated
Modeled
Interpreted
Verified
Documented
Presented
Negotiated
Executed
Related: What does a Financial Analyst do?