Article
Walgreens User Experience Designer Resume Examples
Explore top-notch resume examples and expert tips to help you create a winning User Experience Designer resume that will land you a job at Walgreens.

Brenna Goyette
Certified Professional Resume Writer, Career Expert
Published 10 min read
In this comprehensive guide, we will walk you through the crucial steps to craft a standout resume tailored for the User Experience Designer position at Walgreens. Delve into essential tips and tricks to showcase your expertise in user-centered design principles, as well as highlighting your experience in creating seamless, accessible user interfaces across multiple platforms. Discover how to effectively present your collaborative skills to demonstrate your ability to work with cross-functional teams and drive projects from concept to completion. Learn how to quantify your accomplishments and emphasize your proficiency in industry-standard tools and software, all while aligning your resume with Walgreens' core values and mission. Stand out from the competition and make a lasting impression on hiring managers by implementing these tried-and-tested strategies for success!
Walgreens User Experience Designer Resume Created Using Our Resume Builder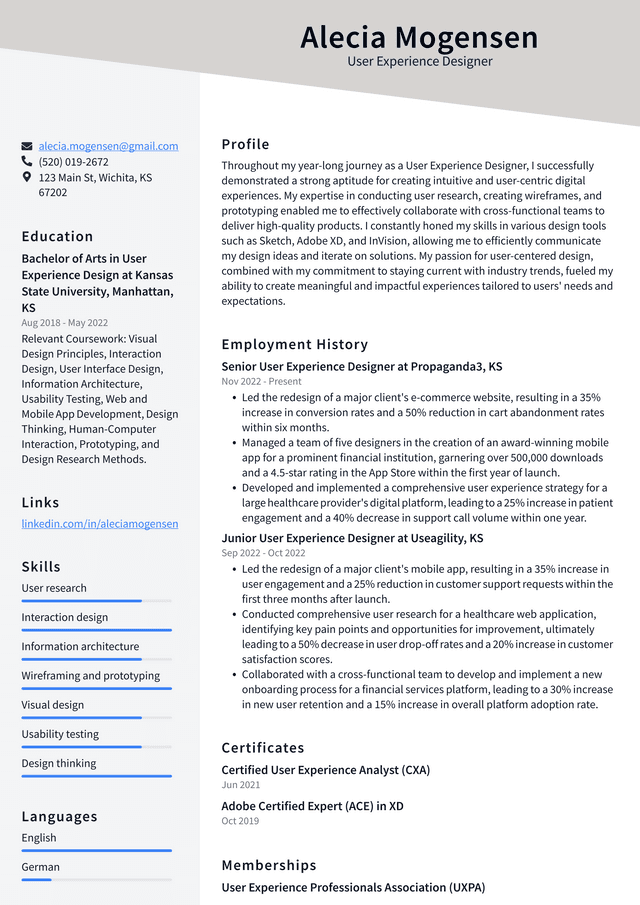 Walgreens User Experience Designer Resume Example
Alecia Mogensen, User Experience Designer
alecia.mogensen@gmail.com
(520) 019-2672
123 Main St, Wichita, KS 67202
Professional Summary
Throughout my year-long journey as a User Experience Designer, I successfully demonstrated a strong aptitude for creating intuitive and user-centric digital experiences. My expertise in conducting user research, creating wireframes, and prototyping enabled me to effectively collaborate with cross-functional teams to deliver high-quality products. I constantly honed my skills in various design tools such as Sketch, Adobe XD, and InVision, allowing me to efficiently communicate my design ideas and iterate on solutions. My passion for user-centered design, combined with my commitment to staying current with industry trends, fueled my ability to create meaningful and impactful experiences tailored to users' needs and expectations.
Work Experience
Senior User Experience Designer at Propaganda3, KS
Nov 2022 - Present
Led the redesign of a major client's e-commerce website, resulting in a 35% increase in conversion rates and a 50% reduction in cart abandonment rates within six months.
Managed a team of five designers in the creation of an award-winning mobile app for a prominent financial institution, garnering over 500,000 downloads and a 4.5-star rating in the App Store within the first year of launch.
Developed and implemented a comprehensive user experience strategy for a large healthcare provider's digital platform, leading to a 25% increase in patient engagement and a 40% decrease in support call volume within one year.
Junior User Experience Designer at Useagility, KS
Sep 2022 - Oct 2022
Led the redesign of a major client's mobile app, resulting in a 35% increase in user engagement and a 25% reduction in customer support requests within the first three months after launch.
Conducted comprehensive user research for a healthcare web application, identifying key pain points and opportunities for improvement, ultimately leading to a 50% decrease in user drop-off rates and a 20% increase in customer satisfaction scores.
Collaborated with a cross-functional team to develop and implement a new onboarding process for a financial services platform, leading to a 30% increase in new user retention and a 15% increase in overall platform adoption rate.
Education
Bachelor of Arts in User Experience Design at Kansas State University, Manhattan, KS
Aug 2018 - May 2022
Relevant Coursework: Visual Design Principles, Interaction Design, User Interface Design, Information Architecture, Usability Testing, Web and Mobile App Development, Design Thinking, Human-Computer Interaction, Prototyping, and Design Research Methods.
Skills
User research
Interaction design
Information architecture
Wireframing and prototyping
Visual design
Usability testing
Design thinking
Certificates
Certified User Experience Analyst (CXA)
Adobe Certified Expert (ACE) in XD
Tips for Writing a Better Walgreens User Experience Designer Resume
1. Use a clean and simple format: A well-organized, easy-to-read resume is essential for showcasing your skills and experience as a User Experience Designer. Use clear headings, bullet points, and consistent formatting to ensure your resume looks professional and polished.
2. Tailor your resume to the job description: Carefully read the job description for the Walgreens User Experience Designer position and make sure to highlight relevant skills, experiences, and achievements that align with the requirements listed.
3. Showcase your UX design skills: Clearly showcase your expertise in UX design by listing specific tools, software, or methodologies you are proficient in. Examples include wireframing tools (e.g., Sketch or Figma), prototyping tools (e.g., InVision or Adobe XD), user research methods (e.g., usability testing or surveys), and design principles (e.g., user-centered design).
4. Highlight relevant experience: Emphasize any previous work experience that demonstrates your ability to create user-friendly designs for websites, apps, or other digital products. Include examples of projects you've worked on where you've improved usability or contributed to a positive user experience.
5. Quantify your accomplishments: Whenever possible, use numbers to quantify your achievements in past roles. For example, mention how many users were impacted by a particular project or how much conversion rates increased after implementing a new design feature.
6. Showcase teamwork and collaboration skills: As a User Experience Designer at Walgreens, you'll likely be working closely with other team members such as product managers, developers, and marketers. Be sure to emphasize any previous experiences where you collaborated effectively with cross-functional teams.
7. Add a link to your online portfolio: Providing a link to an online portfolio of your work is crucial for any UX designer applying for jobs today. Make sure this link is easily accessible on your resume so potential employers can quickly view examples of your work.
8. Proofread carefully: Errors in grammar, spelling, and punctuation can make a poor impression on potential employers. Be sure to carefully proofread your resume before submitting it to ensure there are no mistakes.
9. Keep it concise: Aim for a one-page resume if possible. This may require you to be selective with the information you include, but it will help ensure that potential employers can quickly and easily assess your qualifications.
10. Include a strong objective or summary statement: Start your resume with a compelling objective or summary statement that highlights your key skills, experiences, and goals as they relate to the Walgreens User Experience Designer position. This will help grab the attention of hiring managers and set the tone for the rest of your resume.
Related: User Experience Designer Resume Examples
Key Skills Hiring Managers Look for on Walgreens User Experience Designer Resumes
When applying for a User Experience Designer role at Walgreens, it is crucial to incorporate keywords from the job description in your application materials. This is because Walgreens, like many other companies, uses Applicant Tracking Systems (ATS) to screen and filter candidates. These systems are designed to identify applicants that match the required skills and qualifications by scanning for specific keywords related to the position. By including these keywords in your resume and cover letter, you increase your chances of passing the initial screening process and securing an interview with the company.
When applying for user experience designer positions at Walgreens, you may encounter common skills and key terms such as wireframing, prototyping, usability testing, information architecture, interaction design, and visual design.
Key Skills and Proficiencies
User research
Interaction design
Information architecture
Wireframing
Prototyping
Visual design
Usability testing
Design thinking
UI design
Responsive design
Accessibility design
Mobile app design
Web design
Adobe Creative Suite (Photoshop, Illustrator, XD)
Sketch and Figma proficiency
HTML/CSS/JavaScript knowledge
Agile/Scrum methodology
Cross-functional collaboration
Empathy and understanding user needs
Storytelling and communication skills
Analytical and problem-solving skills
Design system creation
Related: User Experience Designer Skills: Definition and Examples
Common Action Verbs for Walgreens User Experience Designer Resumes
Crafting a resume for a position like Walgreens User Experience Designer can be challenging, particularly when it comes to finding diverse action verbs that effectively showcase your skills and experience. Using repetitive or generic verbs can make your resume appear dull and unimpressive, which is why it's crucial to incorporate a variety of strong, descriptive action verbs that highlight your accomplishments and abilities. By doing so, you'll create a more engaging and persuasive resume that stands out to potential employers and increases your chances of landing the job.
To provide you with a competitive advantage, we have compiled a list of impactful action verbs that can enhance your resume and secure your next interview:
Action Verbs
Analyzed
Designed
Developed
Implemented
Evaluated
Optimized
Prototyped
Collaborated
Tested
Conducted
Researched
Wireframed
Iterated
Created
Innovated
Improved
Streamlined
Presented
Facilitated
Coordinated
Communicated
Validated