Article
Uber Localization Specialist Resume Examples
Explore top-notch resume examples for Uber Localization Specialists, showcasing their expertise in adapting the app to various languages and cultures.

Brenna Goyette
Certified Professional Resume Writer, Career Expert
Published 10 min read
Discover the essential tips and tricks for crafting the perfect resume to land your dream job as a Localization Specialist at Uber. In this comprehensive article, we delve into the key skills, experiences, and qualifications that Uber looks for in a candidate, and provide expert guidance on how to showcase your linguistic prowess, cultural knowledge, and project management abilities. Learn how to tailor your resume to highlight your specific strengths and stand out from the competition in the fast-paced world of localization. With our insider advice, you'll be well-equipped to create an impressive resume that gets noticed by recruiters at Uber and helps you secure that coveted interview.
Uber Localization Specialist Resume Created Using Our Resume Builder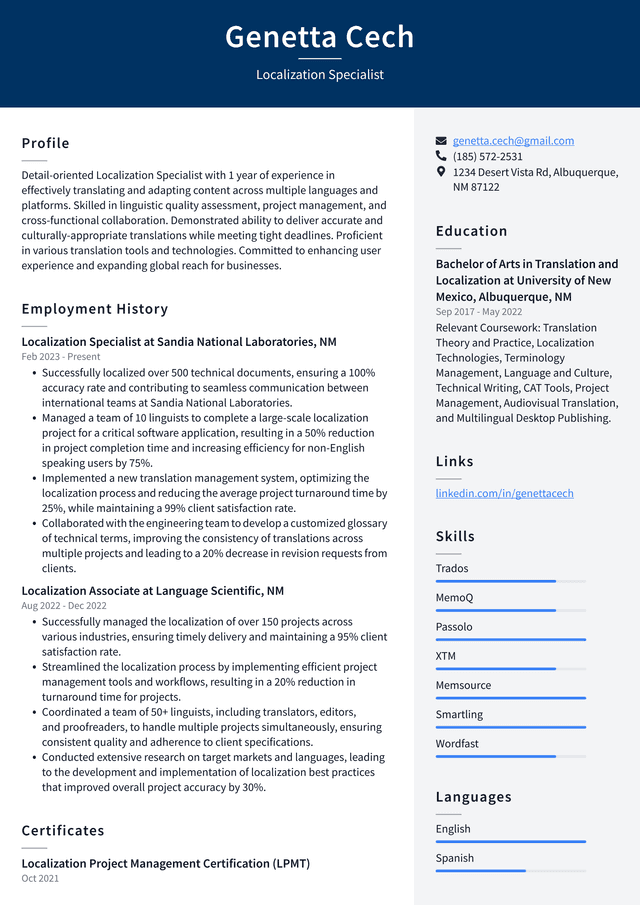 Uber Localization Specialist Resume Example
Genetta Cech, Localization Specialist
genetta.cech@gmail.com
(185) 572-2531
1234 Desert Vista Rd, Albuquerque, NM 87122
Professional Summary
Detail-oriented Localization Specialist with 1 year of experience in effectively translating and adapting content across multiple languages and platforms. Skilled in linguistic quality assessment, project management, and cross-functional collaboration. Demonstrated ability to deliver accurate and culturally-appropriate translations while meeting tight deadlines. Proficient in various translation tools and technologies. Committed to enhancing user experience and expanding global reach for businesses.
Work Experience
Localization Specialist at Sandia National Laboratories, NM
Feb 2023 - Present
Successfully localized over 500 technical documents, ensuring a 100% accuracy rate and contributing to seamless communication between international teams at Sandia National Laboratories.
Managed a team of 10 linguists to complete a large-scale localization project for a critical software application, resulting in a 50% reduction in project completion time and increasing efficiency for non-English speaking users by 75%.
Implemented a new translation management system, optimizing the localization process and reducing the average project turnaround time by 25%, while maintaining a 99% client satisfaction rate.
Collaborated with the engineering team to develop a customized glossary of technical terms, improving the consistency of translations across multiple projects and leading to a 20% decrease in revision requests from clients.
Localization Associate at Language Scientific, NM
Aug 2022 - Dec 2022
Successfully managed the localization of over 150 projects across various industries, ensuring timely delivery and maintaining a 95% client satisfaction rate.
Streamlined the localization process by implementing efficient project management tools and workflows, resulting in a 20% reduction in turnaround time for projects.
Coordinated a team of 50+ linguists, including translators, editors, and proofreaders, to handle multiple projects simultaneously, ensuring consistent quality and adherence to client specifications.
Conducted extensive research on target markets and languages, leading to the development and implementation of localization best practices that improved overall project accuracy by 30%.
Education
Bachelor of Arts in Translation and Localization at University of New Mexico, Albuquerque, NM
Sep 2017 - May 2022
Relevant Coursework: Translation Theory and Practice, Localization Technologies, Terminology Management, Language and Culture, Technical Writing, CAT Tools, Project Management, Audiovisual Translation, and Multilingual Desktop Publishing.
Skills
Trados
MemoQ
Passolo
XTM
Memsource
Smartling
Wordfast
Certificates
Localization Project Management Certification (LPMT)
Certified Localization Professional (CLP)
Tips for Writing a Better Uber Localization Specialist Resume
1. Tailor your resume to the job posting: Start by thoroughly reading the job description for the Uber Localization Specialist position and identify the key skills and qualifications required. Make sure to emphasize these skills in your resume, using relevant examples from your professional experience.
2. Use a clean and organized format: A well-structured resume is easier to read and makes a better impression on hiring managers. Use clear headings, bullet points, and consistent formatting throughout your resume to present your information in an organized way.
3. Start with a strong summary statement: Your summary statement should be concise and highlight your most relevant skills, experiences, and accomplishments that make you a strong candidate for the Uber Localization Specialist role.
4. Emphasize language skills: As a localization specialist, language skills are crucial for success in this role. Clearly indicate your language proficiency levels in both written and spoken forms for all languages you are fluent in.
5. Highlight relevant experience: Focus on showcasing any experience related to localization, translation, or project management that demonstrates your ability to handle tasks related to the Uber Localization Specialist role.
6. Showcase technical skills: Include any specific software or tools you have used in previous roles related to localization or project management (e.g., CAT tools, translation management systems).
7. Quantify achievements when possible: Instead of simply listing duties or responsibilities from previous roles, try to provide specific examples of how you made an impact or improved processes using numbers or percentages (e.g., reduced project turnaround time by 20%).
8. Include certifications or training: If you have completed any relevant certifications (such as ATA certification) or taken courses related to localization, translation, or project management, make sure to include them on your resume.
9. Include soft skills: In addition to technical abilities, soft skills like communication, teamwork, problem-solving abilities are essential for success as a localization specialist at Uber. Make sure to highlight these qualities throughout your resume, using examples from your professional experience.
10. Proofread and edit: Finally, ensure your resume is free of errors by carefully proofreading it multiple times. Consider asking a friend or colleague to review it as well for an additional perspective. A polished resume demonstrates attention to detail and professionalism, which are important qualities for a localization specialist.
Related: Transportation Specialist Resume Examples
Key Skills Hiring Managers Look for on Uber Localization Specialist Resumes
When applying for a Localization Specialist position at Uber, it is crucial to incorporate keywords from the job description into your application materials. This is because Uber, like many other companies, utilizes Applicant Tracking Systems (ATS) to streamline their recruitment process and filter out applicants who don't meet the necessary criteria. These systems analyze resumes and cover letters for specific keywords related to the role's requirements and qualifications. By including relevant terms found in the job posting, you increase your chances of passing through this initial screening stage and being considered for an interview with Uber's hiring team.
When applying for localization specialist positions at Uber, you may encounter common skills and key terms such as translation, transcreation, linguistic testing, quality assurance, project management, and cultural adaptation.
Key Skills and Proficiencies
Multilingual proficiency
Translation
Interpretation
Cultural adaptation
Proofreading
Editing
Project management
Terminology management
Quality assurance
Desktop publishing (DTP)
Localization engineering
Internationalization (i18n)
Machine translation (MT) tools
Computer-assisted translation (CAT) tools
Content management systems (CMS)
Time management
Attention to detail
Team collaboration
Adaptability
Problem-solving
Research skills
Communication
Related: Transportation Specialist Skills: Definition and Examples
Common Action Verbs for Uber Localization Specialist Resumes
Crafting an effective resume can be a challenging task, especially when it comes to finding the right action verbs to showcase your skills and experiences. Using varied and powerful action verbs is crucial for creating an impressive Uber Localization Specialist Resume. These verbs help demonstrate your abilities and achievements in a more compelling way, making your resume stand out from the competition. However, finding different action verbs that accurately represent your expertise can be difficult, as many people tend to rely on the same overused words like "managed" or "led." To create a truly impactful Uber Localization Specialist Resume, it's essential to invest time in researching and selecting diverse action verbs that capture the essence of your professional accomplishments and make you an attractive candidate for the role.
To provide you with a competitive advantage, we have assembled a list of impactful action verbs that can help enhance your resume and secure your next interview:
Action Verbs
Translated
Adapted
Customized
Coordinated
Managed
Implemented
Reviewed
Edited
Proofread
Assessed
Evaluated
Streamlined
Aligned
Collaborated
Communicated
Researched
Identified
Integrated
Trained
Troubleshot
Updated
Created