Article
Starbucks Product Development Specialist Resume Examples

Brenna Goyette
Certified Professional Resume Writer, Career Expert
Published 10 min read
This article aims to guide individuals in crafting an effective resume for the role of a Product Development Specialist at Starbucks. It will delve into the essential skills, experiences, and qualifications that Starbucks looks for in candidates for this position. The article will provide tips on how to effectively showcase your understanding of product development processes, experience with market research, and proficiency in project management. Furthermore, it will highlight how to demonstrate your ability to work collaboratively within a team, exhibit strong communication skills, and illustrate your passion for Starbucks' brand and values. By following these guidance points, you can create a compelling resume that stands out from the crowd and increases your chances of landing the job.
Starbucks Product Development Specialist Resume Created Using Our Resume Builder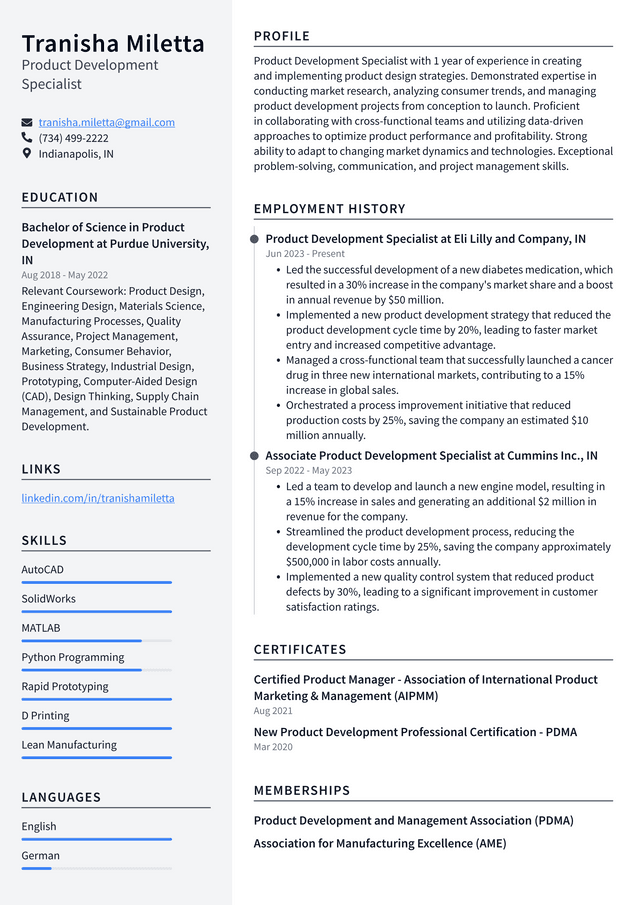 Starbucks Product Development Specialist Resume Example
Tranisha Miletta, Product Development Specialist
tranisha.miletta@gmail.com
(734) 499-2222
Indianapolis, IN
Professional Summary
Product Development Specialist with 1 year of experience in creating and implementing product design strategies. Demonstrated expertise in conducting market research, analyzing consumer trends, and managing product development projects from conception to launch. Proficient in collaborating with cross-functional teams and utilizing data-driven approaches to optimize product performance and profitability. Strong ability to adapt to changing market dynamics and technologies. Exceptional problem-solving, communication, and project management skills.
Work Experience
Product Development Specialist at Eli Lilly and Company, IN
Jun 2023 - Present
Led the successful development of a new diabetes medication, which resulted in a 30% increase in the company's market share and a boost in annual revenue by $50 million.
Implemented a new product development strategy that reduced the product development cycle time by 20%, leading to faster market entry and increased competitive advantage.
Managed a cross-functional team that successfully launched a cancer drug in three new international markets, contributing to a 15% increase in global sales.
Orchestrated a process improvement initiative that reduced production costs by 25%, saving the company an estimated $10 million annually.
Associate Product Development Specialist at Cummins Inc., IN
Sep 2022 - May 2023
Led a team to develop and launch a new engine model, resulting in a 15% increase in sales and generating an additional $2 million in revenue for the company.
Streamlined the product development process, reducing the development cycle time by 25%, saving the company approximately $500,000 in labor costs annually.
Implemented a new quality control system that reduced product defects by 30%, leading to a significant improvement in customer satisfaction ratings.
Education
Bachelor of Science in Product Development at Purdue University, IN
Aug 2018 - May 2022
Relevant Coursework: Product Design, Engineering Design, Materials Science, Manufacturing Processes, Quality Assurance, Project Management, Marketing, Consumer Behavior, Business Strategy, Industrial Design, Prototyping, Computer-Aided Design (CAD), Design Thinking, Supply Chain Management, and Sustainable Product Development.
Skills
AutoCAD
SolidWorks
MATLAB
Python Programming
Rapid Prototyping
D Printing
Lean Manufacturing
Certificates
Certified Product Manager - Association of International Product Marketing & Management (AIPMM)
New Product Development Professional Certification - PDMA
Tips for Writing a Better Starbucks Product Development Specialist Resume
1. Highlight Relevant Experience: Clearly state your previous experience in product development or similar roles. Provide details about the specific tasks you undertook and the results you achieved.
2. Use Action Verbs: Start each responsibility or achievement with strong action verbs like 'developed', 'managed', 'coordinated' etc., to make your resume more impactful.
3. Include Specific Skills: Mention skills that are relevant to the job description, such as project management, knowledge of product lifecycle, analytical skills, communication skills etc.
4. Showcase Your Knowledge About Starbucks: Show that you understand Starbucks' mission and values by mentioning them in your objective statement or cover letter. This will demonstrate that you are a good fit for their culture.
5. Quantify Achievements: Wherever possible, use numbers to quantify your achievements. For example, instead of saying "improved efficiency," say "increased efficiency by 20%".
6. Tailor Your Resume: Customize your resume for each application by highlighting the most relevant experiences and skills according to the job description.
7. Keep it Concise: Keep your resume concise and easy-to-read with clear headings, bullet points and short paragraphs.
8. Use Key Words from Job Posting: Many companies use applicant tracking systems (ATS) to screen resumes so make sure you include keywords from the job posting in your resume.
9. Highlight Teamwork Abilities: As a Product Development Specialist at Starbucks, you'll be working with various teams so highlight any past experiences where you collaborated effectively with others.
10. Proofread Carefully: Make sure there are no spelling or grammatical errors in your resume; these can give an impression of carelessness.
11. Education & Certifications: List all relevant education and certifications that could set you apart from other candidates, such as a degree in business administration or certification in project management.
12. Professional Summary/Profile: Begin with a powerful professional summary/profile which emphasizes on key strengths and capabilities related to product development role at Starbucks.
13. Include LinkedIn Profile URL : If you have a well-maintained LinkedIn profile then do not forget to include its URL on top of the resume along with contact information.
14.Include International Experience if Any : Starbucks is a global brand having outlets across different countries so if you have any international work experience then do highlight it as it could be advantageous on your part.
15.Showcase Ability to Multitask : In jobs like this one need to juggle between different tasks simultaneously hence showcasing ability to multitask can add value to resume.
Related: Product Development Manager Resume Examples
Key Skills Hiring Managers Look for on Starbucks Product Development Specialist Resumes
Applicant Tracking Systems (ATS) are used by many companies, including Starbucks, to streamline the hiring process. These systems scan resumes and cover letters for specific keywords related to the job description. When applying for a Product Development Specialist position at Starbucks, it is crucial to incorporate relevant keywords from the job description into your application materials. By doing so, you increase your chances of passing through the ATS and getting your application in front of a human recruiter. For instance, if the job description emphasizes skills like "product innovation," "cross-functional collaboration," or "market analysis," ensure these phrases feature prominently in your resume or cover letter where applicable. This strategy can significantly enhance visibility of your application and improve your chances of being shortlisted for an interview.
When applying for product development specialist positions at Starbucks, you may encounter common skills and key terms such as:
Key Skills and Proficiencies
Product Development Strategy
Project Management
Market Research
Product Lifecycle Management
Cross-functional Team Leadership
Competitive Analysis
Product Marketing
Business Strategy
Concept Development
Design Thinking
Consumer Behavior Understanding
Risk Assessment and Mitigation
Quality Assurance and Control
Technical Writing
Prototyping
Agile Methodologies
Data Analysis
Vendor Management
Budgeting and Forecasting
Intellectual Property Rights Knowledge
Excellent Communication Skills
Problem-solving Skills
Related: Product Development Manager Skills: Definition and Examples
Common Action Verbs for Starbucks Product Development Specialist Resumes
Creating a compelling resume, especially for a specialized position like Starbucks Product Development Specialist, can be challenging. One of the main difficulties lies in finding diverse action verbs to describe your skills and experiences. Using repetitive or common verbs can make your resume blend in with the rest, reducing its impact. On the contrary, incorporating varied and powerful action verbs can significantly enhance your resume's effectiveness. They not only provide a vivid description of your abilities but also demonstrate your active role in previous positions. In essence, using diverse action verbs is crucial in crafting an impressive Starbucks Product Development Specialist Resume that stands out from the crowd.
For a competitive advantage, we've gathered a selection of potent action verbs to enhance your resume and secure your next interview:
Action Verbs
Developed
Designed
Implemented
Created
Launched
Managed
Optimized
Coordinated
Tested
Evaluated
Improved
Innovated
Marketed
Researched
Analyzed
Collaborated
Troubleshot
Assessed
Streamlined
Negotiated
Oversaw
Executed