Article
Starbucks Research and Development Specialist Resume Examples
Explore a collection of resume examples showcasing the skills, qualifications, and experiences needed to excel as a Research and Development Specialist at Starbucks.

Brenna Goyette
Certified Professional Resume Writer, Career Expert
Published 10 min read
This article provides detailed information on how to compose a compelling resume for the role of a Research and Development Specialist at Starbucks. It will guide you on showcasing your skills, qualifications, and experiences that align with Starbucks' mission and values. You'll learn how to highlight your expertise in product development, market research, data analysis, project management, and other relevant areas. The article also offers tips on emphasizing your ability to work in a fast-paced environment like Starbucks and demonstrating your understanding of the coffee industry. Furthermore, it advises on expressing your passion for innovation and sustainability – two key aspects of Starbucks' brand identity.
Starbucks Research and Development Specialist Resume Created Using Our Resume Builder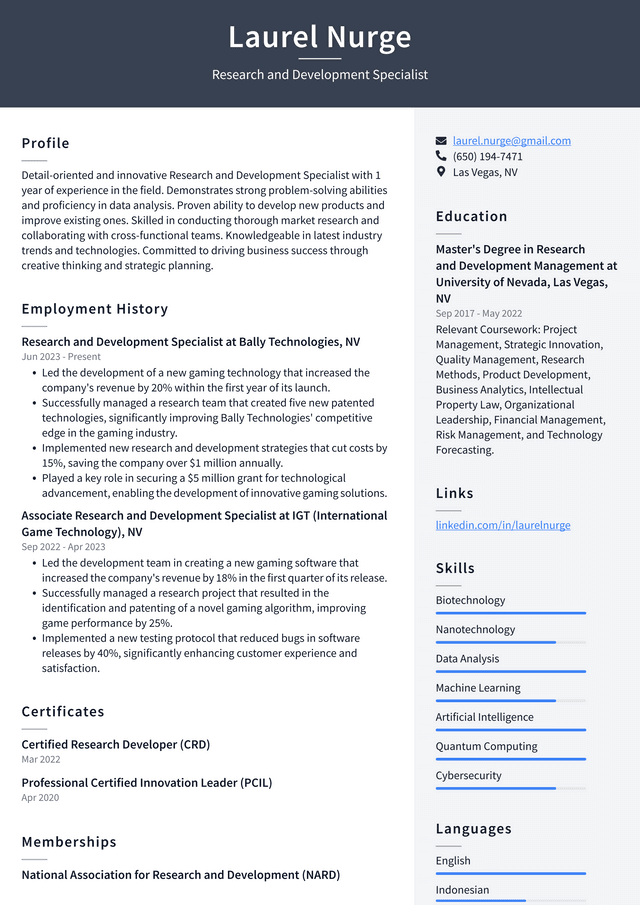 Starbucks Research and Development Specialist Resume Example
Laurel Nurge, Research and Development Specialist
laurel.nurge@gmail.com
(650) 194-7471
Las Vegas, NV
Professional Summary
Detail-oriented and innovative Research and Development Specialist with 1 year of experience in the field. Demonstrates strong problem-solving abilities and proficiency in data analysis. Proven ability to develop new products and improve existing ones. Skilled in conducting thorough market research and collaborating with cross-functional teams. Knowledgeable in latest industry trends and technologies. Committed to driving business success through creative thinking and strategic planning.
Work Experience
Research and Development Specialist at Bally Technologies, NV
Jun 2023 - Present
Led the development of a new gaming technology that increased the company's revenue by 20% within the first year of its launch.
Successfully managed a research team that created five new patented technologies, significantly improving Bally Technologies' competitive edge in the gaming industry.
Implemented new research and development strategies that cut costs by 15%, saving the company over $1 million annually.
Played a key role in securing a $5 million grant for technological advancement, enabling the development of innovative gaming solutions.
Associate Research and Development Specialist at IGT (International Game Technology), NV
Sep 2022 - Apr 2023
Led the development team in creating a new gaming software that increased the company's revenue by 18% in the first quarter of its release.
Successfully managed a research project that resulted in the identification and patenting of a novel gaming algorithm, improving game performance by 25%.
Implemented a new testing protocol that reduced bugs in software releases by 40%, significantly enhancing customer experience and satisfaction.
Education
Master's Degree in Research and Development Management at University of Nevada, Las Vegas, NV
Sep 2017 - May 2022
Relevant Coursework: Project Management, Strategic Innovation, Quality Management, Research Methods, Product Development, Business Analytics, Intellectual Property Law, Organizational Leadership, Financial Management, Risk Management, and Technology Forecasting.
Skills
Biotechnology
Nanotechnology
Data Analysis
Machine Learning
Artificial Intelligence
Quantum Computing
Cybersecurity
Certificates
Certified Research Developer (CRD)
Professional Certified Innovation Leader (PCIL)
Tips for Writing a Better Starbucks Research and Development Specialist Resume
1. Highlight Relevant Experience: If you have previously worked in a similar field or position, highlight this experience. Make sure to include any specific projects or tasks that you were responsible for, and the results of these.
2. Use Action Verbs: Using action verbs can make your resume more dynamic and engaging. For instance, instead of saying "was responsible for managing a team," say "managed a team."
3. Tailor Your Resume to the Job Description: Carefully read the job description and tailor your resume to match what Starbucks is looking for in a Research and Development Specialist.
4. Include Specific Skills: Be sure to include specific skills that are relevant to the job, such as project management, product development, market research analysis etc.
5. Show Results: Whenever possible, show the results of your work. This could be an increase in sales from a product you developed or positive feedback from a project you managed.
6. Use Bullet Points: Bullet points make it easier for hiring managers to quickly scan your resume and pick up on the key points.
7. Include Relevant Certifications and Training: If you have any certifications or training that are relevant to the job, be sure to include them on your resume.
8. Keep It Concise: Try to keep your resume concise and easy-to-read; ideally it should be no longer than two pages.
9. Proofread: Ensure there are no grammatical errors or typos on your resume as they may give off an unprofessional impression.
10. Prioritize Your Content: Arrange your content in order of relevance - most recent experience should come first followed by previous roles.
11. Quantify Achievements: Where possible quantify achievements with figures & percentages which makes them more impressive & believable.
12. Use Professional Language : Always use professional language & avoid jargon at all costs unless it's related directly to the job role.
Remember, a good resume is clear, concise, and effectively highlights why you're the best candidate for the role!
Related: Research and Development Engineer Resume Examples
Key Skills Hiring Managers Look for on Starbucks Research and Development Specialist Resumes
When applying for a Research and Development Specialist position at Starbucks, it is crucial to incorporate keywords from the job description into your resume and cover letter. Starbucks, like many large corporations, uses Applicant Tracking Systems (ATS) to help manage the high volume of applications they receive. These systems screen resumes for specific keywords related to the skills, experiences, and qualifications required for the position. If your application doesn't include these keywords, it may be automatically filtered out before it even reaches a human reviewer. Therefore, by carefully reading the job description and including relevant keywords in your application materials, you can increase the chances of your application being seen and considered by Starbucks' hiring team.
When applying for research and development specialist positions at Starbucks, you may encounter a list of common skills and key terms.
Key Skills and Proficiencies
Research and Analysis
Product Development
Project Management
Data Analysis
Problem Solving
Innovation Development
Technical Writing
Strategic Planning
Quality Control
Market Research
Statistical Analysis
Intellectual Property Law Knowledge
Teamwork and Collaboration
Communication Skills
Creativity and Critical Thinking
Time Management
Attention to Detail
Software Proficiency (specific to industry)
Experimentation and Testing Skills
Understanding of Regulatory Standards
Risk Assessment and Management
Knowledge in Specific Field or Industry
Related: Research and Development Engineer Skills: Definition and Examples
Common Action Verbs for Starbucks Research and Development Specialist Resumes
Creating a compelling resume for a Starbucks Research and Development Specialist position can be challenging, especially when it comes to choosing dynamic action verbs. Using the same verbs repeatedly can make your resume monotonous and fail to capture the full scope of your abilities. It's crucial to use a variety of action verbs that accurately represent your skills and experiences. This not only helps in making your resume more appealing but also enables the hiring managers to understand your capabilities better. Various action verbs provide a more comprehensive picture of your potential as a Starbucks Research and Development Specialist, thereby increasing your chances of being considered for the role.
To enhance your competitive advantage, we have curated a list of impactful action verbs that you can utilize to fortify your resume and secure your next interview:
Action Verbs
Developed
Researched
Analyzed
Innovated
Designed
Tested
Implemented
Evaluated
Improved
Formulated
Investigated
Collaborated
Conducted
Explored
Assessed
Devised
Optimized
Synthesized
Engineered
Validated
Conceptualized
Troubleshot