Article
Snapchat AR Designer Resume Examples
Discover top-notch Snapchat AR Designer resume examples to help you craft the perfect CV and land your dream job in augmented reality design.

Brenna Goyette
Certified Professional Resume Writer, Career Expert
Published 10 min read
Discover the essential tips and tricks to create a winning resume for the highly coveted role of an AR Designer at Snapchat. This comprehensive guide will delve into the key elements you need to showcase your technical prowess, design sensibilities, and innovative thinking that align with Snapchat's dynamic work culture. Learn how to effectively highlight your experience in augmented reality, 3D modeling, and UI/UX design, as well as demonstrate your ability to collaborate with cross-functional teams and adapt to emerging technologies. With our expert advice on crafting a compelling narrative around your skills and accomplishments, you'll be one step closer to landing your dream job as an AR Designer at Snapchat.
Snapchat AR Designer Resume Created Using Our Resume Builder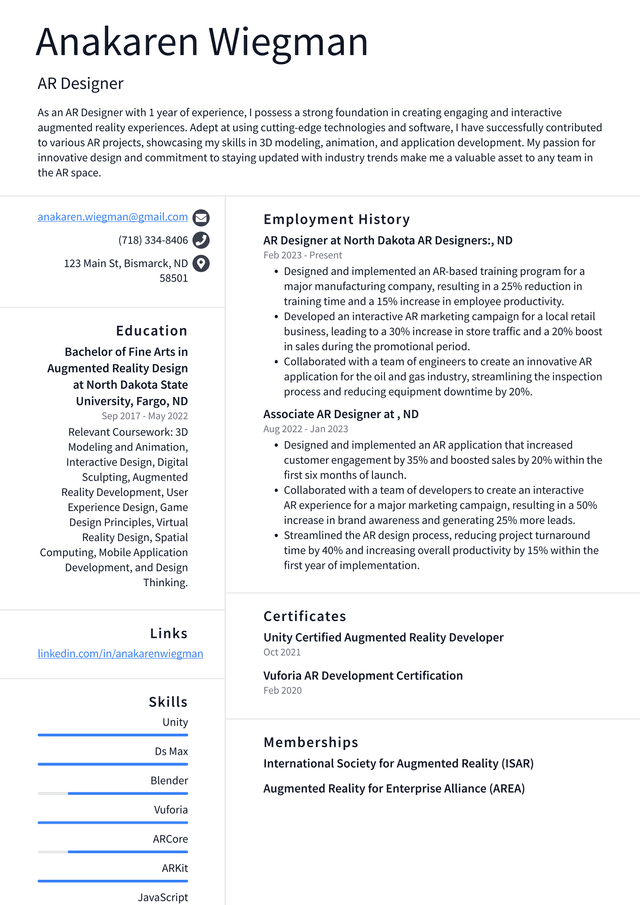 Snapchat AR Designer Resume Example
Anakaren Wiegman, AR Designer
anakaren.wiegman@gmail.com
(718) 334-8406
123 Main St, Bismarck, ND 58501
Professional Summary
As an AR Designer with 1 year of experience, I possess a strong foundation in creating engaging and interactive augmented reality experiences. Adept at using cutting-edge technologies and software, I have successfully contributed to various AR projects, showcasing my skills in 3D modeling, animation, and application development. My passion for innovative design and commitment to staying updated with industry trends make me a valuable asset to any team in the AR space.
Work Experience
AR Designer at North Dakota AR Designers:, ND
Feb 2023 - Present
Designed and implemented an AR-based training program for a major manufacturing company, resulting in a 25% reduction in training time and a 15% increase in employee productivity.
Developed an interactive AR marketing campaign for a local retail business, leading to a 30% increase in store traffic and a 20% boost in sales during the promotional period.
Collaborated with a team of engineers to create an innovative AR application for the oil and gas industry, streamlining the inspection process and reducing equipment downtime by 20%.
Associate AR Designer at , ND
Aug 2022 - Jan 2023
Designed and implemented an AR application that increased customer engagement by 35% and boosted sales by 20% within the first six months of launch.
Collaborated with a team of developers to create an interactive AR experience for a major marketing campaign, resulting in a 50% increase in brand awareness and generating 25% more leads.
Streamlined the AR design process, reducing project turnaround time by 40% and increasing overall productivity by 15% within the first year of implementation.
Education
Bachelor of Fine Arts in Augmented Reality Design at North Dakota State University, Fargo, ND
Sep 2017 - May 2022
Relevant Coursework: 3D Modeling and Animation, Interactive Design, Digital Sculpting, Augmented Reality Development, User Experience Design, Game Design Principles, Virtual Reality Design, Spatial Computing, Mobile Application Development, and Design Thinking.
Skills
Unity
Ds Max
Blender
Vuforia
ARCore
ARKit
JavaScript
Certificates
Unity Certified Augmented Reality Developer
Vuforia AR Development Certification
Tips for Writing a Better Snapchat AR Designer Resume
1. Start with a strong objective or summary statement: Begin your resume with a concise and compelling statement that highlights your career goals, skills, and experience as a Snapchat AR Designer. This will give the recruiter an overview of who you are and what you bring to the table.
2. Tailor your resume for each job application: Customize your resume according to the specific job requirements and company values mentioned in the job posting. This shows that you have taken the time to research and understand the company's needs, making you a more attractive candidate.
3. Highlight relevant skills: List your technical skills related to AR design, such as proficiency in Lens Studio, 3D modeling software like Blender or Maya, programming languages like C# or JavaScript, and any other tools you use in creating Snapchat filters and lenses. Also include soft skills like creativity, communication, problem-solving abilities, and teamwork.
4. Showcase your experience: Detail your professional experience as a Snapchat AR Designer by emphasizing your accomplishments rather than just listing job responsibilities. Use action verbs like "designed," "developed," or "implemented" to describe how you contributed to projects and made an impact on the company's success.
5. Include a portfolio link: Provide a link to an online portfolio showcasing examples of your work as a Snapchat AR Designer. This allows potential employers to see firsthand what you can do and gives them a better understanding of your skillset.
6. Education & certifications: List any relevant education or certifications related to AR design or technology (e.g., degree in graphic design or computer science). If you have completed any workshops or training programs specifically focused on Snapchat AR design or Lens Studio, be sure to mention those as well.
7. Keep it concise: Aim for one page when writing your resume. Recruiters often have limited time to review each application they receive, so make sure all information is clear and easy-to-read.
8. Use a clean and professional layout: Choose a simple, easy-to-read font and use consistent formatting throughout your resume. Use bullet points to make your experience and skills easy to skim, and avoid using overly decorative elements that could distract from the content.
9. Proofread carefully: Typos or grammatical errors can leave a negative impression on potential employers. Make sure to carefully review your resume for any mistakes before submitting it.
10. Include relevant keywords: Study the job posting and company website for keywords related to Snapchat AR design, such as "Lens Studio," "augmented reality," or "3D modeling." Incorporate these terms into your resume to improve its visibility in applicant tracking systems (ATS) used by recruiters.
Related: Architectural Designer Resume Examples
Key Skills Hiring Managers Look for on Snapchat AR Designer Resumes
When applying for an AR Designer opportunity at Snapchat, it is crucial to incorporate keywords from the job description in your application materials. This is because Snapchat, like many other companies, utilizes Applicant Tracking Systems (ATS) to screen and filter applicants. These systems are designed to identify candidates whose resumes and cover letters contain specific keywords and phrases that match the job requirements. By including these relevant terms in your application, you increase the chances of passing through the ATS filters and getting noticed by hiring managers. Failing to do so may result in your application being overlooked, despite your qualifications and skills being well-suited for the role.
When applying for AR designer positions at Snapchat, you may encounter common skills and key terms such as 3D modeling, animation, scripting, prototyping, UX design, ARCore/ARKit, Unity/Unreal Engine, and Lens Studio.
Key Skills and Proficiencies
D modeling
Animation
Texturing
Lighting
Rigging
Scripting
User experience (UX) design
User interface (UI) design
Spatial audio design
Graphic design
Storyboarding
Prototyping
Coding/programming languages (C#, JavaScript, Python)
Game engine expertise (Unity, Unreal Engine)
Augmented reality platforms (ARKit, ARCore)
Cross-platform development (iOS, Android, Windows)
Version control systems (Git, SVN)
Project management and collaboration tools (Trello, Slack)
D art and illustration skills
Visual effects and particle systems
Performance optimization techniques
Knowledge of AR hardware devices (HoloLens, Magic Leap)
Related: Architectural Designer Skills: Definition and Examples
Common Action Verbs for Snapchat AR Designer Resumes
Crafting a compelling Snapchat AR Designer Resume can be quite challenging, especially when it comes to finding different action verbs to describe your skills and experiences. Using the same verbs repeatedly can make your resume monotonous and less engaging for potential employers. To stand out from the competition, it is essential to use varied and powerful action verbs that capture the attention of hiring managers and demonstrate your proficiency in various aspects of augmented reality design. By incorporating diverse verbs into your resume, you showcase not only your technical skills but also your creativity and adaptability—two highly sought-after qualities in a successful Snapchat AR Designer.
To provide you with a competitive advantage, we have curated a list of impactful action verbs to enhance your resume and secure your next interview:
Action Verbs
Designed
Implemented
Developed
Created
Engineered
Programmed
Integrated
Optimized
Prototyped
Collaborated
Conceptualized
Visualized
Rendered
Animated
Modeled
Textured
Scripted
Debugged
Tested
Evaluated
Enhanced
Launched