Article
Oracle Inside Sales Representative Resume Examples

Brenna Goyette
Certified Professional Resume Writer, Career Expert
Published 9 min read
This article offers invaluable tips and guides for crafting an effective resume for the position of an Inside Sales Representative at Oracle. It delves into the crucial elements to include in your resume, such as specific skills, experiences, and achievements relevant to the role. It also provides insights on how to highlight your understanding of Oracle's products and services, sales strategies, and customer engagement techniques. The article further emphasizes the importance of showcasing your ability to meet sales targets, collaborate with team members, and build strong relationships with clients. Get ready to create a standout resume that can increase your chances of landing that coveted Inside Sales Representative position at Oracle.
Oracle Inside Sales Representative Resume Created Using Our Resume Builder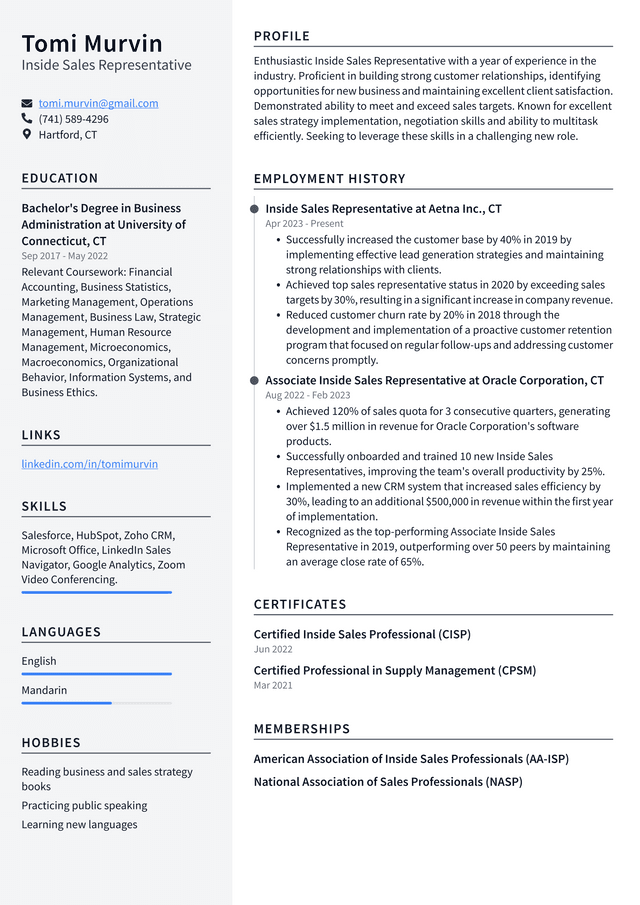 Oracle Inside Sales Representative Resume Example
Tomi Murvin, Inside Sales Representative
tomi.murvin@gmail.com
(741) 589-4296
Hartford, CT
Professional Summary
Enthusiastic Inside Sales Representative with a year of experience in the industry. Proficient in building strong customer relationships, identifying opportunities for new business and maintaining excellent client satisfaction. Demonstrated ability to meet and exceed sales targets. Known for excellent sales strategy implementation, negotiation skills and ability to multitask efficiently. Seeking to leverage these skills in a challenging new role.
Work Experience
Inside Sales Representative at Aetna Inc., CT
Apr 2023 - Present
Successfully increased the customer base by 40% in 2019 by implementing effective lead generation strategies and maintaining strong relationships with clients.
Achieved top sales representative status in 2020 by exceeding sales targets by 30%, resulting in a significant increase in company revenue.
Reduced customer churn rate by 20% in 2018 through the development and implementation of a proactive customer retention program that focused on regular follow-ups and addressing customer concerns promptly.
Associate Inside Sales Representative at Oracle Corporation, CT
Aug 2022 - Feb 2023
Achieved 120% of sales quota for 3 consecutive quarters, generating over $1.5 million in revenue for Oracle Corporation's software products.
Successfully onboarded and trained 10 new Inside Sales Representatives, improving the team's overall productivity by 25%.
Implemented a new CRM system that increased sales efficiency by 30%, leading to an additional $500,000 in revenue within the first year of implementation.
Recognized as the top-performing Associate Inside Sales Representative in 2019, outperforming over 50 peers by maintaining an average close rate of 65%.
Education
Bachelor's Degree in Business Administration at University of Connecticut, CT
Sep 2017 - May 2022
Relevant Coursework: Financial Accounting, Business Statistics, Marketing Management, Operations Management, Business Law, Strategic Management, Human Resource Management, Microeconomics, Macroeconomics, Organizational Behavior, Information Systems, and Business Ethics.
Skills
Salesforce, HubSpot, Zoho CRM, Microsoft Office, LinkedIn Sales Navigator, Google Analytics, Zoom Video Conferencing.
Certificates
Certified Inside Sales Professional (CISP)
Certified Professional in Supply Management (CPSM)
Tips for Writing a Better Oracle Inside Sales Representative Resume
1. Highlight your skills: As an Oracle Inside Sales Representative, you need to have excellent communication, negotiation and customer service skills. You should also be able to demonstrate your knowledge of Oracle's products and services.
2. Use action words: When describing your responsibilities and achievements, use action verbs like "managed", "increased", "achieved" or "improved". This will make your resume more dynamic and engaging.
3. Quantify achievements: Whenever possible, include numbers to quantify your achievements. For example, instead of saying "Increased sales", you might say "Increased sales by 20% in the first quarter".
4. Tailor your resume: Make sure that your resume is tailored to the specific job posting. This means including keywords from the job description in your resume.
5. Include relevant experience: Be sure to include any experience that is relevant to the position, such as previous sales roles or experience with Oracle's products.
6. Showcase your technical skills: As an Oracle Inside Sales Representative, it's important to showcase technical skills such as proficiency in CRM software and understanding of database technologies.
7. Keep it concise: Your resume should be no longer than one or two pages. Be concise and only include information that is relevant to the job you're applying for.
8. Proofread carefully: Ensure there are no spelling or grammatical errors on your resume before sending it off.
9.Explain gaps in employment: If there are any significant gaps in your employment history, be sure to explain them in a cover letter or during the interview process.
10.Highlight any training or certifications: If you've completed any training courses or certifications related to Oracle products or sales techniques, be sure to highlight these on your resume.
11.Use a professional format: Make sure that your resume looks professional by using a clean layout, consistent formatting, and a readable font size and style.
Related: Inside Sales Representative Resume Examples
Key Skills Hiring Managers Look for on Oracle Inside Sales Representative Resumes
Oracle, like many large corporations, uses an Applicant Tracking System (ATS) to streamline their hiring process. This software scans resumes and applications for keywords that match the job description. Therefore, when applying for an Inside Sales Representative position at Oracle, it is crucial to incorporate relevant keywords from the job description into your application materials. These may include skills or qualifications such as "sales experience," "customer relationship management," or specific product knowledge. Including these keywords not only highlights your suitability for the role but also increases the chances of your application being picked up by the ATS, pushing you closer to securing an interview with Oracle.
When applying for inside sales representative positions at Oracle, you may encounter key terms and need common skills such as...
Key Skills and Proficiencies
Excellent Communication Skills
Customer Service
Relationship Building
Sales Techniques
Product Knowledge
Negotiation Skills
Time Management
Lead Generation
CRM Software Proficiency
Problem-Solving Abilities
Cold Calling
Sales Forecasting
Teamwork and Collaboration
Multitasking Capabilities
Persuasion Skills
Active Listening
Detail-Oriented
Data Analysis
Patience and Resilience
Decision-Making Abilities
Adaptability to Changes
Technical Understanding of Products/Services
Related: Inside Sales Representative Skills: Definition and Examples
Common Action Verbs for Oracle Inside Sales Representative Resumes
Crafting a compelling Oracle Inside Sales Representative Resume can be challenging, particularly when it comes to selecting action verbs that accurately convey your skills and experience. Often, individuals find themselves using the same verbs repeatedly, which can result in a monotonous and less impactful resume. Using varied action verbs is not only essential for avoiding repetitive language but also for creating a dynamic profile that captures the attention of potential employers. These verbs serve as powerful tools that provide insight into your capabilities and achievements as an Oracle Inside Sales Representative. They can demonstrate your ability to drive sales, negotiate contracts, build customer relationships or manage accounts, among other key responsibilities. Hence, carefully chosen action verbs are integral in crafting a resume that stands out and effectively showcases your suitability for the role.
To provide you with a competitive advantage, we've assembled a list of potent action verbs that can be utilized to enhance your resume and secure your next interview:
Action Verbs
Negotiated
Closed
Prospected
Generated
Managed
Achieved
Coordinated
Communicated
Identified
Resolved
Maintained
Presented
Developed
Increased
Assisted
Built
Tracked
Analyzed
Reported
Delivered
Collaborated
Optimized