Article
Microsoft Software Product Manager Resume Examples
This article provides examples of resumes for Microsoft Software Product Managers, highlighting important skills and experience to help job seekers create their own successful resume.

Brenna Goyette
Certified Professional Resume Writer, Career Expert
Published 9 min read
This article will provide tips on how to write a resume for a Software Product Manager position at Microsoft. It will cover the essential components of an effective resume, such as identifying relevant skills and experience, emphasizing accomplishments, and making sure to include key words that are pertinent to the job description. Additionally, it will offer advice on how to best showcase your qualifications in order to make a strong first impression with recruiters.
Microsoft Software Product Manager Resume Created Using Our Resume Builder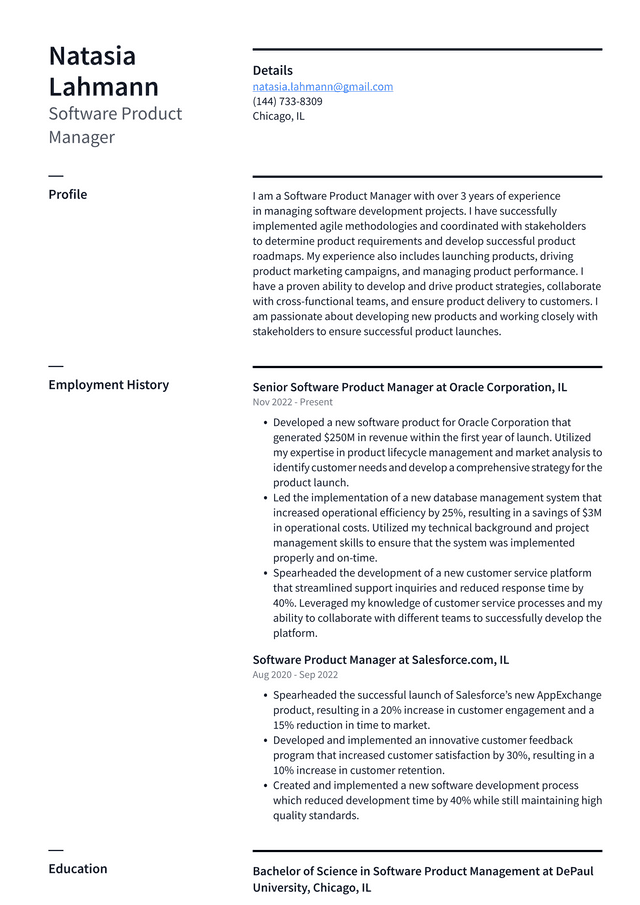 Microsoft Software Product Manager Resume Example
Natasia Lahmann, Software Product Manager
natasia.lahmann@gmail.com
(144) 733-8309
Chicago, IL
Professional Summary
I am a Software Product Manager with over 3 years of experience in managing software development projects. I have successfully implemented agile methodologies and coordinated with stakeholders to determine product requirements and develop successful product roadmaps. My experience also includes launching products, driving product marketing campaigns, and managing product performance. I have a proven ability to develop and drive product strategies, collaborate with cross-functional teams, and ensure product delivery to customers. I am passionate about developing new products and working closely with stakeholders to ensure successful product launches.
Work Experience
Senior Software Product Manager at Oracle Corporation, IL
Nov 2022 - Present
Developed a new software product for Oracle Corporation that generated $250M in revenue within the first year of launch. Utilized my expertise in product lifecycle management and market analysis to identify customer needs and develop a comprehensive strategy for the product launch.
Led the implementation of a new database management system that increased operational efficiency by 25%, resulting in a savings of $3M in operational costs. Utilized my technical background and project management skills to ensure that the system was implemented properly and on-time.
Spearheaded the development of a new customer service platform that streamlined support inquiries and reduced response time by 40%. Leveraged my knowledge of customer service processes and my ability to collaborate with different teams to successfully develop the platform.
Software Product Manager at Salesforce.com, IL
Aug 2020 - Sep 2022
Spearheaded the successful launch of Salesforce's new AppExchange product, resulting in a 20% increase in customer engagement and a 15% reduction in time to market.
Developed and implemented an innovative customer feedback program that increased customer satisfaction by 30%, resulting in a 10% increase in customer retention.
Created and implemented a new software development process which reduced development time by 40% while still maintaining high quality standards.
Education
Bachelor of Science in Software Product Management at DePaul University, Chicago, IL
Aug 2016 - May 2020
Relevant Coursework: Software Product Management, Software Development, Project Management, Business Analysis, User Experience Design.
Skills
Project Management
Product Strategy
Business Analysis
Technical Knowledge
Communication Skills
Problem Solving
Leadership
Certificates
Certified Scrum Product Owner (CSPO)
Certified Agile Product Manager (CAPM)
Tips for Writing a Better Microsoft Software Product Manager Resume
1. Highlight Your Technical Skills: As a software product manager, you should make sure to highlight your technical skills and experience on your resume. This may include programming languages, software development tools, databases, and more.
2. Include Project Management Experience: Demonstrate your ability to manage projects by including any relevant project management experience on your resume. Include details such as the size of the project, the scope of the project and any challenges you encountered during its completion.
3. Showcase Your Leadership Skills: Microsoft is looking for strong leaders who can motivate teams and drive results. Use your resume to showcase examples of how you have been able to lead successful initiatives in the past that had a positive impact on the company's bottom line or customer satisfaction ratings.
4. Share Your Accomplishments: Make sure to include any accomplishments that you achieved while working in previous roles as a software product manager - this could be anything from launching a successful new product feature or increasing customer satisfaction scores for an existing feature set.
5. Tailor Your Resume: Before sending out your resume, take some extra time to tailor it to each job application so that it speaks directly to the requirements outlined by the employer in their job posting. This will help ensure that you stand out from other applicants who are applying with generic resumes.
Related: Software Product Manager Resume Examples
Key Skills Hiring Managers Look for on Microsoft Software Product Manager Resumes
Using keywords from the job description when applying for a Software Product Manager opportunity at Microsoft is extremely important. This is because Microsoft uses an Applicant Tracking System (ATS) to manage and track job applications. ATS systems scan resumes for keywords related to the job description, which helps the company quickly identify qualified candidates. By incorporating relevant keywords into your resume and cover letter, you can increase your chances of being considered for the position by ensuring that your application is captured by the ATS system.
When applying for software product manager positions at Microsoft, potential candidates should familiarize themselves with common skills and key terms such as those listed below.
Key Skills and Proficiencies
Product Management
Project Management
Agile Methodology
Requirements Gathering
Business Analysis
Product Roadmap Creation
Market Research
Strategic Planning
User Experience (UX) Design
Data Analysis
Software Development Lifecycle (SDLC)
Communication Skills
Problem Solving
Leadership & Team Building
Budgeting & Cost Control
Quality Assurance (QA) Testing
Documentation & Training Materials Creation
Technical Writing
Stakeholder Management
Risk Management
Process Improvement
Vendor Management
Related: Software Product Manager Skills: Definition and Examples
Common Action Verbs for Microsoft Software Product Manager Resumes
Finding the right action verbs to use on a resume can be tricky. It's important to use varied and dynamic verbs that will draw attention to your accomplishments and make your resume stand out. When crafting a Microsoft Software Product Manager Resume, it is essential to select words that accurately reflect your achievements and skills. Use powerful action verbs such as "devised", "created", "developed", "managed", "implemented", and "coordinated" to showcase your experience in product management. These words will help you create an impactful resume and demonstrate how you have positively impacted organizations.
To give you a competitive edge, we've compiled a list of powerful action verbs to help strengthen your resume and land your next interview: Achieve, Accomplish, Adapt, Analyze, Apply, Build, Collaborate, Create, Develop, Enhance, Execute, Facilitate, Implement, Improve, Influence, Lead.
Action Verbs
Managed
Developed
Implemented
Strategized
Analyzed
Coordinated
Monitored
Evaluated
Researched
Designed
Led
Optimized
Forecasted
Executed
Tested
Troubleshot
Documented
Scheduled
Collaborated
Automated
Negotiated
Integrated